Sleeping behind Gardin Bistro and Patisserie during the day, Mirror awakens at night to give the island's nocturnal natives a truly memorable party destination.

Being part of the stirring Seminyak scene, Mirror's presence and style entices Bali's most elegant and glamorous denizens. The club's unique façade takes the form of a gothic cathedral, with authentic buttress arches welcoming you into a 'church' like you've never seen before.
Entering through their giant doors, the flashes of azure blue and emerald green lights break the darkness, as sharp streams of vibrantly coloured lasers pierce through the club's open space. Still staying true to its gothic-theme, the walls are lined with stained glass windows that reflect the brilliant lights in all directions, acting as a kind of Dark Age disco ball. Under Mirror's fully glass ceiling, you can dance the night away basking in the light of Bali's moon and starry sky.
The deep music reverberates around the cathedral-like building, often already filled with the ritzy-glitzy socialites of the island come 11pm. A dazzling bar extends all the way down one side of Mirror, with exuberant bar staff serving a range of fine wines, international liquors and specialty cocktails. Private tables and luxurious VIP sofas are available for reservation, along with a lavish VVIP area found on the club's mezzanine over-looking the extravagant scene below.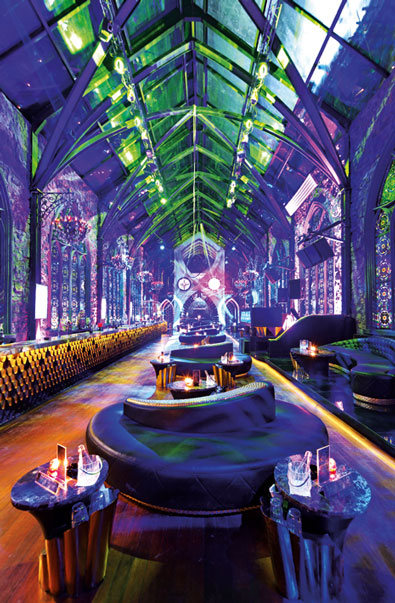 To bring a whole new level of hype to Bali's club scene, Mirror prides itself in being host to world renowned international DJs. On top of this, the popular nightspot holds themed nights to keep the island pumping. For Hip Hop and RnB enthusiasts, The Grind is held every Thursday. For the house music hunters, their Substance and Infinite nights are held every Friday and Saturday respectively.
The club is open 11pm to 4.30am, Thursday to Saturday, becoming the much-needed late night destination for you weekend warriors. Important to note is that Mirror applies a strict dress code, sandals and singlets are denied entry, whilst trousers and shoes are compulsory on weekends for men.
Contact and booking details:
Jl. Petitenget No. 106, Seminyak, Bali 80361
T: +62 811 3993 010 | E: info@mirror.id
Text By Edward Speirs Photo Courtesy Of Mirror