The mangrove plants we see surrounding islands are in fact very special and very important. These groves that grow in tidal zones are an island's natural defence against large waves and coastal erosion. Their prop roots trap and cycle organic and chemical elements, producing nutrients for the coastal ecosystem. They are thus home to many marine animals, acting as a kind of nursery to young spawn. Birds venture into mangroves too, nesting and feeding off the rich waters.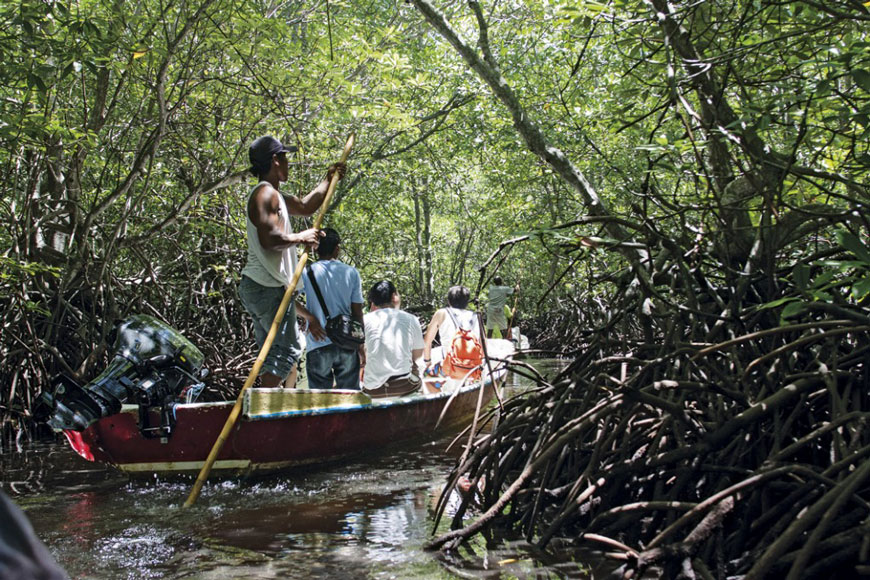 As they play such an important role to ecosystems and also the island, several mangrove forests are persevered around Bali. A collaborative effort between government, locals and other stakeholders are important to their conservation. Mangrove planting programs are done in several areas, from northwest Bali, to south Bali and even on Nusa Lembongan, an island lying southeast of Bali's coast.
Some areas of mangrove are accessible, and have therefore become beautiful eco-destinations. I recently went to visit the one in Nusa Lembongan, taking the earliest speedboat from Sanur, picking up a ticket at the beach near Grand Bali Beach Hotel. It took about 45 minutes to get to JungutBatu village on Nusa Lembongan, where I rented a motorbike and cruised on the tarmac roads to islands northern coast.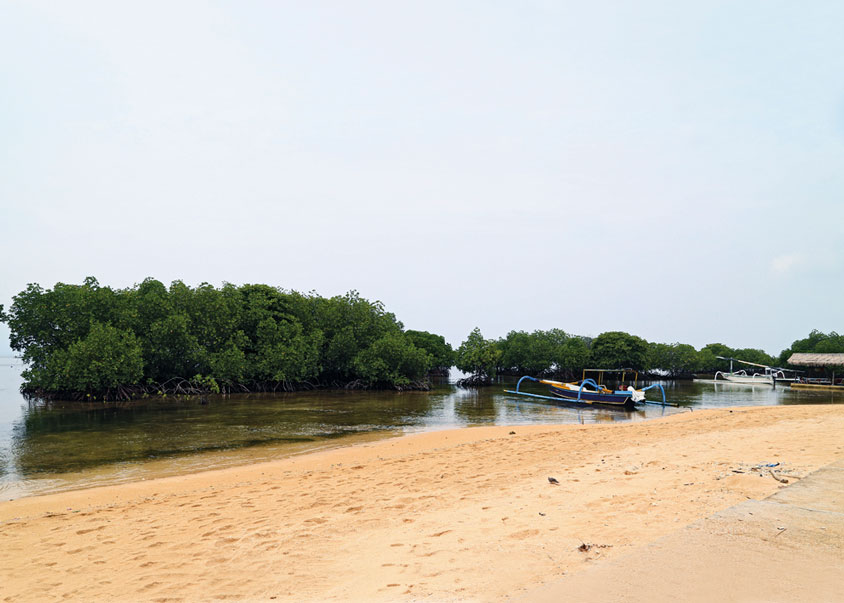 The view heading north was gorgeous. It was low tide; the seaweed farmers were busy harvesting, whilst the ladies were separating the seaweed in their wooden shacks lined up along the shore. I finally reached my destination, Prema'swarung. Mr and Mrs. Prema gave me a warm welcome, I had first met them in 2009 and we have kept in touch ever since.
Mr.Prema was a man with many jobs: a fisherman by trade, a seaweed farmer, a captain for an outrigger taking guests to snorkelling sites and he also organised mangrove tours. He took me aboard his little boat, where I sat quietly as he stood facing the bow and began to row. The little rowboat glided silently through the little natural 'alleys' between the mangrove roots. The water was still and crystal clear, I peered down and saw fish swimming below me. Mr.Prema spotted a Javan Kingfisher, pointing it out to me; and there saw an exquisite bird with bright blue feathers and a vibrant orange beak. This was only one of 30 bird species spotted around the mangrove forest of Nusa Lembongan and Ceningan.
Although it was a hot day, inside the mangrove forest it was cool and calm, the shade sparing me from the sun's intense glare. There were so many moments to appreciate, and sights to enjoy. However, as I was relaxing and admiring the views, sun light swept across my face. We had left the little sanctuary through a gateway, out into the open seas. Mr.Prema shielded his eyes from the sudden brightness and rowed us back to the beach.
Text & Photos By Kartika D Suardana