We were looking for a new place to eat. Even in Ubud with all its great food choices, sometimes you just want a different experience. Then some bright spark offered "Oh I hear The Four Seasons have a new French Chef who is cooking up a storm!" Great! So off we trooped to the divine Sayan Valley to sit by the river at the Riverside Café.
They have a new French chef indeed. Chef Jocelyn Argaud hails from Lyon where he learned traditional French techniques from his mother and his grandmother. He works with beautiful cast-iron pots and wood-fire ovens to present his favourite dishes that have stood the tests of time. After cooking for Qatar's royal family, he made his way to Bali where he is delighting a whole new audience with his wonderful cooking.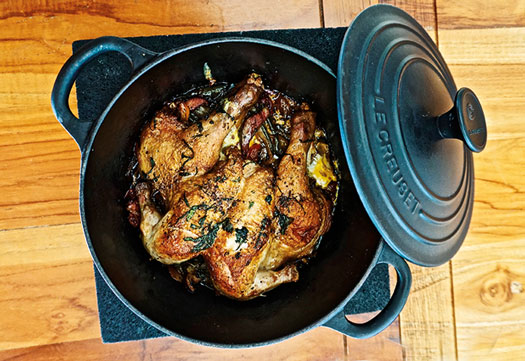 We seated ourselves at a comfortable sofa arrangement overlooking the river, pulled open the intriguing blue napkins and decided this was the spot, even though regulation chairs and tables were available as well. As the birds chirped a noon day song, rubber rafts hovered into view filled with waving tourists paddling downstream. It must look just as funny from their side as it did from ours.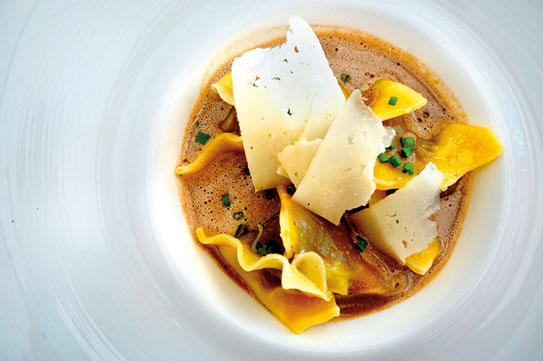 We perused the French menu – a special treat for us as usually it is only available in the evening when I can imagine it is even more romantic than it is during lunch hour. The choices were difficult – with so many good things to decide upon. Should we try the Lamb Shanks with zucchini tian, tomato concasse and natural jus? Or the Grilled Baby Chicken with roasted fennel, black olives and candied lemon? Finally we decided upon the truly spectacular Seafood Platter – with a medley of fresh Langoustines, fresh oysters, scallops on the shell, and tiny clams- all delicious especially when taken with one of the medley of accompanying sauces.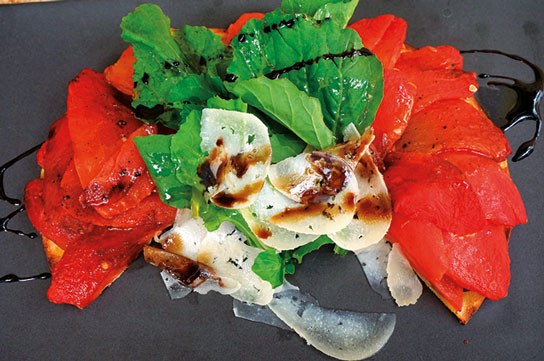 Next came a tasty wood-fired Tomato Tart 'Maman Claudette's' with Caciotta cheese, Dijon mustard, fresh oregano and arugula baked on a little pizza style bread. How he managed to get so much flavour from the tomatoes will probably, sadly, remain a mystery.
After so much enjoyment, we were surprised with an out of this world Mushroom Ravioli with goat's cheese shavings and a divine "sauce riche" who's recipe has puzzled many patrons already. Sadly, it too, is a secret!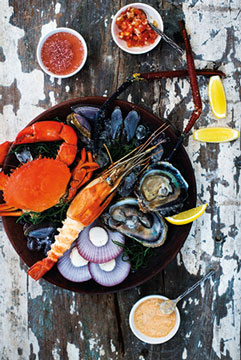 A big black iron cassoulet pot then appeared, and hidden inside was a baby chicken cooked to perfection with peppers, onions and spices. What a meal! It is not the kind of meal you can eat fast. Everything was so well done that it took time to taste and savour.
We finished with tea watching over the clean and slow moving Ayung River sharing the wood-fired Pear Tart covered in matchstick sliced pears, heaps of caramel nestling up to roasted almonds. The French certainly took desserts to another level and another level of finesse.
Chef Jocelyn makes use of local ingredients, many sourced from the resort's own vegetable and herb gardens to ensure the freshest produce is presented, often within hours of being hand-picked. The emphasis on this 'farm-to-table' approach makes a difference to the taste and healthy quality of the food.
If you wish to try their fabulous French fare, it is available only in the evenings. But sitting in soft candlelight by the gurgling Ayung River is no hardship, only a pleasure.
Jalan Raya Sayan, Ubud
Phone: 0361 977 577 | www.fourseasons.com/sayan
 Written By Ayu Sekar