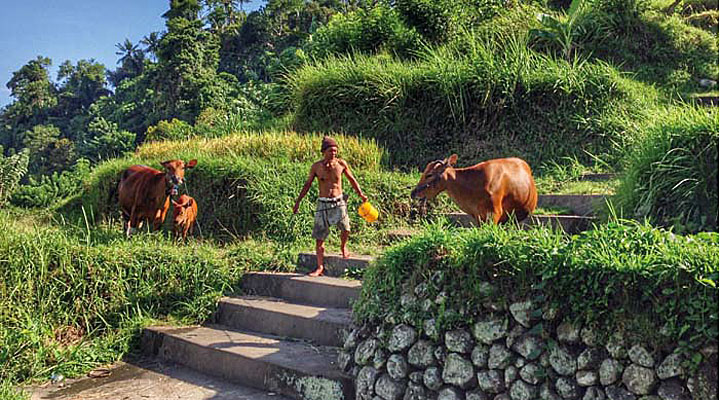 East Bali has one predominating colour – green. It is a place of verdant panoramas – of rice fields, green hills and mysterious mountains. No traffic jams mar your time and the smiles you meet are genuinely friendly.

While life buzzes long and loud in Bali's deep south, another, more rural Bali awaits just an hour or two away. Head out on the highway and explore. Pass by Sanur until you reach the bypass road to the east and in no time at all you are there. Soon you will see green mountains looming in the distance and you start to feel good.
This is the fast track to East Bali – the land that time forgot. Most of East Bali lies with the regency of Karangasem – an area of fecund beauty that has escaped the development frenzy of the south. Life continues in a calendar of rituals and holy days, interspersed with a daily life that is often enhanced with idle hours sitting over a bottle of tuak or palm wine. People have time to smile, and for us foreigners it can all be a big adventure.
First stop is Candidasa – a one time fishing village and long time tourist destination. Having less visitors, it has retained much of its charm. A lunch stop is in order. Myriad venues await, but one of the best is Vincents, inspired by Vincent Van Gogh.
A big woody bar, comfy lounge and garden restaurant make it the place to let the hours drift by while enjoying the excellent food. It is mostly western inspired favourites with a few Indonesian dishes added for good measure. If you prefer seaside dining, try Rendezvous across the road where the food is good and the view divine.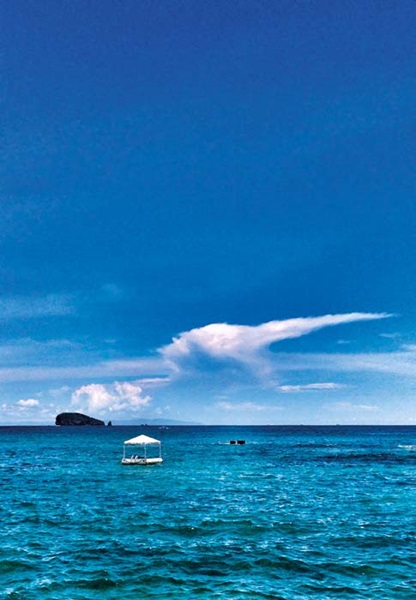 An overnight stop here in Candidasa is also a total pleasure – worth it for the magical early morning views alone.
Try the Alila Manggis for a pleasantly upmarket experience or choose one of the many other gorgeous places in town. They organise beautiful bicycle trails, and walks through panoramic villages. Visit the traditional Bali Aga village of Tenganan, whose inhabitants only started seeing visitors about twenty years ago. Outside the walled village stalls sell handlooms from different Indonesian islands and inside, life goes on unhampered. Visitors make a donation to enter which fuels a constant recreation, renovation and retains the beauty.
Past Candidasa the road continues to the traditional villages of Bug Bug and Peraci – where the virgin beach or white sand beach, lures guests from near and far. While it is not quite as secret as it was, it is a place to spend a delightful few hours, and a fresh fish lunch just metres from the sea.
Accompanied by a bottle or two of ice cold Bintangs, or freshly made juices, sitting there with a fresh breeze blowing off the sea is quite superb and very difficult to leave. Beach chairs and umbrellas line the beach and even a pleasant beach massage can be enjoyed by one of the many masseurs.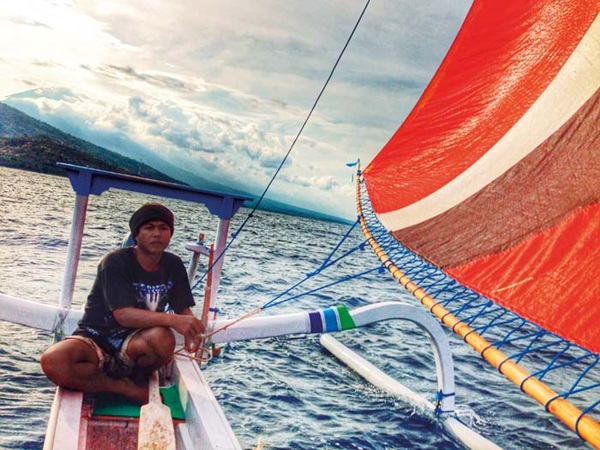 If a beach sojourn holds little interest, you can turn left at a small sign that points inland with the name Asak. This road is an alternative route to the capital city of Amlapura. It passes magnificent views of rice fields and mountains and a couple of very traditional villages, whose best times are on ceremonial days. But any day is nice for a look.
Amlapura is an orderly royal town of palaces and peace. The palaces are all visit-able and for a small donation you may enter and see how the disenfranchised royal families live. Many have moved out to live in Denpasar and only return for grand ceremonial events but a palace is a palace and we surely all have some curiosity about how royals live.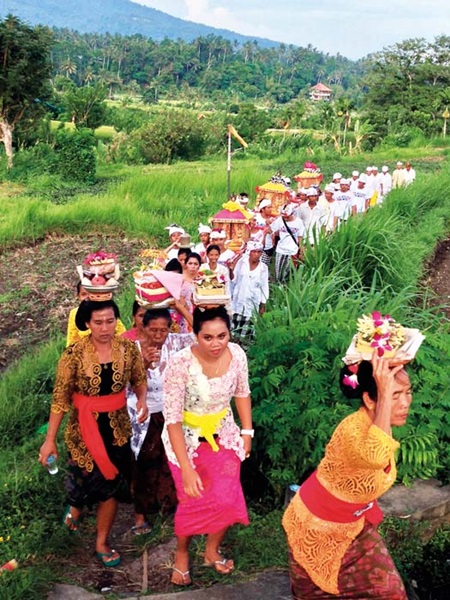 The morning market in Amlapura is also visit worthy. Quite simply it is a fantastic market. Besides the fresh produce stalls there are stalls where villagers from the district come to sell handicrafts. Small alleyways are filled with curious shops selling gems, religious paraphernalia, terracotta bowls and pots – in short it is great fun to fossick around for a while. Try tasty local dishes with impunity.
Just outside Amlapura is Bali Asli. This beautiful building and authentic Bali restaurant is created by Australian chef, Penny Williams. Trained in the Savoy in London, she came to Bali and fell in love and now her team cooks Balinese fare on traditional wood fired stoves. She works with the community and offers great tours and cooking classes.
Following the road further, we come to a water palace created by one of the last rajahs of Amlapura. This is a cool place to spend an hour or two. The rajah created several pleasure palaces and the other one is in nearby Ujung.
Follow this road and take the back road to Amed, one of Bali's most scenic areas. Million dollar views of mountains drop down to secluded bays below. Why this area is not dotted with exclusive villas remains a mystery but time will tell.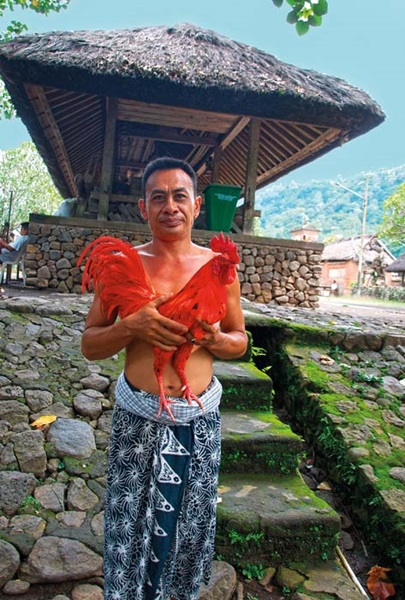 The road continues on to Amed – a quirky spot where a string of fishing villages have become a new tourist mecca. Once Bali's best kept secret, it is now the destination of choice for folks who want a quiet time. Villas have been popping up like mushrooms. Mountains drop down to the sea, providing numbers of secluded bays and beautiful little beaches.
Diving is prime and snorkeling is spectacular. Many visitors head straight to Amed from the airport and stay a month, and sometimes forever! It is a return to a simple village life where small things become big and everything works on a simple human scale.
If you can drag yourself away from Amed, it is on to Tulamben, another diving mecca created around the wreck of the good ship SS Liberty. While some folk whizz up for the day from Kuta, dive and return south, others take a far more relaxed approach and stay longer.
The diving is excellent along this whole section of coast and the dive shops are very accommodating whether you want to earn your PADi stars, dive, or try an experimental underwater jaunt to see how it works for you. Everything is possible. The road continues on along the north coast to Singaraja.
Returning from the Amed area, pass by Tirthgangga and its famed rice terraces. The air is slightly cooler here and every visitor feels compelled to stop and take photos or at least a selfie. If you stop near a small warung (food stall) selling Bali's best bakso (meatballs), you can descend steps to a tiny water temple and follow a path that winds through the rice fields and back to the main road – a delightful half hour diversion.
Just after the Tirtagangga terraces, another water palace awaits. Backed by serene mountain views at the foothills of the holy mountain, it is a true beauty spot. You can even swim in the ice cold bathing pools of spring water.
The road continues back to Amlapura and then to the south. While the bypass is appealing, the inner road that passes through the royal city of Klungkung and Gianyar is also worth while. It is all a matter of choice.
Written By Ayu Sekar