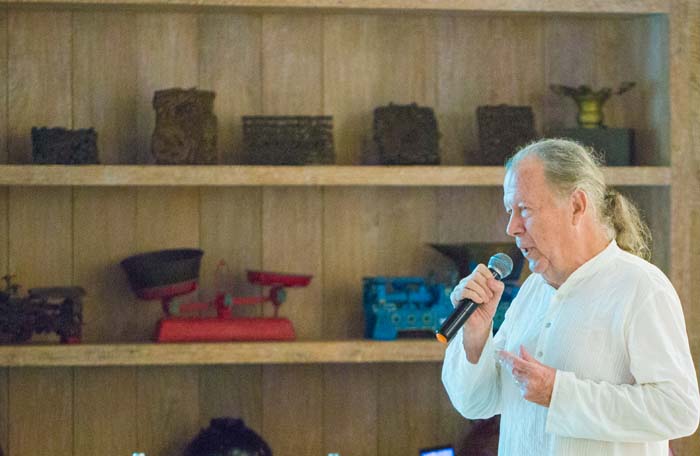 It was early 2009 when I first met Jean Couteau at an editorial meeting. The Frenchman, who speaks Bahasa Indonesia fluently, arrived in white trousers and a long sleeved white shirt. He spoke extensively about Balinese traditions and cultures and how we should raise awareness of this rather than always the island's sun, sea and sand.
Jean Couteau was born in Clisson in 1945 and first arrived in Indonesia in 1972. Jean, who now sports a ponytail, comes from a reputable family background with his late father being a veterinarian and his late mother a celebrated painter and writer.
The young Jean lived always in earshot of conversations about world art and culture. When his mother got invited to Laos to paint portraits of the Royal Family, Jean came along and continued his journey to Bali. The island captured his heart through its complex and enthralling history and culture, and Jean relocated to Bali permanently with his wife and children.
From his perspective, art is the pinnacle of personal expression.
Growing up in a family which was strongly influenced by art and culture, Jean developed his own perspective about humanity in terms of history, culture, tradition and art. In 1986, Jean received a doctoral degree for his thesis of art history and iconographic art of Bali.

From his perspective, art is the pinnacle of personal expression; it is a way to speak out about personal feeling or social problems by promoting subjectivity. "The medium can be anything; painting, writing, dance, sculpture and else. Cultural heritage and technical skill are important elements of art. However, understanding the past and what transcends it is the key of art," he said.
Jean, who despite his serious expression is easy to talk to, has had much of his writing published; including Lempad (2014), Time, Rites and Festivals in Bali (2013), Bali inspires (2011), Bali Today and many writings about prominent artists in Indonesia, such as Walter Spies, Affandi, Srihadi Sudarsono, Made Wianta, Nyoman Nuarta, Arifien Neif and more. He also shares his knowledge with students of Indonesia Art Institute in Denpasar, the capital city of the island.
As he and his beautiful family continue to reside on the island, he continues observing and writing about Balinese culture and art. His meticulous writings about fascinating Balinese myths, culture and history can be read in each issue of NOW! Bali magazine.
Through each of his works we can see how interconnected the tradition and art is to Balinese life.
Written By Kartika D. Suardana