It was one of those beautiful Bali days; sunny with a nice cool breeze coming from the sea, carried over from neighboring countries to the south where it's winter at the moment. This is my favourite season of the year.
It's also the start of high season in Bali so the island is dotted with happy holiday-makers. The hotels are starting to get busier, especially W hotel in Bali, which is one of the favourite options for "local" tourists from Jakarta, Surabaya and Medan.
Happy members of the Chaîne de Rottisseurs gathered at W Hotel's lobby bar to enjoy a welcome cocktail, and an unusual looking display of canapés, one of which was presented in a tin!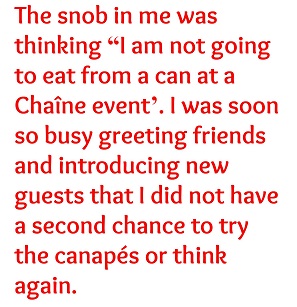 My dear friend and Chaîne member from the Jakarta Bailliage, Haseena Bharata, joined us at the table at Fire Restaurant and insisted that I try some of the canapés, which I did.
A very delicate taste of smooth Foie Gras Chawan Mushi of Blue Crab, Japanese edamame and chicken pleased my palate.
The Eel Croquette with the Iberico Jamon was delicious and surprisingly, the canapé served in the can was a refreshing Japanese Tenggiri (similar to Tuna but smaller) in Yuzu-orange vinaigrette and just about an exact drop of sesame oil.
Danielle van Poppel, who has started performing her duties as the new Bailli of Bali East Chapter (and doing her job very well) assisted by Sashi Rajan, joined our Bailli de Bali, Frits Henskes, to introduce the chefs of W Hotel and Resorts Bali, Jack Yoss and Matthew McCool.
Herald Wiesmann, the Sommelier of the Chaîne des Rôtisseurs Provinciale Baillage de Bali, came soon after with an explanation of the wines he had chosen for this occasion, which made me certain that this was going to be an interesting luncheon.
While they prepared the appetizer, a cured salmon sashimi in Thai chili ponzu with compressed mango, orange roe and pickled cucumber decorated with some herbs, the first wine was served, a clear and classic Chianti From Italy, I sistri IGT Castelnuovo Berardenga, a Chardonnay from the year 2012 of the Felsina vineyard. A beautiful start.
The second course was a delicate and creamy soup; sweet onion, parsnip and dashi bisque, with poached lobster, salmon roe, sweet and sour pickled radish and green apple.
The first main course was black cod topped with Thai green curry foam, rasped coconut, corn texture and nuts, accompanied by Riesling 2009. A Dorsheimer Goldloch, Grosses Gewaechs, Schlossgut Diel from the Nahe wine region of Germany.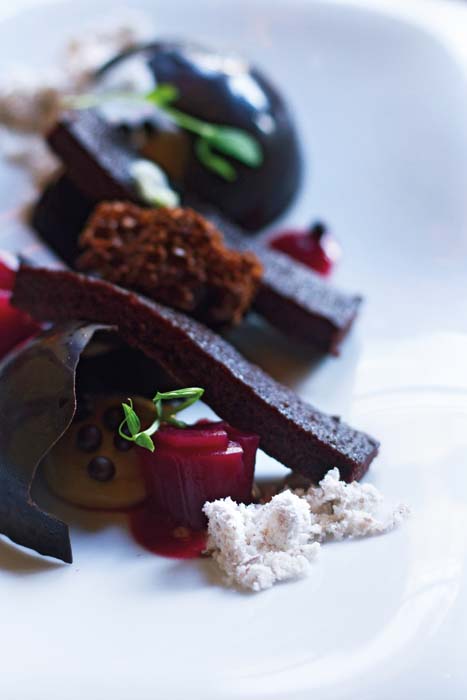 A break of 15 minutes was filled with much small talk and photo taking or a cigarette for some of us. During this time, a Mojito sorbet was served to cleanse our palates.
Next came the main course; tender slow braised beef short ribs just about the right size (for me at least) with a creamy potato mousse, ponzu cured egg yolks and pickled seaweed on the side.
This was fittingly paired with a wine from one of my favourite regions of the new world – a Shiraz from the Barossa Valley, Stonewell, Peter Lehmann of Tanunda. The only tiny piece of input regarding the main course was the choice to serve it in a bowl; some of us would have preferred a big plate. However, since the theme was "Asian Fusion," it seemed to make sense as eating from bowls is customary all over Asia.
The dessert, "Texture of Chocolates," featured fluffy cake, nugget, soufflé and thin moon shaped flakes of chocolate with Nutella crumble, sour cherries and fruit compote. The dessert was received to the sounds of "oohhs," "aahhhs," and "hmmmms…" from the ladies, with one declaring that it was the second best thing in life!
As it's the holy month of Ramadan, I won't mention to what it was declared second but I'm sure you can imagine! The lunch ended with the sweet Ruffino from the Vin Santo del Chianti, of Tuscany.
But all was not over! As a surprise for our Sommelier Harald Wiesmann, who was celebrating his birthday, the serving staff arrived with a birthday cake and sang with all of us for Harald. In return, Harald read to us some of his poetry, dedicated to his number one passion – wine!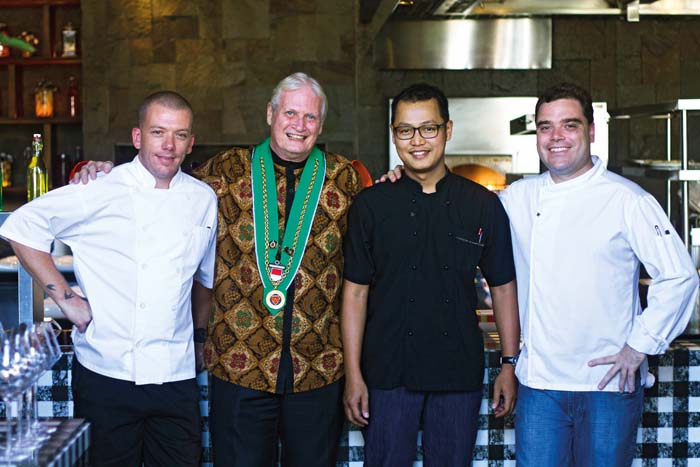 While some of the guests hurried home to have their massages and naps to get ready for the evening's entertainment, some of us hung around to enjoy the afternoon until sunset by the beach with the not forgotten Chaîne Cigars and Cognac, or tea and coffee with chocolate kisses from W Bali.
Bravo for the team of W Hotel Bali, The F and B Director, Andreas Bergel, our young and innovative chefs, Jack and Matthew, and last but not least, the Indonesian restaurant manager, Achmad Sholeh, who oversees the friendly and attentive service at FIRE Restaurant at W Hotels Seminyak, Bali.
Compliments from the Chaîne des Rôtisseurs Bailliage de Indonesie
Vive La Chaîne!