It has almost been a year since Bali went into its first official lockdown, which took place after Nyepi Day of Silence on 26 March 2020. Since then, Bali's economy has entered the single worst period it has ever experienced, far beyond the Bali bombings or Agung Eruption.
The real tragedy is of course the livelihoods of the Balinese people, who, directly or indirectly, have been dependent on the tourist industry constantly running.
Without trying to be sensationalist in any way, the absolute reality is that there are people going hungry in Bali, whilst some are struggling to keep a roof over their heads, or pay for urgent medical needs.
Luckily, there are organisations, movements and communities in Bali that are making it their everyday mission to identify people most at risk and providing them with what they need. We list some of these organisations below. But, they need constant help and donations: so, if you are able to, please donate and help their cause. Thank you for your kindness.
---
Scholars of Sustenance
SOS Indonesia have long been helping with the food waste issue in Bali by collecting surplus food from hotels, resorts, restaurants and suppliers. This food is donated (after being checked) to those in need. Uncooked food donations are made into nutritious meals at Food Rescue Kitchens (3 around Bali), which operate 6 days a week making 2000 meals a day.
SOS uses their distribution infrastructure (refrigerated trucks) to pick up surplus food but also deliver around the island. to get their food support out to those in need. Currently, SOS Indonesia are providing over 3.500 meals per day around Bali, a network which spans orphanages to rural villages 5-hours away.
There are many ways in which you can help SOS: (1) You donate foodstuffs to be prepared in their Food Rescue Kitchens (individuals and businesses); you can volunteer in the Food Rescue Kitchens (prep work and packaging); you can Cook for SOS and make batched meals to be donated (individuals and businesses); and of course you can support financially too.
Food Rescue Kitchen:
Rumah Sanur (Mon-Sat, 8am onwards)
Lala Land Studio – Pererenan (Tues, Thurs, Sat, 8am onwards)
Scholars of Sustenance is a fully licensed non-profit organisation: DONATE HERE
---
Feed Bali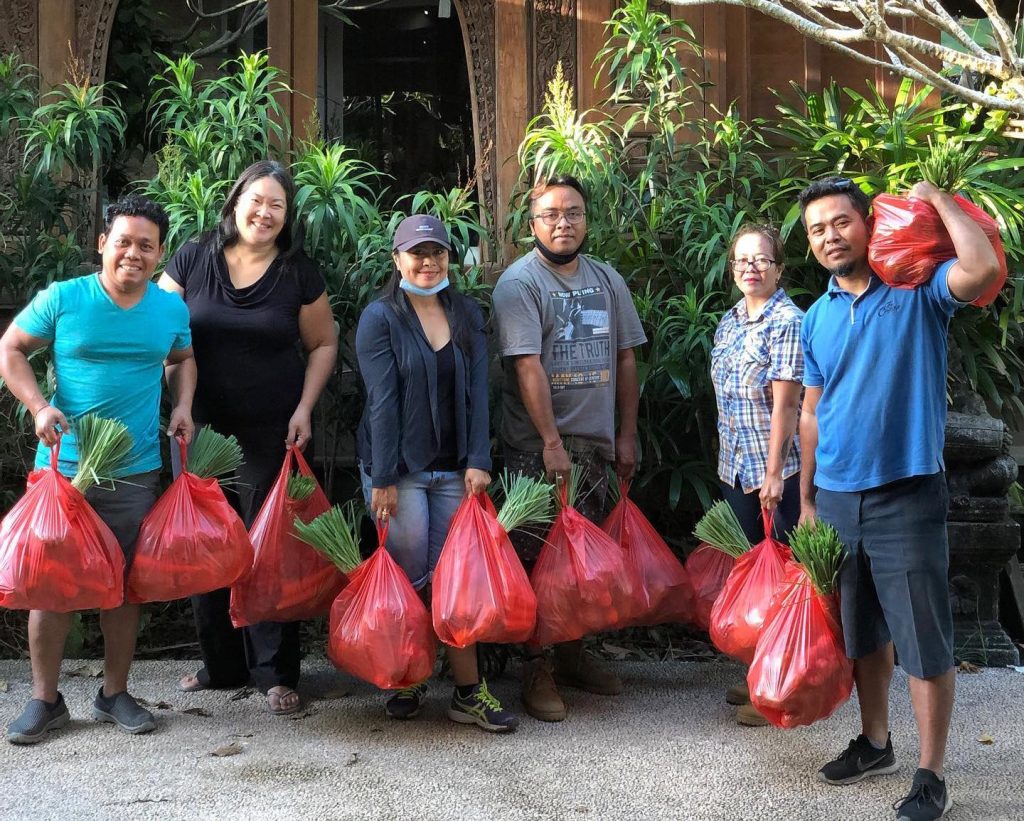 Feed Bali's mission is to keep the peace in Bali by providing the most in-need families with food sourced 100% by local Balinese farmers.
Started by husband and wife team, Adi and Frances, Feed Bali works with the leaders of each village, they identify the families hit hardest by COVID-19 related unemployment. They then deliver enough food to last each family 2 weeks. Just $30 will buy: Carbs (10 Kg Balinese grown rice); Veggies (2 cabbages, 1 kg carrots, 1 kg green beans, 4 chayote (bought daily from Balinese farmers); Fruits (12 bananas, 1 kg local tangerines, bought from Balinese farmers ); Immunity Building Spices, Protein: 30 farm fresh eggs from Balinese farmers; Flavour (1/2 kg Balinese sea salt & 1 kg natural sugar), Oil (2 litres of cooking oil). They are currently helping around 3,000 families.
Instagram: @feed_bali
DONATE HERE
---
Crisis Kitchen Bali
Starting through simple handouts of food from in-front of a restaurant in Umalas, Crisis Kitchen Bali grew inline with the growing needs of those around Bali. With so many people out of work – most of whom are out of sight – more and more people came for the food packages provided by Crisis Kitchen Bali.
The group provides packs in which basic food supplies are offered, including rice, noodles, vegetables, oil, eggs etc. From handing out food from a storefront, their team and volunteers now deliver to different areas and organisations in need.
Noticing that in some cases the situation is even worse than that, Crisis Kitchen Bali has also helped to fund urgent medical needs and even rented shelter for people who have found themselves without a roof over their heads.
---
Solemen Indonesia Food Drive
Before the Coronavairus pandemic Solemen Indonesia's Outreach Programmes were being supported with donations from private corporate donations as well as by partnering with small businesses and social organisations in Bali and Australia.But due to the severe impact of the present pandemic on our partners' revenues, Solemen's funding has nosedived by 75%.
Many have lost jobs; livelihoods have disappeared and support systems are now almost completely unavailable. Solemen needs your help to provide food to families and/or nutritional milk to malnourished children. Solemen works closely with some of the most disadvantaged communities on the island.
They are asking for help to buy Buy a food parcel (AUD$20/ IDR 200.000); a food parcel to sustain a family for 2 weeks (AUD$40/ IDR 400.000); or buy nutritional milk for a malnourished child (AUD$60/ IDR 600.000). Looking for monetary donation.

More details on their donation page: https://gogetfunding.com/savelivesinbalinow/

---
Kita Peduli Indonesia
Since 2002, Kita Peduli Indonesia has helped people deal with the aftermaths of disaster, be it natural or human-made. This was initially a group of friends who eventually created a formal foundation in 2019, Yayasan Kita Peduli Indonesia (We Care Indonesia). They have a whole network of transport, Bali based doctors associations, Red Cross Indonesia (PMI) and more.
In light of COVID-19, Kita Peduli Indonesia has added distributing basic food packages around Bali. These are delivered to different groups as different packages (Package 1) Students/lower income employee in need (Package 2) Low-income Family (Package 3) Head of family with toddlers.

They accept any types of donation and will be distributed as a first-hand distribution to the hospital in needs and the most fragile communities in Bali. Looking for food drop or monetary donations.
Donation Details: www.kitapeduliindonesia.or.id
+62811 396 945 || Jl. Daksina No. 3 Batu Belig