Have you ever entered a bar or restaurant and very instantly felt the 'good vibes'? Well, this is exactly what you'll feel when you walk into Motel Mexicola, found nestled at the intersection of Petitenget and Oberoi in Seminyak. A zany Mexican bar and restaurant like no other.
The sounds of cheering and merriment can be heard from outside, where a vibrantly coloured painted wall make for a truly unmissable façade. Like light to flies it lures you inside, where the real fun is!
The iconic Mexicola Shrine, surrounded by melted wax, candles, old photos and an array of marigolds greets you upon entry. A step further in and you're transported to a wild, colourful world; try to imagine a traditional Mexican cantina bar that has been decorated by a latina Andy Warhol. Already you know the place has soul, that Latina pasión reverberates inside its very walls.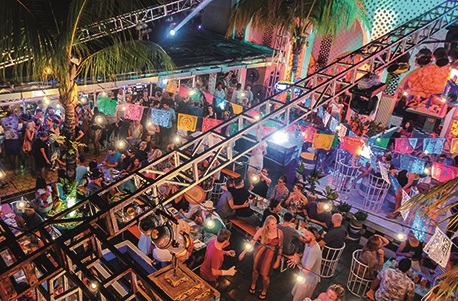 Come 9pm Mexicola will be full of diners and drinkers, taking up the central area, standing at the bar or sitting on casual picnic-style tables. The atmosphere is seriously vibrant too and hispanic beats and classic tunes surround this electric venue, so you'll see people grooving out to 'real' music for a change.
When you're there, you'll likely be sipping on some interesting cocktails – Mexicola original recipes. A favourite is the Coco Colado, a coconut-water based pina colada served in a coconut shell; or perhaps the Mexicola!, a tequila-cola concoction that will surely fuel the night ahead.
Getting hungry? Just order up some Mexican favourites to keep you going. The little bite tacos go down well with that shot of tequila, which is always on offer being a Mexican bar and all. If you're lucky enough, you may witness a famous a 'tequila parade where brave patrons battle the bottle as tequila is poured straight into open mouths around the venue… can I get some lime with that, please?