Set in the usually sleepy Sanur, with a saké-paired dinner on offer, curious members of the Bali chapter of the Chaine des Rotisseurs signed up quickly for their Dîner Amicale in Kuu, found in the newly opened Maya Sanur Resort and Spa.
Kuu specializes in Izakaya dining, a style of Japanese dining traditionally defined as a casual, after-work drinking establishment that serves food or snacks to accompany drinks – a Japanese version of tapas, if you will. Of course, being attached to a five-star resort, Kuu brings that higher touch of elegance than expected from traditional Izakayas.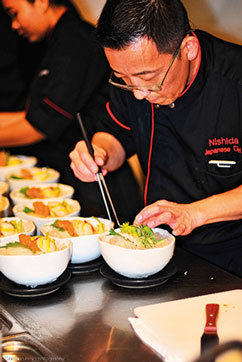 This was to be Kuu's first dinner for the public and Chaine members gathered eagerly outside the restaurant, enjoying a special 'saketini' cocktail creation as they waited. Finally, the bay doors of the restaurant were opened, revealing a contemporary interior that although does not represent a typical Izakaya, surely exuded a Japanese-like atmosphere. The distinctive geometric ceiling, painted white with hints of 'cherry blossom', made one feel as if they had stepped into a building made entirely out of origami. A modern and polished display kitchen surrounded the dining area, where patrons took their seats, not sure what to expect.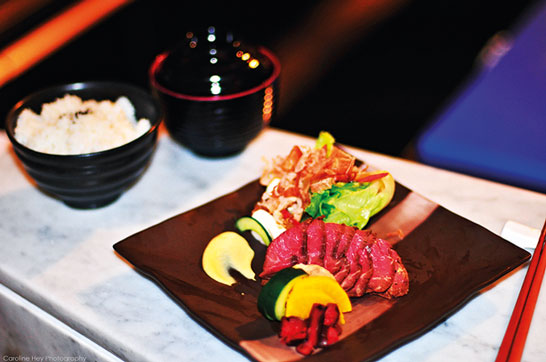 Eyes moved quickly to the menu. As is customary for Chaine dinners, there were 6-courses served through the evening and it was noticeably long; some courses embodied the 'tapas' style of Izakaya by providing a mixture of small tasting plates, each quite different from one another. Combining 3 dishes into one course, without confusing the palate, is no easy task.
Restaurant consultant Kenny Tjahyadi explained each course, this was to help reveal the impressively intricate processes certain dishes or components went through. Particular dishes stood out. The Buka Kakuni dish showcased an interesting cooking method: saké and mirin marinated pork was firstly boiled in rice, essentially stripping it of any strong flavours or typical pork odours, leaving behind a delicate piece of odourless meat, with a consistency similar to paté, almost dissolving at the touch of the tongue. The Salmon Butter Yaki introduced a different presentation of the salmon skin, essentially creating a thin, crisp-like wafer, whilst the following Angus Beef Onsen Mushi saw a fusion of French cooking with slices of sous-vide beef accompanied by the typical Japanese sides – truly interesting creations and accompaniments.
Of course, the unique aspect of the evening was the saké pairing. All the sakés served were premium grade, but all were cold. Kenny Tjahyadhi explained that firstly, cold sake suited warmer climates far better, but more importantly, individual flavours of the drink are clearer and more pronounced in cold sake – thus more appropriate for pairing with food. It was the final saké, Ozeki Hana Awaka, that really stole the show. A sparkling saké served with dessert, as not to deny diners of their usually sweeter, lighter dessert refreshment.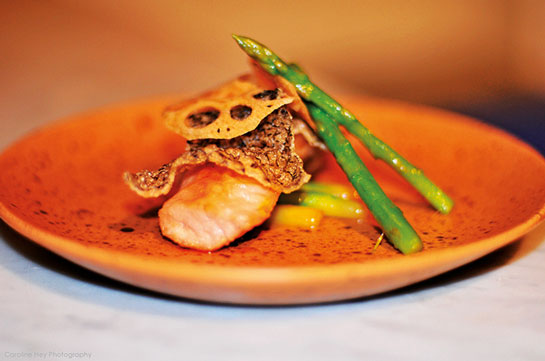 The evening ended with a hearty appreciation of the venue. Chef de Cuisine Nishida Tetsuya, as well as the Kuu waiting staff, receiving their deserved certificates from Frits Henskes, Bailli Provincial de Bali. This inaugural dinner for Kuu put them to the test, as the Chaine members are not easy to please. Yet, despite the restaurant's 'prematurity', the evening's dinner showcased Kuu's professionalism and quality, in both the offerings of food and drink. It would be fair to say that 'the public' will revel at the offerings at Kuu and perhaps Sanur will be sleepy no more.