Tucked in a secluded jungle oasis in Ubud, Sandat Glamping is a dreamy boutique resort designed with innovative bamboo and thatch structures enclosed by lush tropical gardens with lavish safari-style tents wrapped in privacy. Experience camping on a whole other level.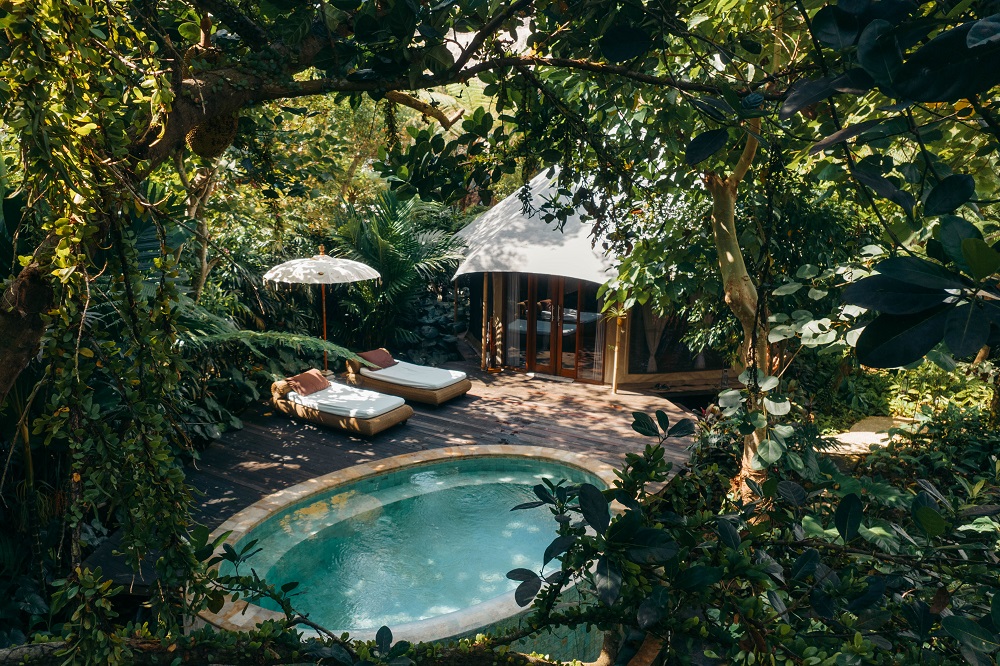 Though a mere 10-minute drive from central Ubud, Sandat Glamping's smart landscaping establishes the illusion that you're concealed in a whimsical jungle, nestled amongst rice fields on the edge of a valley. While there's not much around the area, that's part of the charm of this tranquil sanctuary, a place to unwind and immerse yourself in the serenity of nature, away from any distractions and commotions.
Established in 2013, Sandat Glamping is the island's pioneering glamorous camping accommodation, a stylish, environmentally-conscious boutique property with an enchanting thatch and bamboo restaurant and lounge, where verdant gardens outline walkways and provide guests with pockets of privacy around the tents, all of which feature expansive decks and pools. The tents' interiors are dominated by shades of white and elements of wood, adorned with plush décor that presents a sense of a tastefully curated home as opposed to hotel space.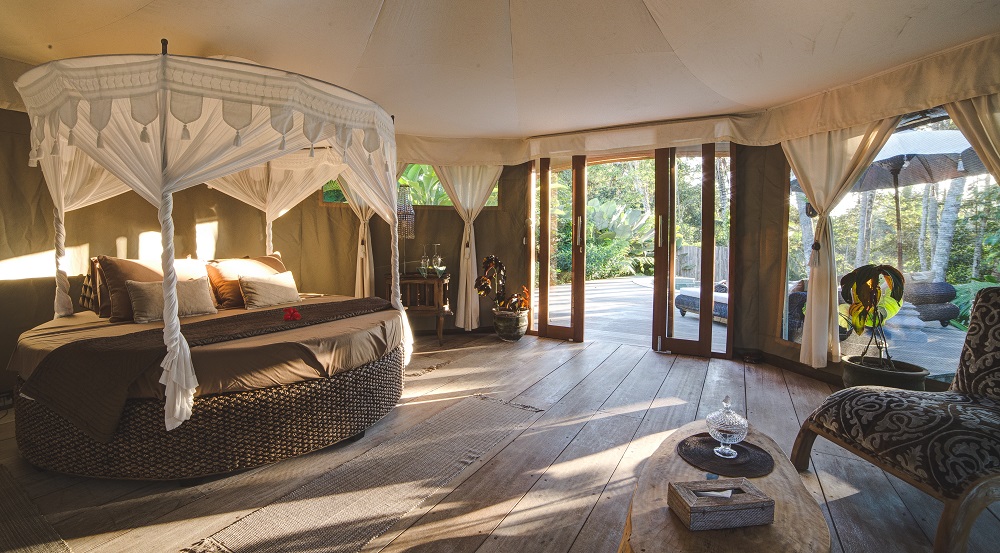 Sandat Glamping showcases unique and polished environments and influences with an Italian taste, seamlessly blended with details from East and West to present refined and alluring atmospheric details. Retreat into this magical hideaway, fully immersed in the harmony of nature without sacrificing the pleasures of luxurious living. Offering eight types of opulent eco-designed structures, Sandat Glamping's accommodations allow guests to fully indulge in the exotic charm of the unspoilt sanctuary, a safe space to linger and enjoy the peacefulness of the property.
The five exquisite luxury safari-style tents sized 40 sqm feature slightly different décor but shared the same natural shades that promote a feeling of serenity, each equipped with a private pool overlooking the jungle vista that is enclosed by lush gardens with a magnificent indoor bathroom. Guests can choose from the two Suite Tents, namely Suite Tent Penjor and Suite Tent Ylang-Ylang, or the three Tents, comprising Tent Ogoh Ogoh, Tent Sarong and Tent Banten.
For an even more luxurious glamping accommodation, choose from the three stylish Lumbung Suites, inspired by the traditional rice barns, reimagined as an eloquent and romantic two-storey lodging which displays the typical characteristics of thatched roofs that almost touches the ground. All facing onto the communal pool, the three Lumbung categories include Lumbung Standard Barong, Lumbung Superior Legong and Lumbung Superior Kecak.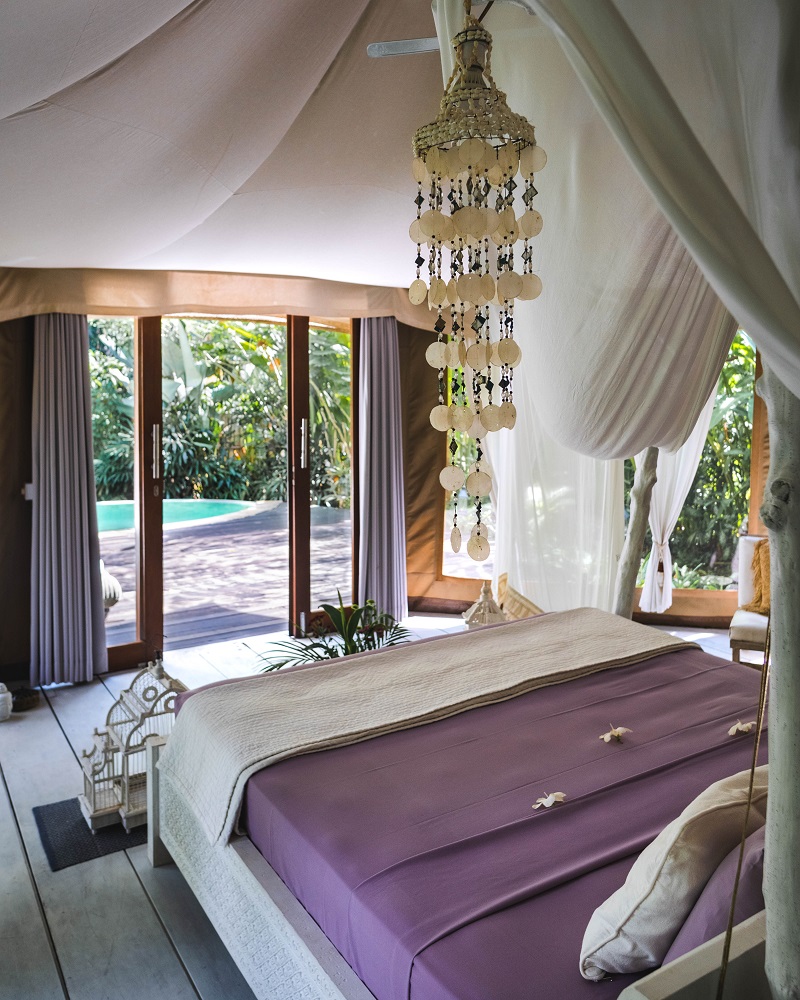 The central structure of the property boasts a modern bio-architecture 10 metres high, designed with a winding staircase that mirrors the landscape of the surrounding rice terraces connected by the different areas that result in a distinctive environment spanning over 240 sqm. The structure is furnished with a wall adorned with a collection of 101 mirrors, while the white-dominated flooring exudes a calm and fresh ambience.
When it comes to dining, guests can find comfort in the picturesque restaurant, reminiscent of a bamboo cathedral, which houses an 8-metre-long table, welcoming guests to a communal dining experience with other guests, serenaded by the sounds of nature. The restaurant presents authentic flavours of Balinese and Indonesian favourites, as well as a wide range of international dishes and a children's menu.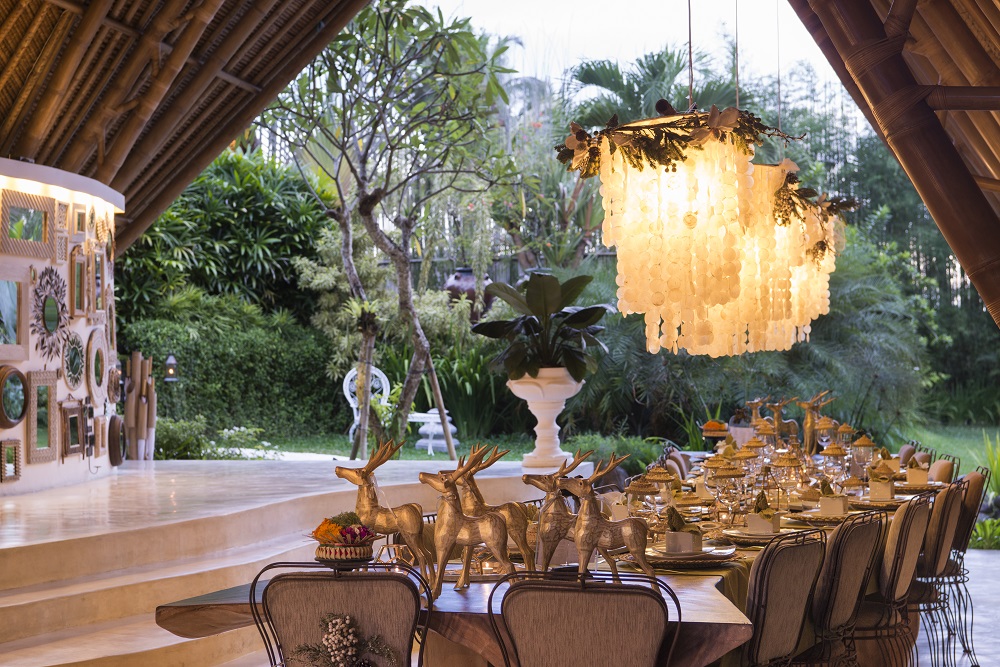 The property also features an elegant lounge and bar, where guests can kick back and relax on cosy sofas. Here, guests are encouraged to enjoy downtime activities, whether reading a book, browsing the internet, listening to some tunes, playing a variety of games including chess, cards and backgammon or simply hanging out with friends and family. Guests can revel in the cocktails or shakes and smoothies available or look forward to cocktail hour, where you can have a taste of the popular Italian Spritz.
As a peaceful retreat, Sandat Glamping also offers rejuvenating spa services, from massages to beauty treatments. Take advantage of the wellness services to rejuvenate with preferred treatments, brought directly to your room. The therapists will prepare your treatment set up on your outdoor terrace, with flowers and calming scented essences.  Additionally, yoga practitioners can enjoy sunrise sessions at the circular bamboo yoga pavilion with tranquil views of the green forests and rice fields.
Sandat Glamping
Jl. Subak Sala, Banjar Sala, Ubud
+62 821 4408 1998
glampingsandat.com