It's everyone's favourite time of the year to dress up! Halloween in Bali is filled with huge parties and celebrations – both for families and party-goers — where the island's festive folk dress up, slap on face paint and find the liveliest fiestas around town.

With the island now open and venues back in full-swing, Halloween is going to be a big one again! If you're looking for that best Halloween parties in Bali this 2022, scroll through our list of events listed by area. You'll find both 'Party' and 'Family Friendly' events tagged below.
Uluwatu | Seminyak | Kuta & Legian | Canggu | Ubud | Nusa Dua | Jimbaran | Sanur
---
Celebrating Halloween in Bali
When looking at the listed Halloween parties and events across the island, remember to double-check a few details, because they are not one and the same!
• Check for the actual event date – not all events take place on 31 October 2022, venues may prefer to host a party or celebration in line with the weekend, for example. 
• Who is the party for? – importantly, there is a wide range of Halloween events in Bali. You'll find adult-only parties, special dinner celebrations and gatherings made specifically for children. Make sure you're not disappointed by double-checking the event format / terms and conditions etc.
• Is the location appropriate? – Why NOW! Bali has listed events in this format is because location is a very big deciding factor on the island. On nights like Halloween where roads might be busy, its best to double-check travel times and distance from accommodation.
---
Halloween in Uluwatu
Savaya Bali (Party)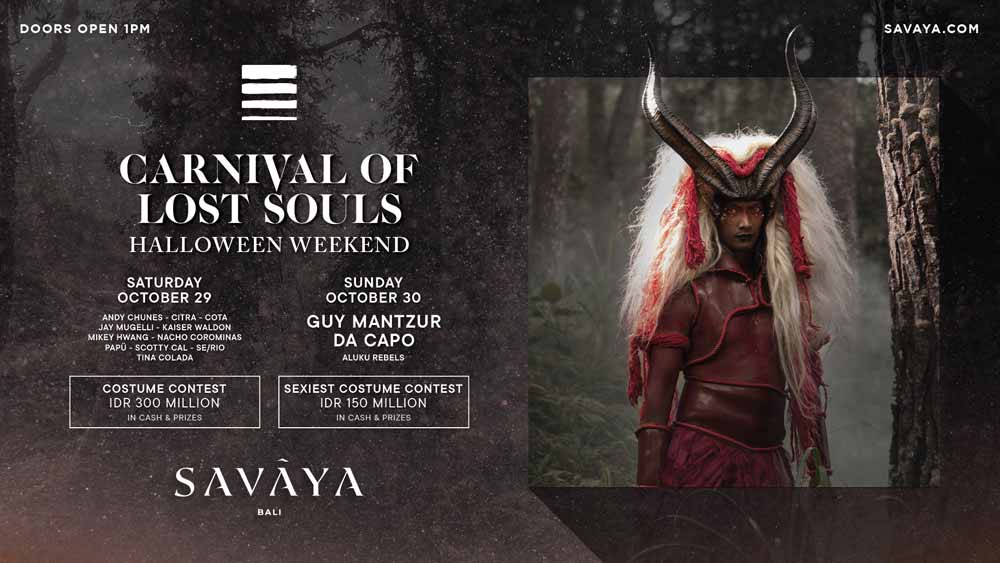 One of Bali's most anticipated Halloween parties will be taking place atop the cliffs of Uluwatu at the famous day club venue, Savaya Bali. Due to popular demand, the iconic destination is bringing back their seasonal celebration from last year with the 2nd Annual Carnival of Lost Souls.
This will be a two-day event, making an epic Halloween Weekend experience. On Saturday, 29 October, the island's top DJs will be coming together to set the vibe, including Andy Chunes, Papu, Tina Colada, to name a few. On Sunday, 30 October, Guy Mantzur and Da Capo have been invited to take over the decks.
Both days will also feature a Costume Contest with massive winnings for the best-dressed: IDR 300 Million (29 Oct) and IDR 150 Million (30 Oct) in cash and prizes! Different categories of Best Costume are available each day and participants must register to take part.
Saturday: Best Costume, Best Group Costume, Most Unique Costume, Scariest Costume
Sunday: Sexiest Costume
Have a one-of-a-kind Halloween in Bali at Carnival of Lost Souls.
1pm, Saturday 30 October AND Sunday 30 October. 21+ Years only.
General Admission: Purchase Online
IDR 250.000 admission per day / IDR 400.000 for weekend
𝐑𝐞𝐬𝐞𝐫𝐯𝐚𝐭𝐢𝐨𝐧s: WA: +62 812-3856-9307 | reservations@savayabali.com
Costume Party: Register Here
---
Six Senses Uluwatu (Family Friendly)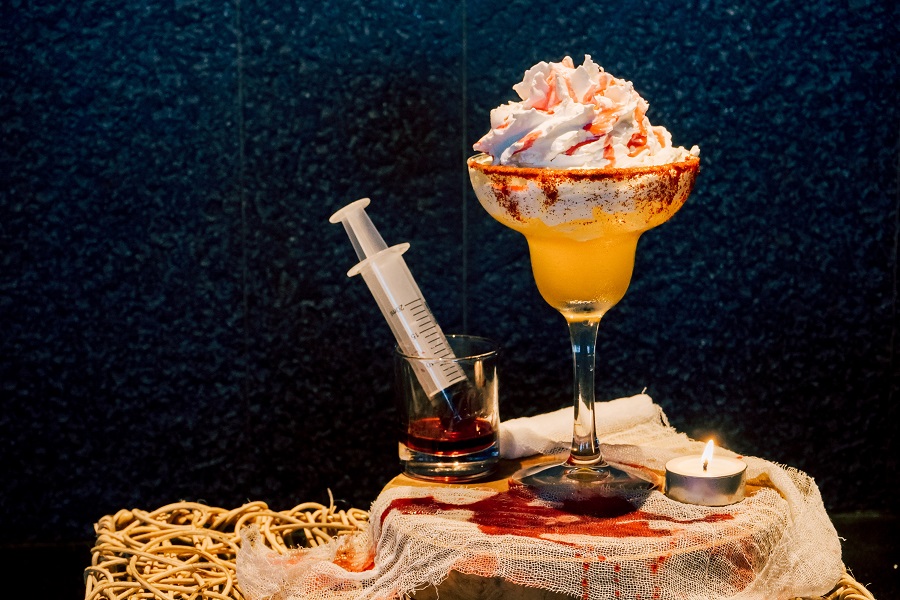 On Monday, 31 October 2022, from 7pm to 10pm, guests are invited to immerse themselves in the eerily spooky ambience at the Aarunya Lawn, decorated with ghostly ornaments for the Spooktacular Halloween Buffet Dinner. Priced at IDR 750,000++ per person (dinner only) or IDR 1,100,000++ per person (inclusive of 3 Halloween cocktails), indulge in the playful Halloween-inspired culinary dishes, specially curated by Chef Indra and his team, including dishes like Classic Beef Lasagna with Blood Sauce, Braised Chicken with Spooky Mushroom Sauce, Nightmare Purple Potato Gratin and Scary Lamb Fried Rice. Enjoy the bewitched evening and feast on the eclectic array of spooktacular Indonesian and Western delights, from appetisers and salads to mains and desserts.
+62 361 209 0300 | +62 823 3992 2381 (WA)
fbadmin-uluwatu@sixsenses.com
---
Halloween in Seminyak
Motel Mexicola (Party)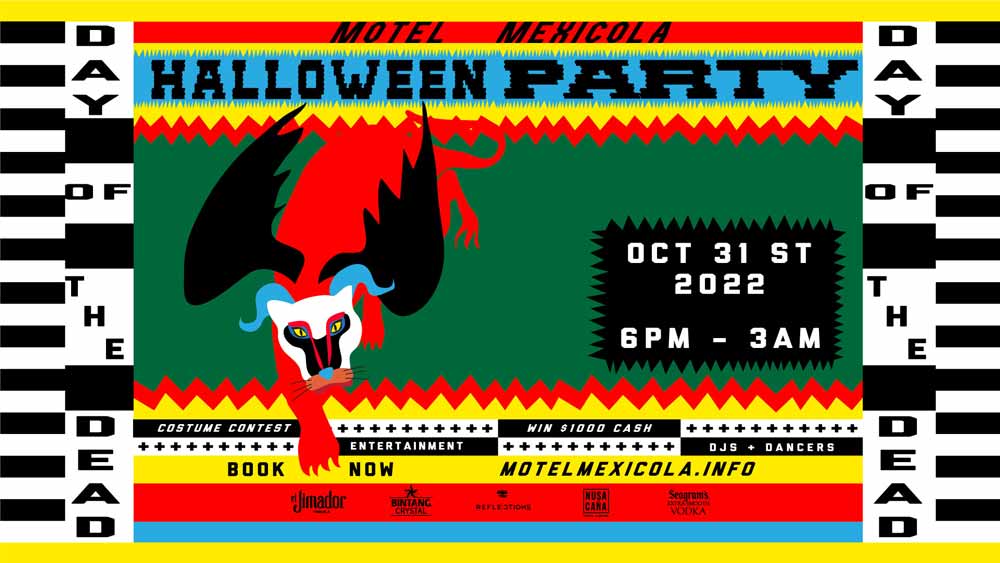 One of the longest standing parties for Halloween in Bali takes place at this eclectic Seminyak destination, Motel Mexicola. Doubling down on their Central American roots, Mexicola's Halloween party takes on the theme of Dia des los Muertos – the Day of the Dead, of course!
Funky and colourful as it is, Motel Mexicola transforms into the centre of fiesta come 31 October, with entertainment, dancers and DJs descending upon the venue for a hell of a party. There is also a Costume Contest with prizes, including $1000 in cash!
6pm-3am on Monday, 31 October 2022.
Booking is recommended: motelmexicola.info/bookings
---
KU DE TA (Family-Friendly)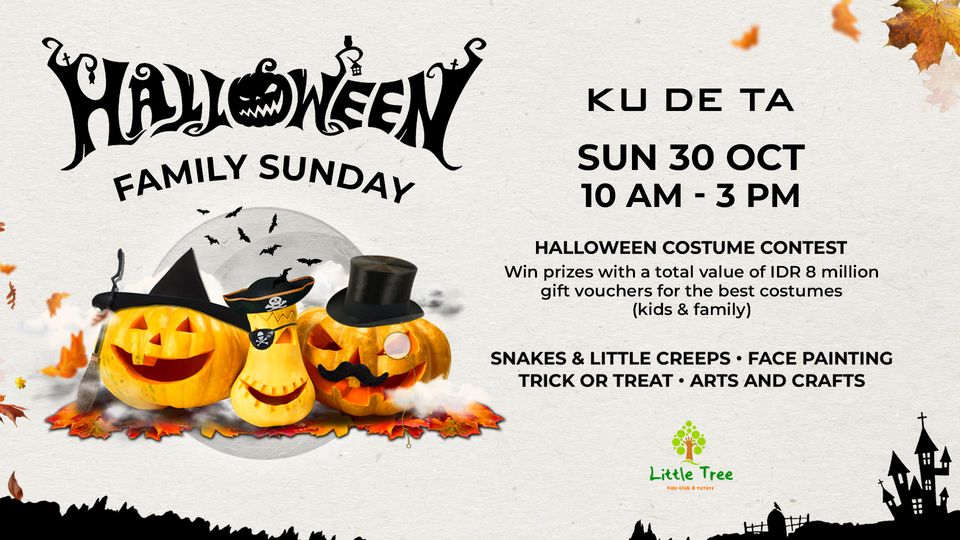 Halloween in Bali is just around the corner and so the iconic beachfront destination,KU DE TA, will be preparing an extra special and extra spooky Halloween Family Sunday on 30 October 2022!
Join this family-friendly beach club for a whole range of fun, Halloween-themed activities, including art and crafts, trick or treating, face painting, meet & greet with Snakes and Little creeper, and other experiences the kids will love. Make sure the little ones dress up for KU DE TA's Halloween costume competition, with prizes for dining vouchers of up to IDR 8 Million. One lucky family who dresses up as the most creative costume will also be awarded with a value of IDR 2 million gift voucher (costume competition submitted via @kudetabali Instagram page).
All the kids participants will do a little catwalk show and the winners will be announced at the end of the event. Categories are: kids age 1-6, kids age 7-12, and family.
10am – 3pm, Sunday 30 October 2022
kudeta.com
---
Halloween in Kuta & Legian
Azul Beach Club (Family Friendly + Party)
This gorgeous beach club located in front of the sparkling Legian Beach invites whole families to celebrate the spooky season. Azul Beach Club, the beautiful, three-story bamboo treehouse, is putting together a special Sunday brunch to celebrate Halloween in Bali this 2022. =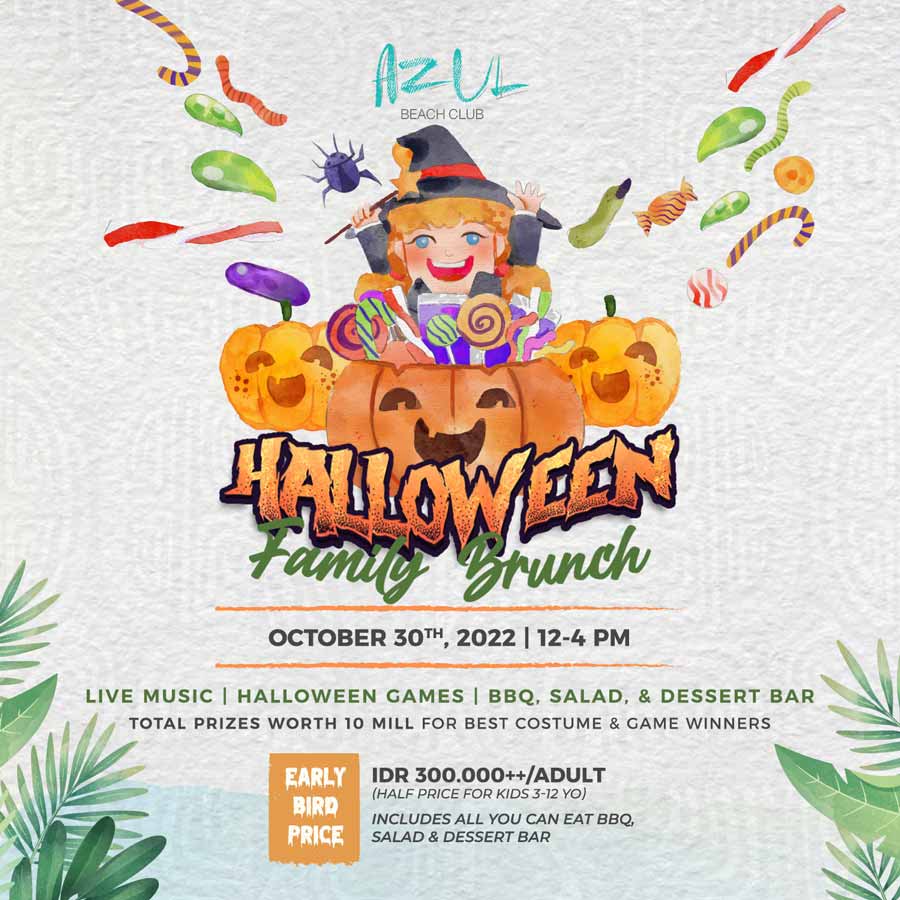 Azul's Halloween Family Brunch features an all-you-can-eat BBQ brunch by the sea, with activies and games for the whole family. A 'trick-or-treat' walk has been set up in the grounds of Bali Mandira Beach Resort and Spa for the kids, located just behind Azul Beach Club. Guests are invited to dress up as well because there will be a best costume contest with prizes for winners!
For the adults party you can head over to the Azul upper floor for a Haunted Treehouse Sundown Session. Live DJ will pump up the day and make you dance all night. Their Resident Chef and mixologist will delight you with unique Halloween bites and drinks. The Haunted Treehouse Sundown Session will start at 5 pm onwards. Free entry event & free welcome drink for everyone who dresses up.
12pm – 4pm on Sunday, 31 October 2022
Brunch early bird prices: IDR 300.000++/ adult (half price for 3-12 years)
For Bookings: + 62 361 765759 | info@azulbali.com
---
Halloween in Canggu
Platonic (Party)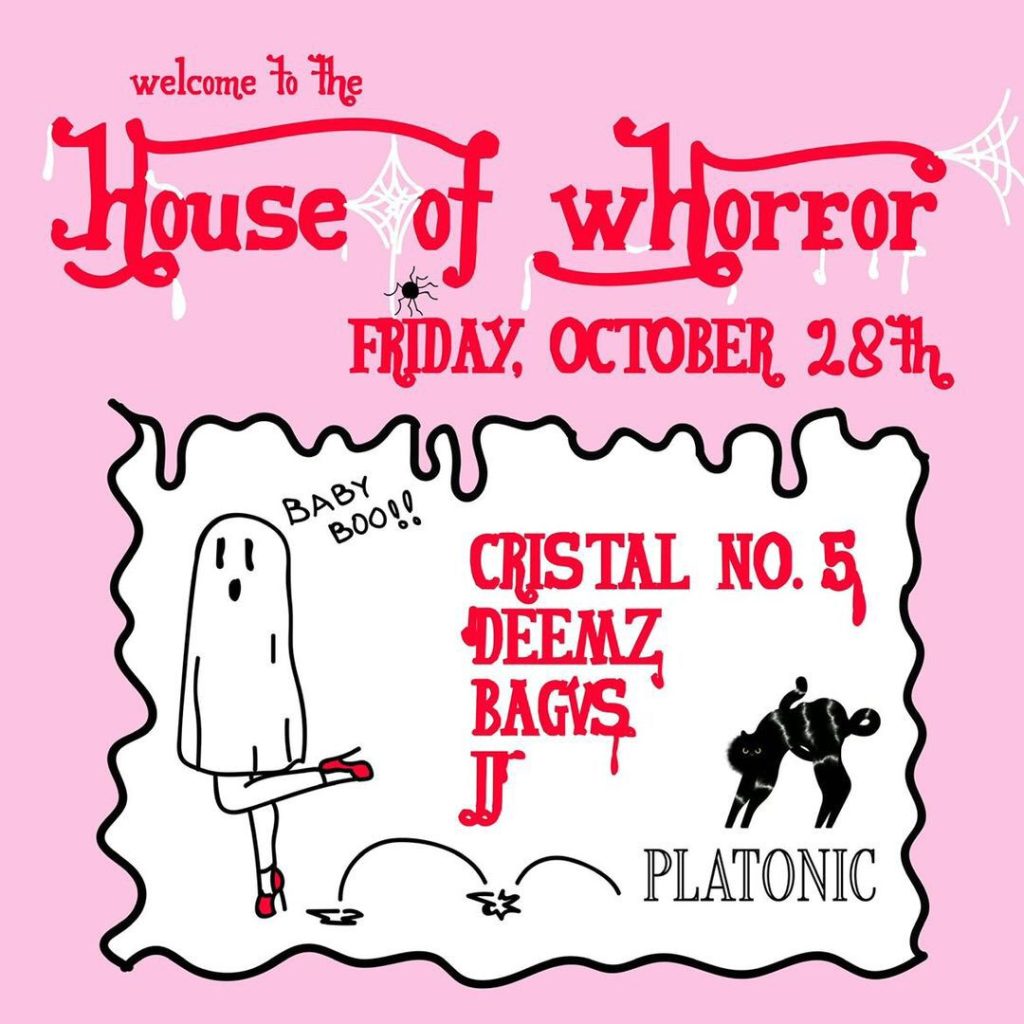 Tucked away in a small alley at Jalan Tanah Barak, Platonic is a warm, eccentric bar and intimate community space that celebrates art, people and music — it has grown to be one of Bali's most popular late-night venues. The bar will be adding their own twist to Halloween in Canggu with two very distinct nights to celebrate the season.
On Friday, 28 Oct, get ready for House of Whorror (yes, you read that right), where Halloween takes an ironically cute turn and partygoers can dress up for prizes (1. Four Pillars Bloody Shiraz, 2. 10 Drink vouchers, 3. Merchandise). Free entry before 11pm, IDR 150.000 after.
On Saturday, 29 Oct, it's Plastic Flesh, a party celebration of kink and pleasure, with a special live BDSM performance. Again, prizes will be given for best costume. Tickets IDR 105.000 for entry, bought in advance.
Party goes from 7pm to 3am.
+6282144788810 (WA) for bookings | @platonicintimate
---
The Lawn Canggu (Party)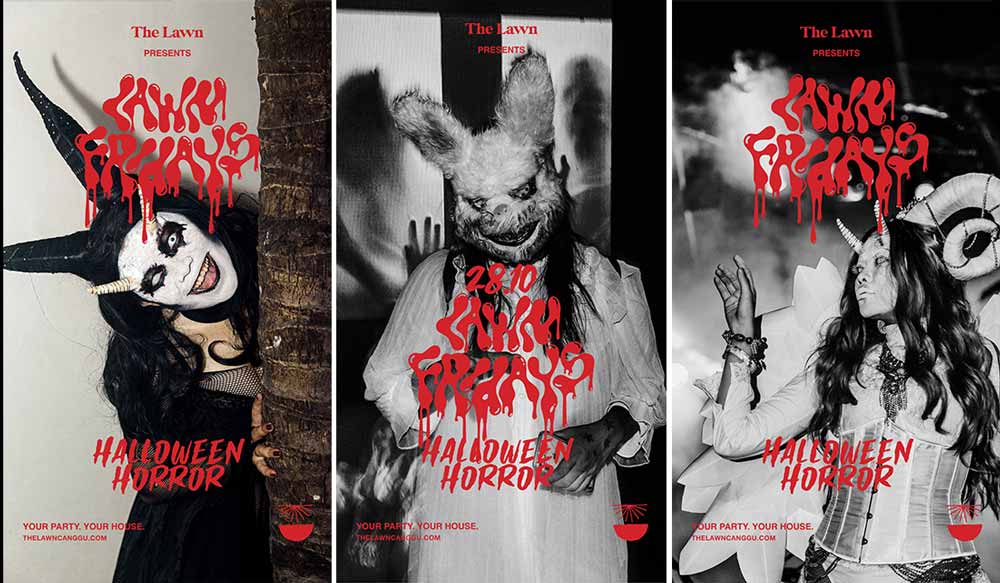 Elevating the experience of their already popular weekly event, 'Lawn Fridays', the beachfront venue presents an early Halloween party in Canggu taking place on Friday (obviously), 28 October 2022.
The Lawn Canggu's 'HALLOWEEN HORROR' will see a crowd of weekend warriors dressing their best – whether that's scariest or sexiest is up for debate! – with a chance to win IDR 50.000.000 in prizes in their costume contest. A host of Bali's favourite DJs will be at the decks, including: Mairakilla, Willson, Equalwho (PNNY), Todays Renaissance (PNNY), Alex Verdachi (PNNY).
Event starts at 7PM, Free Entry before 9PM
Table Bookings: wa.me/6281138004951
@thelawncanggu | www.thelawncanggu.com
Parklife Bali (Family Friendly)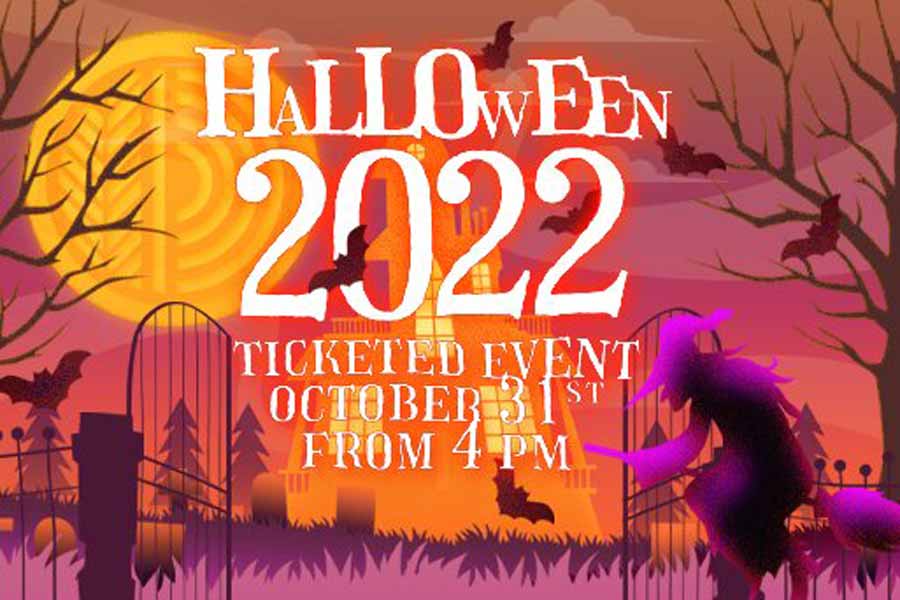 This family-focused hub in Canggu, known for its offerings of activities and play-based learning for children, is hosting a Trick or Treat event for Halloween in Bali this 2022.
It's great chance for the kids to dress up and put on their favourite costume, and this dedicated kids clubs has prepared a whole list of fun activities and entertainment, including Trick or Treating, a treasure hunt, live performances and spooky surprises. Tickets are required for this event (IDR 150.000)
4pm – 8pm, Monday 31 October 2022.
For Bookings: parklifebali.com/events/halloween-2022
---
Halloween in Ubud
The Suku Bali (Party)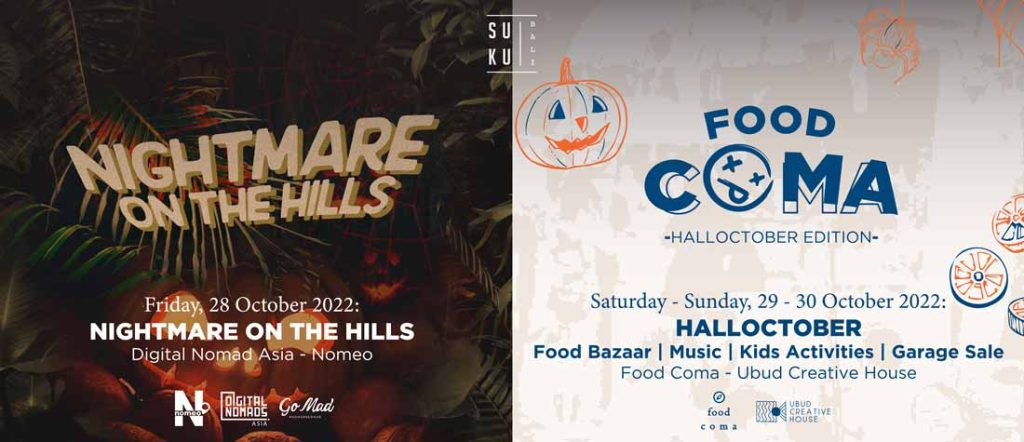 Get your costumes ready for a unique experience here in Bali: a Halloween Ball! This special event, aptly titled Nightmare on the Hill, promises to be a night filled with top-notch entertainment and custom cocktails — including a 2-hours of free-flow! Also, great prizes are waiting for guests with the most creative-spooky costume!
Organised in partnership with Digital Nomads Asia, Nomeo and Nomads Gomad, Nightmare on the Hill will make use of the amazing gardened venue of The Suku Bali. The venue will be curating a Halloween-themed menu for the occassion, and all-night tunes of Hip Hop, RnB and afrobeats will be brought to you from Toshiiki and DJ Jnaro.
Halloctober (Saturday & Sunday, 29&30 October 2022)
In collaboration with Food Coma Ubud and Ubud Creative House, a Halloween-themed food market highlighting local food selections. Guests can also enjoy shopping from the garage sales as well as join our kids activities, such as big canvas painting and tie-dye workshop.
Free entry. Giving away great prizes for the best costume.
5PM – Late, Friday, 28 October 2022
For Bookings: thesukubali.com/events
---
The Blue Door (Party)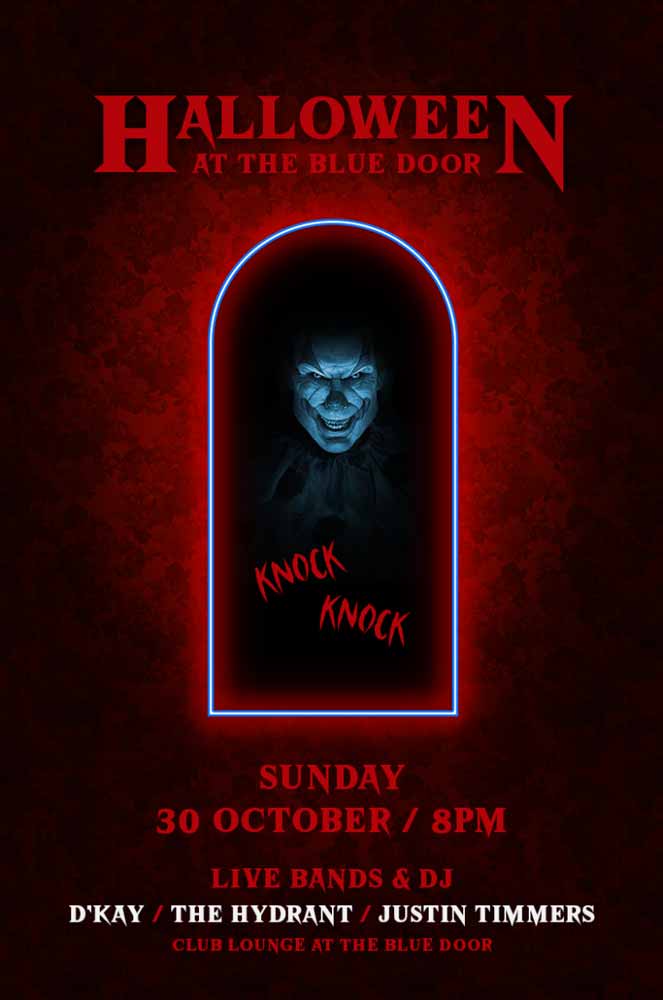 One of Ubud's newest nighttime venues, The Blue Door Club Lounge is hosting its very first Halloween event. This party will feature dancers, live performances from D'Kay, The Hydrant and international DJ Justin Timmers, spinning into the witching hours
It's not Halloween in Bali without a costume contest, and Blue Door is offering IDR 20 Million in prizes for best costumes on the night.
Tickets required (IDR 150.000 Early Bird, IDR 200.000 at the Door)
For Bookings: thebluedoorbali.com/halloween/
---
Halloween in Sanur
No listings yet.
---
Nusa Dua
Sofitel Bali Nusa Dua (Family Friendly)
This favourite five-star resort in Nusa Dua is adding a spooky spin to their dining available experiences, great for those planning to celebrate Halloween in Bali with family. There are two events to look out for: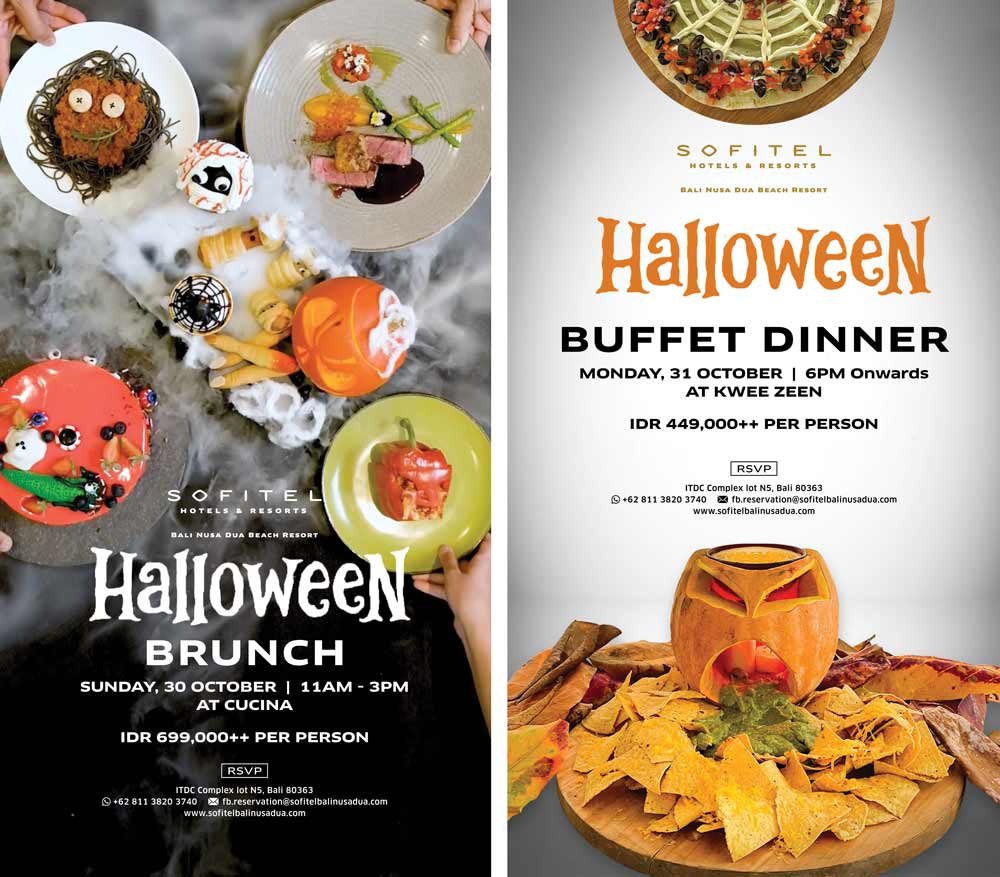 On Sunday, 30 October 2022, join the Halloween Brunch at the recently relaunched Cucina Restaurant. This indulgent brunch highlights freshly cooked Italian-Mediterranean cuisines by the restaurant's artisans, led by Italian head chef Patrizia Battolu, spoiling diners with a wide range of fine delights that showcase fresh local ingredients and authentic Italian flavours. Brunch takes place form 11am to 3pm, priced at IDR 699.000++/person.
Then, on Monday, 31 October 2022, Sofitel's popular Pan-Asian restaurant Kwee Zeen presents a bountiful Buffet Dinner, adding some Halloween twists to their offerings to celebrate the spooky season. Dinner available from 6pm onwards, priced at IDR 499.000++/person.
for more information or reservations, please call +62 361 849 2888 | +6281138203740 (WA) email fb.reservation@sofitelbalinusadua.com.
---
Melia Bali (Familly-Friendly)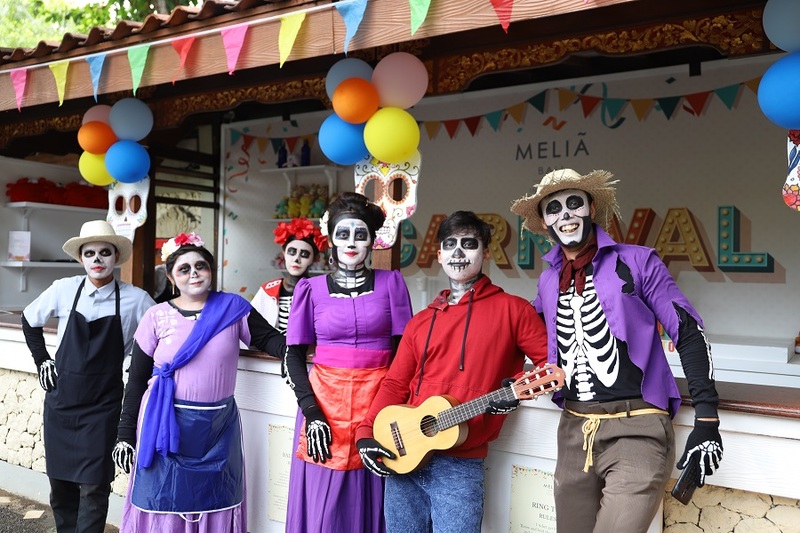 The Halloween festivities will kick off with a Halloween Cookies Decoration, held on Sunday, 30 October 2022 from 2pm – 3pm at Sorrento Restaurant. It'll be a fun activity for your kids as they turn into little chefs for the day and create their own spooky sprinkled cookies or smeared all in chocolate. This activity is priced at IDR 250,000nett per child.
When Halloween Day comes, Meliá Bali has curated a variety of activities on Monday, 31 October 2022 including a Spooky Art & Craft (10am), Bird Show (2pm), Face Painting (3pm – 5pm), Coco Trick or Treat Adventure (3pm – 4pm), Halloween Costume Adventure (4pm – 5.30pm) and Halloween Movie Night (6.30pm).
The adults can also enjoy a lively art activity with Paint & Glow on 31 October 2022 at Kopi Petani. In collaboration with Bartega Studio, participate in the glow-in-the-dark painting session as you sip a glass of wine and get your creative juices flowing. This activity is priced at IDR 480,000nett/person.
+62 361 771 510 | +62 811 386 7789 (WA)
reservation.meliabali@melia.com
Jimbaran
Rock Bar, BALI (Party)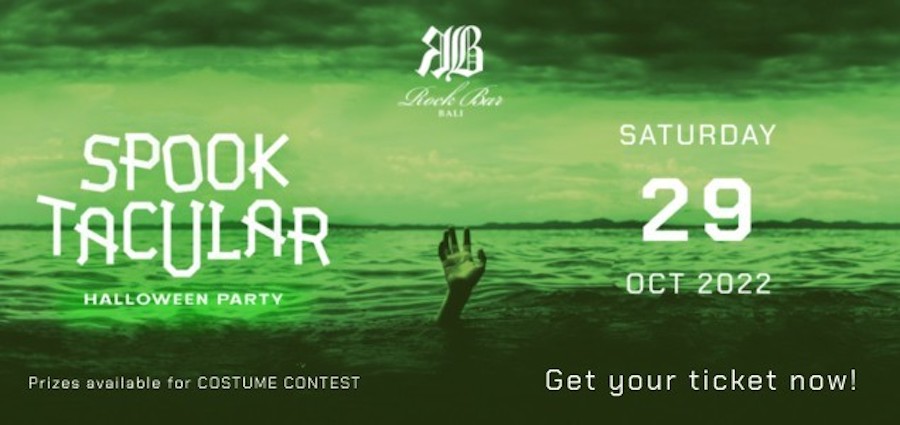 The iconic Rock Bar BALI at the AYANA Estate in Jimbaran is hosting a Spooktacular Halloween Party. Sprawling at the bottom of this dramatic cliff and headland, with the waves crashing against the sides, Rock Bar Bali will be a one-of-a-kind venue for Halloween in Bali.
On Saturday, 29 October 2022, this party by the sea will feature a host of entertainment, with 8 headliners hitting the decks and setting the scene, including an epic percussion performance, a dance group and top DJs from the island. Adding to the festivities, there will be a costume contest with an opportunity to win amazing experiences at the renowned AYANA estate, including: 1 Night Stay included Breakfast at Deluxe Room at Brand New AYANA Segara (First Place), 60 Minutes Balinese Treatment for 2 Person at AYANA Spa (Second Place), Dining Voucher worth IDR 1,000,000 at Rock Bar, BALI (Third Place).
Party goes from 3pm to 12pm, tickets include 1x selected Cocktail or 1x selected Mocktail or 1x Guinness Smooth. Early Bird Prices IDR 150.000 / On the Spot Tickets IDR 250,000. Table reservations available.
Tickets available online: loket.com/event/halloween
Table reservations: +62361 702222 (WA) | fb.reservation@ayanaresort.com