It's easy to draw inspirations from a paradise island such as Bali, especially for artists. The local maestros as well as internationally acclaimed painters such as Arie Smit have captured the is-land's nature and culture, immortalised in their canvases. Sculptures have translated the Bali-nese Hinduism and its mythological beings into brilliant carvings and statues. And as for the musicians, Bali provides them a playground to create and play.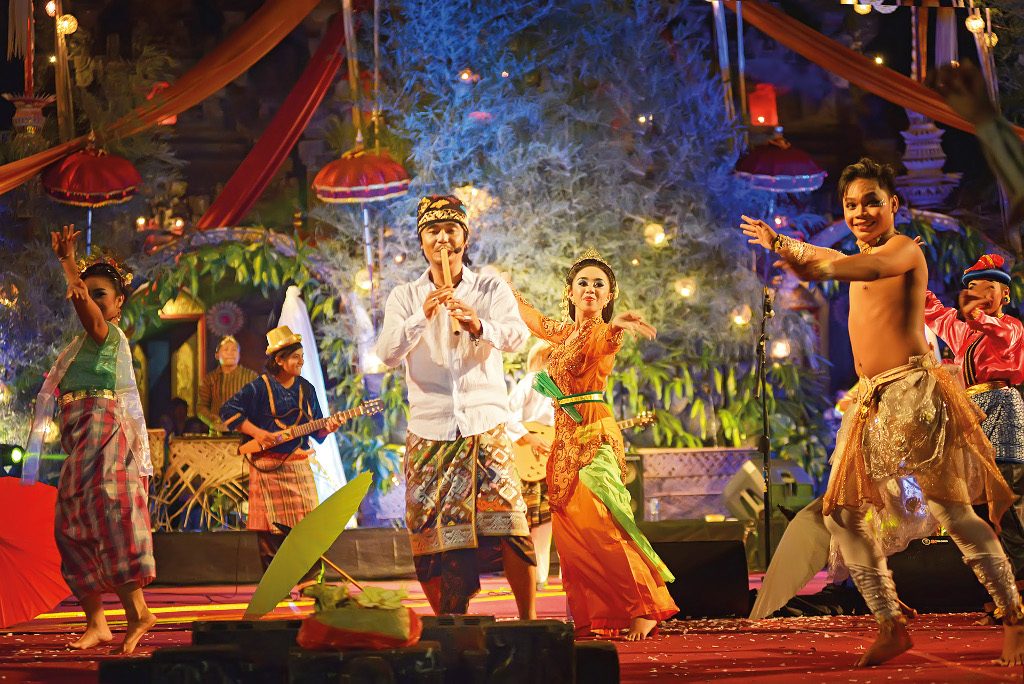 ---
GUS TEJA
A flute maestro hailing from a small village near Ubud, Gus Teja is a celebrated Balinese musi-cian known for his ornate instrumental works such as "Morning Happiness". His debut album entitled "Rhythm of Paradise" (released in 2010) led Gus Teja to stardom, earning him invitations to perform on international stages.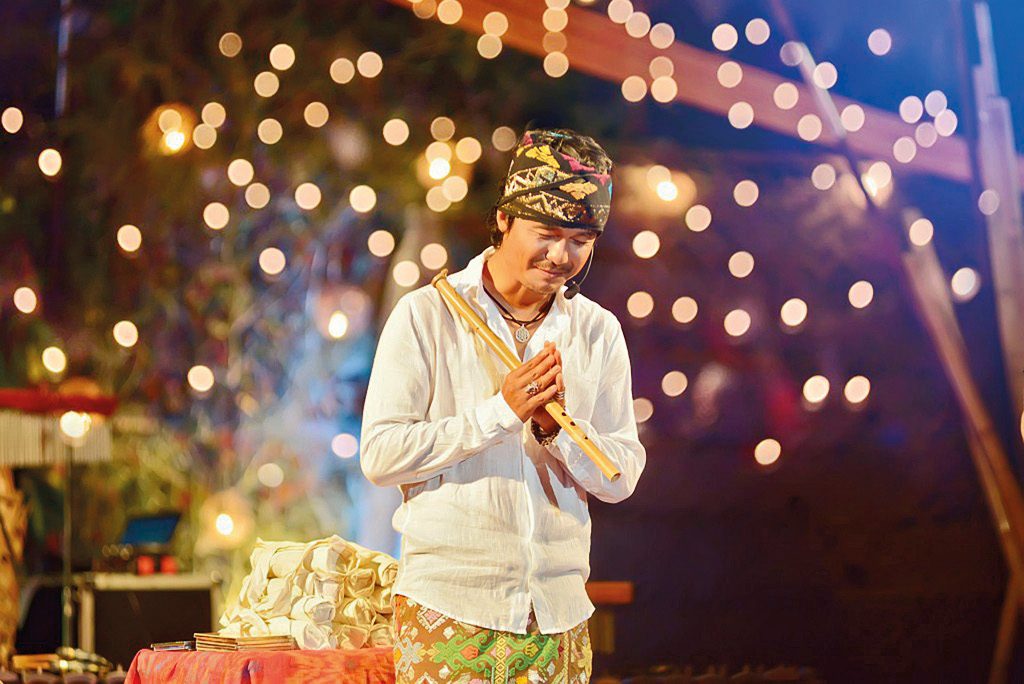 Unable to read or write sheet music, Gus Teja composes songs entirely from memory. He finds inspiration from nature and the spirit of Bali. He is the first and the youngest Balinese musician to skilfully create wonderful ethnic traditional music from the island of Bali enriched by a fusion of modern influences. Quite simply: Gus Teja has a gift and he is on the verge of a long and suc-cessful career.
He began playing the flute while attending elementary school, yet spent a lot of time during this period practicing the gamelan (Balinese traditional instruments). As the years progressed, his interest in wind instruments increased. This sparked the obsession in learning all there was about wind instruments from around the world, such as the Native American panflute, ocarina, hulusi, bansuri, quena, dizi, and penny whistle.
Of course, he didn't stop there. Gus Teja continued to challenge himself by creating new in-struments to go along with his passion of flutes. Ranging from whittled wood instruments to fully fledged bamboo flutes, he is always experimenting with creating new works of music by incor-porating modern instruments with traditional sounds. After years of patience and practice, Gus Teja finally formed a world music band named Gus Teja World Music.
Formed in 2008, Gus Teja World Music band has already garnered an impressive discography, having released three full length albums and sold over 100,000 copies. Today, Gus Teja has be-come synonymous with contemporary Balinese sounds. Gus Teja World Music have performed countless concerts in Bali and at international events in Malaysia and South Korea.
---
INDRA LESMANA
A household name in the Indonesia's Jazz music scene, Indra Lesmana has graced the stage of notable international jazz festivals. Born to a musical family, with a renowned jazz musical father and equally prominent singer mother, musical artistry must run in Indra Lesmana's veins.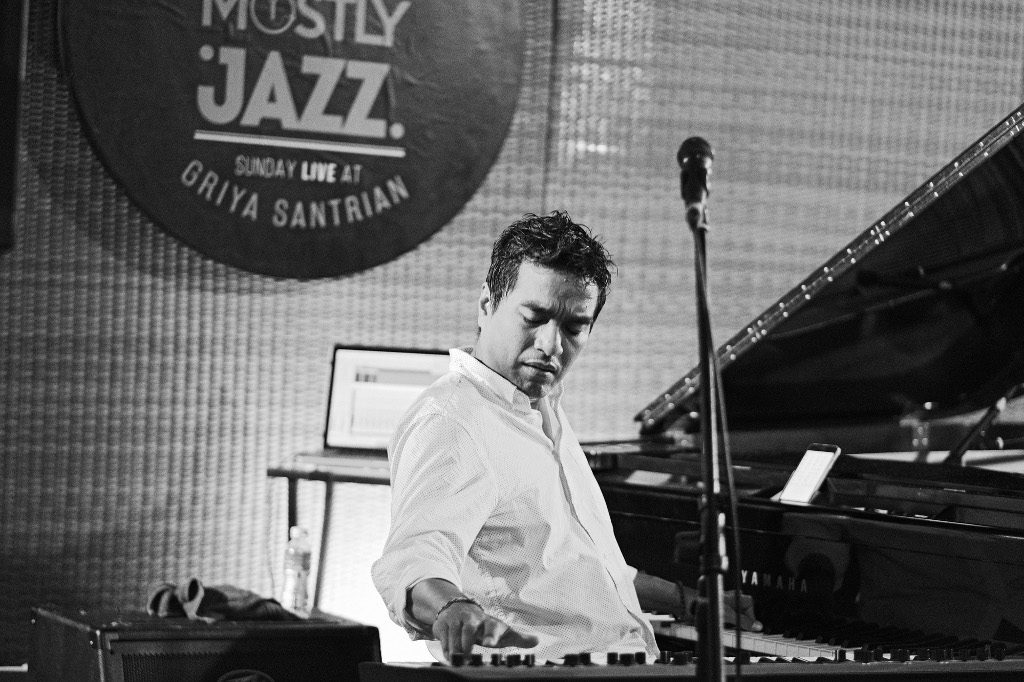 Indra Lesmana has now become a familiar face in Bali, leaving hometown Jakarta and becoming a Sanur resident whilst bringing his passion in music with him to the Island of the Gods. Togeth-er with his wife, he established a live music program series called "Sunday Mostly Jazz" in 2015. Sunday Mostly Jazz is designed to become an inspiring music media for music artists and lovers to develop their artistry, expression, creativity, communication and musical skill, and so far the program has been successfully generating and supporting new quality music performers, crea-tive talents, records and music fans from many different genres.
The success of Sunday Mostly Jazz led Indra Lesmana to launch the inaugural "Sanur Mostly Jazz Festival", held this year in July. Taking stage at the beach area of Griya Santrian, a Beach Resort & Spa in Sanur, where the festival presented a first time ever eve-of-sunrise performance. The jazz performance started at 6am sharp, starting off with the sound of bells and echoes of the Ba-linese Puja Trisandya. When the sunrise chants ceased, Indra continued with pentatonic notes from the grand piano he played, followed by other instruments played by other accompanying musicians.
Indra Lesmana sees that there are many important aspects in music that needs to be discovered and developed. The evolution in music industry still needs natural media to grow positive syn-ergy. He experiences many natural life inspirations and hamonies in Sanur. Therefore he was moved to contribute his capacity to enhance the existing local potential quality, hoping that through these new creativities and synergy, Sanur will be brighter and more radiant to the world.
He plans to open a "Sanggar Musik Indra Lesmana" (Indra Lesmana music workshop) in Sanur later this year, and continues his objectives to support the development of music art and cultural standard and resources.