When thinking of fine dining restaurants in Bali, there are a few 'hit' venues that always come to mind, but that doesn't mean to say that that's all there is! Bali, with its now thriving food scene, has hidden spots all over. One such secret is the Wijaya Kusuma Restaurant in Ubud, offering a classic take on Fine Dining with valley views to match.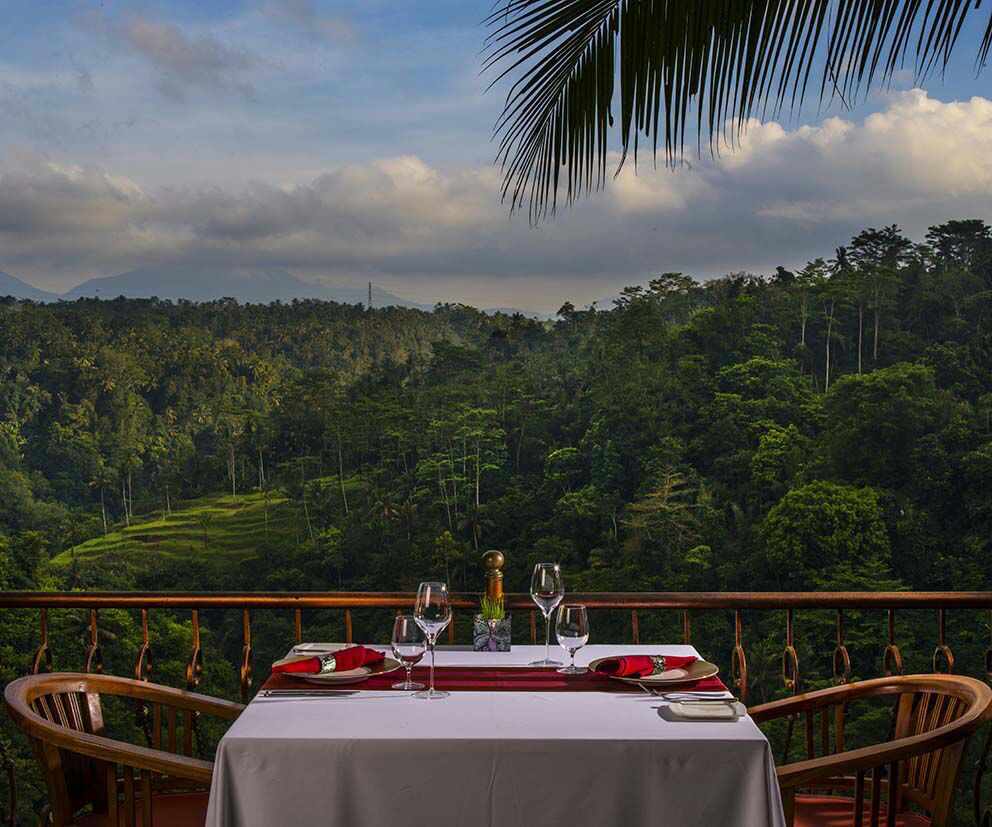 The restaurant – found at the Ayung Resort Ubud – isn't new, it has been open since 2012, but due to its location deep in the valley of Ubud it remains a real destination for diners keen to discover its riches.
Following the design of the resort, Wijaya Kusuma is filled with Indonesian art; wooden sculptures depicting mythical epics, walls carved to fashion old joglo houses. Tradition refined and redefined. Nestling in an open, terraced platform, the views are really what take people's breath away: an unobstructed vista down the Ayung River Valley from which the resort takes its name.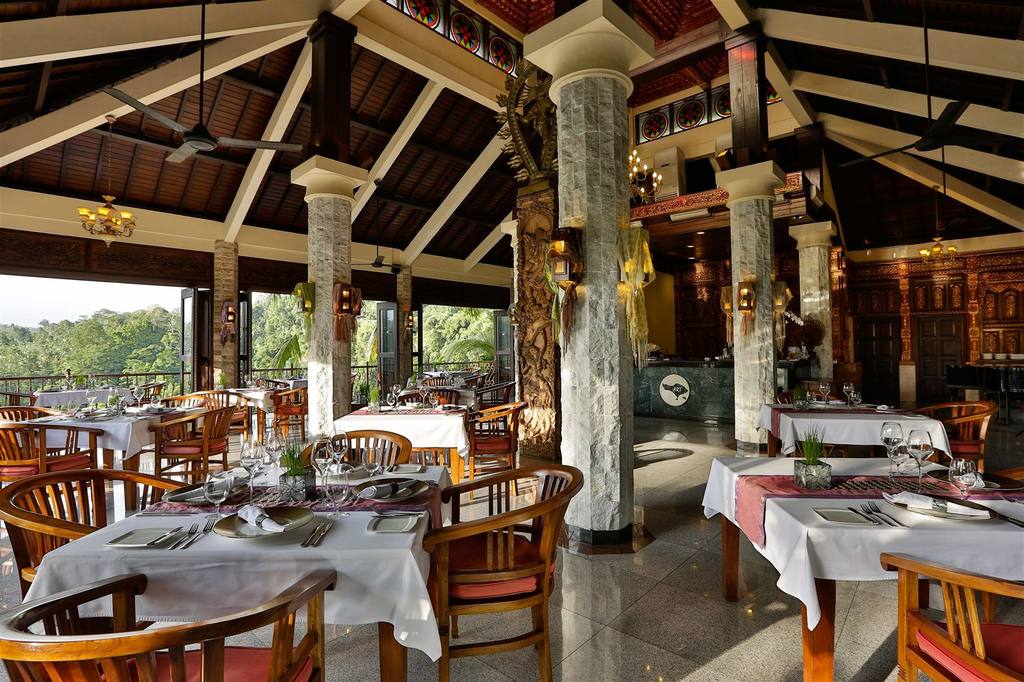 Of course, it's the food you are ultimately coming for. Under the watchful eye of Balinese Chef Made Lugra, a menu of Balinese, Indonesian, Asian and European cuisine is laid forth.
Unlike modern fine dining, known for its large plates with small tasters, the dishes at Wijaya Kusuma are all hearty and sure to leave your hunger satisfied. Lovers of fish, meat, poultry will salivate at the offerings:
Start off with a Crispy Soft Shell Crab, with jicama, cucumber, young papaya, tomato, pomelo and coconut, or perhaps a rich portion of Seared Foie Gras, with mango-ginger chutney, crispy polenta, artichoke and a truffle mushroom emulsion. From their liquid delights, the Mushroom Truffle Cappuccino is amongst the favourites too.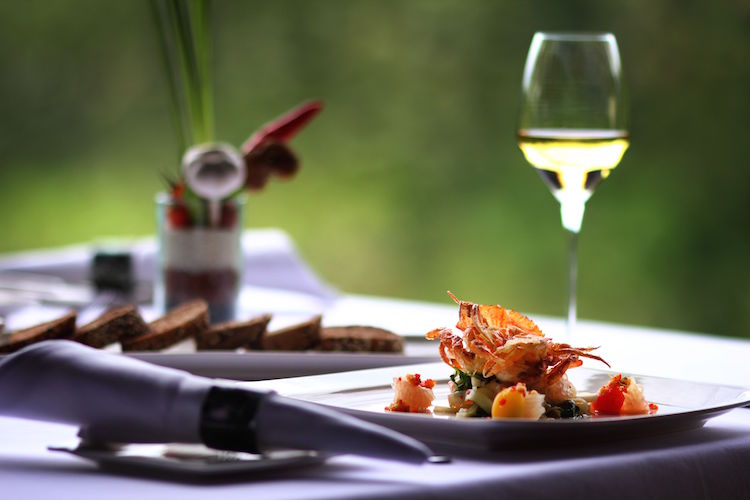 With the larger courses, generous portions of protein are the focus, all cooked in a fine European style, even when presenting local or Asian flavours. Their Barramundi is served on a bed of noodles, with thick laksa-curry sauce, with salmon dumplings to accompany. The grilled Salmon steak is served on squid-ink linguini with white wine sauce and orange and fennel salad.
A gorgeous pink Duck Breast on a broccoli cous-cous, a 180gr Beef Tenderloin matched with an Indonesan galangal sauce, crispy Pork Belly with red bean ragout and pork bak pao – the list goes on.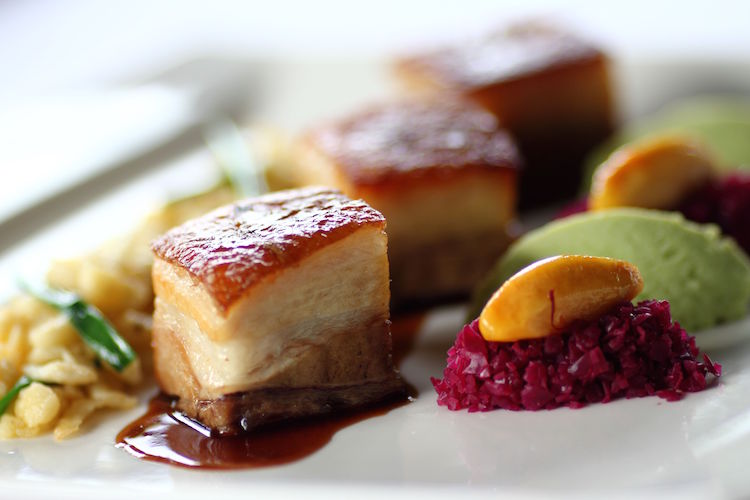 For those after truly Indonesian flavours, you won't be disappointed. Chef Made brings out a list of the best: Bebek Tukad Ayung, an Ayung take on the crispy fried duck with red rice and duck broth; Udang Sune Cekuh, glazed jumbo prawns with tumeric; a 500gr gule kambing, using braised lamb shank instead of goat in this rich curry dish.
This barely scratches the surface of the offerings at Wijaya Kusuma, who also have a full menu of authentic Italian pastas as well as an array of classic and fusion wood-fired pizzas.
Then dessert, where fine dining musts like the chocolate fondant meets Indonesian favourites like the lapis legit. The menu itself is truly a feast, which will test the limits of your self control; the saying "your eyes are bigger than your stomach" is one often used here.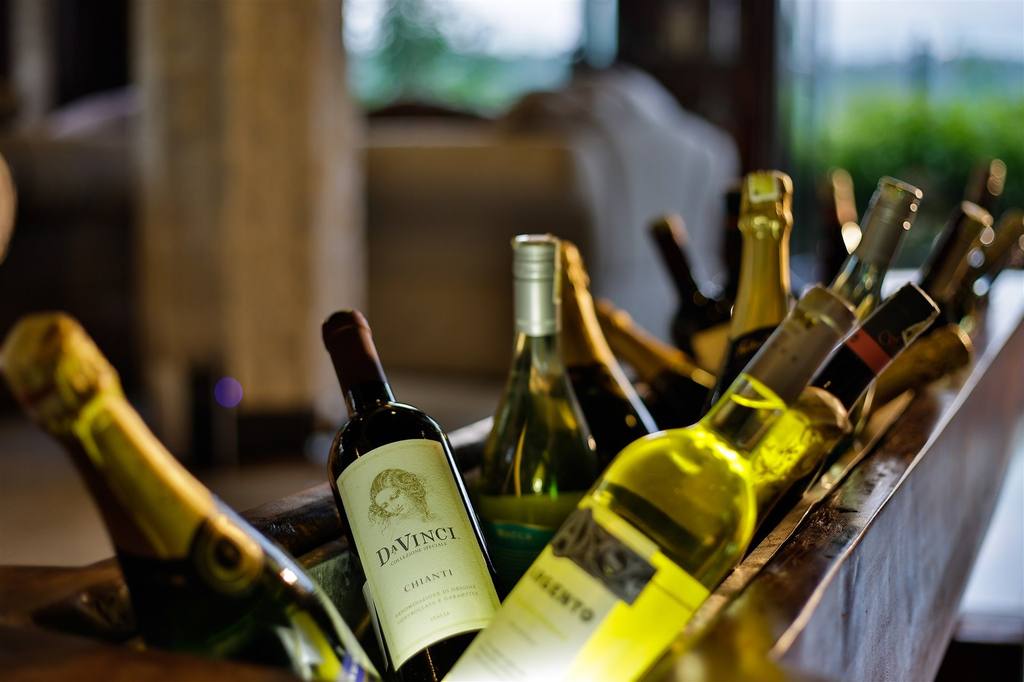 To top it all off, the restaurant has an extensive wine list, many available by the glass, and an array of specialty liquors are also available for those hoping to indulge.
Once you've eaten at at Wijaya Kusuma, you'll wonder why it isn't one of Bali's most talked about spots – but we know why, you'll be keeping this little gem all to yourself. Perfect for romantic dinners, or even indulgent lunches. [Why not find out about their Ubud Spa & Lunch Escape]
To Book: reservations@ayungresortubud.com
Wijaya Kusuma Restaurant, at Ayung Resort Ubud
Desa Melinggih Kelod Banjar Begawan Payangan Ubud 80572 Bali
+62 361 9001333
www.ayungresortubud.com