The first glimpse of the beautiful Jemeluk Bay has to be from Sunset Point, or for the eager beavers, for sunrise. From this gorgeous elevated viewpoint, you see the whole bay spread before you, while in the background, Bali's holy mountain, Gunung Agung, shimmers in the morning light. To the north slightly, you see the truncated mountain outlines of the volcanic Mt. Batur which blew its top and most of its sides some millennia ago.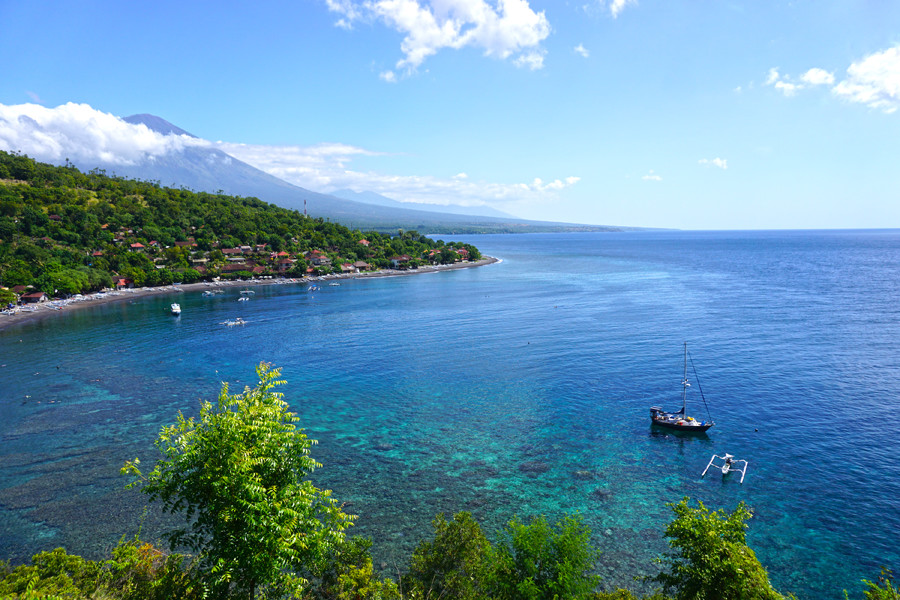 Once a quiet fisherman's village, Amed's Jemeluk Bay has become the favourite diver's destination along Amed's strip of secluded bays and picturesque fishing villages. A beautiful bay is lined with fishing perahus (boats), locally known as jukungs, and small friendly restaurants, dive shops, and cute accommodation.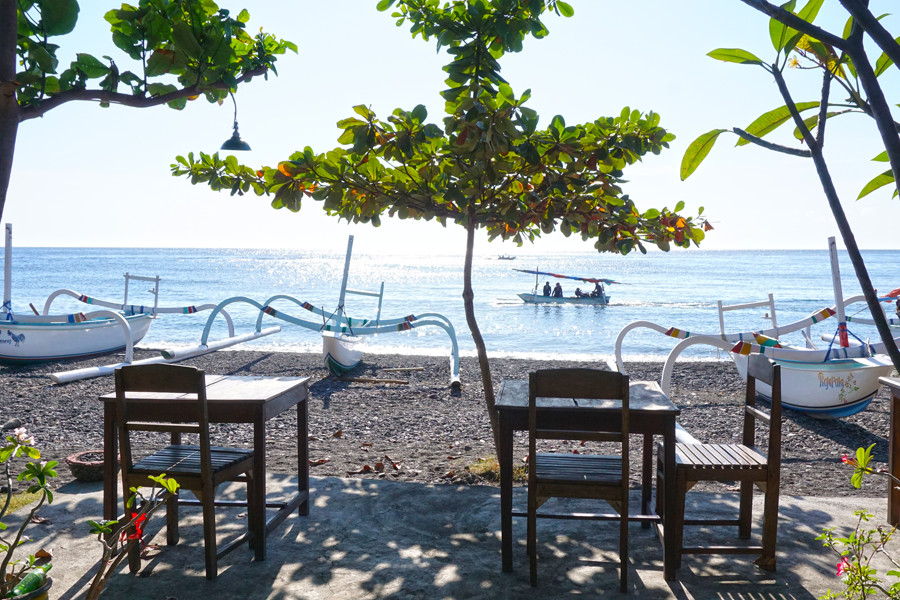 While it retains a certain rawness, Jemeluk Bay is truly a village on the verge of change. Little schoolgirls trawl up and down the beach selling Amed salt and cheap trinkets in the hopes of earning a little money to guide them through school and every morning the fishing boats are pulled up on the beach, loaded with the morning's catch – if they are lucky.
And it's not just the divers who love to come. While the actual village of Amed has become something of the cheaper backpacker area of the coast, a little like Kuta was 50 years ago, Jemeluk Bay is shaping up to be a version of Ubud by the sea. The yoga signs have started appearing between the stalls selling cheap clothing and souvenirs. Free diving at Apneister, along with yoga and organic food, shows the first spearhead of the alternative society coming to this town.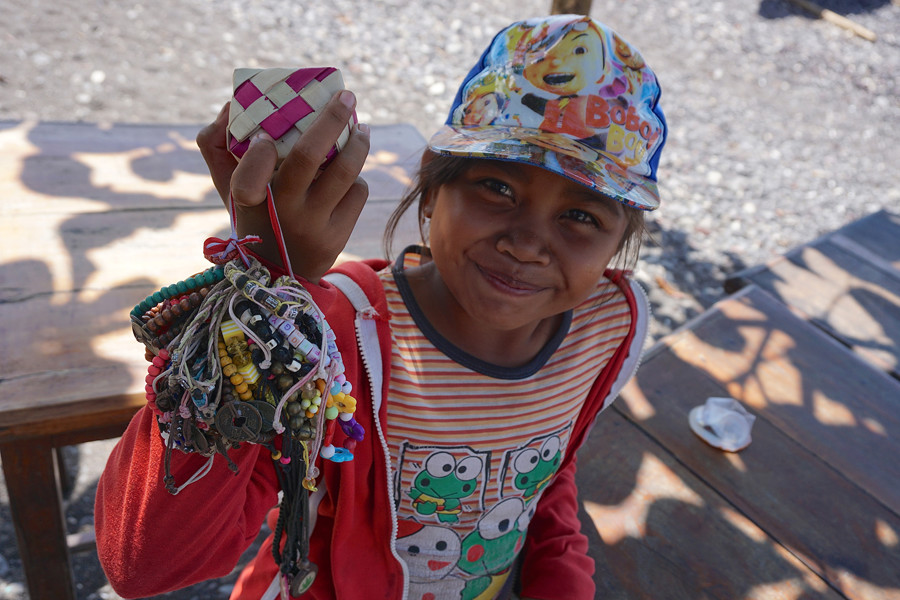 Restaurants are mostly small and food is still fairly basic with fresh fish a big item on most menus – just what you would expect in a fishing area. It is not an uncommon sight to see a fisherman bearing a freshly caught mahe mahe or sometimes, a tuna along the beach, looking for a buyer. Savvy restaurant owners know how to offer a little more cash, to ensure an uninterrupted supply of the best stuff. Grilled, barbequed, or made into a spicy curry, it is usually fresh and delicious.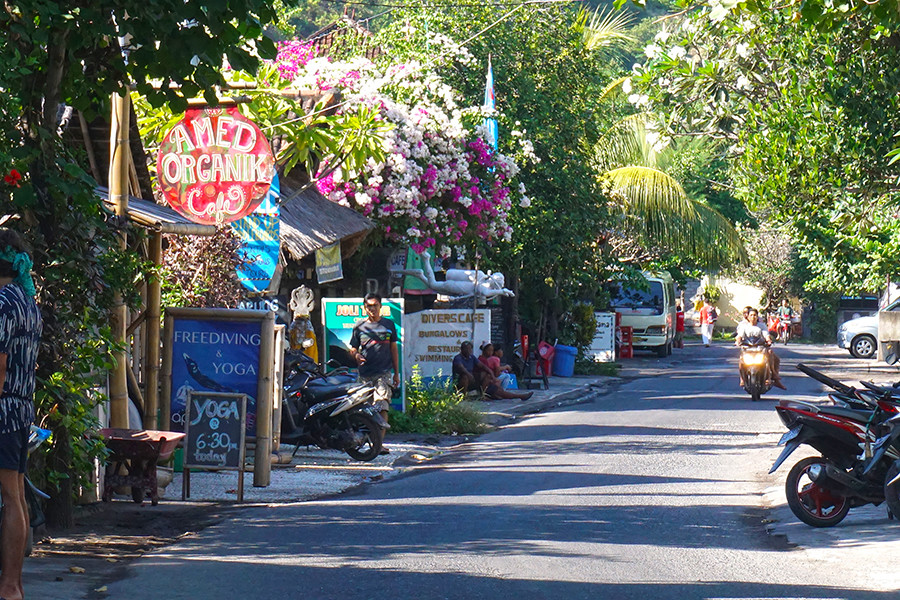 Oodles of mahe mahe, mackeral, Spanish mackeral, fresh prawns from a nearby farm, squid, and sometimes even octopus can be found on the menus! One of the nicest places in Jemeluk Bay is Warung Pantai, a simple place overlooking the beach with the freshest fish imaginable.
Try it grilled, or even better, fried in breadcrumbs with delicious coconut oil which gives a healthy taste, as well as being extra good for the health! Salads and chips make great accompaniments along with fresh juices or an ice cold beer and their prices are outrageously low for the best quality.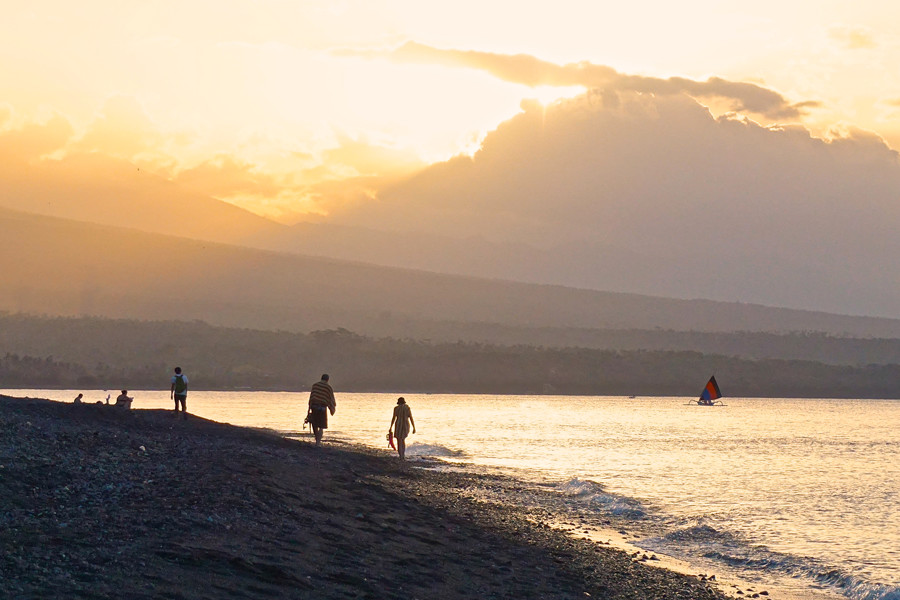 Several other places are available as well, so wander along the road or follow the beach and see what takes your fancy. Or take a motor bike and explore further along the coast. There are so many gorgeous places to discover and accommodation is available at several levels! If you like to eat a little upmarket try Sails Restaurant in the nearby fishing village of Lean. Or if you want to be really fancy you can try the Griya Villas and Spa or the Grill in Bunatan!
Jemeluk Bay is just one spot in East Bali, discover the Water Gardens of East Bali , Goa Lawah – Bali's Bat Cave Temple , or perhaps the natural Sea Salt Farmers of Klungkung .