Children, in general, love to eat, so why wouldn't they love to cook as well? Children are full of imagination and love getting their hands dirty when parents are cooking so what better way to explore food than through special cooking classes for kids in Bali. 
Before you let them loose on your kitchen gadgets and begin creating sweets, baking some slices of bread or cooking up a local dish, you may need to sign your little ones up for a cooking lesson. Due to its wider appeal, children's cooking classes are popping up all over this island from upscale restaurants to local recreation centres. But before you sign them up, you may need to find out the level of difficulty and the dishes they are offering. From main courses to desserts and snacks, with plenty of tasting along the way, here are a few delicious options to be considered.
---
PIZZA
Who doesn't love pizza? For kids, making their own pizza is all about excitement when they get to make funny faces out of their pizza toppings. They love getting messy with the flour, before unleashing their creative side when it comes to the toppings. The fun part is there won't be any arguments about which toppings to choose from! The kids will also have great satisfaction when they get to eat their own creations at the end of it all.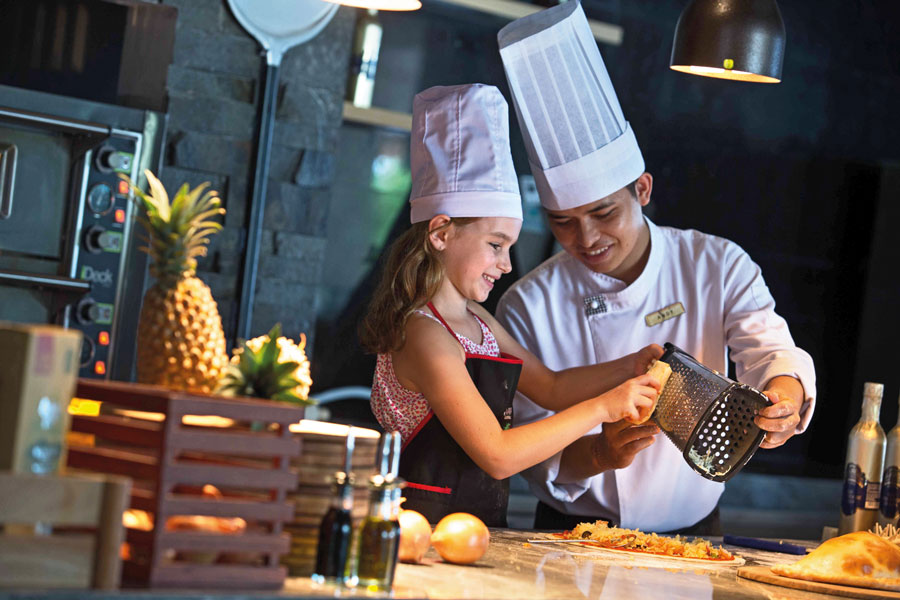 'We Love Pizza' is a special concept at the kids cooking zone at Four Points Kuta. Their culinary team will guide your little ones through a step-by-step lesson to make the tastiest and the most authentic wood-fired pizza. From tossing a chunk of dough, placing the toppings, putting it into the wood-fired oven to the revealing their unique creation, the fun times are guaranteed.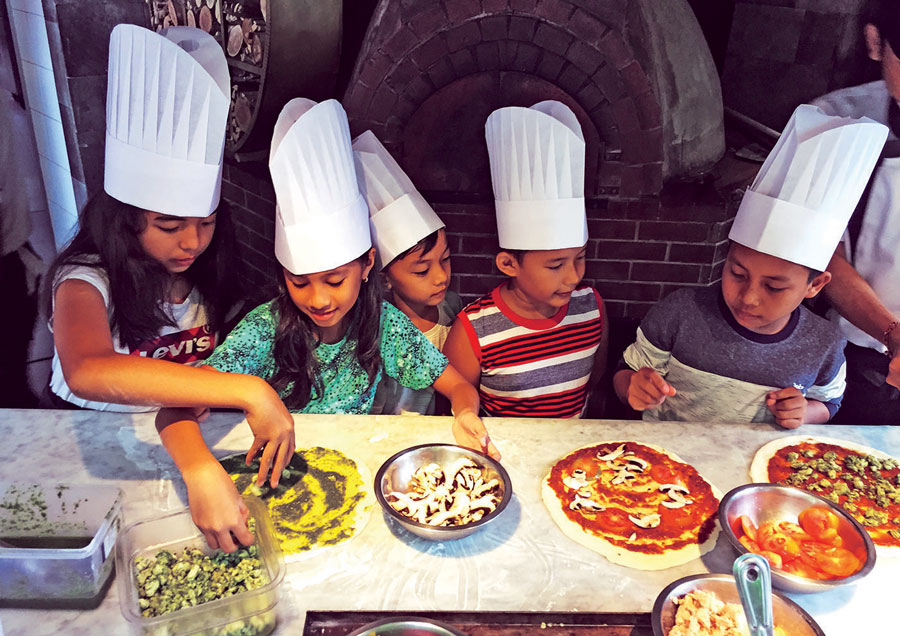 Also in Kuta, the cooking class at Sands Restaurant (Anvaya Beach Resort Bali) promises a tempting one-day experience that will create cherish-able memories for your kids. Decked up against a traditional modern Balinese ambience, featuring the beachfront setting of the iconic Kuta Beach, your kids can explore their creativity by making pizza together with the chef.
Anvaya Beach Resort
www.theanvayabali.com 

Four Points Kuta
www.fourpointsbalikuta.com
---
INDONESIAN FAVOURITES
The cooking of Indonesian dishes is not limited to actions only, but also the history behind it. Each spice has a story, each herb has a fragrance, and when each of them is combined with meats and vegetables, they turn into a medley of culture and history. The kids will be surprised to know that there are so many histories embedded within each meal they are about to cook.
Jimbaran Bay Cooking Academy at Four Seasons Jimbaran Bay introduces students to Indonesian gastronomy and indigenous cooking techniques. The outstanding hands-on kitchen experience allows them to experience the exotic richness of Indonesian culture, dining and cooking altogether. The school offers several regional menus (Balinese, Sumatran, Javanese, Sulawesi and Nusa Tenggara). Most produce is sourced from the 3-hectare gardens located within the resort grounds, with more than 25 varieties of vegetables, herbs, spices and fruits.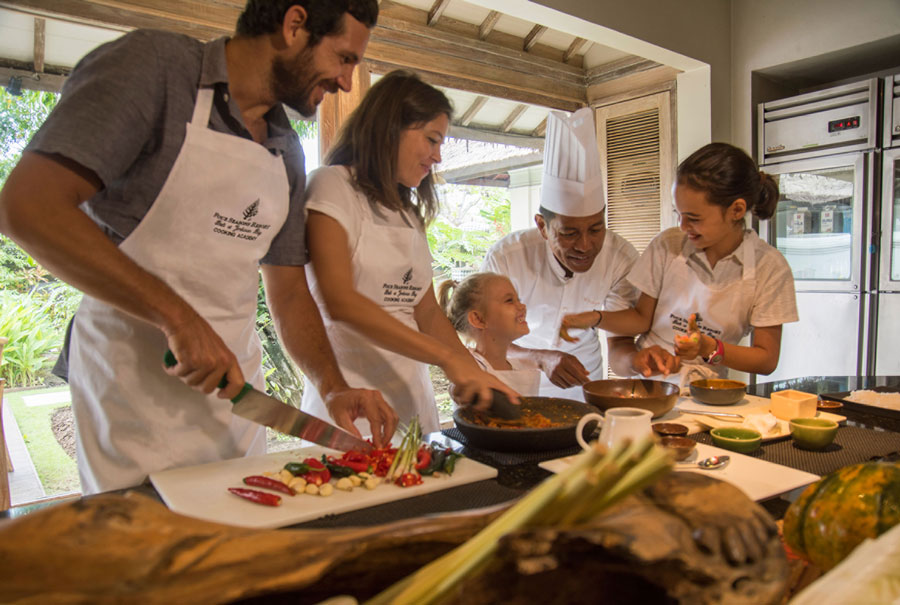 The class starts with an optional market tour to Jimbaran Fish Market at 9 AM accompanied by the chef. This is a unique experience for students, as they are introduced to Indonesian culture where they are allowed to communicate and bargain with the local shopkeepers to buy all that is needed. Upon returning to the resort, the chef continues the tour around the resort's own vegetable and herb gardens. A light breakfast is served at the Cooking Academy before students start the interactive step-by-step lesson on the preparation of each menu item. Classes are intentionally kept small with a maximum of eight participants.
Four Seasons Resorts at Jimbaran Bay
+62 361 701010
---
BALINESE CUISINE
Balinese cooking classes often provide a quick overview of the Balinese people and their unique way of living. It also represents the culture, art, lifestyle and traditions of Bali itself. Four Seasons Sayan is the first custom-designed riverside cooking school on this island. Featuring a stunning bamboo design on the edge of Bali's longest river, this class is located at Sokasi and offers students a connection to Bali's cultural and spiritual through local cuisine. During the half-day session, your little ones can join a chef-guided tour of nearby Ubud markets, returning to forage in Sokasi's very own vegetable and herb gardens before a hands-on lesson in the state-of-the-art kitchen.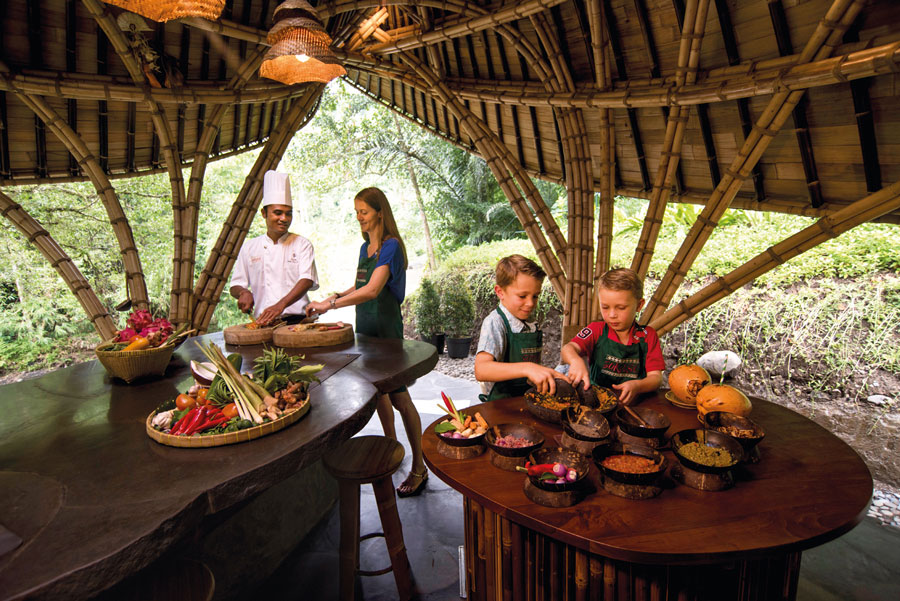 Classes are intimate and personalised, open to the public for a maximum of eight participants daily. Students can opt for traditional Balinese cuisine based on the chef's old family recipes or a plant-based menu inspired by Ubud's more recent evolution as a wellness mecca for yoga and spa retreats. Located steps away from the flowing river and under a towering banyan tree surrounded by rice fields, the class ends at lunchtime. Not just to students, but parents can also be entertained on-site by soaking up the tranquillity and ethereal energy of the valley's serene environment.
Four Seasons Resort at Sayan
Jalan Raya Sayan, Ubud
+62 361 977577
www.fourseasons.com
---
SUSHI
Sushi is a very popular meal for kids. It involves minimal cooking and lots of chopping. Simply put, it is down right fun to make. If your kids are not into raw fish, they can skip that part. They can create their own version of a California roll by throwing almost anything in that seaweed/rice blanket.
There is a limited option available on this island for sushi making classes. However, you can sign up your kids at Hamabe. This Japanese restaurant from The Westin Resort offers students between 5 – 12 years to roll up sleeves and join the fun Thursday session of sushi making. Their trained chef will reveal the secrets of preparing rice and perfecting the art of sushi making.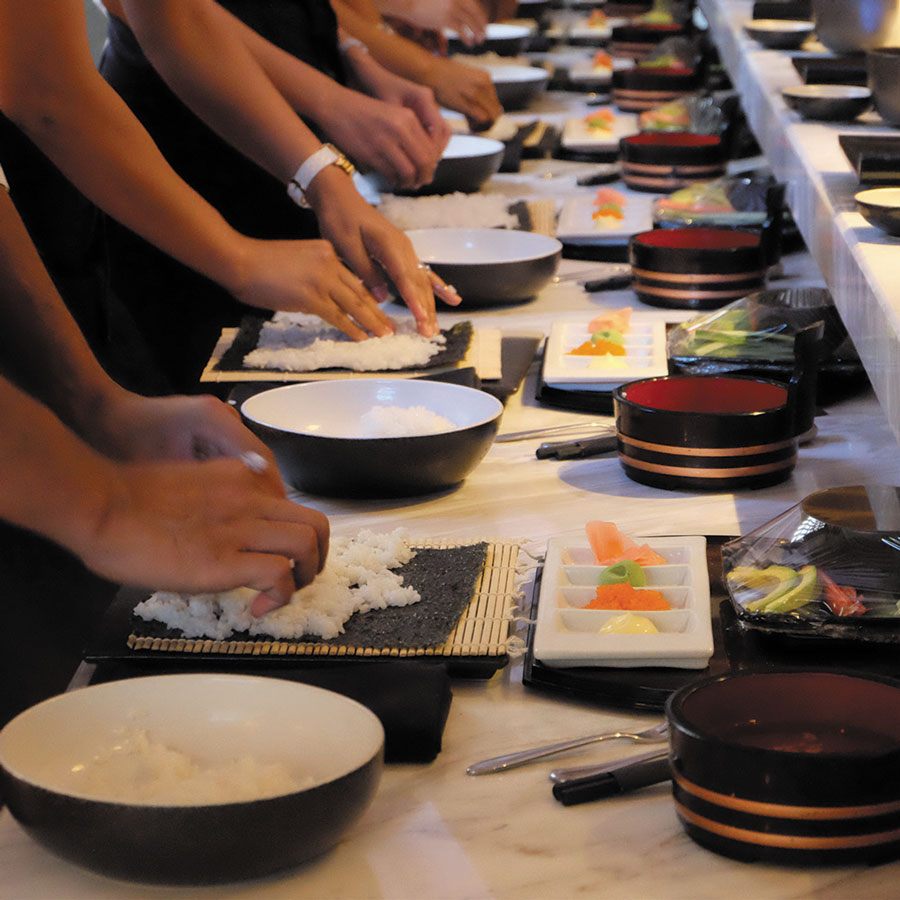 The participants are warmly welcomed on arrival with a customary cup of green tea. Aprons and hats are distributed, kicked off with a brief talk about the basics steps involved in sushi making and cooking rice. In this session, students will also be introduced to the basic knife skills and how to cut the rolls into bite sized pieces. Essential pointers are given on how to attractively arrange these wholesome sushi bites on a plate. To ensure that everyone is engaged during this activity, the class sizes are purposely kept small. A complimentary dessert is also included in this session.
Hamabe Japanese Restaurant
The Westin Resort Nusa Dua, ITDC Lot N-3, Nusa Dua
+62 361 771906
www.westinnusaduabali.com
---
SWEET TREATS
Let's face it, kids love sweets. So, instead of surrendering to pre-packaged goodies, why not ask them to use their creativity and imagination in sweet snacks or desserts? We all know that kiddies are forever curious and keen to learn anything is possible. To eat what they have cooked, or to serve people with their varied creations, lends them a joy like nothing ever.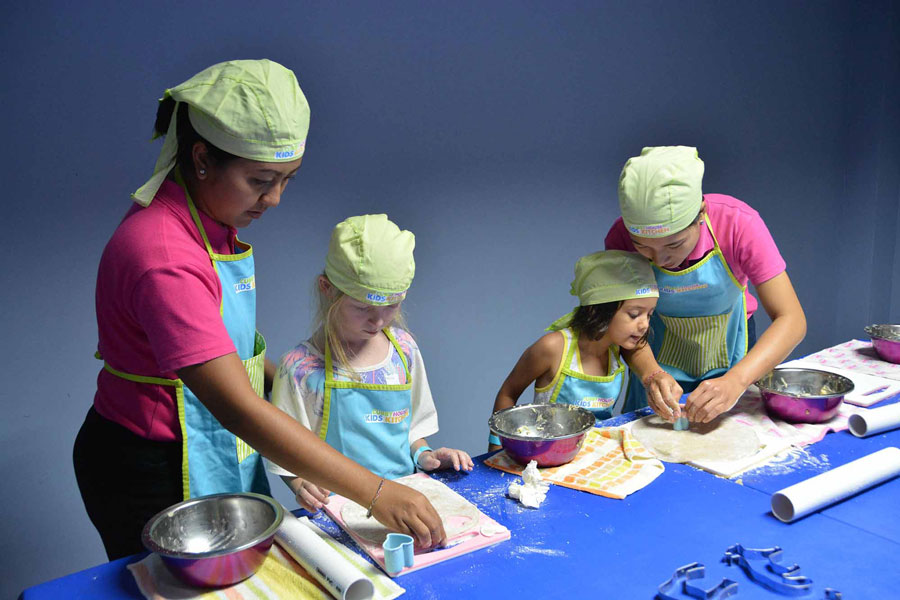 If your child is craving for something new and exciting, Cubby House Kids Club at Finns Recreation Club hosts an exclusive 'Kids Kitchen' with a different weekly theme. Every Saturday between 10 AM to 11 AM, only on August, the creative cooking school at Cubby House Kids Kitchen offers the fun creation of Lollipop Biscuits, Sweet DadarGulung and No Bake Salted Chocolate Bars. The fun, interactive classes are dedicated only to children aged 4 – 12 years and aimed at encouraging discovery as well as creativity while learning lifelong culinary skills. At the end of the class, your kids will receive a chef's certificate and recipe.
Cubby House Kids Club
Finns Recreations Club, Jalan Pantai Berawa, Tegal Gundul, Canggu
+62 361 8483939
www.cubbyhousekidsclub.com