Sports offer a plethora of benefits to all those who participate. As parents, it is an obligation to introduce sports to our kids at the early age. But what kind of sport and when should a child begin the sport depends on several things that parents need to consider carefully. Sometimes, it is wise to seek outside guidance. Here we have put together a list of sports available in Bali for parents to consider for their kids.
TRAMPOLINE
Parents love to watch their kids bouncing on trampolines. Not only for the fun part, but also because it offers many physical and health benefits. When kids jump up and down in the air, both sides of their brain and body work together to maintain coordination and balance, resulting in the development of their motor skills. This kind of exercise is perfect for kids who are not into sports activities. A trampoline gives them a chance to move their body for a few minutes, allowing their heart a great workout, without them even realising!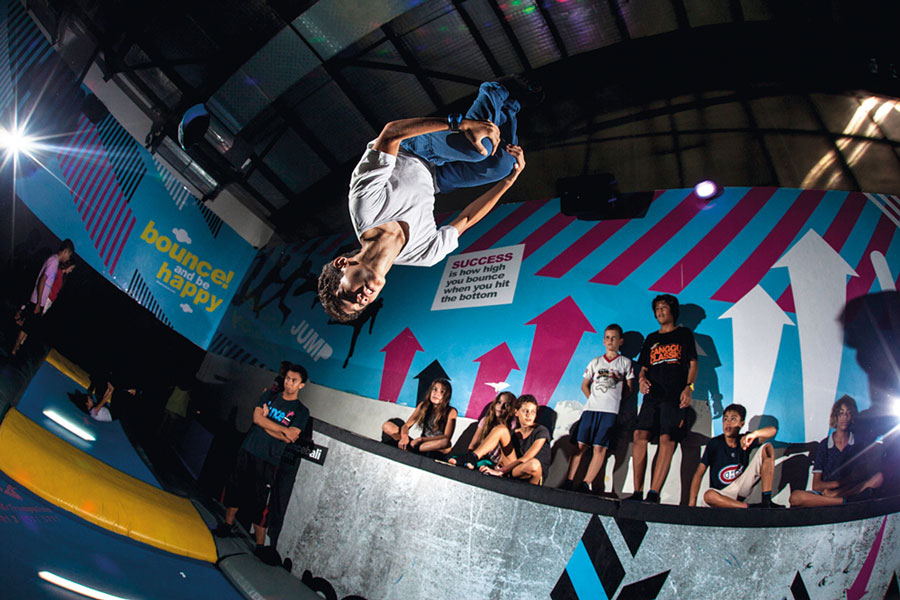 At Junior Sports Academy, the fundamentals of trampoline work are taught along with techniques to maximise safety and enjoyment. Through the use of specialised coaching techniques and equipment, a child will learn to execute a variety of movements and how to effectively transition between skills. For beginners, they can learn the correct trampoline trick basics, such as jumping alignment, back and stomach drops, wall runs, twists, grabs, backdrop to backflip.
---
RUGBY
It takes guts for parents to sign up their kids to rugby practice. Put aside the dangerous part of the game (which technically every sports has) rugby is one of the best disciplines parents can offer to a child. Actually, it is not until high school that rugby becomes a full-body contact sport. It is not just to develop a discipline, rugby can also help develop concentration, tolerance and determination. Children will learn not to be selfish by playing as a team player. As in any sports, they are encouraged to play in a fair manner and respect the referees.
Rugby practice at Junior Sports Academy is all about having fun with activities and games. Running every Wednesday from 4 PM to 5 PM for all ages, children will be supervised under the alert eye of the expert coaches. They also train participants at a professional level.
---
SOCCER
Ranked as the number one team sport in Indonesia, soccer is also popular amongst children. Playing soccer helps kids to improve cardiovascular health, strength and enhances flexibility, as well as to strengthen their core muscles which allows them to be more physically active. Since soccer is a team sport, your kids will also learn how to work together and communicate effectively in the field.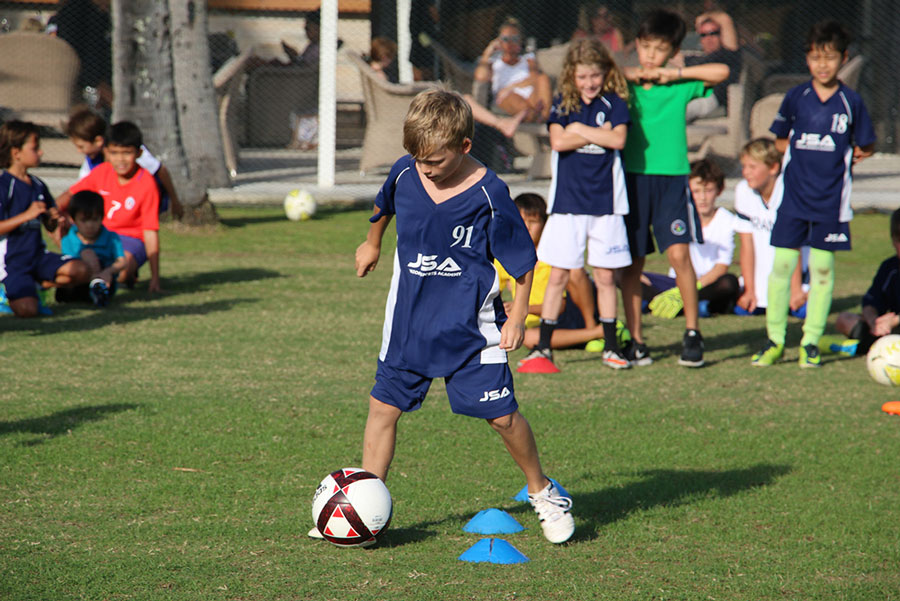 At Junior Sports Academy, the focus of the training is to develop technique, creativity, ball control and fast decision making during the game. However, for those kids below 6 years old, the class will be about having fun and learning to love soccer. In the intermediate class, children will learn the most fundamental skills in soccer, including passing, receiving, controlling, shooting and dribbling. To apply all the skills trained during the week, as well as to experience the competitive side of the sport, friendly matches will be organised every Sunday by inviting other soccer academies.
---
PARKOUR
It definitely scares parents to see their kids jumping and climbing over everything in the house. When they are introduced to parkour, which includes leaping from one rooftop to another and scaling tall buildings, it triples the fear. However, this sport is not simply about flipping or vaulting through urban environments, but it is also an art where children learn how to calculate risk and be cautious.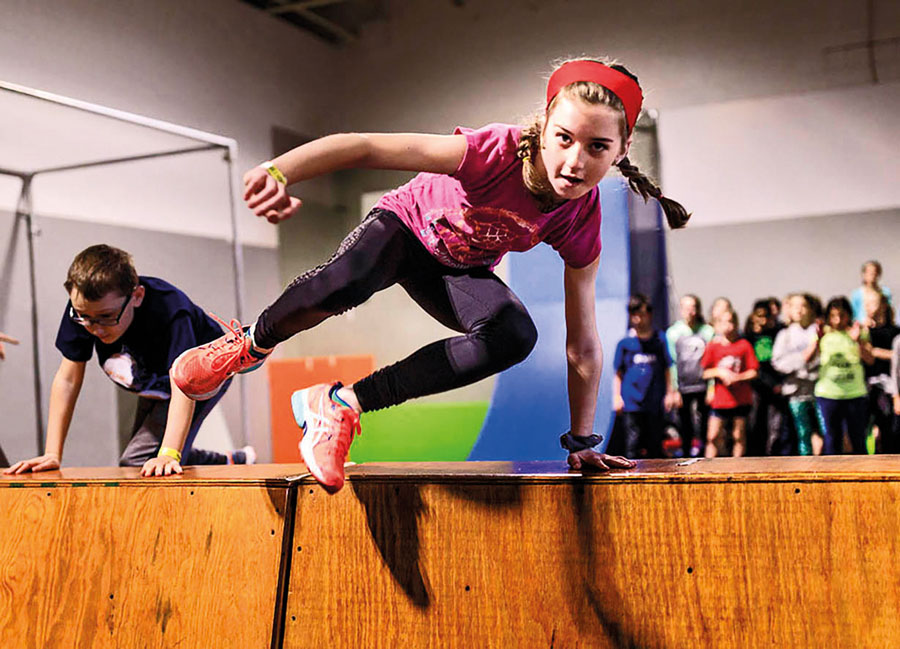 The original goal in parkour is to move through obstacles in the most efficient way possible. The experts believe that only 10% is the actual movements while the rest of the 90% is the education. Children will learn how to assess danger and fall properly without getting hurt. Parkourclasses at Junior Sports Academy aredesigned as a free running environment where coaches work the development skills of individuals. The minimum age to join the class is 8 years old.
Junior Sports Academy
Finns Recreation Club, Jalan Raya Pantai Berawa, Canggu
+62 361 8483939
www.jsabali.com
---
GO KART
Speeding up on the asphalt track is not only for adults. If your kids have a passion for race cars, why not test their skills on Go-Kart. This activity can be a new and exciting experience for them. In Bali, Bali Speed Go-Kart provides the ultimate competitive driving platform for children with any skill levels. To be able to drive this 4-stroke, single-cylinder engine, your kids must be at least 10 years old and 140 centimetres tall.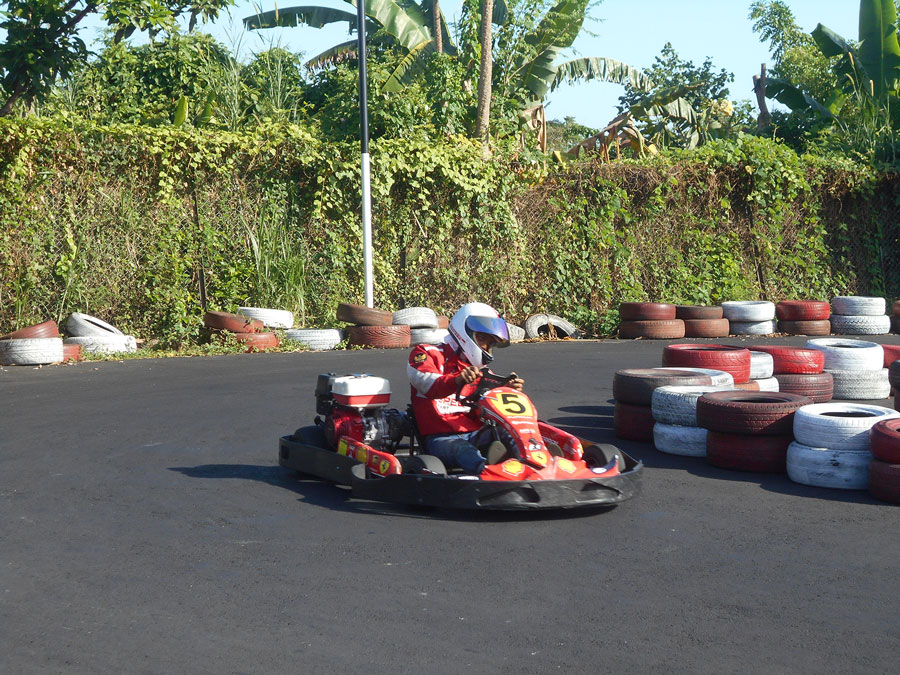 Some basic instructions will be provided, including how to handle the kart properly and the behaviour during the race. To maximise the safety of racing, helmets are available at no charge, as well as driving gloves and jacket. For a first-timer, it is advisable to ask the crew to reduce the maximum speed. This experience can be a bit scary, but rest-assured will also be both fun and easy.
---
TENNIS
This sport is accessible to all ages. However, how fast a child reacts the ball is a major observation for parents when deciding to introduce tennis to their kids. Parents should know that children need to have fun with their friends and playing games before they are ready to learn techniques in a one-on-one situation.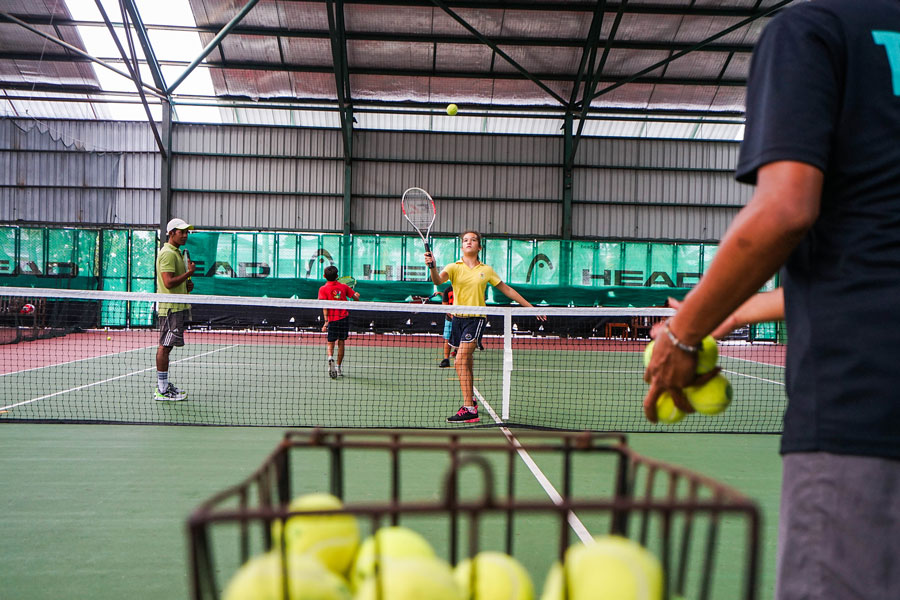 In order to develop junior players from beginner to advanced, the Finns' Junior Sports Academy Tennis Programme is categorically split into four levels: Red, Orange, Green and Yellow. The court sizes, rackets and tennis balls vary for each level with an objective to enable better learning by placing players of around the same ability together. To ensure the quality of each session, a maximum of 6 players are allowed per coach in any given class.
Bali Speed Go-Kart
Jalan Bypass Ida Bagus Mantra km 27, Keramas, Blahbatuh, Gianyar
+62 812 70502277
www.balispeedgokart.com
---
AQUALAND
Climb, glide, bounce, fall, jump, or splat – before finally getting wet – kids will find themselves having loads of fun at this Benoa water attraction. A sporting venue unique to Bali, Bali Wake Park has been calling beginner and pro wakeboarders as well as children to try out a flat-water trick, stick an obstacle or perhaps even just make it around the state of the art cable system built around a five-hectare lake. And to get the little ones even wetter is the park's Aqualand – a fun addition to the water excitement at Bali Wake Park.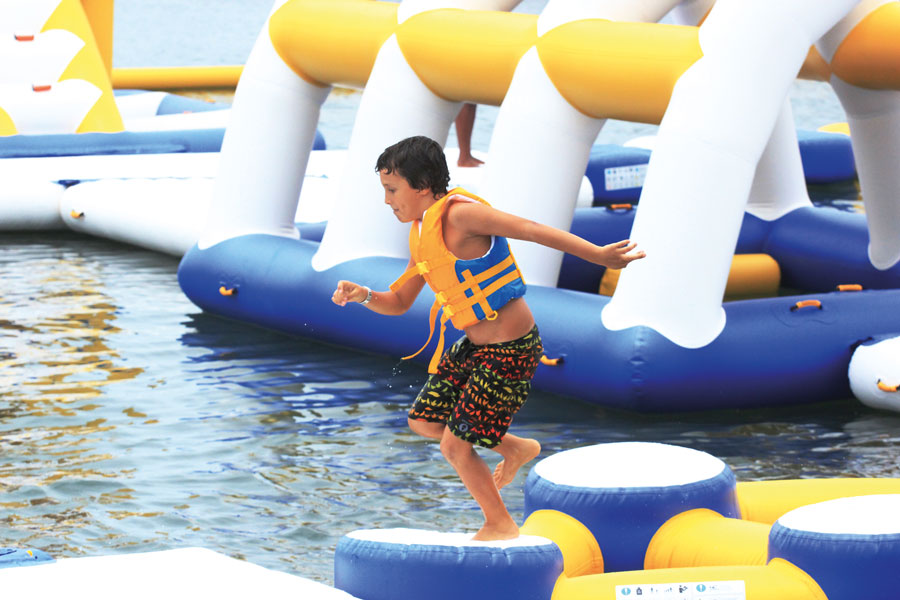 Once the kids are decked up with a life jacket, they'll be taken to a briefing session by the lake before you take to the water. A short swim later they'll arrive at the entrance (or rather starting point) of the Aqualand – there are a few, and you're free to choose one.
The Aqualand looks like something straight out of the TV show "Wipeout". The only difference is that there's no one shooting at the children with water cannons to get them off the inflatable obstacles. With that being said, they'll most likely fall off entirely by their own means. Trying to stay dry is a hopeless cause here.
The floaties and obstacles are a lot of fun, but they really test the balance and strength of the little ones; there will be chances for kids to slip off the floaties and into the water. But don't worry, in case they're exhausted from falling off too often, the friendly staff will help the kids pull themselves back up. But no matter how often the children fall off, they'll enjoy clambering up onto the inflatables especially the larger ones such as the over eight-meter-high 'mountain'. Once on top, the next thing they have to decide is how they're going to get down again – slide or jump. Either way, they will be plunged into the water below in a fun way.
A session of Aqua Land is 50 minutes, and combo packages (Aqualand plus kneeboarding experience at Beginner Cable and/or wakeboarding at Full Cable System) are also available.
Bali Wake Park
Jalan Raya Pelabuhan Benoa No.7X, Pedungan, Denpasar
+62 361 846 8866
---
MUD WRESTLING
It is without a doubt that kids love to get dirty. Playing in the mud must be one of their favourites. A carefree attitude combined with some good old fashioned splashing around can offer plenty of fun and enjoyment to your kids – but have they tried the Balinese way?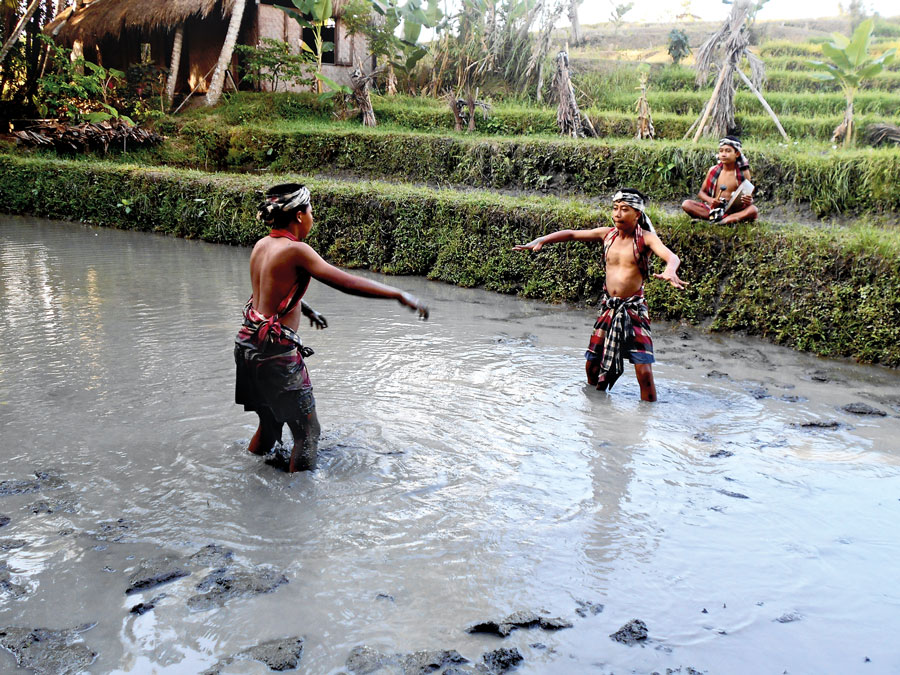 In Bali, Bali Mepantigan Arts teaches children some techniques from Balinese martial arts which are performed in the muddy rice fields. The exciting part of this activity is they combine it with Balinese drama, contemporary dance and gamelan music to create an entirely new cultural phenomenon. To respect the Goddess of the Rice, participants must wear Tridatu Sarongs – a traditional Balinese clothing – during the fight. Mud wrestling will help children to increase physical fitness and release stress, while their emotional and spiritual intelligence are also utilised.
Bali Mepantigan Arts
Jalan Pasekan Pondok Batu Alam #30, Batubulan, Sukawati, Gianyar
+62 819 16222281
www.mepantiganbali.com
---
SKATEBOARDING
A skateboard is often a kid's first set of wheels. As part of western culture, skateboarding is considered cool amongst teenagers. Apart from increasing the social status, riding a skateboard promotes a healthy, outdoor lifestyle that requires perfect balance, leg strength and good stamina. If you are teaching your kids skateboarding, do not push them until they learn how to jump off the board. Walk next to them or get them gliding along with you. Children will do what you do, so make sure you put on helmet, elbow and knee pads on.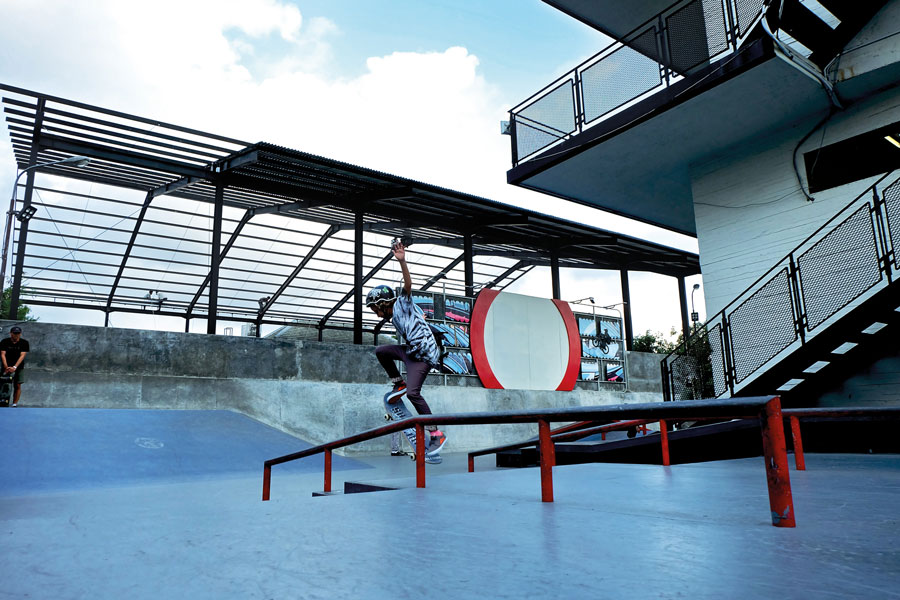 In Bali, you can cruise around in an enormous pump track and bowl with your skateboard at Amplitude Skatepark. Located in Kerobokan, the park presents the deepest skate bowl in Indonesia with a depth of 270 centimetres. Skate lessons are available every day between 10 AM to 6 PM by Amplitude School of Skate. The minimum age to join the class is 5 years old.
Amplitude School of Skate and Bike
Jalan Raya Semer, Gang Nata, Kav. 0-5, Kerobokan
+62 811 3850711
www.raceamplitude.com