Nestled on the vibrant Seminyak beachfront, in a village that perfectly encapsulates the ancient and modern zeitgeist of Bali in all its vibrancy, energy and unique traditions, experience a luxurious home-away-from-home with custom-tailored butler services in a stunning, intricately-designed villa accommodation at Hotel Indigo Bali Seminyak Beach.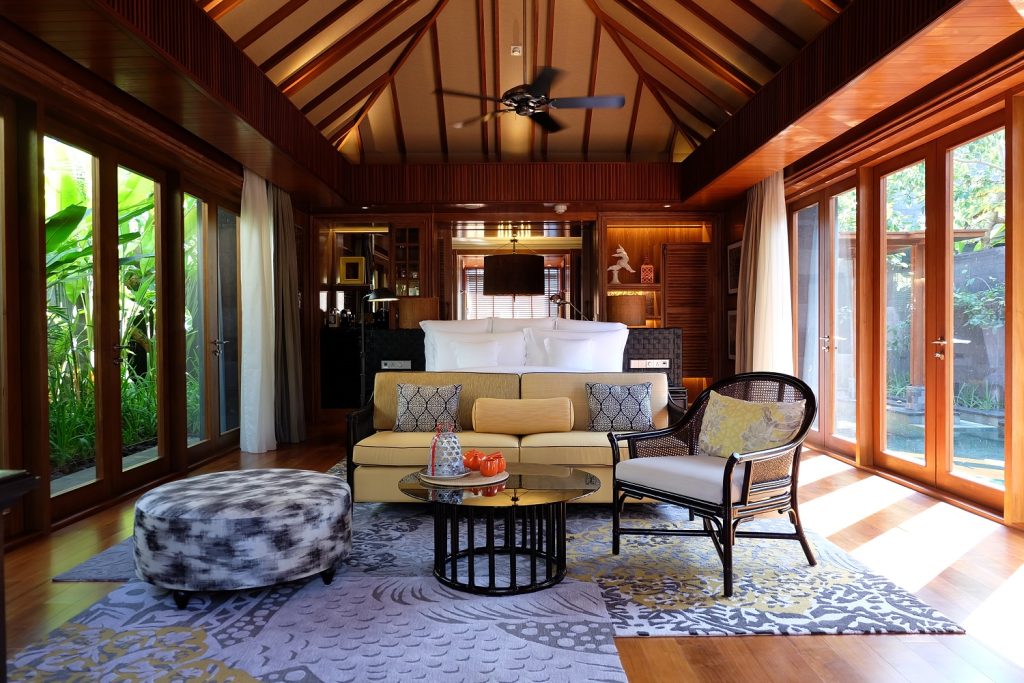 Comfortably resting on an expansive 4.7 hectares of lush, landscaped grounds, Hotel Indigo Bali Seminyak Beach's design-focused boutique haven has been a beloved accommodation for both domestic and international travellers since it first opened in 2017. With eclectic, contemporary interiors that reflect elements of local culture, guests are welcomed into a space that is quintessentially modern Bali, noticeable upon first steps into their marvellous lobby dubbed the Neighbourhood Gallery.
Why 'neighbourhood'? Well, this is at the crux of what makes Hotel Indigo Bali unique. Through their neighbourhood-centric concept, they draw inspiration from the flavours, culture and character of its immediate surrounding, the Seminyak neighbourhood, which results in a seamless fusion of traditional Balinese elements with contemporary creativity.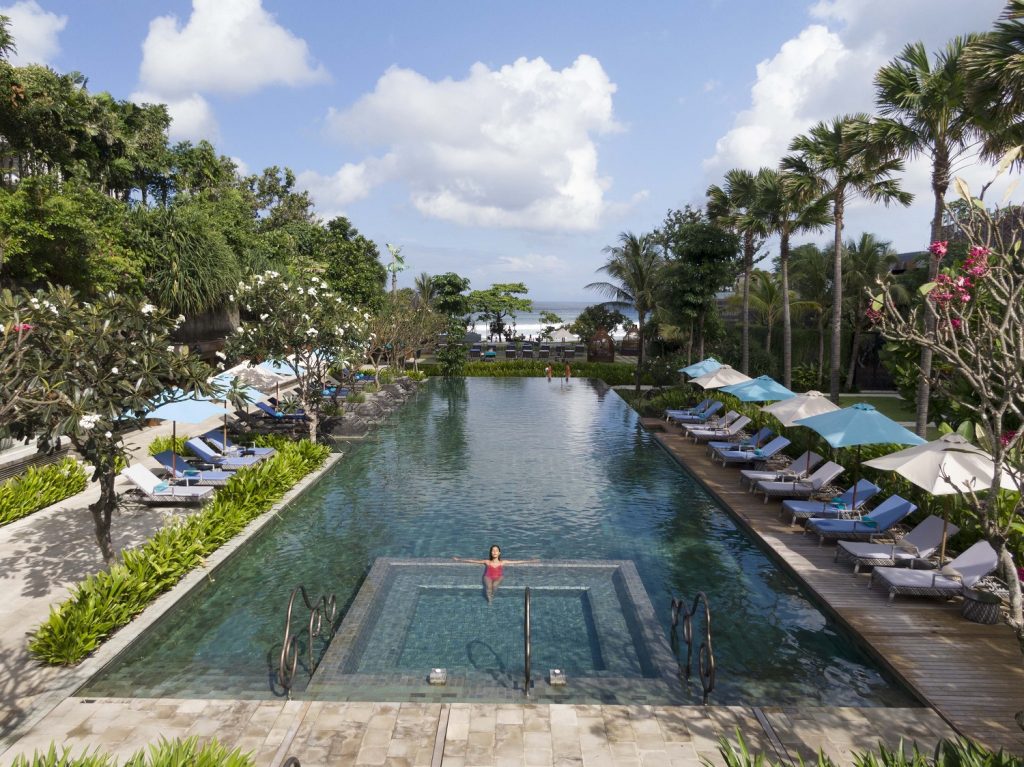 The Balinese Subak-inspired wall structure, accents of verdant foliage, striking outdoor artworks by local artists and water fountains that embodies the serenity of Seminyak are all part of the visual tapestry experienced here. A novel interpretation of the traditional Balinese Tenun Songket weaving textile can be seen through the signature geometric lines that adorn the resort's entrances, on canopies and on the walls. The resort is a feast for lovers of design.
Featuring 289 aesthetically designed accommodations, the boutique hotel comprises 270 spacious rooms and suites. At the top of the range are 19 beautifully-appointed villas, each with private swimming pools, whirlpools and marble bathrooms. The villa's design is inspired by the Balinese Tri Hita Karana philosophy – one's relationship with God, living beings and the Earth – showcasing a thoughtful juxtaposition of contemporary design and ancient tradition.
Each villa adopts the traditional structure of Balinese temples and compounds, made up of three distinct areas: the Nista Mandala, a space for residents to embrace the Gods; Madya Mandala, a space to be with one with nature; and Utama Mandala, a space for interpersonal relations. Sprawling adjacent to the main hotel building, the villas offered include the One- and Two-Bedroom Pool Villas. A short buggy ride away from the reception area, you'll pass through pathways, where you'll arrive at the villa compound, featuring a courtyard enclosed by verdant foliage and lush palm trees.
The one-bedroom villas are designed to be the idyllic hideaway for those seeking privacy during their stay where guests can enjoy bespoke services courtesy of your attentive, personal Neighbourhood Butler. Upon arriving at your artfully-designed villas, you'll be greeted with authentically Balinese designs with intricately-carved doors, painted in regal and majestic colours.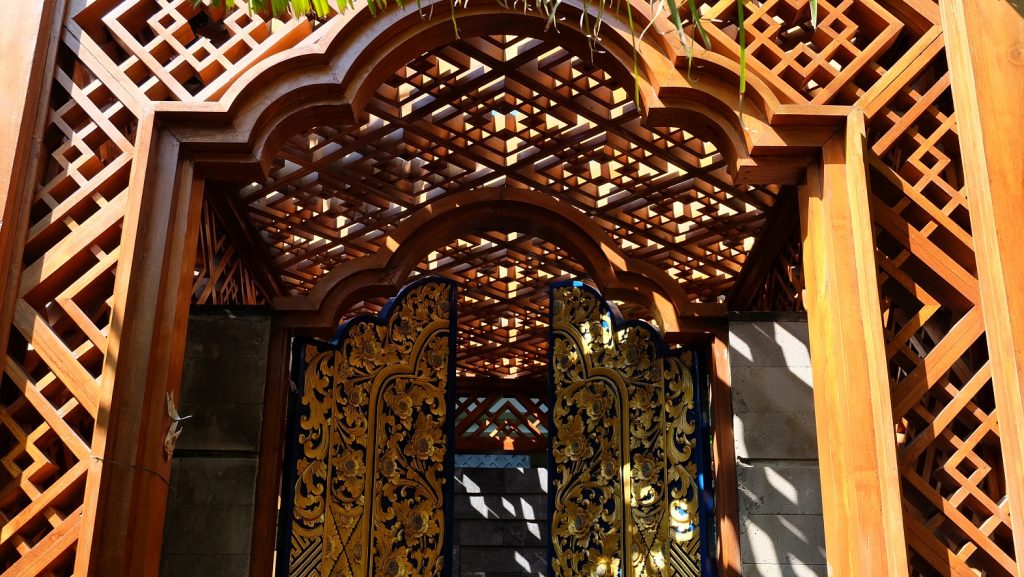 A breathtaking spectacle to behold, these luxury villas provide guests with comfortable and leisurely lodging with spacious bedrooms, expansive spa-inspired bathrooms, generous living rooms and dedicated dining pavilions. The 300sqm one-bedroom villa features King sized beds, a private pool with jetted tub and day bed, a private kitchen, a separate boudoir for make-up and walk-in closets, indoor and outdoor seating and dining areas, complimentary unlimited pay-per-view movies, complimentary scheduled resort activities, a minibar and daily amenities for the little ones.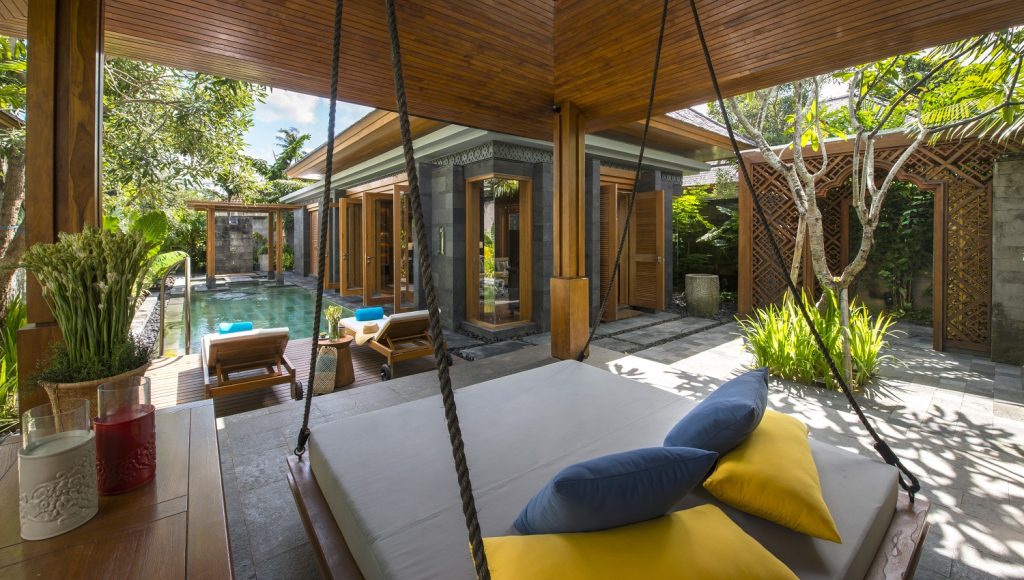 The striking marble-embellished en-suite bathroom boasts his and hers vanity area, outdoor shower area, separate toilet, bathtub and rain-shower area, while the bedroom is equipped with a Nespresso machine with milk warmer, Bluetooth home-theatre sound system and Apple TV, and an interactive 49-inch HD IPTV that can conveniently connect to your devices. The One-Bedroom Villa can accommodate up to two adults and one child below 12 years old or a maximum of three adults with an additional extra bed.
Perfectly designed to exude a homey ambience, all of the little details, from the décor, amenities, services and facilities available will make you not want to leave the comfort of your villa. Whether it's tucking in the comfortable bedding and enjoying lazy days watching your favourite movies or shows, jumping in the pool to cool off under the Bali sun or sipping on fresh coconut waiting for you upon arrival, the villas are the idyllic tropical oasis you'll want to retreat to during your island getaway.
For leisurely experiences, guests can enjoy rejuvenating treatments and traditional Balinese massages at Sava Spa located nearby the villa compound or dine and drink at the various outlets including Makase, Pottery Café, Tree Bar, SugarSand and Cave Bar, located at the hotel's main swimming pool.
Hotel Indigo Bali Seminyak Beach
Jl. Camplung Tanduk No. 10, Seminyak
+62 361 209 9999
seminyak.hotelindigo.com