Traditionally made for family gatherings, meetings, and functions, the Balinese Megibung is a delectable feast served on one big banana leaf. People will then circle around the food and eat with their bare hands as a symbol of togetherness.
In Megibung, the chair-less sitting arrangements are made from the north-end of the table, starting with the oldest member and ending with the youngest member at the other end of the long table, with each member of the gathering wearing traditional Balinese clothing. Originally this traditional dining was held for every Balinese gathering, however these days this way of dining can only be found in few isolated villages in Bali.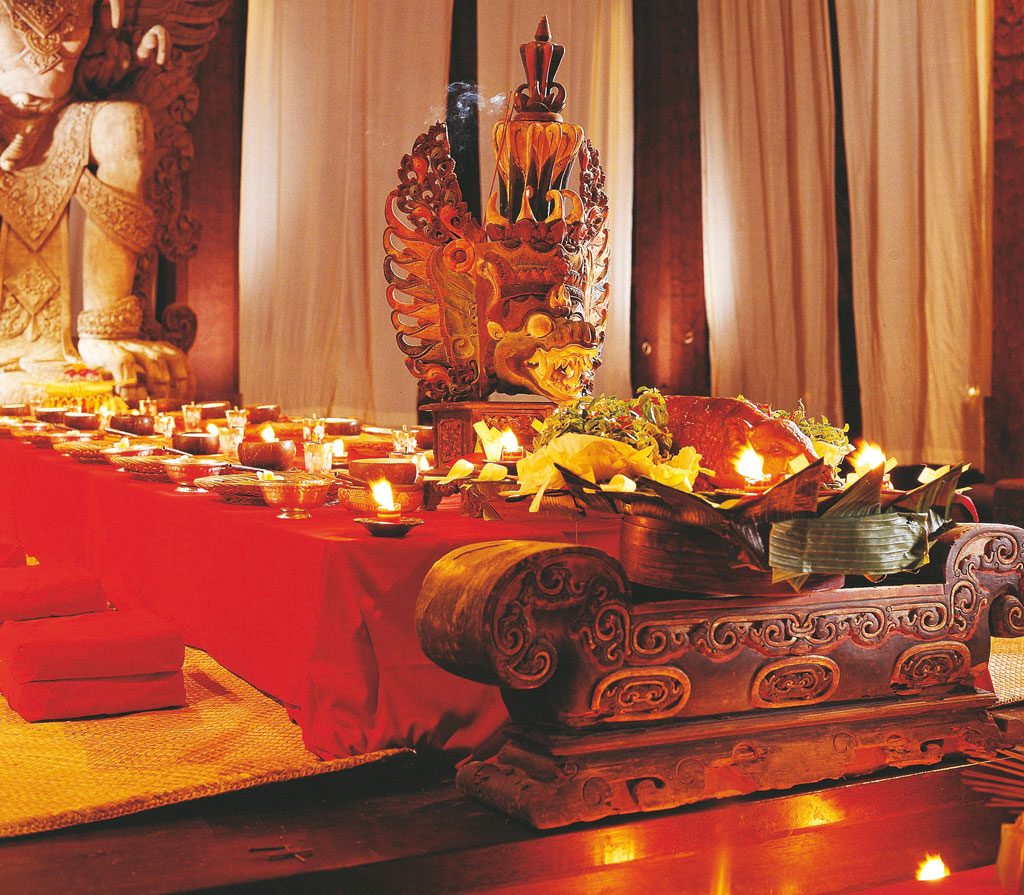 At Tugu Bali, the Megibung menu presented according to the style of its tradition is typically Balinese and offers: Nasi Tumpeng (ricecones) – with the tip of the tumpeng presented to the oldest person and the shortest tumpeng presented to the youngest, Sate Lilit (Grilled Fish on Lemongrass), Udang Goreng (Crisp Fried Battered Shrimp). A roasted suckling pig, the Babi Guling, the most popular dish of Balinese dining, is available on request.
Hotel Tugu Bali
A : Jl. Pantai Batu Bolong,, Pantai Canggu, Canggu, Kuta Utara, Kabupaten Badung, Bali 80361
T : +62 361 473 1701
W : www.tuguhotels.com

---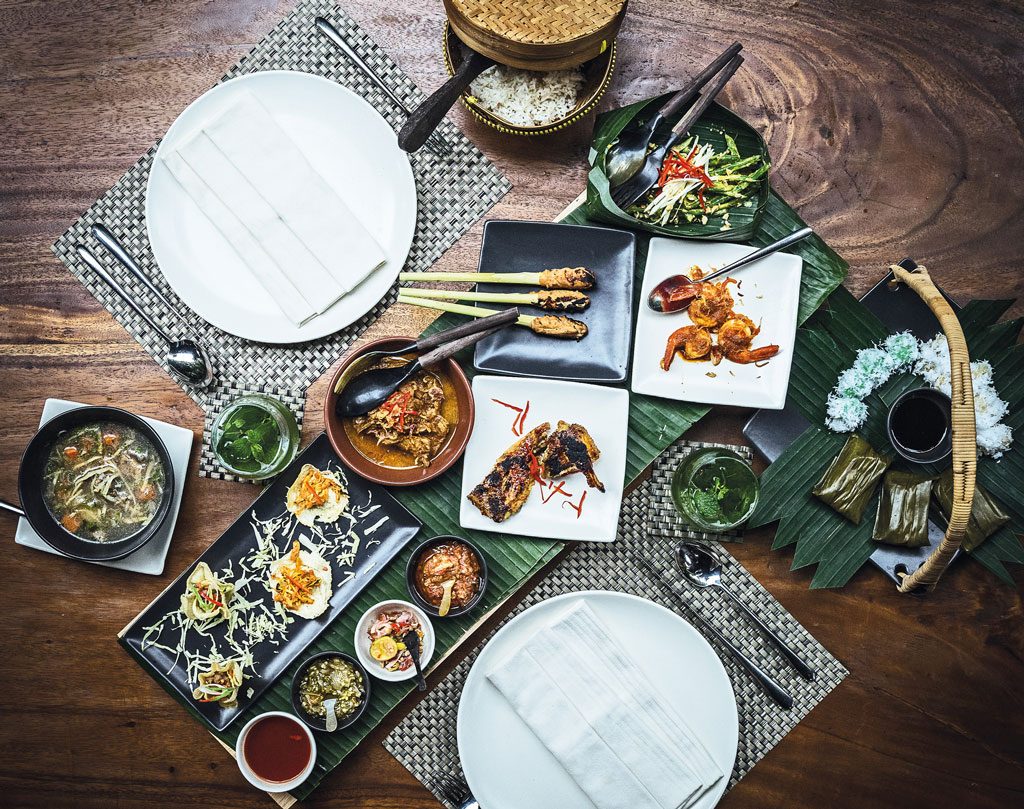 Also honouring this tradition, Republik 45 has adapted the island's culinary heritage to its menu. The restaurant's Megibung sharing style menu is a delectable serving of Bali's traditional dishes that include Sate Lilit Tuna (grilled minced tuna with holy basil and sambal), Ayam Pelalah (shredded chicken with Balinese herbs and spices served on melinjo crackers) as well as the rich flavours from the rest of the Indonesian archipelago such as the Sumatra's famous Rendang Sapi (slow cooked succulent beef tenderloin with a distinctive, rich chilli and coconut emulsion), the Lombok's Ayam Bakar Taliwang (grilled free-range chicken with a rich spicy sambal), and many more.
Republik 45
A : Jalan Raya Kerobokan No.86A, Kuta Utara, Kerobokan Kelod, Kuta Utara, Kabupaten Badung, Bali 80361
T : +62 87 888 66 1945
W : www.republik45.com

---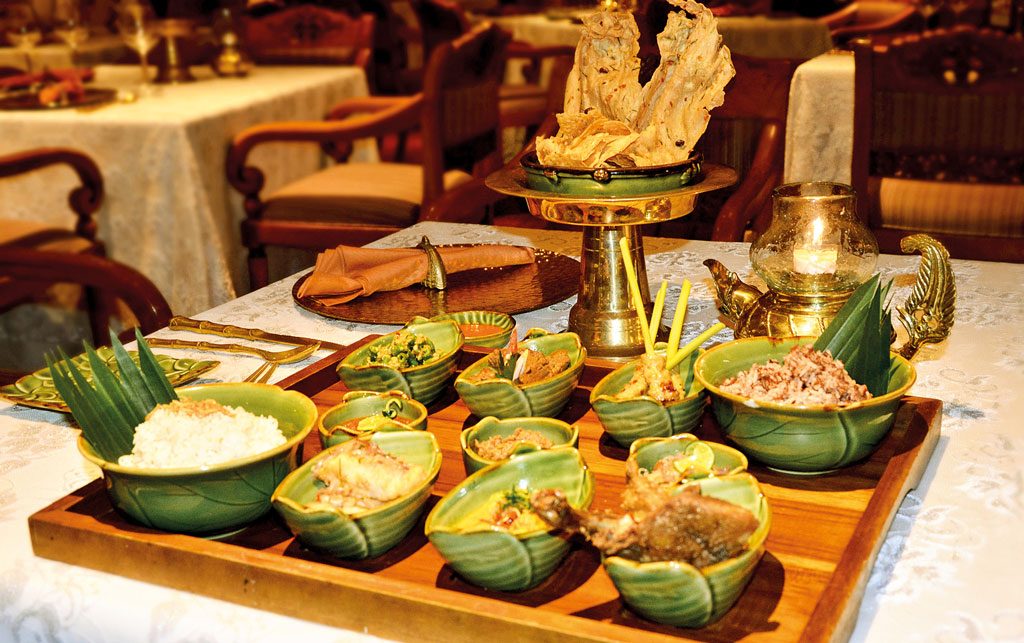 In Nusa Dua, Raja's Balinese Restaurant maintains its status as an award-winning dining establishment by serving some of the most tantalizing Balinese specialties, including Megibung. The restaurant's special Nasi Ulam Rajas Megibung (a selection of Raja's favourite dishes with prawn in garlic lesser, galangal sauce, snapper sambel matah, fried duck, sate lilit, beef bumbu Bali served with Balinese lawar and rice) is favourite of many loyal diners there.
Raja's Balinese Restaurant at Nusa Dua Beach Hotel & Spa
A : Kawasan Pariwisata BTDC Nusa Dua Lot North 4, Benoa, Nusa Dua, Kabupaten Badung, Bali 80363
T : +62 361 771 210
W : www.nusaduahotel.com