Christmas is set to be merry at Mozaic Beachclub. On the 24th – 31st of this December, the Lounge of the beachclub is preparing their "Special Christmas Lounge Set Menu" that allows guests to indulge in the Seafood Cocktail or the Roast Tomato Tartar for appetisers, Traditional Roast Turkey Lunch or Butter Roasted Seabass Fillet with roast pumpkin and Mud Crab Risotto for the mains, and Hot Chocolate Coolant and Festive Eggnog Ice Cream for dessert.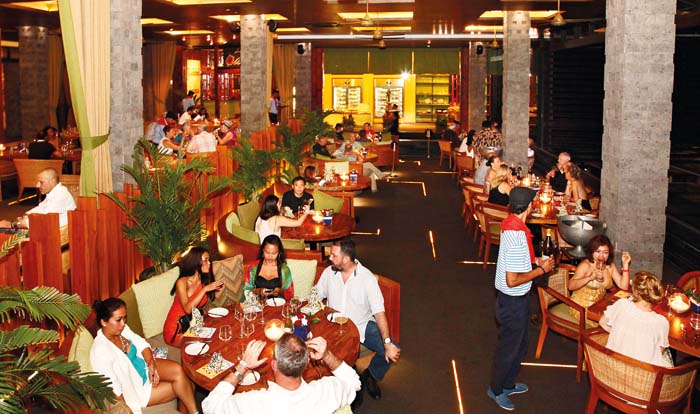 On Christmas Day, you can enjoy a four-course lunch (from noon to 4pm) with a choice of additional wine pairing. Throughout December 24-26, the beachclub will have a special six-course dinner menu (6-10pm), also with an option of additional wine pairing.
New Year's Eve will see the establishment hosting two different dinners between the casual, relaxed "Lounge", and the "Brasserie" with ocean views, where you'll receive a glass of champagne upon arrival. On New Year's Day, Mozaic Beachclub's "New Year's Day Rehab" offers An All You can Eat BBQ with a selection of freshly baked bread and fresh salads, and grilled items such as spicy chicken skewers and Merguez sausages, as well as ice cream from their Volkswagen van.
The renowned Mozaic Ubud is also preparing special fine degustation menus that the restaurant is widely known for. For Christmas, the restaurant's "Special Christmas Tasting Menu" will delight your senses with a series of scrumptious culinary innovations. You can start with their special Christmas Nibbles and continue with Canadian Lobster Tail, Atlantic Black Cod, Duo of Chilled and Seared Foie Gras, New Zealand Venison Loin, Sumatran Cassia Bark infused with eggnog ice cream, Chocolate Tart, and a festive selection of petit fours. Although the wine pairing with each course is optional, it is a "must try" for any foodie and wine enthusiasts.
For New Year's Eve, Mozaic Ubud's "Special New Year's Eve Tasting Menu" will kick start the evening with the restaurant's Last Nibbles of 2015 before continuing on to Fresh Chilled Oysters, Halibut Fillet, Foie Gras, Apple and Lemongrass Trio, Blackmore Wagyu Beef, Balinese Lemon-Basil and Celery Sorbet, A.O.C. Vacherin Cheese, Kaffir Lime Clay, and the First Petit Fours of 2016. An excellent wine pairing option is also available.
Mozaic Beachclub
Jalan Pantai Batu Belig, Seminyak
Phone: 0361 473 5796
Mozaic Ubud
Jalan Raya Sanggingan, Ubud
Phone: 0361 975 768