Trying to boost your health at home? Why not try to look through your spice rack for some favourite spa treatment ingredients. They can be easily gathered and put together to ensure it meets the standards of your spa setup requirements whenever and wherever you are.
In case you don't know, the ingredients used at spa facilities are actually plucked from trees. That being said, there is a good chance that your kitchen pantry holds all the ingredients needed to whip up a spa treatment at home and indulge in some DIY pampering. These natural ingredients are proven to have no destructive side effects to our body, but it is wise to consult your healthcare practitioner to make sure what is right for you.
CHOCOLATE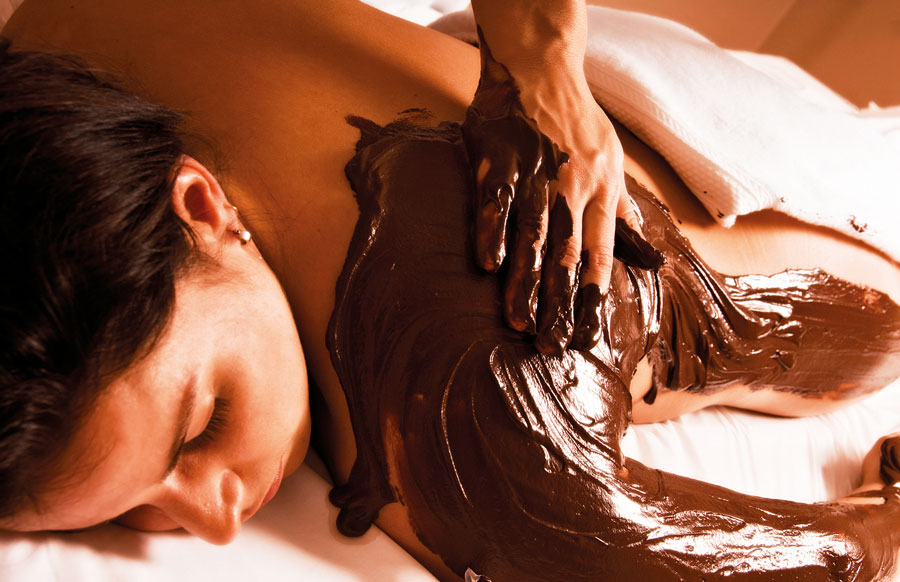 It is no secret that chocolate is quite famous in the beauty industry. We all know that consuming chocolate in enough quantities is good for the body. But when applied to the skin, it makes the skin softer with a healthy glow and looks perfectly hydrated. This skin improvements happen because the chocolate provides nutrients to the body to regenerate and reduce inflammation, the cocoa's antioxidant polyphenols removes the stressed and tired look from your skin. The antioxidants also give your skin a plumper, firmer feel while at the same time helping your cells build collagen and elastin.
Based on research, dark chocolate is the best to treat the skin. It has lots of antioxidants to slow down the process of ageing by fighting against free-radical damage in your skin. Apart from that, it also smoothens wrinkles and soothes irritated skin. Cocoa butter is moisturising and nourishing for your skin, which explains the availability of chocolate during a spa experience. To give your skin a deep moisture, you can combine the natural oils found in cocoa butter with other traditional massage oils.
To apply this at home, you can mix chocolate with anti-inflammatory caffeine for a body massage treatment. This has been proven to act as a remedy that improves the circulation of blood and rids of other fluids that accumulate in various parts of the body. A mask of chocolate, which can be used on both face and hair, ensures an immediate improvement of skin tone and a natural glow in the skin and in the hair. In no time, your nose will be filled with the scent of chocolate that you could literally take a spoon to. Adding cocoa butter to this mask, you will instantly find that your skin is hydrated and soft to the touch.
CINNAMON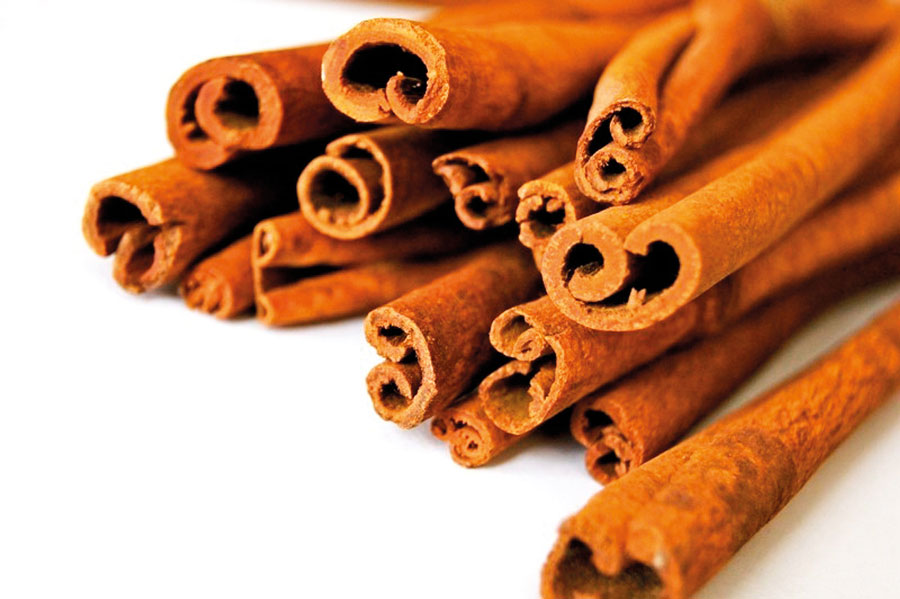 Growing abundantly in Asian countries, cinnamon is one of the popular natural ingredients that have been used for beautification purposes to deliver an abundance of benefits to the skin. Back in ancient times, Ayurvedic and Chinese medicine used cinnamon to cure a myriad of illnesses, including internal disorders such as stomach upsets, diarrhoea, respiratory ailments and menstrual problems.
Not often associated with skin care remedies, this amazing ingredient has antiseptic, anti-ageing, anti-fungal and antibacterial properties of the skin. The fact that cinnamon oil is highly concentrated with antioxidants makes it very effective as a natural digestive aid, blood sugar stabiliser and circulation booster. This ingredient is normally used in aromatherapy and as a massage oil to cure arthritis or general pain. If you combine cinnamon with honey, it will get rid of pimples, ringworms, eczema and other skin infections.
The anti-ageing beauty benefits of cinnamon are very powerful and all essential for youthful skin. It promotes blood circulation and keeps skin cells healthy by bringing blood close beneath the surface of the skin to nourish every skin cell with nutrient-rich blood. Since cinnamon naturally contains hydrogen peroxides, you can also get hair lightening benefits.
COCONUT OIL
This natural ingredient comes with a plethora of recommendations to benefit the skin. It has great anti-microbial properties to treat various kinds of infections, such as bacterial, viral or fungal. Coconut oil also has vitamin E in it, which is perfect to nourish the skin to make it smoother and softer. The antioxidant effect in coconut oil plays an important part in making skin look younger.
Coconut oil is absorbed so easily by the body. Most of the time, many massage therapists use an abundance of moisturisers to make sure there is lubrication while massaging. While most oils are hard to go by when applied to the body, this one leaves no stains. If you are tired due to physical activity, a good massage with coconut oil can also soothe and relax tight muscles in your body. For daily use at home, coconut oil is a fantastic makeup remover, simply apply it to your face and wipe off with a cotton pad soaked in warm water.
GINGER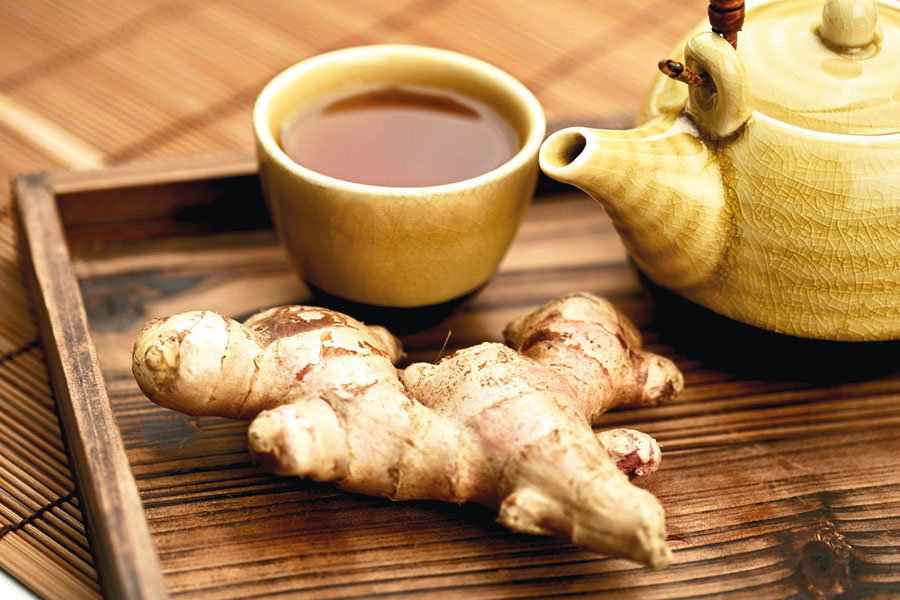 Ginger has a long-standing reputation as a healing ingredient by the ancient Chinese. For centuries, it has been used for home medical purposes to treat cold and flu symptoms, nausea, motion sickness and joint pain. Apart from health benefits, ginger stores a whole slew of beauty benefits as well. Researchers confirm that ginger helps to make healthier hair and better skin.
Its powerful anti-inflammatory and antioxidant properties means that it can be used on the skin to add radiance and reduce the appearance of hypopigmented scars. The antioxidant properties of ginger prevents free radical damage and protects the skin against ageing. It evens skin tone and improves elasticity. In addition to its detoxifying and invigorating qualities, ginger is also effective in treating fungal skin infections and even for reducing cellulite. For stimulating hair growth, ginger increases circulation to your scalp. The vitamins, minerals and fatty acids will strengthen strands and combat hair loss.
HONEY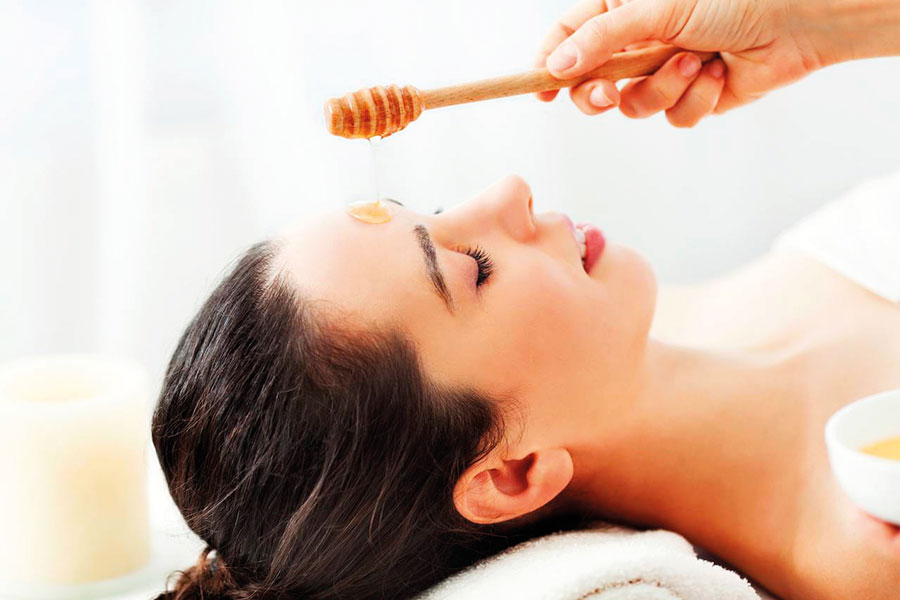 Honey has been used for centuries as an allergy alleviator or a cough suppressant. While it sure does add a pleasant extra to your afternoon warm mug of tea, honey has also been used for beauty and healing purposes. Back in the Egyptian times, this sweet, sticky nectar was believed to be used as an excellent humectant to the skin. Not just chocked full of antioxidants to help combat free-radical damage and create more youthful looking skin, honey is also packed with antibacterial properties to stave off infections. The vitamins and minerals of the honey blend so well with amino acids and increases hydration of the skin.
These days, spas around the world are levelling up their offerings of honey-infused treatments due to these amazing benefits. Some big hotels are even raising their own bees to produce this beauty powerhouse. People do love the fragrant scent of honey when it is gently warmed and spread on their skin. Mixing it with other ingredients for a fresh, in-the-moment home spa treatment, honey makes for a wonderful, moisturising mask that will leave skin soothed and glowing.
GREEN TEA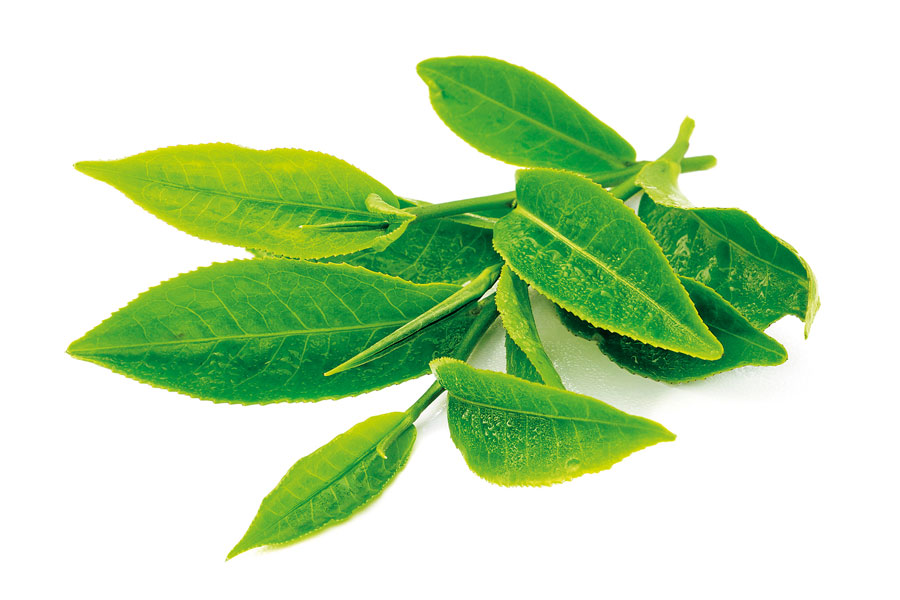 Green tea is packed with the highest number of antioxidants of any tea to improve the skin, hair and nails. To get these health benefits, sipping tea brewed from a hot pot isn't the only way to get these benefits into your body. Its anti-inflammatory properties can help to soothe a sunburn. You can do it by either soaking a sponge in green tea and applying it to your sunburned skin or pour green tea into a spray bottle and mist your skin. To reduce puffy eyes, you can soak a cotton pad with green tea and let it sit on your lids for a while.
Green tea also has the ability to reduce fatigue in your legs and feet, simply by soaking your feet in warm or cool green tea to relax your muscles and fight any unpleasant foot odours. Most of the cosmetic formulations contain green tea help to reduce sun damage by its action on free radicals. Polyphenols present in green tea have been known to slow down the signs of ageing.
KENCUR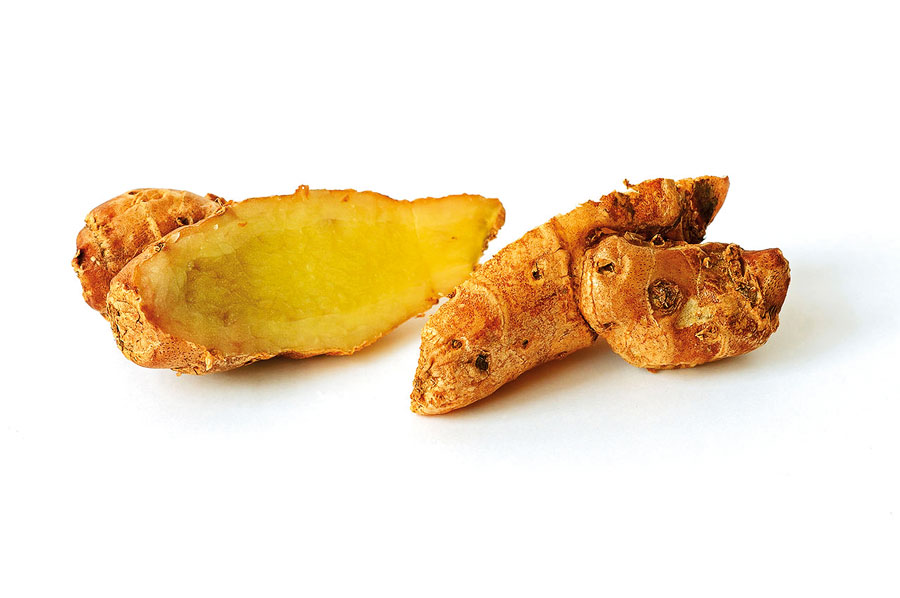 Known in the botanical world as Kaempferia galangal, kencur is a vital ingredient in the traditional Indonesian Jamu drinks. It is basically a plant in the ginger family that grows abundantly in the lowlands or mountains where the land is loose and fairly dry. The root of Kencur resembles the roots of ginger but with a specific aroma and distinctive flavour. It has a strong taste when you consume it. Some of the benefits of Kencur are to increase stamina, eliminate bad breath, inflammation of the stomach, bloating, nausea, vomiting and colds.
SEA SALT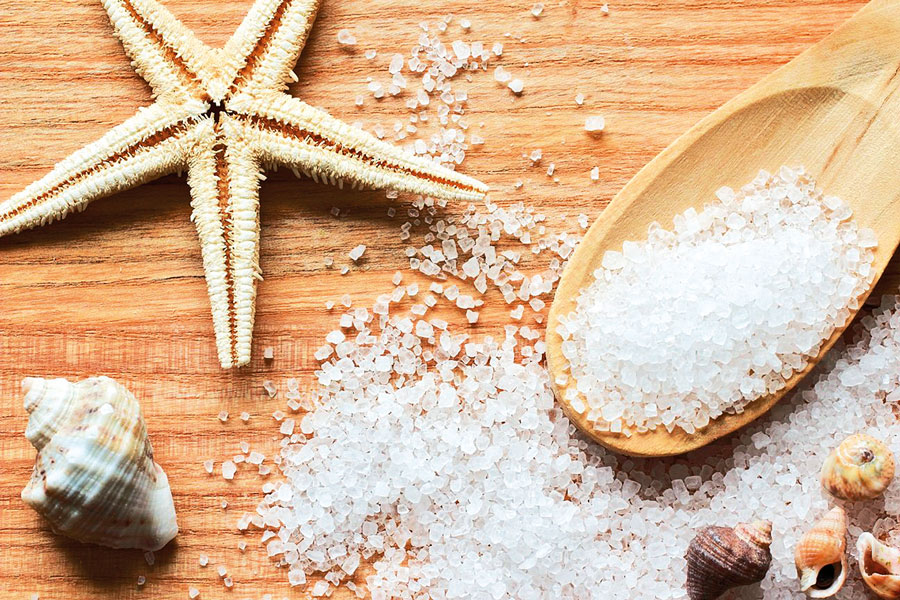 Sea salt has been proved to have a wide variety of skincare benefits. Not limited to just helping your skin to become more radiant or to create healthy skin texture, it also treats a variety of skin conditions without resorting to harsh chemicals or medications. As we all know, dead skin cells makes the skin look old, and an important part of spa treatments is to clear away this dead skin to allow the younger skin cells to grow. Sea salt takes away the top layer of dead skin, leaving a polished appearance that feels silky smooth.
As we grow older, our skin starts to lose its natural moisture, and sea salt has the capability to nourish and hydrate. The essential minerals found in sea salt play important roles in promoting the intercellular activities that skin needs to stay healthy. Sea salt contains high amounts of magnesium content to stimulate the liver and adrenal glands to dump their toxins. With an added effort in detoxifying your body, you assist your immune system in fighting infections and illness. The presence of magnesium is also powerful to fight against ageing. Sea salt increases the cell growth by preventing bacterial growth through magnesium. The faster cell growth means slower ageing.
TURMERIC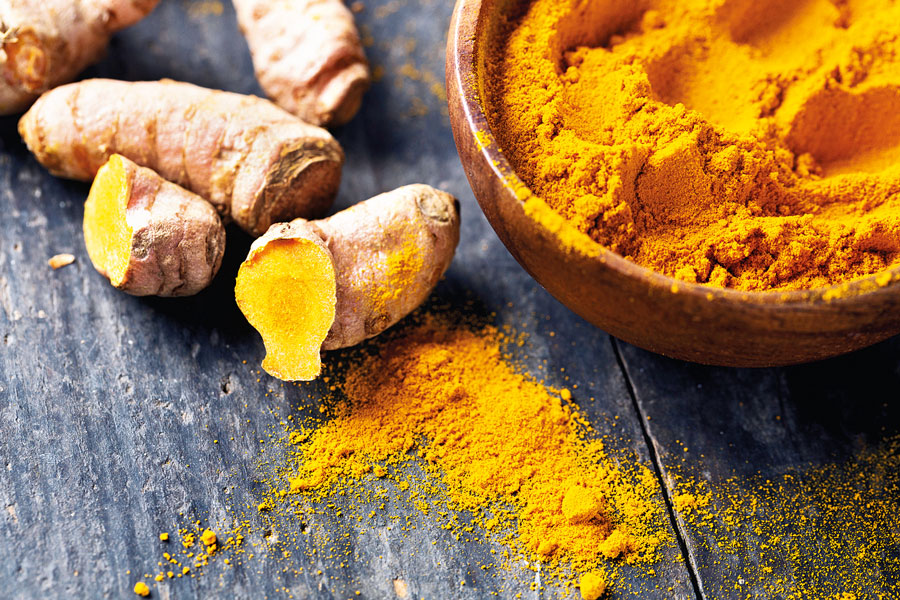 Not only used as a flavouring and colouring agent in food items, Turmeric is also a popular ancient spice that is used as a medicinal herb for treating several skin problems. It has been proven to heal wounds and treat various skin diseases because of its anti-inflammatory and anti-oxidant properties. Turmeric's anti-bacterial properties help to treat wounds and hasten to heal, preventing the spread of infection. Another benefit is to help with sunburn relief and repair sunburned skin. In spa treatments, turmeric is helpful in managing oil secretion, clearing blemishes, skin brightening, exfoliating and lessening the appearance of wrinkles.