Going strong for more than two decades, this barbecue joint has a secret sauce that would make any barbecue fan to drool.
Naughty Nuri's cemented the 'cue culture up in Ubud in mid 90's, and since opening another outlet in Seminyak last year in August, Naughty Nuri's fanatics down south can save time to get their hands on the restaurant's Signature BBQ Pork Spare Ribs.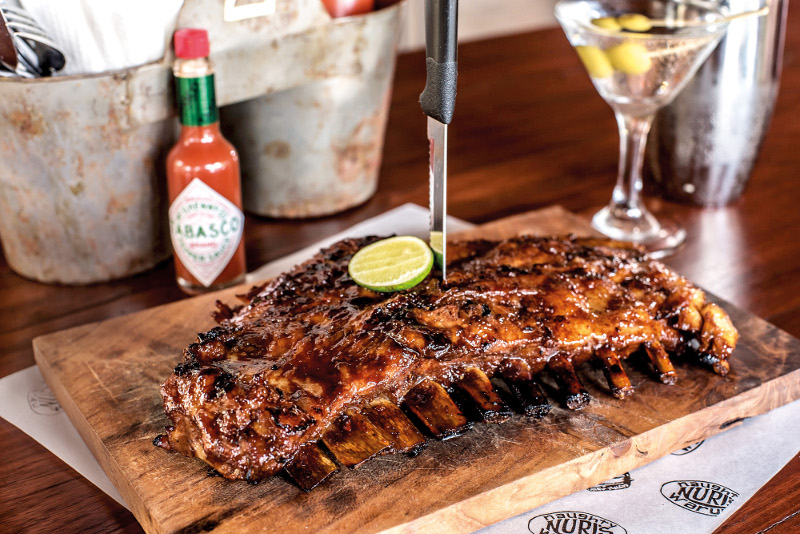 That's right, as a descendant of the legendary Naughty Nuri's in Ubud, the Seminyak outlet also spoils those who wish to sink their teeth into the restaurant's beautifully glazed, tender and lipsmacking ribs the Ubud outlet is famous for. They are seriously a feast for both the eyes, and palate.
Naughty Nuri's Signature BBQ Pork Spare Ribs are generously marinated in Balinese spices and glazed on lava stone with the restaurant's famous BBQ sauce. You first hit the smoky and tasty bark and then the meat, which tugs slightly, falling off the bone as you munch into its unctuous fat. These sticky babies will have you licking your fingers and begging for more, especially since the restaurant has been perfecting its technique and flavour for years, leaving the ribs tender and succulent.
Of course there are more carnivorous items on the menu for you to choose from. The Grilled Pork Chop, Pork Rib Eye Steak, Nuri's Double Whammy Cheeseburger, Fillet Mignon, and Grilled Sausage are amongst the favourites here – in addition to the ribs, of course.
Need something to wash the food down? Then Naughty Nuri's famous Twisted Martinis are the answer. The restaurant's Martinis feature 120ml of vodka or gin goodness in each icy cold serve. Even the world's celebrated Chef Anthony Bourdain claimed them to be the best Martinis outside of New York – and that guy knows his stuff!
Naughty Nuri's Seminyak
Address : Jalan Mertanadi No.62, Kerobokan, Seminyak
Telephone : +62 361 847 6783
Website : www.naughtynurisseminyak.com