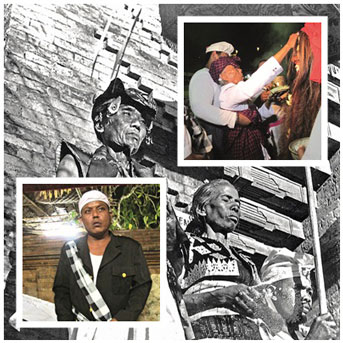 "I suffered mild culture shock as I surrendered to the seductive beauty of a Balinese temple court in full swing — that night, the spirit of Bali got me again."
Last year I was asked by an English publisher to write a book about the spirit of Bali. I declined the offer, as I was feeling dispirited about the state of affairs on the paradise isle — the threat of filling in Benoa Bay with real estate, the promotion of urban tourism over cultural tourism, and taste trends on the island in general.
After a month's sabbatical over Christmas on the sunny beaches and exquisite harbour of Sydney, I returned rejuvenated. I ran the obstacle course of NgurahRai International Airport in record time and bolted out onto billboard avenue like a spring yearling. I took a deep breath of motorcycle fumes, changed into temple dress, and went to my favourite temple, PuraDalemSidakarya near Sanur, for its annual odalan ceremony.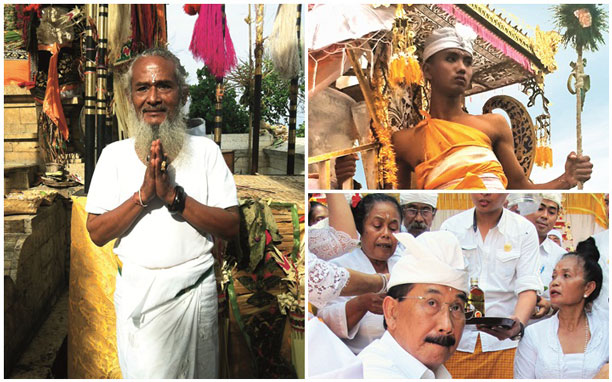 I suffered mild culture shock as I surrendered to the seductive beauty of a Balinese temple court in full swing — that night, the spirit of Bali got me again.
The following morning I posted this comment on Facebook:
"Last night I was dropped into the deep end of Balinese ceremonial bliss, submerged in the sublime courtyard beauty of PuraDalemSidakarya. A light monsoonal breeze lifted the Barong's beard as 30 cuties play golden gamelan for the gods. The rumble of the neighbouring cockfight ploughed through the incense-filled night air. Oh, the joy of being back amongst humble communalists and beauty warriors."
Somehow the spirit of Bali runs through everything on the island; it knows no barriers; it touches tourists and locals alike.
One much-revered Balinese high priest once said that anyone who lives in Bali is a Balinese.
It's really not fair to mock the new superbulé expats who seem to live outside the real Bali — though I've made a career of it in this column for years — because the spirit is with them too.
Back in Oz I had watched, on Facebook, a video of a Canggu high-rollers' Christmas party at a trophy home, complete with vast manicured garden and drunk ladies in silver sequined shimmy-shammy dresses. Oh, it was wondrous to behold.
In one corner of the circular drive, amongst the tea-coloured toy-boys in rented tux and the dizzy socialites, was a Balinese barong, snapping its jaws like a faulty lawn mower.
No-one in the party video seemed to acknowledge its presence, but I am sure one or two guests would have snuck over and prostrated themselves in front of the mystical mascot before stabbing him/herself with a broken champagne bottle.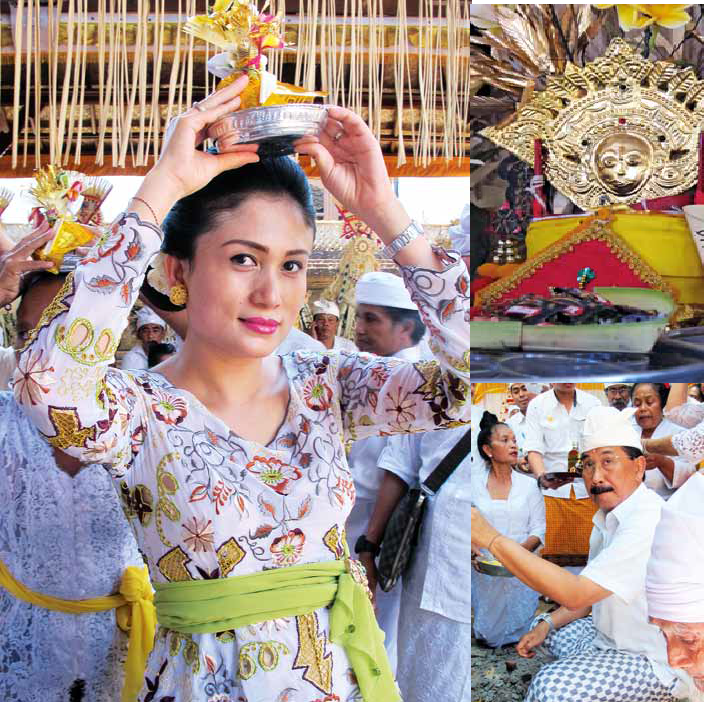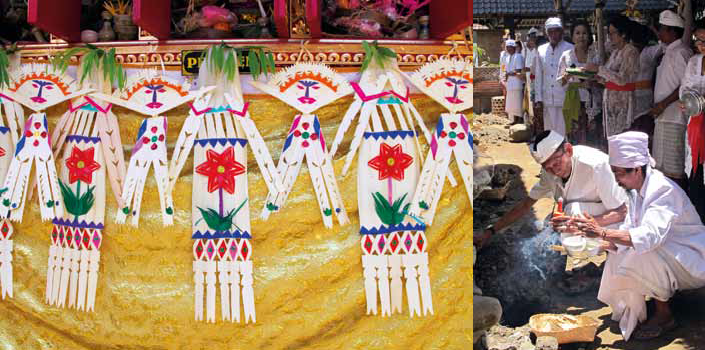 …
Incredibly, on the same afternoon, twenty barongs gathered in an ancient temple near the expat's villa to re-enact a battle which took place 200 years ago, when the PolengKesiman warriors fought on with their guts spilling out.
Tranced-out generals in 16th century costumes surveyed the ceremony from a perch high up on the temple steps (see black and white photo next page).
Coincidently, Australian revellers too were spilling out their guts, on the footpaths of Kuta outside the Bali Bomb Memorial in the red-light district.
The spirit of Bali is the spirit of tolerance and variety.
In the 1970s, when merry pale-faces first put down roots in the back lanes of Kuta, there was much variety — of surf spots, mushroom omelettes, and cultural attractions. There were fire dances, beach

processions, and trips to the far reaches of barely-discovered East Bali. These days one can just sit in the comfort of one's glass and concrete villa and let one's iPad do the walking. As I write, there's a lecture series up for grabs on
Colon Whispering and Advanced Sex in Ubud, a Stray Dog Rescue Flash Mob planned for Seminyak, and a Gay Rotary Basangkasa Bamboo Ball coming up. And the Balinese are setting the beat and raising the bar — with outrageous variations in wedding dress, temple decoration, and heavy metal video clips. Tenganan alone now has two acid rock bands!!
15 January 2015: Old Bali fairy-tale magic in a village near Ubud Ubud now resembles Carmel, that quintessential Californian New Age tourist town. One can barely find a meal with gluten in it, or any form-fitting fashion (unless, of course, on the fashionconscious Balinese).
A few river valleys west, in the still unruined district of Mengwi, is the charming
rural village of Bongkasa, home to one of Bali's prettiest palaces, with some of Bali's prettiest princesses, all married to princes or Brahmans from other grand noble houses. Between palace ceremonies they all live in Renon or Sanur, to be nearer the golf course and Pizza Hut, but, come the occasion, the princesses get poured into lace chemise and the princes polish their medals… and it's on! And there's nothing quite like it. Serfs pourout of lanes to play gamelan, to dance, to carry palace standards, to fan satay, and generally to make it all possible. The nobles do their part too, of course: conversing politely in neat rows in high pavilions and conveying important ritual objects
on their heads, and praying together at the right time. Here and there priests areplaced and offerings laid. The overall effect is magnificent; it's a marvel, considering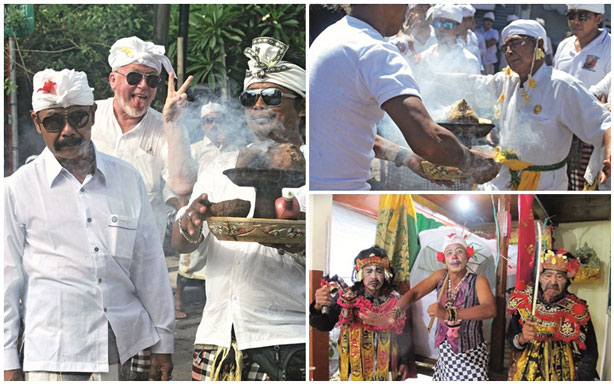 their new modern suburban lifestyle, that they still remember the ropes! But they do — they glide into action like polished professionals. Today there's an extra, barely detectable, excitement in the glistening courtyards as
the Mengwi Palace head, who is also head of Badung Regency — which includes Kuta, Sanur, and Denpasar — is due to perform the climax rites of the palace temple's once-in-a-generation re-charging: the placement of the magic organs in the base
of individual shrines. He sweeps in on time, smiling graciously, as his distant cousins hand him silver trays stacked with ceremonial goodies. He knows all the magic incantations, and performs his role to perfection. Everyone is thrilled. Lunch is served. The mayor glides out and busts me in the carpark smuggling out two cold beers.
17 January 2015: Regular Saturday visit to the jail to visit my liege lord, the Raja Badung With two of my best Balinese buddies — one a (retired) Sanur boulevardier and the other the philosopher cousin of the raja, with long nails on both hands —I
drive to Kerobokan jail past mushrooming budget hotels. Anapoe, the philosopher, keeps us amused from the back seat with stories of his internet discoveries. He is most impressed by the video of the ISIS beheadings and does pitch-perfect impersonations of the gurgling, sawing sound of the knife doing its evil work. The Balinese have a profound fascination for the awesome and the grotesque. At the jail door visitor's entrance I am recognized by the doorman, who was a pecalang (guard) at Uluwatu temple festival
when I smuggled in an Australian actress and her family last week. We sweep inside. We are all dressed in Balinese dress as we always meet our raja in the prison temple where today he is holding court as usual.
Everyone, even Russian drug mules, scrapes and bows as they walk past. Our raja, is inside on a manslaughter conviction after a tragic skirmish with a half-brother a decade ago. He has so far served some months of a one year sentence. Putu, my Sanur friend, adores the king
(as do most Balinese) and asks questions very politely, with hands clasped, about the king's arrangements. Anapoe, the philosopher, has his shades up and is gossiping busily with his royal cousin about girlfriends. I sit there sipping mango juice like a paleface
sycophant very politely, with hands clasped. I talk about my recent visit to Palembang in South Sumatra where I couldn't find the grave of Arya Damar, the Denpasar royal family's founding ancestor.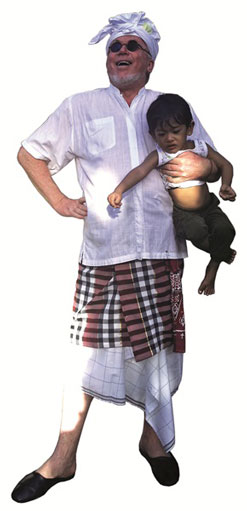 "Go to Sekuni Hill," the boss explains. "Ki Haji Agus will take you there; there's a tall Cyprus tree in front of his house." He's a font of such ancestral detail. We then talk of the origin of the Naga Banda (dragon) ceremony in Klungkung Palace (a story which involves three geese
down a well) as prisoners file past to the commissioning. "Murdered a cop", "In for life", "Embezzler", the raja quips in a loud stage whisper as each inmate files past. At 4 p.m. the King leads us out of the temple and walks back to his corner cell, greeting everyone with extreme courtesy on the way — like Queen Elizabeth in the Royal Enclosure at Ascot. The dignity he has bought to the jail is amazing. We drive home with Anapoe doing the guzzling sounds in the back seat again