When you are going to the traditional markets, you should try to enter a local mindset – and this means knowing how to bargain. These markets offer a wide range of items for you to haggle on. Here we guide you through where to go, what to do and highlight some rules of thumb when bargaining.
Jimbaran
Kedonganan Fish Market in Jimbaran is very famous for its fresh and big catches among the seafood lovers. Bustling with tourists and locals, this market is one of the hottest culinary destinations on the island. Located one street back from Jimbaran Beach, you will find stalls displaying their catches of the day separated into various compartments. What brings people here is the variety, the charm of the stalls and the energy of the market. Being a fish market, the odour can be intense at times but if you can ignore it, meandering through the stalls is intriguing. For the tourists, wandering around the market and choosing the fish yourself allows you to see how the locals live and shop.
Buy
The market is open every day from 5 AM to 3 PM, and itturns into a complex of food stalls at around 5 PM until midnight. If you plan to buy fish, it is recommended to come in the morning after the fishermen drop off their fresh catches to the designated stalls. The selections are beautiful in the morning, and there is a good chance for you to get fresh shrimp, squid, crab, lobster, tuna, scallops, prawns, sardines, mackerel, snapper, oysters, octopus or chunks of fish eggs. The downside of morning shopping is the commitment of the sellers to maintain the price at the higher level. However, if you come after 12 PM, you can work on your bargaining skills and end up negotiating down to a low price. But, of course, by this time of day the variety of fish have reduced. It is recommended to go in the morning and find fishermen who lay out their catch on the coast. Buying directly from them will give you better deals. When you want to buy fresh fish, keep an eye out for ones that look alive; eyes clear and with a slimy body. Look at their gills, see whether they're still red and if you press the body, make sure that it bounces back. Beware of stale and rotting fish with cloudy eyes.
Legian
Merta Nadi Art Market in Legian is normally packed with tourists. Located on Legian's pedestrian-friendly street of Jalan Melasti, this traditional market is close to the beach with a series of shops creating a compact shopping destination for visitors. It has a large number of souvenir and boutique shops with locally made goods. This market also has cafes and restaurants dotted amongst the shops so you can recharge between morning and afternoon shopping sessions.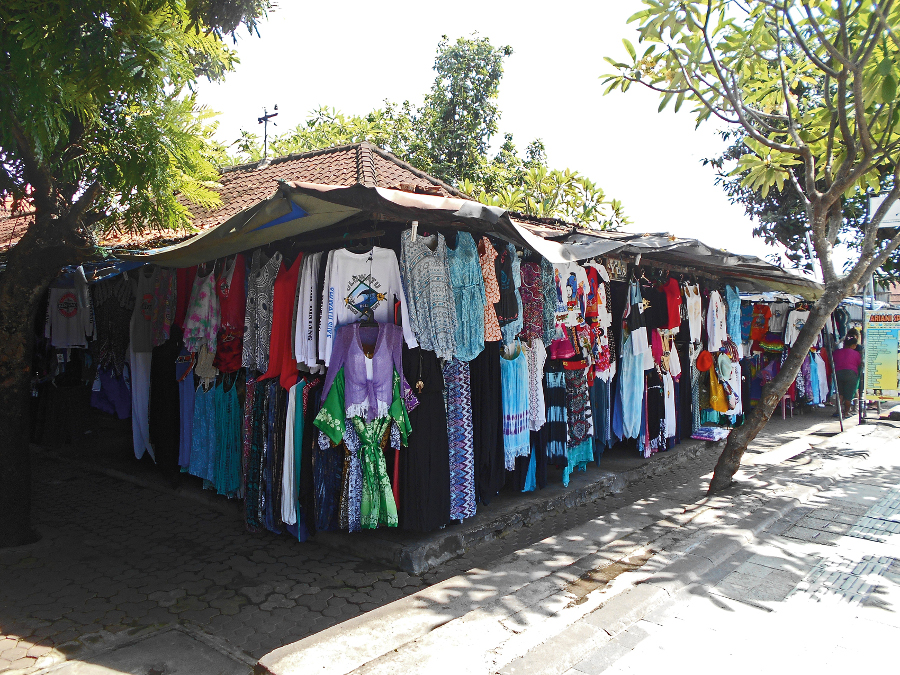 Buy
You will find a huge variety of gift items at the Merta Nadi Art Market. Items such as sculptures, clothes, bed covers, bags and much more are available at low prices. But most visitors come to this market to hunt for clothes. You will find shirts and dresses in various styles and colours, as well as batiks and traditional ikatcloths.You will notice that some of the shops hang 'Fix Price' signs at the entrance. But, as applies in other traditional markets, you can always bargain to try get the best price for the items you have selected. You also need to understand the nature of the fabric before engaging in bargaining. Making many enquiries on multiple items will allow a better understanding of the range and thereby help in securing quality products at the best possible price.
Sanur
Located within a walking distance from Sindhu Beach, Sanur Night Market is a window into the local culture that is often hard to access in tourist areas. Here, you will get the chance to blend with the locals and gain the better understanding of what they get up to after the sun goes down. Everything in this market is relatively cheap, even for the locals. So, bargaining is not really necessary. Since you are in a traditional market, most of the communication is in the Indonesian language. But, worry not, the stall owners understand enough English to know what you want to buy or order. Alternatively, you can simply point at the items that you want and take it from there.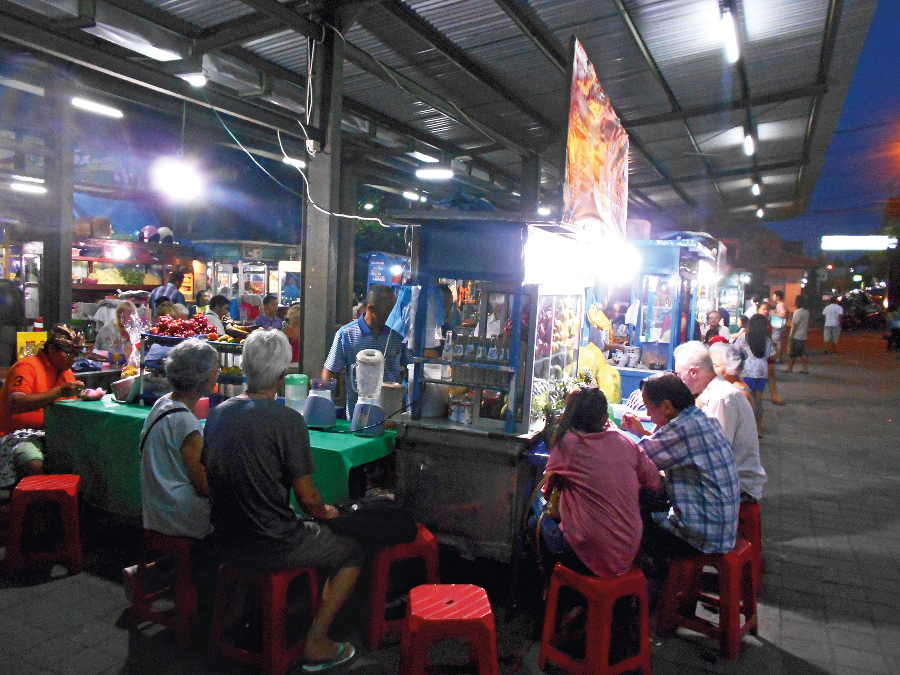 Buy
The market operates throughout the day. The morning market is like a typical traditional market dedicated to locals looking to buy things for their daily needs. You will find vendors selling groceries, fresh vegetables, dried fish, aromatic spices and various household goods. Starting from 5 PM, the grocery stalls begin to transform into food stalls, and the market transforms itself into a place of sensory delights.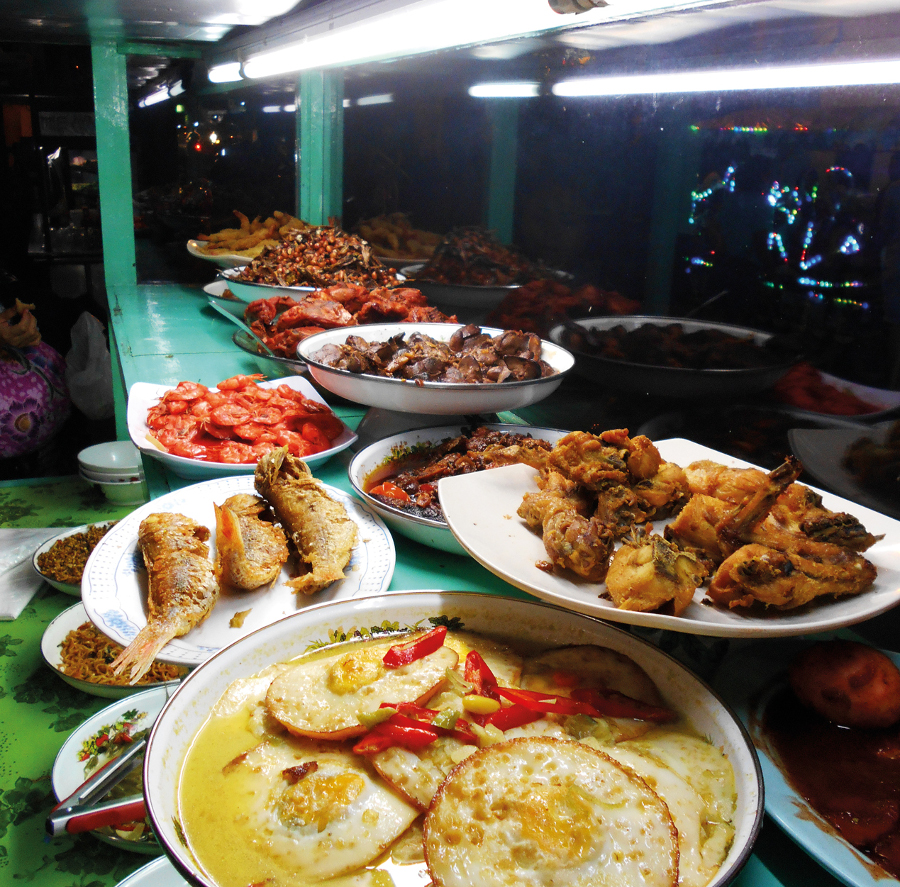 If you are new on the island, the variety of food available here is vast and with an average price of IDR30,000 per dish, to some it may be difficult to choose. You will find all kinds of fried and grilled food, from sweet and spicy, all cooked with Indonesian spices. Some of the food stalls serve plates of ready-to-go food items behind glass, and you can choose what you want to go with your rice. Considering the fact that Indonesian people love spicy food, make sure you clarify the level of spiciness that you are after as some vendors easily dish out the chillies. For dessert, you can try Indonesian fried pancakes known as sweet Martabak. These pancakes can be filled with bananas, condensed milk, nuts and chocolate.
Sukawati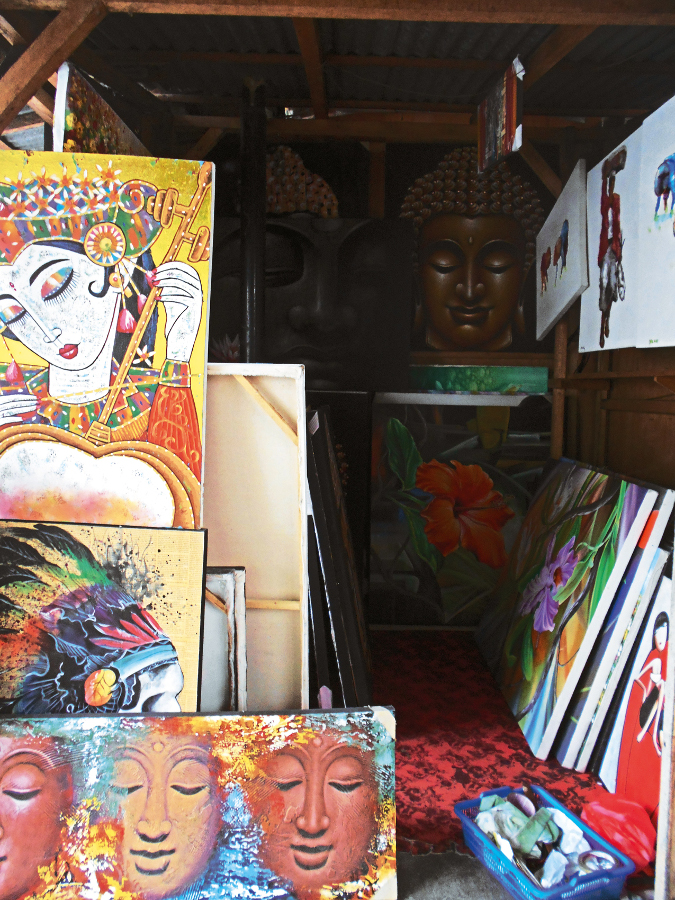 Pasar Seni Sukawati or Sukawati Art Market is quite famous among the locals. Located on Jalan Raya Sukawati, about 30 minutes before reaching central Ubud, this market has existed since the 80's. Walking around this market is delightful but can be confusing as there are so many alleys and hidden shops. Shopping with a local guide is recommended to avoid getting lost. When it comes to the price, there is no fixed price for anything. Your bargaining skills are needed here.
Buy
This market offers an excellent range of Balinese art items, such as paintings, wooden figures, aromatherapy items, traditional and homemade handicrafts. However, paintings are most popular. The fine paintings on sale are local original artworks and imitations of signature artworks from various experts. The tricky part about buying these paintings is finding out which ones are original and which ones are imitations. You will find plenty of similar paintings depicting the same subject or done in very similar styles. Be sure to have a peak at as many painting shops in the building to get the best and fair price. Many people in this area are talented artisans so whether you are buying some original art or variations on a popular style know that many of these were completed by talented Balinese locals.
Ubud
Ubud Art Market or 'Pasar Seni Ubud' is a handicraft market dedicated to tourists. Located at Jalan Raya Ubud, right in the centre of Ubud, this market is open every day from 7 AM to 6 PM, though sometimes some of the stalls are open until late at night. All of the goods sold at this market are created by local Balinese people, and most of them are made in the neighbouring villages. To avoid the crowds, it is recommended to go in the morning. Shopping at Ubud Art Market is not just about an actual purchase. Window shopping from one stall to another is an interesting highlight. However, if you know exactly what to buy, afternoon visits are recommended to get a better deal.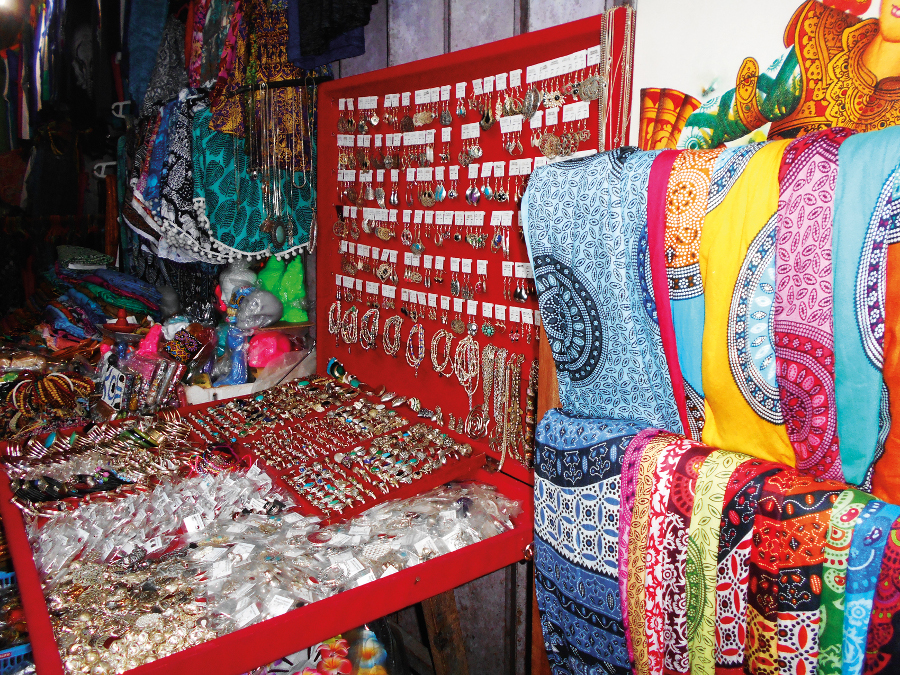 Buy
Though the market is similar to other traditional markets in Bali, the main thing that sets it apart is the ability to purchase quality handicraft items manufactured locally at reasonable prices. The market consists of numerous individual shops with beautiful handicrafts lined up for sale. Art and crafts here have both traditional and contemporary qualities. Items range from wooden statues, paintings, woven baskets, ikat woven skirts, straw hats, clothes, bags, woodcarvings, matting, jewellery, and much more. Price will be dependant on your bargaining skills so identify how much you want to spend and haggle with the stall owner.