Lining the streets for Galungan, or erected in front of temples upon their anniversary, penjor, Bali's decorated bamboo poles, are a sign of ceremony on the island of the gods. When Susan Ruddy saw them arching over the village roads for the first time, she yearned to know everything about them, and the culture of the people who create them. Thus began a decade-long journey of discovery, research and archiving, culminating in the first book of its kind to focus on this aspect of Balinese culture: 'Penjor of Bali'.
Through this book, Susan Ruddy explores the legends surrounding the penjor's origins, as well as relevant threads of Bali's history and traditions that provide a cultural context for the penjor. What are the different kinds of penjor, and what distinguishes them, one from another? Who are the people who continue to create these ephemeral works of art? What are the values and belief systems from which penjor are born? What is their relevance in today's modern culture?
The book takes readers from a visual and verbal overview of different penjor through a brief primer on the Balinese cultural context for penjor, with detailed descriptions of the process of creating penjor for Bali's Galungan celebration, detailing how each element of the penjor is related to Bali's pantheon of godly influences.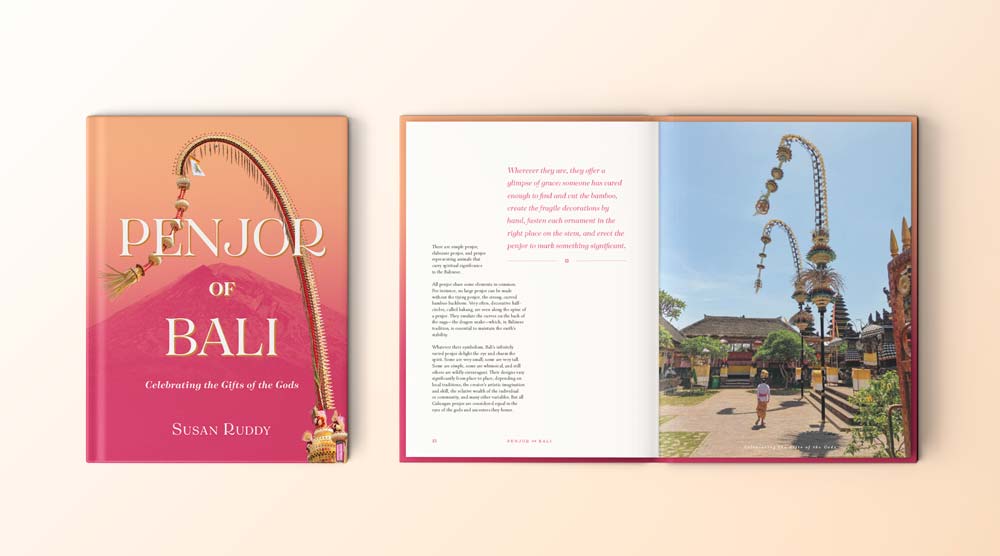 Together with historical consultant Jean Couteau, cultural consultant Diana Darling and illustrator I Gusti Nyoman Darta, Susan Ruddy brings an important contribution to knowledge and understanding of the island's precious culture. Penjor of Bali, published by Kabar Media, is available as hardcover and soft cover and is a valuable addition to libraries of all and any Bali lover.
About the Author: Susan Ruddy founded the Alaska Chapter of The Nature Conservancy in the 1980's to bring science to bear on the identification and protection of biologically significant areas. She also directed the Providence Alaska Foundation, where she championed the establishment of the Providence Cancer Center. Ruddy served as vice chancellor for University Advancement at the University of Alaska Anchorage, where she led a team in acquiring philanthropic gifts to expand science, engineering, and fine arts programs at UAA. She was a journalist early in her career and has written for several journals and has contributed to NOW! Bali Magazine. Penjor of Bali: Celebrating the Gifts of The Gods is her first book.