Bali is known as the island of a thousand temples. I couldn't agree more as temples might be the easiest thing to find on the island. For a start, every Hindu family on the island has a sacred compound with shrines inside; shrines where the spirits of their ancestors reside, shrines for the spirit of the mother earth, shrines dedicated to the supreme God, and others.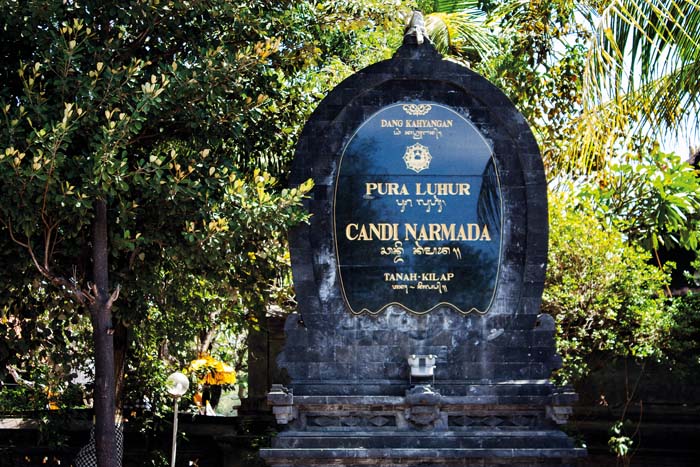 Each village has a collection of temples that are built for different purposes and on top of this there are also universal temples, "Kahyangan Jagat," these include Besakih Temple, Uluwatu Temple, and others. Kahyangan Jagat temples are not specified to a village or family but visited by Hindu pilgrims from all around the island and all around the country.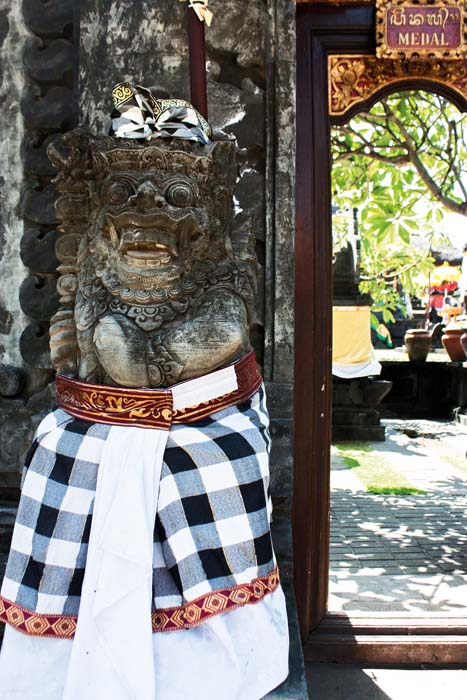 Pura Luhur Candi Narmada Tanah Kilap, which is situated in Denpasar, is one of these Kahyangan Jagat temples.
The temple is located by a reservoir – Waduk Muara Nusa Dua – that stretches from the Gelogor Carik area to the south providing clean water for Nusa Dua and dividing the Denpasar and Badung regencies.
To get to the temple from Dewa Ruci statue, drive east towards Sanur before making a U-turn immediately after the reservoir bridge, then turn left at a road which is almost invisible because of overhanging mangroves.
Follow the bumpy road until you see a greenhouse offering various tree seedlings for free. Next, you will pass a government office nestled quietly amidst the mangroves at one corner of the road.
Sadly, plastic and other trash clutters the mangrove roots along the way until finally you reach a spacious parking lot at the end of the road.
When I arrived, several priests were busy in the sacred part of the temple's compound and one of them told me that I could only take photos of the middle yard since they were having a little ceremony inside.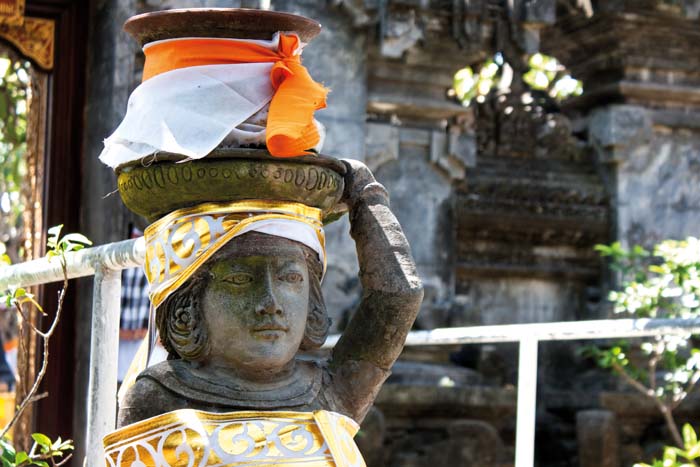 On either side of the entrance to the courtyard stood a statue of a lady holding a bucket of water. The buckets were filled with holy water for devotees to splash on their foreheads as a way of cleansing before entering the temple.
I peeked through the authentic Balinese carved door to have a look at what was inside. I caught a glimpse of neatly manicured grass and frangipani trees with the fallen frangipani flowers making a beautiful carpet on the ground. The shrines inside the sacred compound were neatly dressed with colourful Balinese fabric.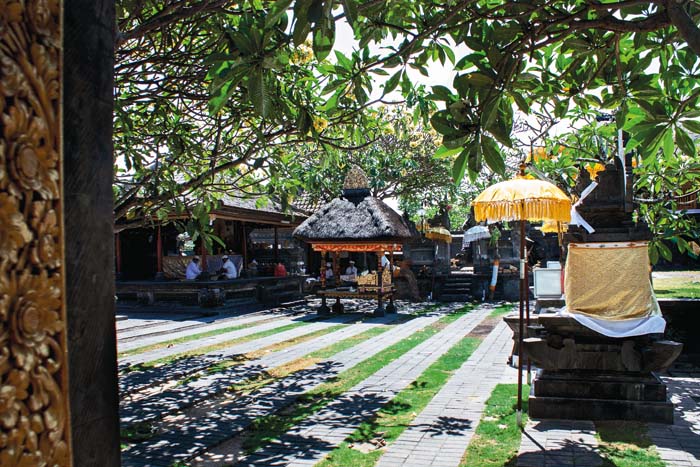 The temple shares its plot with a Buddhist temple named Griya Kongco Dwipayana Tanah Kilap, a structure which is not only beautiful, painted in yellow and red, but which also serves as an example of the religious harmony on the island.
Text & Photos Kartika Dewi Suadarna