The Bali tourists of today often stay on the paths provided. By that I mean that they choose to visit destinations that thousands of people continue to go to, you know, the main thrills of Bali.
I have no qualms with Bali's main tourist sites. The majestic Tanah Lot Temple, epic Uluwatu Temple, Ubud's entertaining Monkey Forest, these are all worthwhile destinations and great introductions to the exceptional culture of the island. I mean, would you go to Paris and not visit the Eiffel Tower? Of course not… Often it's the more seasoned visitor that decides to wander down the beaten paths, repelled by the hordes of 'Bali beginners' and indifferent to a photogenic temple, in search for something new.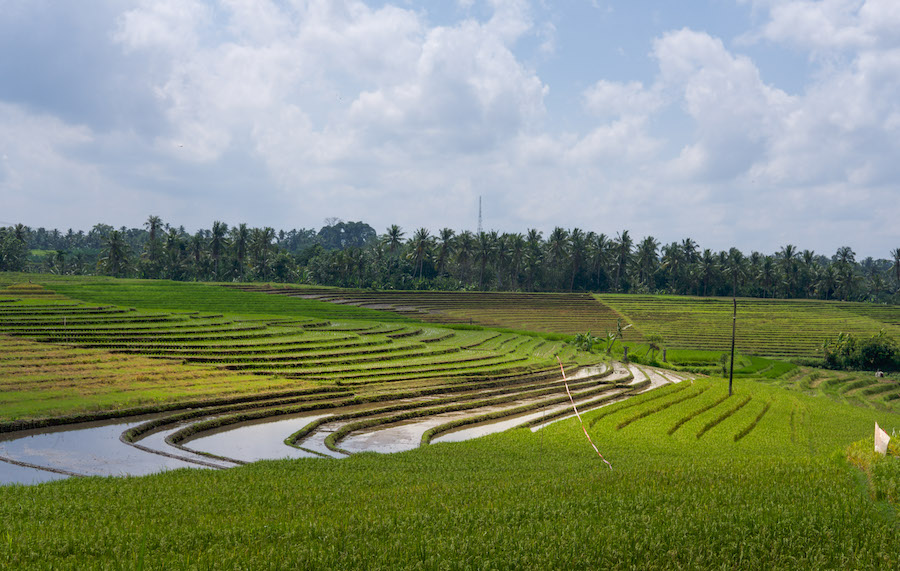 So, what's left of Bali to grab your interest when that initial 'culture shock excitement' has faded and the valley vistas no longer keep you enthralled? Fortunately, quite a lot. Bali is blessed with not only a complex culture but also an incredibly rich history, and so the best way to remain curious is to dive deeper: talk to people, learn more, remove the tourist barriers and engage one-on-one with the surroundings.
I was recently lucky enough to find myself dressed in a sarong and udeng headdress in one of Bali's less visited areas, Kerambitan. This is one of the districts (kecamatan) in the Tabanan Regency (kabupaten), which is also home to Tanah Lot and the Jatiluwih Rice Terraces. What brought me here was an interesting story of Puri Anyar Kerambitan, one of three royal palaces within the district.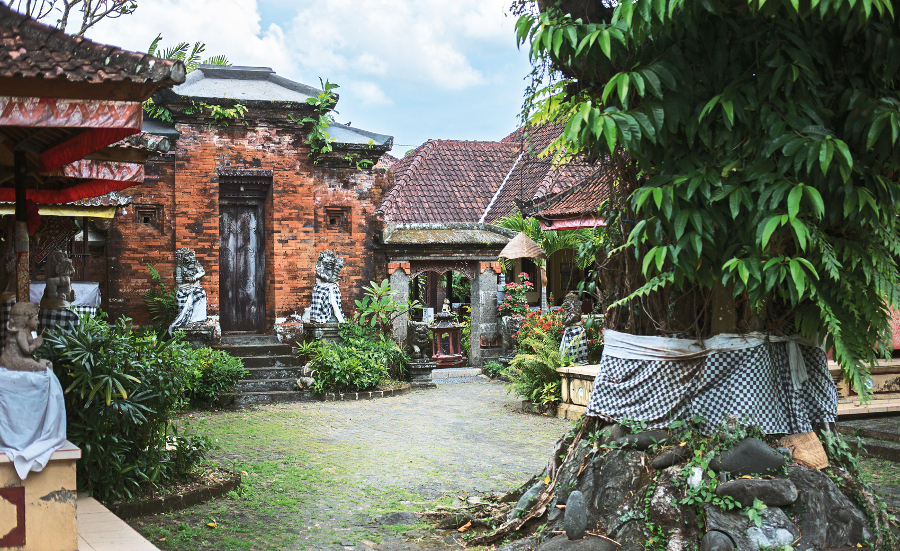 In traditional Balinese society there was a strong caste system, which included the Sudras (peasantry), Wesias (merchants and officials), Ksatrias (warriors and royalty) and Brahmins (priests). Puris, or palaces, were and continue to be the homes of the Balinese royalty of the Ksatria caste. Functioning on a feudal system, farmers used to work the land owned by the puris and give a share of their income. Puris were also places of gathering for important ceremonies and rituals in which much of the community would be part of.
Many of today's puris have been renovated for modern conveniences however, and so whilst remnants of the past certainly remain, small pieces of that old soul have been chipped away and cemented over. That is precisely what brought me to Puri Anyar Kerambitan; I was told that this little puri had retained its original structure which makes it an important part of Bali's history.
The drive to Kerambitan itself was an enjoyable expedition. Having passed the ever-growing mayhem of Bali's newest tourist hub of Canggu, the atmosphere quite quickly changes. The collage of restaurant and hotel billboards at junctions disappear, the roadsides fill with local babi guling (suckling pig) or ayam betutu (betutu chicken) eateries, but most obvious of all was the sudden lack of foreigners. The pedestrians were once again Indonesian! A tell-tale sign that I was entering the non-tourist zone.
Ironically, the lack of 'sights' is precisely what makes the area so interesting. The further out I drove the buildings slowly began to get more sparse and suddenly huge pockets of rice fields opened out of nowhere. Sure, rice fields are found all around the island but somehow seeing these felt different. They felt authentic; not existing for the sake of tourist enjoyments but because they always had existed, and must continue to exist regardless of who would look upon them. The markets were the same, selling only groceries, street snacks and ceremonial needs, goods for the local community. As a 'tourist' to the area, I appreciated how refreshing it was just to observe from the outside, to not be a part of the scene – if anything I was an anomaly, a passing glitch in the cycle of their day.
Arriving at Puri Anyar Kerambitan, the first thing I noticed was how old it looked, but in a good way. The overgrowing vines and sprouting grass of its parking area added character. It was the proof of its age, like the showing wrinkles of an elderly woman, a face shaped by time.
Inside I was welcomed by Ibu Giri Putri, part of the royal family, who had invited me. I walked into the first central courtyard, or the jabah tengah, which too held this weight of age. At its centre was an ancient cempaka (or champak) tree, wrapped in the Balinese poleng checkered fabric. The tree was said to be 300 years old. According to Ibu Giri, the palace had been built in 1620 and its jabah tengah's structure has not been changed for almost 400 years. It was this that made Puri Anyar Kerambitan special. Traditional Balinese architecture is based on kosala-kosali, which dictates according to cardinal direction as well as human anatomy the layout of a compound – think of it as the Balinese Feng Shui, if you will. The wood of each balé pavilion was of the same age, with ancient silver patterns of Prada etched into the pillars.
Walking further into the palace grounds, Ibu Giri informed me that her grandmother had passed away two days prior, therefore her family was around to receive guests. It wasn't great timing, but I was told to stay. We walked to one of the saren, or living areas, of which Puri Anyar Kerambitan has 5 to accommodate the 5 separate families (all siblings) that currently lived there. The saren we were in was also where Ibu Giri's grandmother was still laying, placed on a traditional bed in the outdoor pavilion, my view to her only separated by a white curtain that hung from the bed posts.
Entered two, strangely similar looking elderly gentlemen, dressed traditionally in white udeng, top and sarong. I was told that one was her father, Anak Agung Ngurah Rai Giri Gunadhi, and the other was his (slightly older) twin, King Anak Agung Ngurah Oka Silagunadha, or Pak Oka, who was the current pelingsir of the palace, or ruler. It was their mother who had just passed. Circumstances aside, as always, the Balinese are incredibly hospitable and I found myself lucky to have met the twin kings, who were like walking encyclopaedias when it came to Balinese history. They were both 88 years old, born on the 2nd of January 1930, and their mother passed away at 113 years old, born in 1905, date unknown. They didn't just know history, they were part of it. They shared the story of their home.
Puri Anyar Kerambitan was built in the 1620's by the 12th King of Tabanan. The king had 2 sons, his first son was born of a selir, a lower-caste (sudra) mistress, his second son was of royal blood. The first son was granted Puri Agung Kerambitan, the only palace at the time. Puri Anyar Kerambitan was made for the second son, and its name 'anyar' means 'new', as it was the newer of the two palaces. Thus, the land too was split, Puri Agung was given the South and West of Kerambitan and Anyar was given the North and East.
For 350 years the palaces ran on its traditionally feudal system, each privy to more than 100 hectares of the surrounding land, as well as the produce made by their populace. Puris were always places foreign dignitaries would visit, to talk of trade and share gifts. One of the most common gifts that Puri Anyar was given were ceramic plates. These were original Delftware (Delft Blue) plates from Holland, which for some reason became part of the palaces adornments. These plates of an unknown age are embedded into the reliefs of balés and on temple shrines.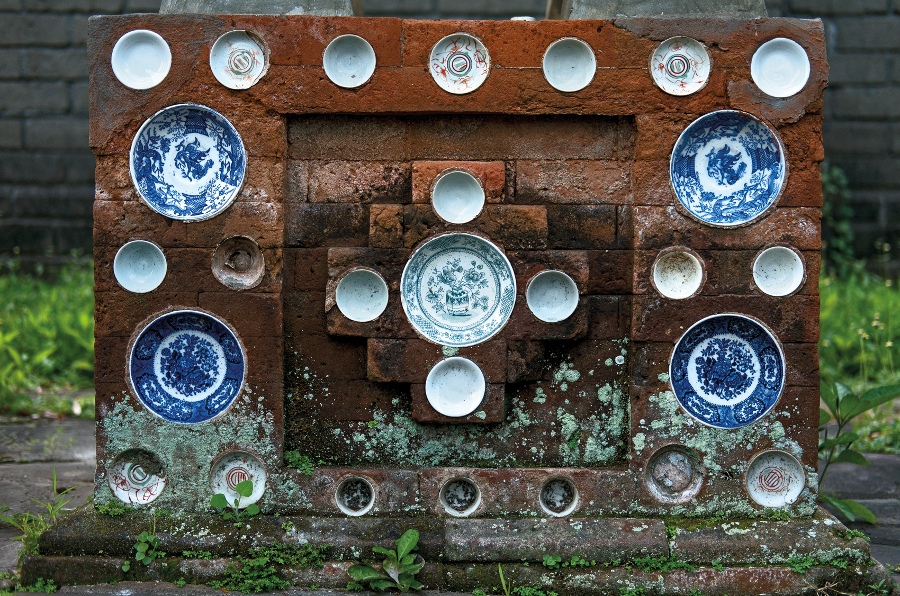 However, Pak Oka tells me, things changed for their family after Indonesian independence. In 1961, with rising leftist sentiments of then President Sukarno, a Land Reform Law came into action. Pak Oka's father, the pelingsir at the time, refused to sell the land before the law played out – he said he had no right to sell that which he never bought. If indeed the land would go directly to the farmers and workers, he would release the land without refute. Over a hundred hectares, reduced to two.
Whilst Pak Oka's father's heartfelt decision was commendable, it left the puri income-less. They had certainly benefited over many years from the people around them, but those same people still depended on the puri to hold large ceremonies for the community. A palace and its temples must be maintained and cared for.
So Pak Oka, as the heir to the palace, had to think of something. It was then that he thought to open his palace up to the public, to not only be the centre of ceremonies but also of cultural celebration. In 1967, Puri Anyar Kerambitan suddenly became a social hub. 'Royal Dinners' were held, showcasing local dances and cultures, and prominent visitors frequented. Among these were David Bowie, King Hussein of Jordan and Dewi Soekarno. Rolling Stones frontman Mick Jagger had visited 3 times, purportedly hoping to learn the tektekan dance – not knowing it was a sacred trance dance!
These were Puri Anyar's glory years, which the twin kings revelled in sharing. A nostalgic look back on their own lives. For a while it rejuvenated the temple's income but overtime Bali changed. Commercial tourism had begun, driving the celebrities away; tourists wanted quick fixes and not special dinners with a king; the rising traffic meant people no longer wanted to travel out to Kerambitan. The golden days were over and the temple's income gone again.
Between those days to now, Puri Anyar Kerambitan has fallen into some slight disrepair. Upon entering you couldn't imagine it once held cultural spectacles for celebrities, diplomats and dignitaries. However, this doesn't mean it couldn't once again; Ibu Giri Putri has taken it upon herself to restore the temple to its former glory, as she sees its historical value being one of the last palaces to retain its original structure.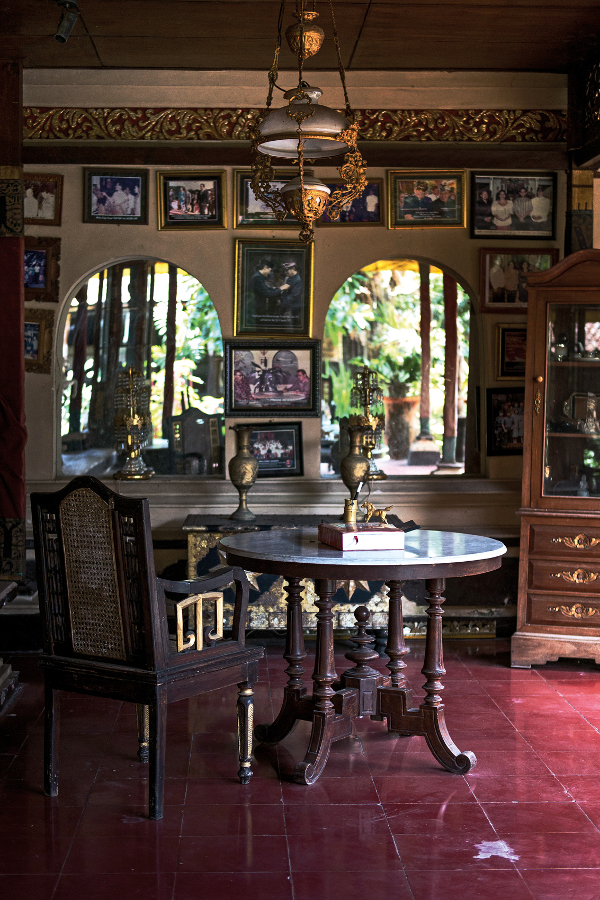 So perhaps some time soon we may see a return of the Royal Dinners, or the fiery tektekan dances that enthralled Mick Jagger, here at Puri Anyar. But it still begs the question, would you wander off the regular tourist paths to quiet Kerambitan, not for selfies but to immerse yourself in old Bali, to experience a little part of history?
If like me you're looking for something more meaningful here in Bali, then spend time to talk, listen and absorb. Puri Anyar Kerambitan happily accepts visitors into their main compound, and the area is certainly a breath of fresh air from your usual touristy spots. Who knows you may be lucky enough to meet Pak Oka, who's bound to tell you a story or two.
Puri Anyar Kerambitan
Jalan Pahlawan Lejeh, Desa Baturiti, Kerambitan,
Tabanan, Bali
For visits, call Ibu Giri Putri: +6285100426060