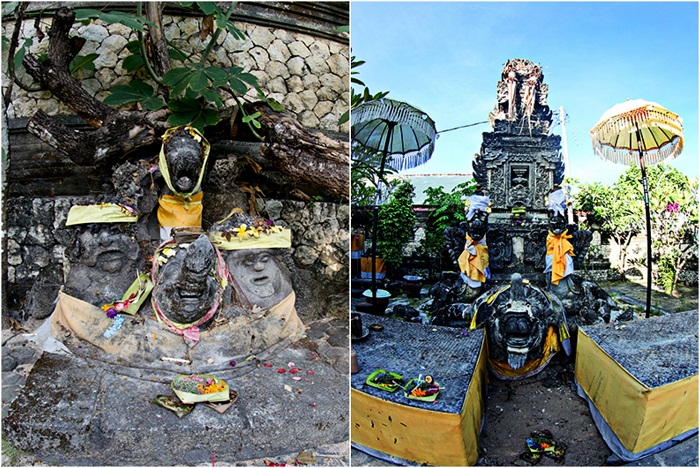 While Mertasari beach is pretty much unknown to visitors, it's quite popular among the locals of Bali. Compared with more well known beaches in Sanur, Mertasari's light brown sands attract far less tourists.
Mertasari beach is located at the southern end of the Sanur coast and lies side by side with a mangrove forest which stretches to Serangan. If you face west, you can admire a beautiful sunrise with Serangan's port coming into view as the day gets brighter.
During the middle of the year, when the wind blows from east to southwest, the sky above Mertasari beach fills with colour as the air is filled with the kites of kite runners and surfers, eagerly trying to catch the wind and waves.
Meanwhile Mertasari temple, known as Pura Dalem Pengembak Mertasari, sits quietly in a corner, next to a few cafes. The temple has a strong connection to the mythical ruler of Nusa Penida, Ratu Gede Nusa, also known as Ratu Gede Mecaling, who is believed to posses magical healing powers. Most balian (Balinese healers) worship Ratu Gede Nusa so they are blessed with the power to heal.
Inside the humble temple compound, you will find a scattering of shrines and a well. Water from the well is considered to be holy and to have the power to cure people from illnesses as well as to rid people from the curses of bad spells.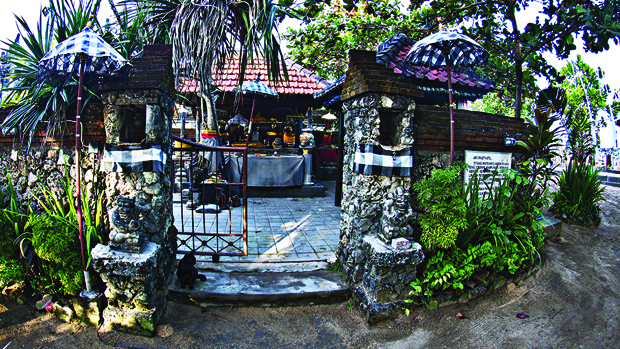 On the days before Nyepi (the caka new year), the worshippers from surrounding temples arrive at the beach carrying their temples' attributes. After a prayer at the temple, they go to the beach and wash the temples' attributes with the seawater. The rituals aim to purify the attributes.
Not only do the Balinese believe that the temple has the power to cleanse things from bad spirits, praying at the temple and later on dipping in the seawater of Mertasari can also cleanse the body and soul from bad luck and protect you from harm. Thus the temple is often visited by Balinese Hindus who seek to carry out Melukat, a cleansing ritual.