Many spas know that parents need to unwind, and with that in mind, they've also developed exclusive kid's treatments so the little ones can also have a pampering session while mom and dad get time to enjoy their own recharging treatments.
Anantara Spa
Anantara Spa at Anantar aSeminyak Bali Resort invites families to treasure unique spa experiences for the young and the young at heart. The spa's "Floral Family Journeys" allows the whole family to replenish and revitalise with a special package full of natural goodness to indulge in. The journey begins with a 30 – minute floral foot ritual using bath bombs for you and your little sweetheart. Feel the bath bombs fizz and dissolve around your feet, releasing a fragrant floral scent that surrounds you both. You will then be treated to a 60-minute full body massage of your choice (traditional Balinese massage or the Anantara Signature Massage) whilst son or daughter can unwind with a 30-minute chocolate massage or a mini manicure and pedicure.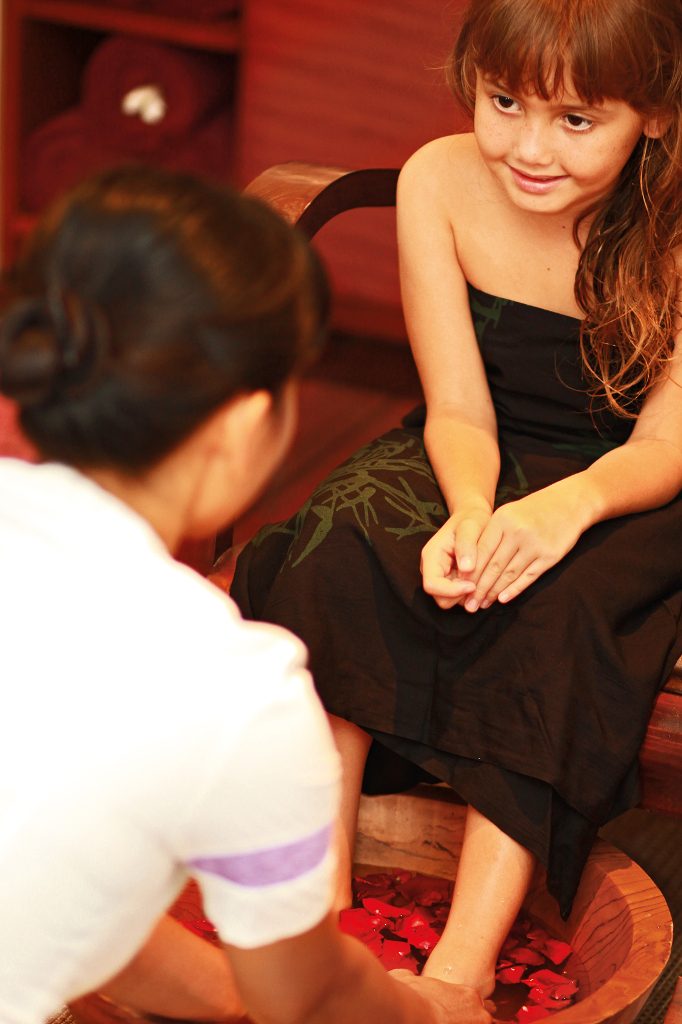 At Anantara Spa, children aged 2–12 years old can avail themselves to a fun chocolate massage to release tiredness from their active limbs. The spa's therapist uses a chocolate scented eucalyptus leaf blend with an olive oil base for this calming therapy. They can also enjoy Princess or Prince Nails to buff up their hands and toes . Little girls will have a relaxing hand and foot massage with fresh strawberries, whilst boys can have theirs with chocolate butter.
Anantara Spa
Address : Anantara Seminyak Bali Resort, Jalan Abimanyu (Dhyana Pura), Seminyak
Phone : +62 361 737 773
Website : www.anantara.com
Shine Spa
In Kuta, Shine Spa is a haven for those who love life, and is a sanctuary for parents and their little ones to revitalise and indulge in signature treatments. The expertly-trained and knowledgeable spa associates at Shine Spa exude a genuine warmth and great hospitality, whether it be while performing the treatments or advising you on the spa's various product lines.

For parents and their little ones, Shine has fashioned a 120-minute rejuvenating treatment. The spa's family indulgence allows mum and her little princess a series of pampering fun that includes rose petal body scrub, traditional balinese massage, kiddie massage, and express manicure or pedicure for both. The treatment for dad and his little prince includes coconut vanilla scrub, oriental massage, foot massage, kiddie massage, and kiddie foot massage.
Shine Spa
Address : Sheraton Bali Kuta Resort, Jalan Pantai Kuta, Kuta
Phone : +62 361 846 5555
Website : www.sheratonbalikuta.com
Sakanti Spa
Also in Kuta, Sakanti Spa provides a tranquil space for families to escape and rejuvenate. Meaning "the beautiful sheen of a woman's child" in ancient Sanskrit, Sakanti offers reviving treatments inspired by the Balinese heritage and traditions. Available for individuals, couples, mothers and daughters, fathers and sons, the spa extends over 30 rituals ranging from massages and body scrubs to facials and manicures and pedicures.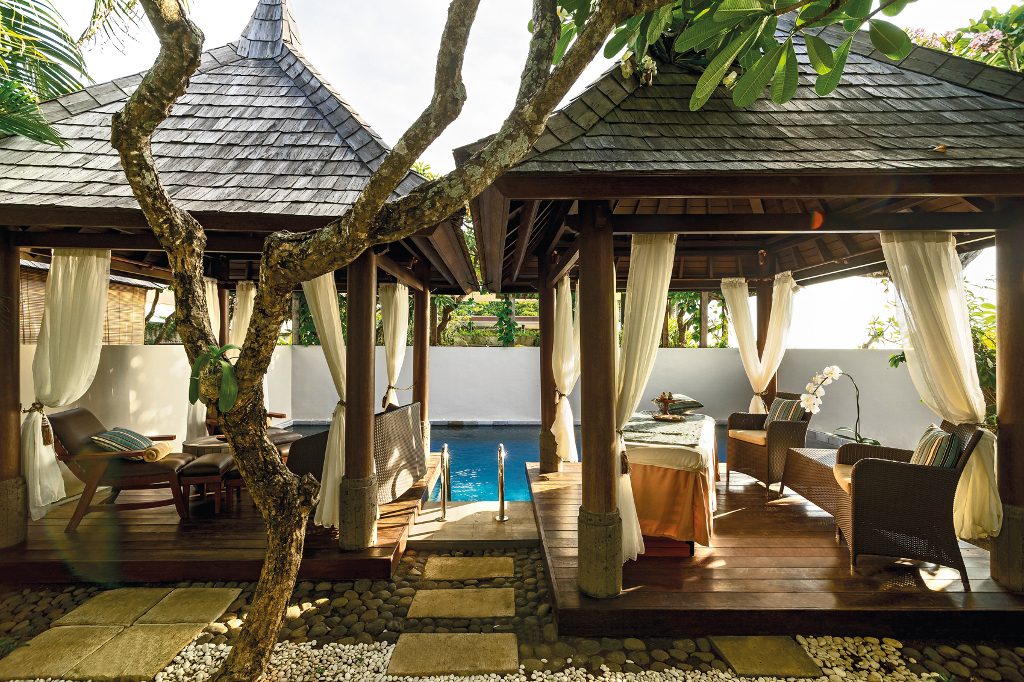 Pairing mommy and her princess, and daddy with his champion, bonding moments between parents and their children at Sakanti is through a 90-minute pampering session. The treatment for mom will begin with a five-minute Sakanti Foot Ritual followed by a 45-minute Tranquil Foot Massage before ending with a mini mani and pedi for 40 minutes. The little princess will enjoy a five-minute Sakanti Foot Ritual, a 45-minute Kids massage and something that she would really love, 40-minute "Fancy Finger and Twinkly Toes". And for the prince, the little champion will be pampered with a foot ritual and massage; but instead of twinkly toes, he will enjoy a 40-minute Tranquil Foot Massage whilst daddy enjoys a five-minute Sakanti Foot Ritual, 45-minute Therapy Back Massage, and 40-minute Tranquil Foot Massage.
Sakanti Spa
Address : The Anvaya Beach Resort Bali, Jalan Kartika Plaza, South Kuta
Phone : +62 361 759 991
Website : www.theanvayabali.com