In 2017, Bali lost an unsung hero, but his legacy will live on through the lives of his foundation and their patients.
Young John Fawcett was an aspiring art teacher; he was a skilful ceramist, a hard worker, but most of all, John was a loving husband and a father of two. His love affair with Bali grew during long family holidays. It was especially evident in the '80s after a chronic back condition forced him to take refuge in intensive care for two years, leaving his marriage and career in tatters. After a life in the hospital, John decided to recuperate in the paradise island of Bali and carved out a new world for himself. John's Bali home is now an office and ultimately a base camp for all the humanitarian work he has built since 1991, putting a spotlight to the needlessly blind.
Blindness prevention and cataract surgery is still an ongoing challenge in Indonesia with countless people lacking access to basic healthcare. A staggering figure of 4 million people in the country are blind and over eight million visually impaired. This number is believed to be unnecessarily high and easily preventable if dealt with with the right approach.
The John Fawcett Foundation (JFF) was founded primarily to eradicate blindness in the villages of Bali, through several initiatives, such as the Sight Restoration and Blindness Prevention Project, offering cataract surgery, prosthetic eyes, corrective surgery for children, and more. In 2010 onwards, the foundation was able to expand and reach economically disadvantaged people outside Bali and in more remote areas of Indonesia.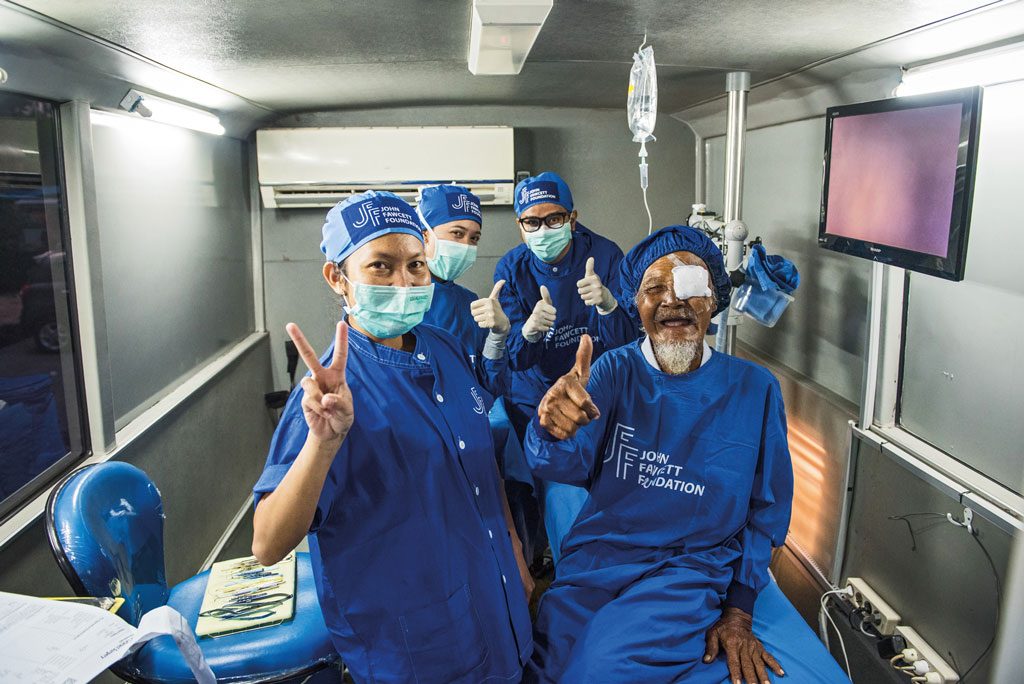 These services are made possible by the state-of-the-art mobile clinics that power their whole operation. These are buses-turned-operation-rooms, resembling those in hospitals. They are completely sterile and ambulatory.
A year after the loss
After John Fawcett's passing, it is clear that he has left a truly remarkable legacy. The numbers of people the foundation has helped has increased from previous years. Gede Bingin, Chairman of JFF Indonesia, told NOW! Bali that 2018 experienced nothing but positive results. The team covered nearly all parts of Indonesia, with a huge focus on citizens who are physically and financially far from attaining essential health services.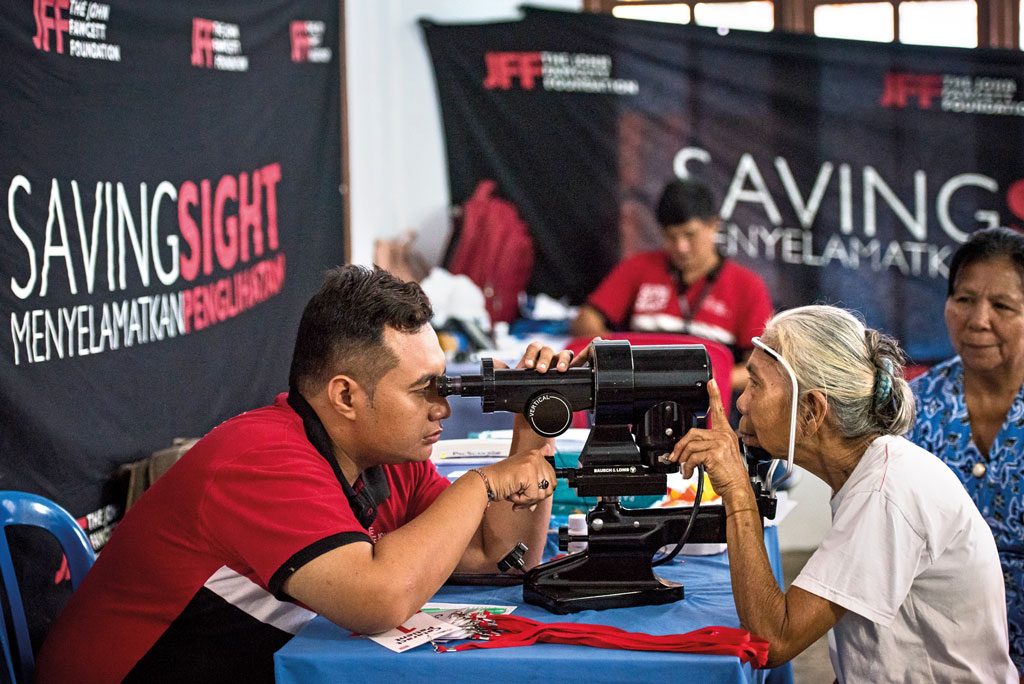 From the headquarters in Bali, the JFF team and their mobile clinic travelled to 13 different locations in Indonesia in addition to the weekly trips that take place in Bali. 2018 witnessed 50,750 patients screened, 3,457 eye surgeries, 29,051 glasses issued, and 121 prosthetic eyes made. From the depths of East Java, West Papua, Kalimantan, East Nusa Tenggara, to the easternmost city of Indonesia, Merauke, and many more cities in the archipelago.
The foundation is nothing without its volunteers and generous donors. But in 2018 particularly, the team thanked TNI Angkatan Udara(The Indonesian Air Force) and government organisations for their assistance, as well as other partners whom not only contributed their time and effort but for believing in every single member of the team. The support greatly facilitated a successful year.
The preventable issue
As of this year, cataracts continue to be the main issue that plague Indonesia's vision, next to glaucoma. The team told NOW! Bali a friendly reminder to ration sugar intake from rice and protect sight from UV ray damages. Mr John Fawcett posits the 6D's that are the main factors contributing to blindness and visual impairment: Diet, Damage, Dehydration, Dad & Mom (genetics), Diabetes, and Daylight. Keep in mind some factors that you cancontro, such as opting for brown rice instead of white and always carrying a water bottle especially on a hot day!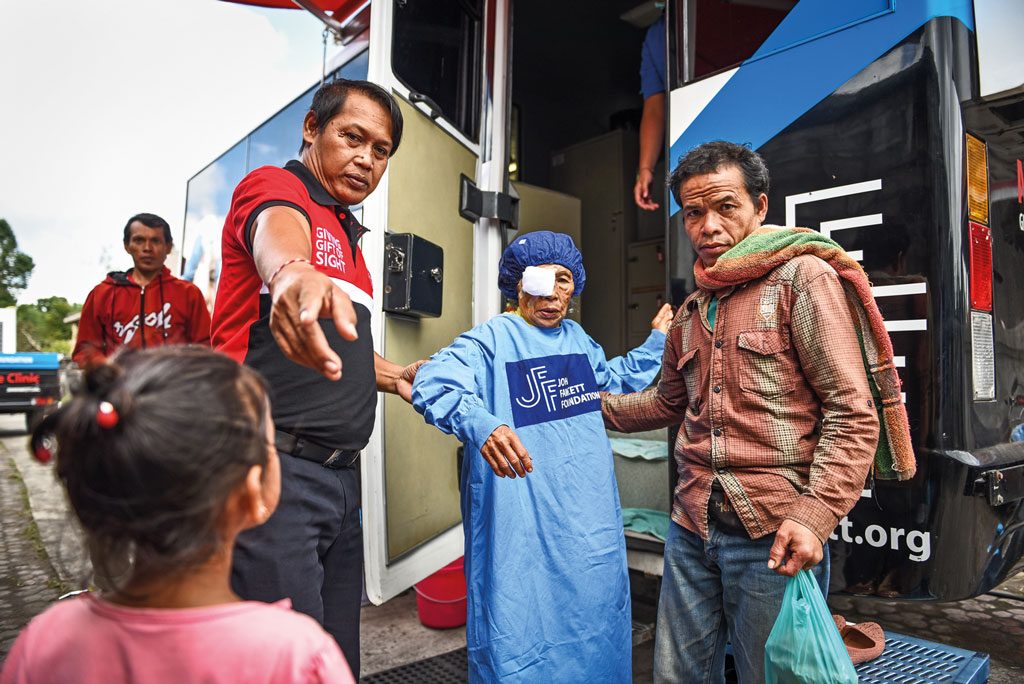 The JFF projects currently running are: Sight Restoration and Blindness Prevention (cataract surgery, free eye screening, glasses, and eye drops distribution), Field Eye Screening in villages, Screening School Children for Eye Problems (glasses and eye drops distribution), World Sight Day, Children's Cataract Surgery, Children's Corrective Surgery (cleft lip and palate), Prosthetic Eyes, Helena College Program (exchange student program), International Ophthalmology Symposium (educational program), and Fundraising programs.
The John Fawcett Foundation is standing strong and able to provide medical and other humanitarian assistance to needy people because of your help. Your donation can change a life. The doors at JFF are always open to volunteers and any form of support.
If you know anyone in need of medical assistance, visit the office at
Jalan Pengembak 16, Blanjong, Sanur, contact jff@johnfawcett.org / +62 361 270 812 or visit www.johnfawcett.org for more information.