Nothing says romance like a delicious candlelit dinner, great wine, and quiet, slow music. From the hills of Ubud to the cliffs of Uluwatu and coasts of South Bali, the island's natural landscape creates an even more romantic backdrop for you and and your loved one to celebrate love over sumptuous dinner. The only warning we would offer to the guys would be: gentlemen, whatever you do, take her to a nice restaurant where they actually have waiters/waitresses and romantic tables for two. Go on. Splurge a little. Take that special someone for a meal and some romancing.
---
MANISAN
Romance comes naturally in Ubud. The area has also recently established itself as a haven for food connoisseurs. With the sound of nature and soft music in the background, great food and wine, and the perfect girl, your romantic dinner here can never go wrong.
Dining at Manisan in Ubud is about the total experience. It's the kind of restaurant whose land-scape design works are in harmony with its architectural design to create a dramatic first im-pression. Step into the restaurant, and you will instantly notice just how much thought went into the restaurant's landscaping, you'll gain a whole new appreciation for Manisan's wondrously designed spaces – definitely a charming establishment that appeals to those looking for a unique feast within a romantic ambiance.
Your table for two will be set up in the midst of Ubud's lush rice fields, allowing you to feast on the restaurant's Indonesian specialties and celebrate love in a naturally romantic setting. Alter-natively, you can dine in the restaurant's centrepiece, a 350-year old Joglo (traditional Javanese house) that was sourced from Central Java, disassembled then reassembled and expertly refur-bished by Perth-based architectural firm, Grounds Kent. The end result combines Dutch-colonial architecture with modern features and interior design by the late Made Wijaya, Bali's authority on tropical gardens and island-inspired aesthetics.
Manisan at Alaya Resort Ubud
Address : Jalan Hanoman, Ubud (Open Map)
Telephone : +62 361 972 200
Website : www.alayahotels.com
---
CASCADES
Set amongst reflective ponds and beautiful timber finishes, CasCades is considered by gour-mands as one of the island's top dining spots, a venue that can be appreciated as a place of romance. For a romantic meal at the restaurant, you are treated to a chef's degustation menu – something that breathes excellence amid a romantic dinner setting. Combining world class food and great wines with a lovely, romantic ambience, CasCades embodies the style and je ne sais quoi of French-inspired fine dining. Now labeled one of Bali's top fine dining establishments, the restaurant plays host to a growing stream of satisfied diners.
CasCades' French inspired menu may shock the more strict traditionalists, but for many, the dishes at the restaurant are a scrumptious explosion of interesting flavours. The delightful Asian twists matches the preparation of richly satisfying international dishes with the lightness of Jap-anese cuisine, the aroma of Thai, and the careful consideration of Balinese spices – this illus-trates some of the most sumptuous and exotic blends of the finest fusion cuisine.
CasCades at Viceroy Bali
Address : Jalan Lanyahan, Banjar Nagi, Ubud (Open Map)
Telephone : +62 361 972 111
Website : www.cascadesbali.com
---
MOZAIC
In Ubud's Kedewatan, Mozaic is a romantic restaurant that has enjoyed international praise for its outstanding, innovative French cuisine laced with Indonesian flavours  – Mozaic is the only restaurant in Southeast Asia selected by Traditions & Qualité as one of Les Grandes Tables du Monde (Great Tables of the World) and to have its wine list awarded year after year by Wine Spectator. For your romantic dinner date at Mozaic, try the restaurant's Surprise Menu. The chef will prepare a set menu composed of only the items you like from the finest, rarest and most precious ingredients found in the world such as caviar, foie gras, truffles, baby lamb, and many more. This menu is Mozaic's signature culinary feast and has led to the restaurant's kitchen team to be awarded and receive accolades.
Mozaic
Address : Jalan Raya Sanggingan, Kedewatan, Ubud (Open Map)
Telephone : +62 361 975 768
Website : www.mozaic-bali.com
---
JU-MA-NA
From the hills of Ubud to the cliffs of Uluwatu, your romantic dinner is served with the vast view of Indian Ocean in the background. Perched high on an Uluwatu cliff, treat your loved one to an extraordinary romantic dining experience at Ju-Ma-Na. Offering unparalleled service, unbeata-ble ambiance and delectable food, be prepared to be swept o your feet. Held at a private ven-ue by the cliff with a dedicated butler and personal chef, this romantic dinner will be truly unfor-gettable. As a prelude to your meal, you'll be invited to wash your hands in a beautiful golden bowl filled with rose-scented water. It is indeed a lovely little cleansing ceremony.
Ju-Ma-Na at Banyan Tree Ungasan
Address : Jalan Melasti, Banjar Kelod, Ungasan (Open Map)
Telephone : +62 361 300 7000
Website : www.banyantree.com
---
AYANA
Going down to Jimbaran, the private jetty of Ayana is the place for that romantic dining occa-sion that you'll never forget. Voted the Most Romantic Dining Venue in Bali, entry to this magi-cal location starts with a descent to sea level past the cliff face onto a path that leads to a wooden jetty stretching 30 meters out to sea, for a true romantic experience. At the end of the pier, your table awaits. Soft music from bamboo xylophones accompanies the sound of the ocean as the beautifully presented five-course lobster dinner with the most marvellous dessert imaginable is served for your pleasure.
Ayana Resort and Spa
Address : Jalan Karang Mas Sejahtera, Jimbaran (Open Map)
Telephone : +62 361 702 222
Website : www.ayana.com
---
AWARTA NUSA DUA LUXURY VILLA & SPA
In Nusa Dua, step into a romantic night in Bali by enjoying a unforgettable dinner where alluring music, tropical garden and a personal waiter is at the ready just for the both of you at Awarta Nusa Dua Luxury Villas & Spa. For the iconic al fresco dining experience, dinner under the property's married frangipani tree arch is a favourite amongst diners. Should you seek further privacy, book a luxurious private villa and have the romantic dinner come to you. Select from the menu or tell them your personal preference to prepare a tailored menu for you. Surrounded by heartwarming flower petals and candles, a bottle of a house wine will be provided to compli-ment your night and make this Balinese romance moment yours forever.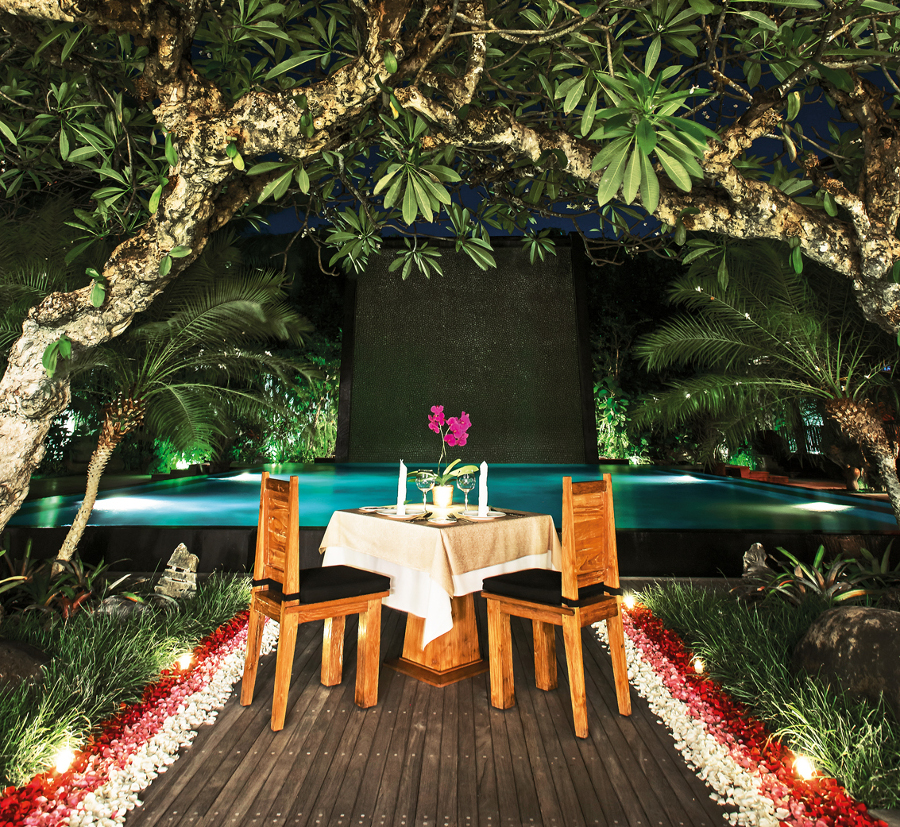 Awarta Nusa Dua Luxury Villas & Spa
Address : ITDC Complex Lot NW 2 & 3, Nusa Dua (Open Map)
Telephone : +62 361 773 300
Website : www.awartaresorts.com
---
POPPIES RESTAURANT
Surprisingly on Poppies Lane in Kuta, Poppies Restaurant has been serving its steady flow of satisfied international diners since 1973 with the delights of fresh seafood and exquisite Indone-sian and international dishes. Its current menu includes several house favourites that remain as popular today as when the restaurant introduced them in 1973. For more than four decades the restaurant has welcomed visitors and friends from around the world to these hanging gardens of Kuta, offering them calming respite from the ever-increasing hustle and bustle beyond its walls. That's right, for that romantic Kuta dinner, you can dine beneath the restaurant's canopy of flowers, amidst pools and waterfalls. It's can be so romantic that wouldn't feel like you're in the crowded Kuta area.
Poppies Restaurant
Address : Gang Popies I/19, Legian, Kuta (Open Map)
Telephone : +62 361 751 059
Website : www.poppiesbali.com
---
ANANTARA SEMINYAK
On Seminyak beach, Anantara Seminyak offers a tailored private dining concept, offering the ultimate romantic occasion. The resort's Dining by Design invites you to choose from a collec-tion of fine dining menus, and also the opportunity to collaborate with your personal chef to fine tune or recreate a menu that is tailored to your individual tastes and desires. The table is beautifully decorated for the occasion, which takes place in a choice of dream settings, en-hanced by the flawless service of a personal butler.
Browse the resort's stimulating international menus and let their resident Wine Guru help you select the perfect vintage to accompany your meal. Then decide between an extensive selection of locations to create the perfect romantic Bali dinner, perhaps on the beach with soft sand be-tween your toes or on a secluded private platform with a lofted shoreline view. Explore your own private romantic venues with the resort's picnic basket. Whether you wish a dinner by the beach or romantic picnic by the garden, your dream setting is your for the choosing.
Anantara Seminyak Bali Resort
Address : Jalan Abimanyu (Dhyana Pura), Seminyak (Open Map)
Telephone : +62 361 737 773
Website : bali.anantara.com