Mayfair. London's notoriously posh neighbourhood, home to elegant Georgian townhouses, high-end boutiques, modern art galleries and of course some of London's most revered restaurants. Among them is Sake no Hana, a fine dining Japanese restaurant resolute in their mission to gratify those in pursuit of pure, authentic cuisine from the land of the rising sun. Now it is here on the Island of the Gods, as Sake no Hana Bali.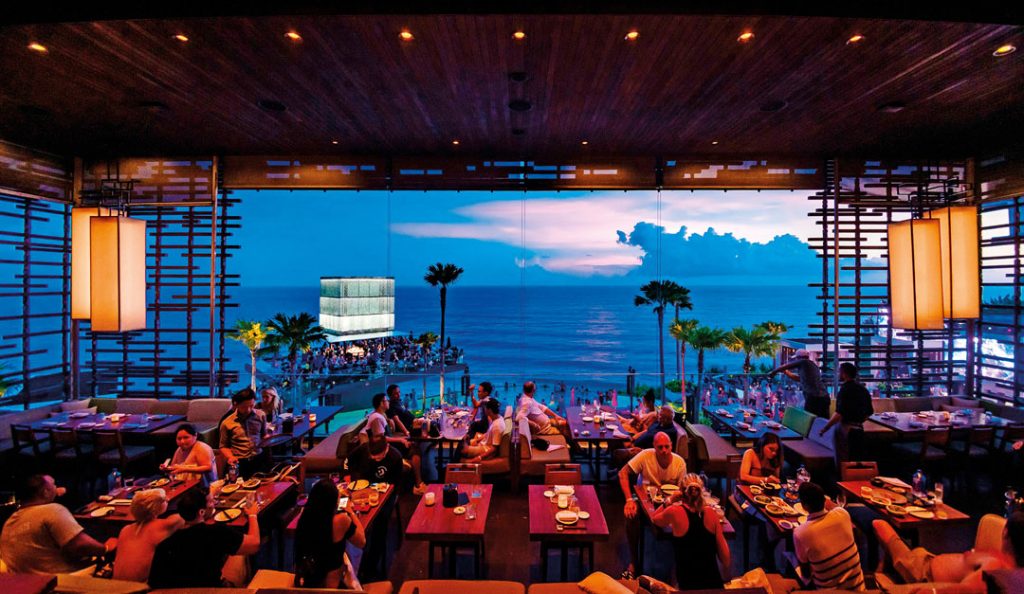 Sake no Hana Bali opened in early 2018, poised above the renowned OMNIA Dayclub Bali, Uluwatu, endowed with uninterrupted views of the Indian Ocean. Catering to the island lifestyle and OMNIA's all-day-party clientele, Sake no Hana was reconceptualised, introducing a creative take on its London counterpart that has made it a dining destination of its own accord.
The setting takes inspiration from nature, with the open mezzanine overlooking OMNIA only framed by an artistic, wooden latticed cage. Japanese elements ring through the venue, such as the hanging 'paper lantern' lights and the clean and minimalist style – but other than that Bali still resonates throughout. Below, the Grand Staircase offers a contemporary lounge atmosphere, the perfect theatre to watch the sunset.

Dining Delicacies at Sake no Hana Bali
The menu boasts sharing sets and a la carte options, such as sushi platters, bento sets, speciality noodles, and other alluring plates that Executive Chef Hendry has prepared.
"The Bali menu features all the signature dishes that Sake no Hana London is loved for, however we felt the need to incorporate in the menu the richness of Indonesian nature, our seafood is locally sourced and we experiment with local spices to create new flavours that would be characteristic to Sake no Hana Bali" explained the Indonesian-born chef.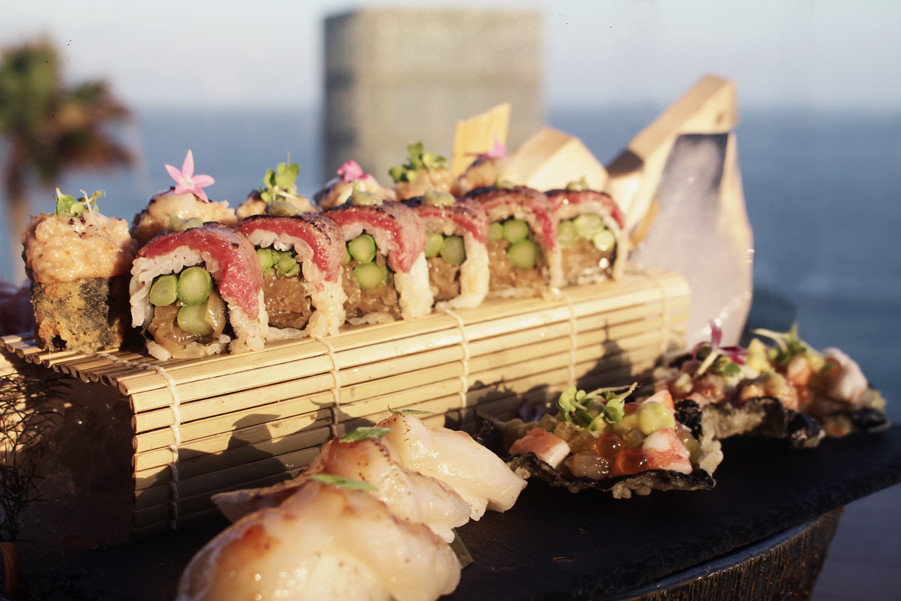 Starting with appetisers, you'll be presented with a smorgasbord of flavour and texture, from sweet to savoury, fresh to fried. The perfect yin and yang. The highlights include the Crunchy Sasage Salad, ChisaiEbi Tempura, Seared Salmon with jalapeño ponzu, Crispy Nori Chicken with sweet yuzu aioli, and Beef Tataki.
Ingredients are important. Chef Hendry uses Grade-8 Australian wagyu for the beef tataki; the marbled meat is thinly sliced, garnished with relish, egg mustard, and spring onions. It melts in your mouth, as does the seared salmon – hard not to crave for seconds, but there's more to come.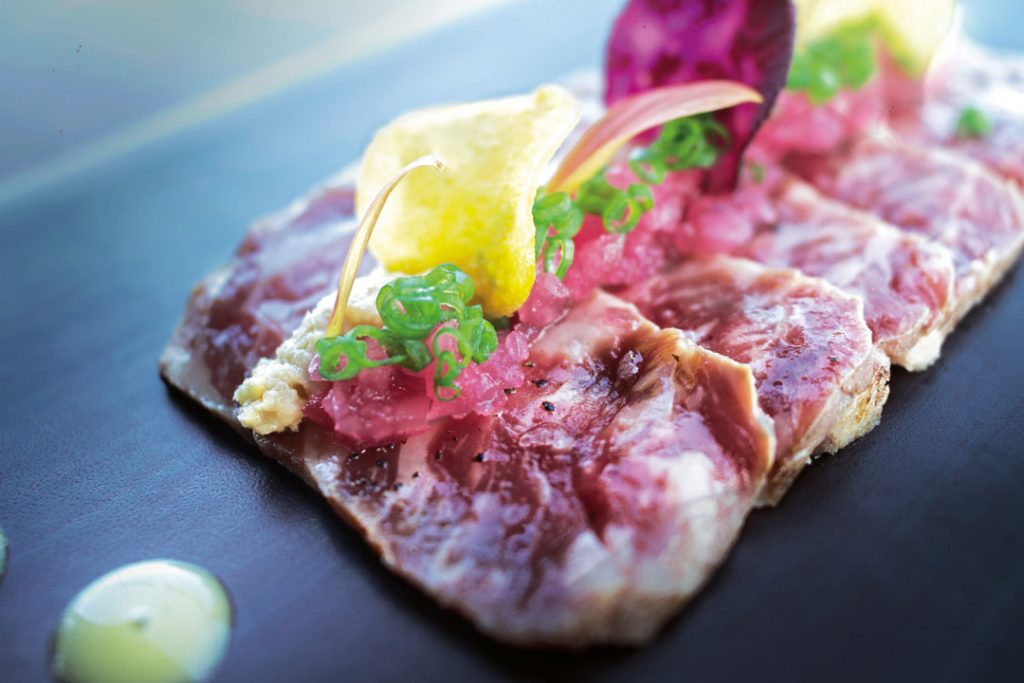 The fresh sushi and sashimi are delicately prepared. Whilst seafood is locally sourced and the vegetables grown in the highlands of Bedugul, the highest grade produce is still imported for quality, such as the hamachi (yellowtail) from Japan. Expect a blend of tradition and innovation, as authentic sashimi and nigiri are paired with new creations, like the truffle sushi or the wagyu and asparagus roll.
Truly unique to Sake no Hana is their offering of wasabi. Chef Hendry gets his wasabi roots fresh from his homeland, Java. A mild but sweeter breed of wasabi. you will see whole, fresh wasabi roots being grated on an original oroshiki grater, turning the plant into a paste.
For the main course, Chef Hendry's highlights include the Australian Wagyu Sumiyaki Beef marble 5 (or 7); Grilled Tiger Prawns sourced from Sumatra; and the Chilean Sea Bass Champagne Yuzu Miso.
These focus very much on the quality of produce, with their accompanying sauces accentuating flavour.  A light garlic ponzu for the sumiyaki, a sumptuous seaweed butter for the grilled prawns and a sweet and sour prosecco yuzu sauce to add to the seabass' creaminess.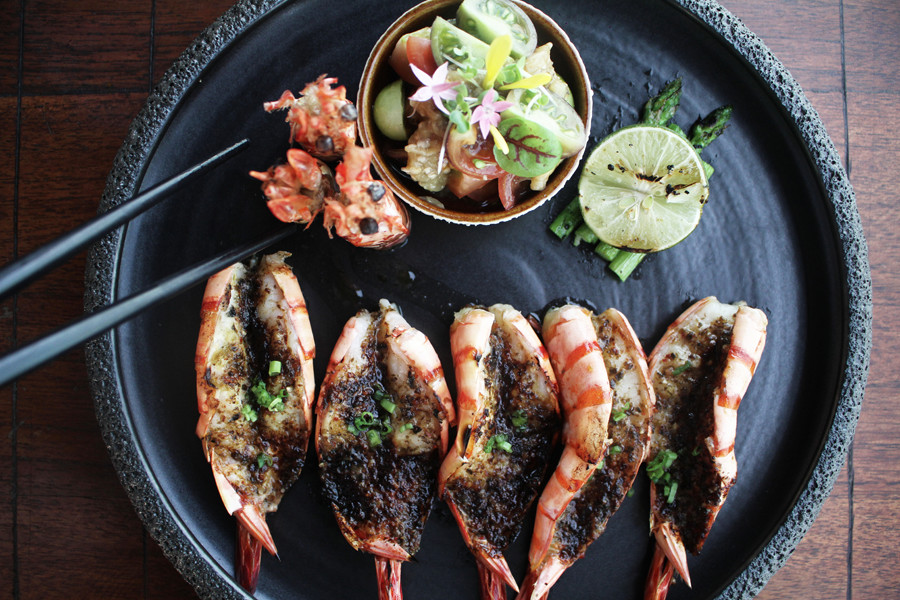 In Japan, desserts are not known to be very exciting. This has allowed Chef Hendry to get into full creative swing for the dessert menu both in visuals and taste.
Examples include Bamboo, a smooth sesame mousse encapsulated into a bamboo-shaped white chocolate mould; or Chocolate Cherry, dark chocolate with a cherry-sorbet filling, fashioned into a delicate cherry shape; and AO RINGO, a green apple and passion fruit cheese cake, almond crumble, black sesame micro sponge.
Creative Libations
The same level of creativity and passion is poured into creating their signature cocktail menu.
Whilst you may want to choose yourself, you're encouraged to ask the expert service team who are able to pair the perfect cocktail to your chosen dishes. Favourites include the Sea Salt Colada, where a lighter coconut water replaces coconut milk to reduce creaminess, topped with sea salt and coconut meringue; Myuga, an all-day refresher consisting of ginger-flower infused arak, Campari, coconut, ginger and more, served in a balloon glass; and the unique Umami, a savoury cocktail with chilli, vodka, olive vermouth served in a pipe glass with an oyster shell.
Sake no Hana is open from noon to 10pm, with last orders at 9.15pm, making it a great dining destination for lunch, dinner or anywhere in between.
Sake no Hana Bali
Jl. Belimbing Sari, Uluwatu
+62 361 8482150
www.sakenohana.com/bali