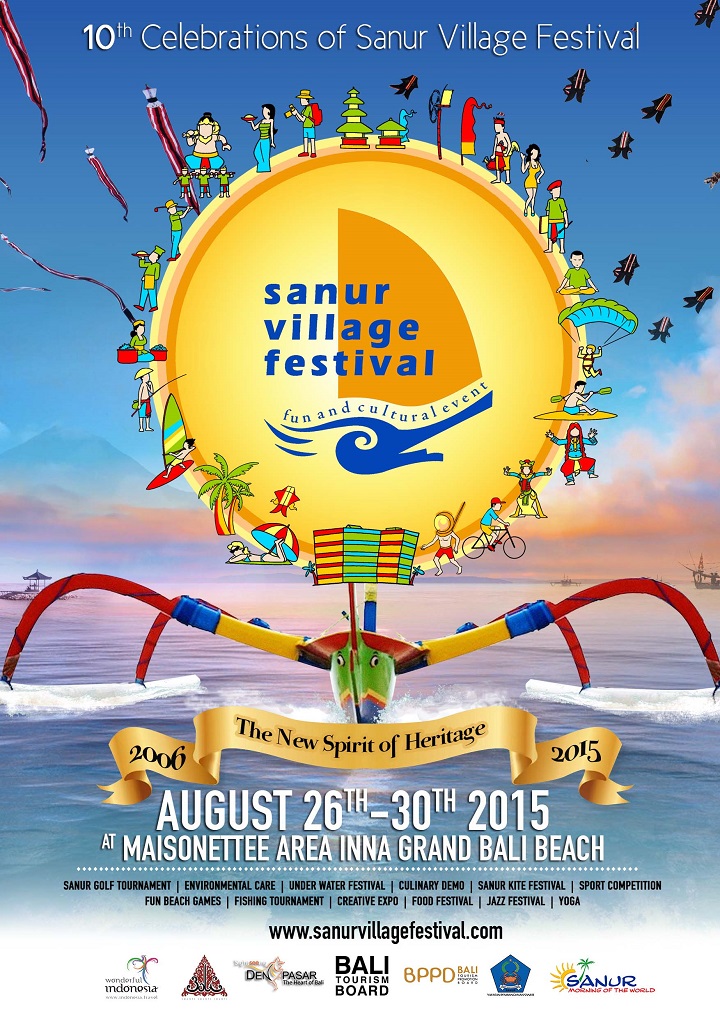 The year 2015 marks the 10th annual Sanur Village Festival (SVF) that will be held from 26 until 30 August 2015 with the theme "Dasa Warsa" at Maisonette Area, Segara Beach, Sanur Bali. SVF 2015 will bring more fun and exciting activities that are sure to cater to any type of crowd. Environment programs, festival and exhibitions, culinary; art and photography; fun and sport activity; also art and cultural dialogue.
"If we do not have a major activity to attract tourism, Bali's hospitality industry will slow down and visitors will opt to visit other destinations," claims Chairman of Sanur Village Festival, Ida Bagus Gede Sidharta Putra, well known as Gusde. "I hope these efforts are more than just celebrations bus also with consideration culture, environment, cleanliness and order which is an important part of creating and guarding a quality destination.
From the above activities that involve community and government as well as tourism stakeholders, show that SVF has perfectly facilitated the tourism components. Dasa Warsa SVF wishes to reflect, not necessarily step back, but to take another look at the many dimensions and direction that can be developed, while still having as basis on the values of "the new spirit of heritage".
During these 10 years, SVF has successfully played central role in stimulating the development of tourism, art, culture and creative economy. This festival is a celebration of community solidarity whom have contributed to various tourism promotions, directly or indirectly.
SanurRun is on 23 August. The participants will start from Mertasari beach at 6am. Online registration is open at www.sanurun.com. This run will showcase Sanur's art, culture and tourism zones. The run consists of 3 categories:
– 10K open for public (expats, as well as domestic and international visitors),
– 5K, and kid's dash with route 400m kids between ages 5-6 years old
– 1 KM for ages 7-9 years old.
Environment Program
– Beach clean up
– Turtle release
– Planting rare vegetation, and coral transplantation which involves local schools, hospitality industry and NGO.
– Coloring competition for kids on August 29
Festival and exhibition
– Sanur Creative Expo – Handicrafts display that support the tourism industry and a creative meeting point to exchange ideas, sales and business.
– Agro tourism Expo
– Music performances and art, and cultural parade.
Culinary
– Food festival and Food Heritage, fruit and ice carving.
Art and Photography
– Painting on the spot
– Body painting and public art
– Photo competition and Photography exhibition.
Fun and Sport Activity
– International kite festival
– Fun games
– Jukung boat parade
– Fishing tournament
– Kid Zone
– Village cycling tour
– Surfing competition
– Yoga.
Photography competition for student and public. The exhibition will be held at Griya Santrian starting from a week before SVF opening date and closed a week after the closing ceremony date.
Balinale will share short movies every afternoon during the event in the Trans Village area
Sanur Open Golf Tournament will be held 2 days between 29 – 30 August at Bali Beach Golf Course.