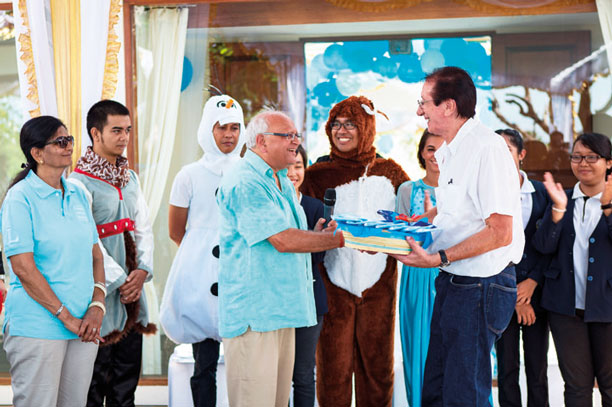 Today, economic growth is so focused in the south of Bali, where tourism booms and dominates. There are however, remote communities that do not reap many benefits from this growth and are left marginalised. Without money, education and with poor standards of living, there is little hope for them to improve their way of life.
There are those, of course, that aim to help such communities. Those who have witnessed the struggles they endure and are willing to give a little back. One such group is The Shanti Foundation.
SPREADING PEACE BY LOVING, SHARING AND GIVING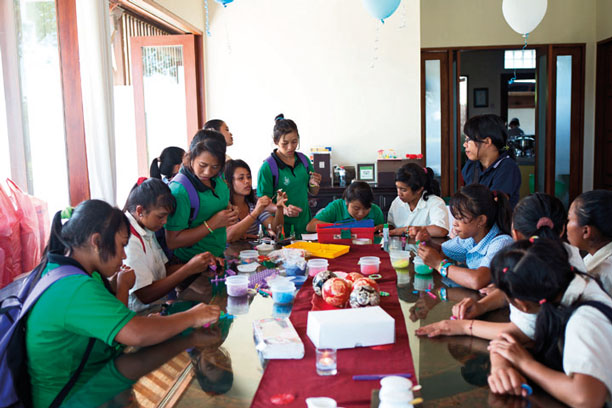 Back in 2006, Kumar Manchharam established The Shanti Residence in Nusa Dua, a stunning private villa overlooking the Indian Ocean. The Residence was (and is) a very successful property. For that reason, in December 2013, an inaugural "Loving, Sharing, Giving" Day was held to give something back to the people of Bali. On this day, around 100 underprivileged children shared in games, activities and food. An exhibition of young inspiring Balinese artists was held and also a scholarship program was launched that day.
In January 2014, Kumar established the Shanti Foundation as tribute to his late mother, Shanti, whom the Residence and Foundation are both named after. Shanti, meaning peace, is an appropriate name for the foundation, which aims to continue the philosophy of "Loving, Sharing and Giving". The foundation contributes back to society by providing scholarships for underprivileged children, amongst other philanthropic pursuits.
A HELPING HAND FOR THE EAST
In the beginning of October 2014, the Shanti Foundation team, led by ConstansyNurdiana, made a long journey to the dry eastern regions of Bali. They went to visit three out of the six hamlet schools in the area. These six schools are really the only hopes for the children desiring a better education and a bright future. Two of the schools the Shanti Foundation visited, Bung and Jatituhu, are located on a remote area up on Mount Abang. The other school, Cegi, is located on Mount Agung and is slightly easier to reach. Having witnessed the lack of infrastructure here, the Shanti Foundation pledged to support the East Bali Poverty Project, who have been working hard to help the area. "We feel a great need to support the East Bali Poverty Project; hence the Shanti Foundation has decided that the schools managed by EBPP are very suitable for our education aid program" remarks GustuMarhardika, Director.
In 2014, two students were awarded scholarships. Ni LuhGedePutriYunitaDewi is currently pursuing Diploma 3 of Hotel Management and YoanitaDharmawan is studying Diploma 3 of F&B Product Management.
HELPING BALI WHERE THEY CAN
In the same year, the foundation also helped the Breast Cancer Screening Program in May 2014- organised by The Bali Pink Ribbon. Not only that, the Shanti Foundation also gave new opportunities for young artists to display their talents. The Shanti Art Exhibition was organised at Shanti Residence to showcase 30 paintings and 10 sculptures by students of Sukawati Art school over 3 days. It is such foundations that help Bali where and when they can that helps to give everyone on the island a fighting chance for a better life.