Visitors to Bali are in for an authentic Balinese treat at Sofitel in Nusa Dua. The resort's "Balinese Culture Programme" is carefully designed to introduce you to the rich culture of the Island of the Gods through a series of fun yet insightful activities.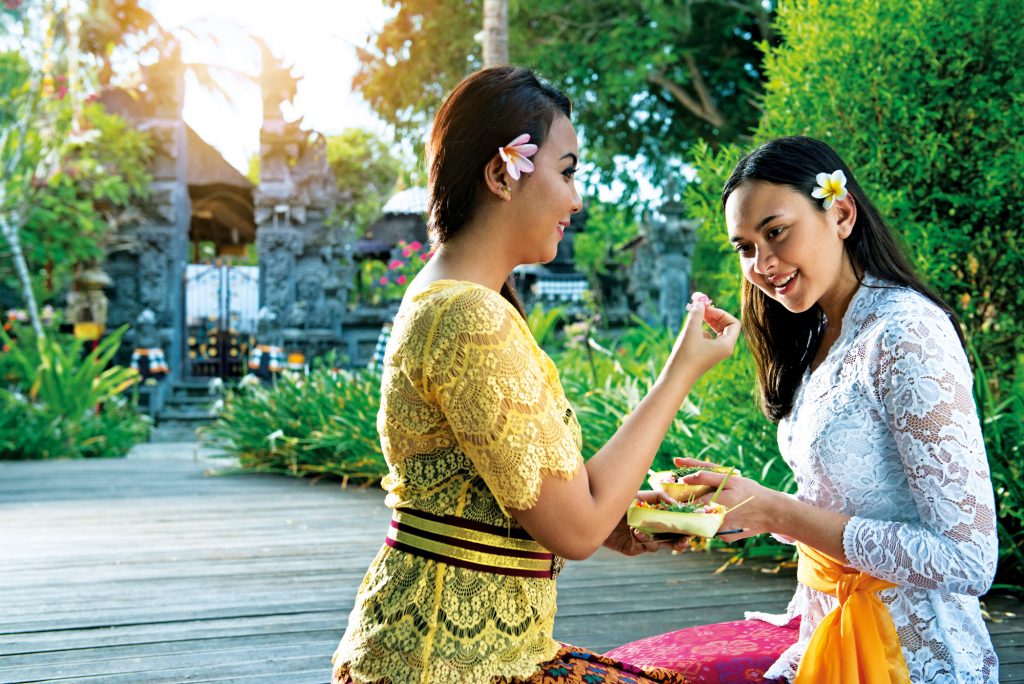 It's a lovely experience that can serve to give every visitor to the island a deeper appreciation of just how seriously and totally the Balinese are dedicated to their art, way of life, and religion. To begin the cultural journey, you will be taken to the resort's circular lobby, where your friendly Balinese host will explain the "Balinese Circle of Life" as depicted through the series of intricate woodcarvings stationed circling around the lobby. The woodcarvings tell the rites of passage of the Balinese people, and the ceremonies the ceremonies they will have to go through in life – starting from birth to death and everything else in between.
The journey will then move to the resort's temple, where a mangku (temple priest or guardian) awaits. Here you will be guided through the steps of crafting the stunning, colourful Balinese canang sari offering, while the mangku explains about the equally beautiful philosophy behind it. You will learn that, the Balinese are about keeping things in balance as seen in the making and placement of items on the canang sari. At the temple you will also be give an opportunity to take photos of and with the temple guardian. To conclude the activity, you will be taken to the resort's Beach Bar & Grill where sumptuous Balinese Rijsttafel will be served beachfront.
Balinese Culture Experience is available daily by request from 10am to 3pm, and priced at IDR 500,000net for 2 persons (maximum 10 persons).
Sofitel Bali Nusa Dua Beach Resort
Kawasan Pariwisata BTDC, Lot N5, Nusa Dua
+62 361 8492 888
www.sofitel-bali-nusadua.com