Cascading down a dramatic cliff, luxurious tropical utopiaAnantara Uluwatu Bali Resort has just unveiled their newly refurbished suites, private pool villas and penthouses that add an extra touch of luxury to the area.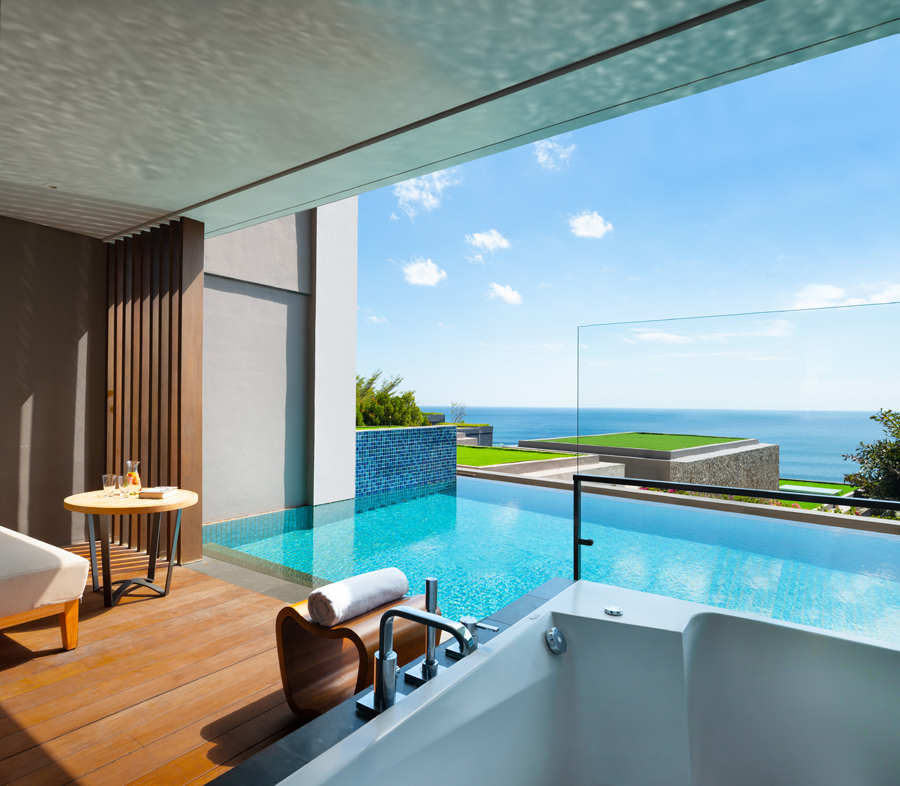 Suite Life
The prominent clifftop resort that looks over the popular surfing spot, Impossible Beach, is now ready to welcome you into 40 of their newly refurbished suites in three different categories: Ocean View Suite, Ocean View Pool Suite and Garden View Pool Suite.
These new refurbishments present a welcome touch-up of the suites' amenities, complete with Balinese craftsmanship and Anantara's attention to detail when it comes to their guests' experiences. The suites now feature brand new reading lights, bedside lamps, carpet, writing desk, sofa, built-in USB port and new cupboards ─ whilst still retaining its signature features including the outdoor Jacuzzi, Bose sound system, rain shower and the Nespresso coffee machine. Partitions have also been installed on the Garden and Ocean View Pool Suite swimming pools for ultimate privacy in this honeymoon haven.
The 84sqm Ocean View Suites presents an expansive indoor space to relax and unwind in addition to a private Jacuzzi with uninterrupted panoramic views of the vast Indian Ocean.
Showcasing a new look with fresh aqua tones, the Ocean View Pool Suites' upgrades are inspired by the sparkling infinity pool and the ultramarine ocean beyond the horizon with views best enjoyed from the private Jacuzzi.
Presenting a sense of tranquillity, the Garden View Pool Suites are equipped with an expansive terrace enclosed by a lush garden. The swimming pool is framed by separate partitions to provide a sense of privacy during your stay. The newly refurbished study offers a relaxing hideout overlooking the blooming flowers and trees outside.
Home Away from Home
Outfitted with a private pool, sundeck and manicured garden, the Two and Three-Bedroom Villasare ideal for vacationing families and friends travelling in large groups. The spacious living room makes for the perfect gathering place to share a meal before retreating into the comfortable bedrooms and calling it a night.
The two and three-bedroom villas allow you to claim a space for yourselves, to enjoy the vast grounds in privacy, becoming a home away from home throughout your stay.
Ultimate Penthouse Luxury
The new two-bedroom Dewata Penthouse and the renovated one-bedroom Dedari Penthouse take luxury living standards to a whole new level. Nestled in one corner of the main building, the two-storey Dewata Penthouse boasts breathtaking 180° views enclosed in a chic contemporary style. The bedroom welcomes you to a marble bathroom equipped with a separate tub and a walk-in closet, whereas the open-concept living and dining room is decorated with posh furnishings and unique artworks.
Sink into the Spa
The resort's existing spa is elevated with the addition of the new Anantara Spa extension which presents an all-natural and enchanting spa experience to those in search of holisitc wellness. The spa offers an array of rejuvenating treatments that takes guests through a journey of discovery in a tranquil setting.
Experience ultimate luxury at the new spa garden pavilion, equipped with seven treatment rooms including a treatment suite, two double and four single treatment rooms, manicure and pedicure room, hair salon, swimming pools, steam and sauna rooms. The treatments incorporate unique spices from Indonesia and beyond such as nutmeg and clove which are highly valued for their distinctive flavour and medicinal benefits.
For more information on Anantara Uluwatu Bali Resort's newly refurbished units and the new spa extension please call +62 361 895 7555 or email uluwatu@anantara.com
Anantara Uluwatu Bali Resort
Jalan Pemutih, Labuan Sait, Uluwatu
+62 361 895 7555
uluwatu@anantara.com
anantara.com