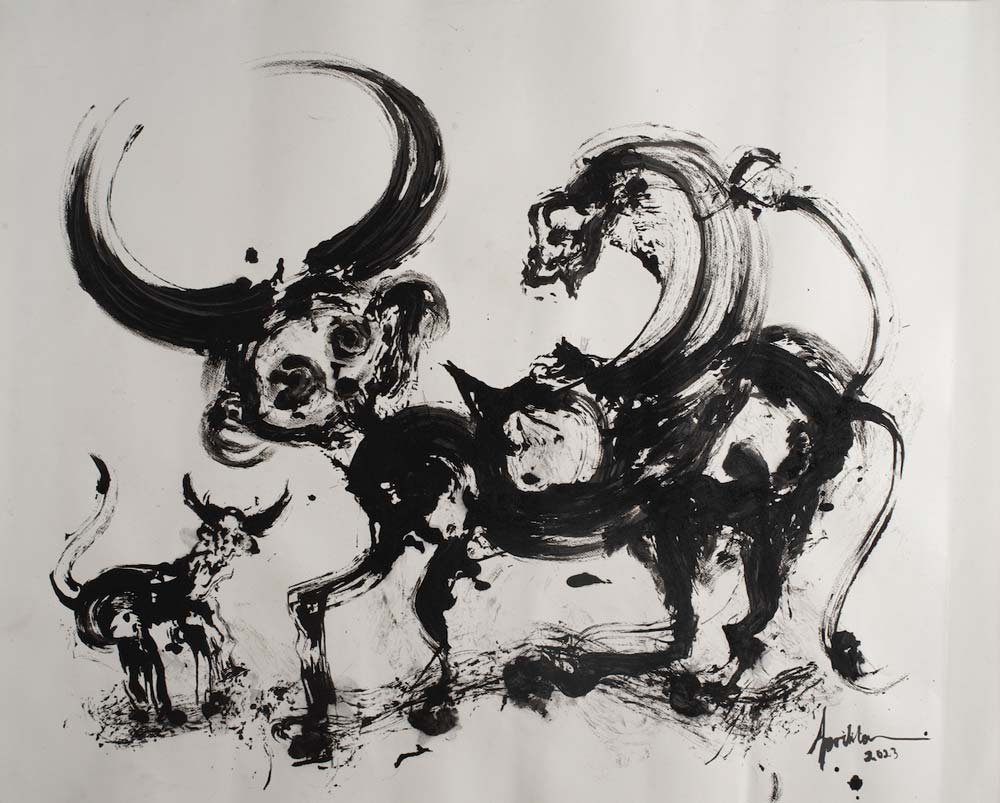 Aprililia is an emerging painter from West Sumatra, gifted with a unique talent, who recently began residing in Bali. Born in 2000 in Padang, the self-taught artist significantly contributes to the growing wealth of extraordinary national and international creatives who call the island home.
Lily, as she is also known, majored in Informatics Education at PGRI University SUMBAR, Padang. The subject involves studying and applying the principles of computer science and mathematical analysis to the design, testing, development, and evaluation of operating systems, software, and computer performance. Driven by an innate sense of curiosity, Lily's discerning mind is the gateway to her artistic practice which began with sewing and making sculptures in her teens.
In 2017, Lily began experimenting with various painting mediums, now she has refined her practice by working with Chinese ink, charcoal and splashes of dark acrylic paint on paper. Her untitled images range from those with literal interpretations to others that are ambiguous and defined by an array of animate creatures and abstract compositions. Her majestic renditions of birds and animals are poetic and beautiful. Images of conflict describe animals in dynamic confrontation. Lily's amusing compositions ignite joyful responses.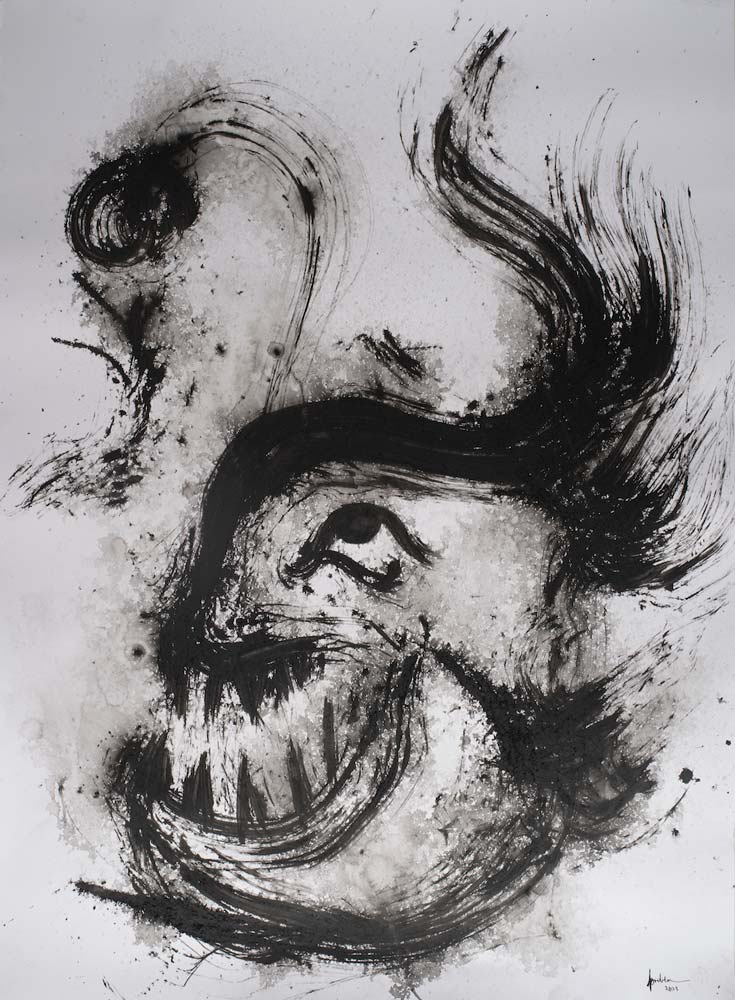 Some pictures reveal guardians of the underworld with weapon-like objects. Others are organic creatures that have evolved from embryonic cells. Specific works are more figurative, with subjects sitting in contemplative thought. In comparison, vibrant, powerfully emotive, blurry images capture snapshots of expressive movement and dance.
There is often a compelling essence within the subject's eyes. Some appear with a sense of darkness. Others are more light-hearted, emphasising humorous expressions. Cross-eyed, wide-eyed. Eyes open or closed, mouths agape or tight-lipped, some characters gaze upon us and peer through to the back of our minds.
Both fluid and static, Lily's images are impregnated with power and a distinctive raw and honest quality. They are derived from the deep unconscious, the place of nightmares and dreams. Lily's prowess is revealed in explosive bursts of rapid strokes; her captivating compositions are complete within two to three minutes. Silent and mysterious, they speak volumes yet communicate without words.
Lily's background is the traditional Minang Kabau West Sumatran culture, being raised in a moderate Islamic home environment. After a year of studying art alone, in 2018 she began visiting studios in Padang, Yogyakarta and Jakarta, learning techniques, exchanging views on art and going to exhibitions. The Dangau Studio art community in Padang, led by Budi Irwandi, had a vast influence. She studied painting techniques with Budi for three years. In 2022, Lily lived in Yogyakarta for three months, visiting the studios of renowned artists Nasirun, Djoko Pekik, and Jumaldi Alfi, listening to their views on art and understanding their journeys and processes.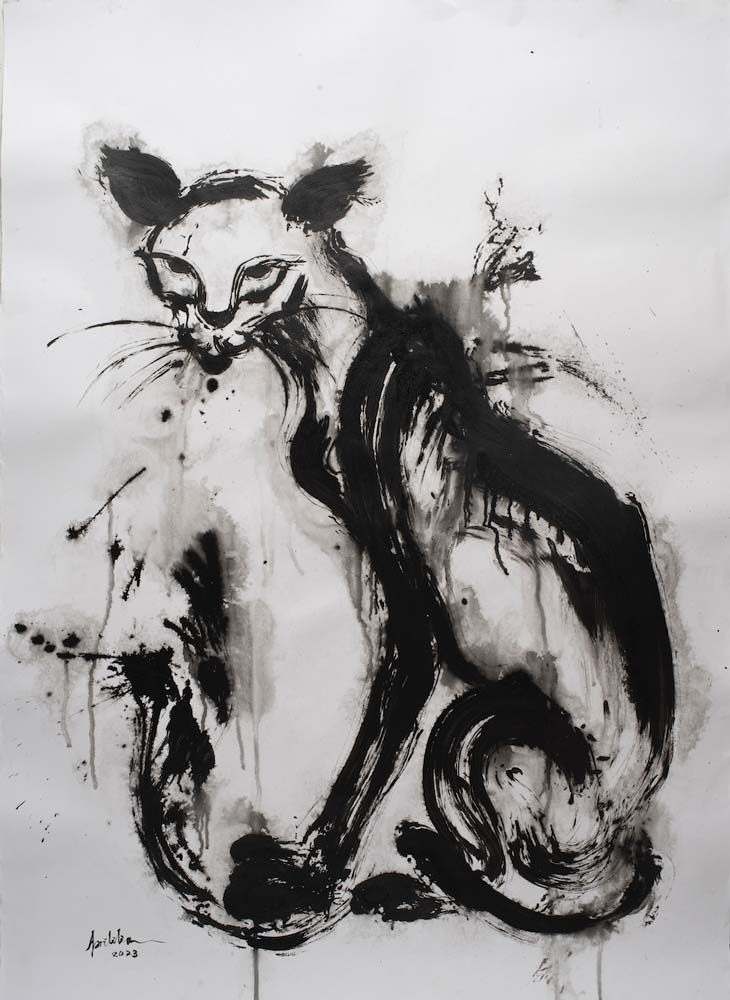 "My parents always gave me the freedom to choose my life path. From the first time I started painting, they were fully supportive, assisted me with my learning needs, and maintained my artistic enthusiasm until today," Lily told NOW! Bali Magazine. "My creative process involves collecting ideas from history books, philosophy and primitive objects. I then process the information, and when my mind is full, I automatically respond, pouring it all out. Painting for days," Lily explained. "The painting begins by standing before the paper and focusing my energy. When I am ready, I sit and then paint spontaneously."
"As long as I don't have to make paintings to please others, such as commissioned works, I am delighted when I paint. The feelings of freedom and purity are essential to me. When I start painting for others, I lose my direction, energy and power of focus," said Lily, who, from 2019 to 2022, worked as a Makeup and Henna artist in the city of Padang. "My challenge is curiosity about new objects that I can create by interpreting real observed objects. After examining the object, I process it with my imagination. I start painting spontaneously, quickly following my intuition."
"Some of your works appear like calligraphy," I stated. Lily said, "I enjoy calligraphy, but every time I make calligraphy, it's always messy and makes me stiff. When I paint without rules, I'm freer, calling it dancing lines."
"I experience courage, confusion, restlessness, fear, joy and sadness while painting. An unexpected final result makes me feel satisfied as if it has answered all the confusing energy. The final form is a real answer to pure expression, and because of that, in the process, I try not to limit myself. I endeavour to understand every moment of human psychology," said the artist, who compliments her practice with prolonged encounters with nature, watching documentaries, listening to classical music and visiting and learning about Indonesian indigenous cultures.
Self-taught artists often have a distinct quality that sets them apart from their academic counterparts. They are without the habitual conditioning in art education systems that can be heavy on technical learning, stifling the artist's most significant gift, an open and clear channel to the universal creative source.
Aprililia will exhibit in the Lobby Space at ARMA Museum, Ubud from 18 December 2023 until 7 January 2024.  
Follow her on Instagram: @aprililia.art