Anyone who appreciates good cocktails will know there is an art to it – you can't just throw everything together and hope for the best.
It takes a cocktail connoisseur, or a mixologist, to craft that sumptuous concoction that not only harmoniously blends the flavours of different ingredients, but presents it beautifully to create a true drinking experience.
Believing that good drinks should also be enjoyed at home, not just in cocktail bars, a number prominent mixologists on the island share their cocktail recipes in this issue so you can recreate them at home. So, stock up your bar, because you're tonight's new bartender – but of course, for the real deal, have these professionals whip up the drink for you!
AYIP DZUHRI
Crowned as Indonesia's 'Bartender of the Year' in the Diageo World Class semi-finals and bar show 2015 in Bangkok, Thailand, Ayip Dzuhri is the head mixologist at Alila Seminyak; so those in search of post-office-hour evening caps, or just afternoon cooling cocktails at Seasalt are definitely in for a treat!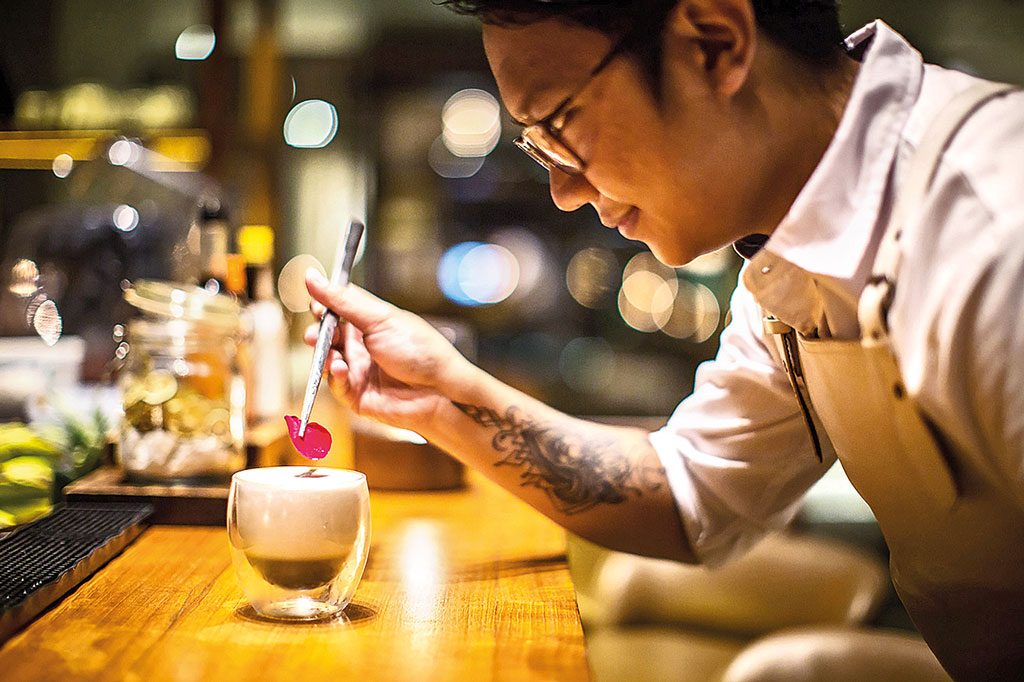 Ayip may seemquiet and introverted at first glance, but behind the bar, you'll see him come to life.He is passionate about formulating drinks and witnessing people's emotions on their first sip. His personal mission is to introduce Indonesian herbs and spices into the international cocktail scene and to raise the awareness that Indonesia has its own signature drinks.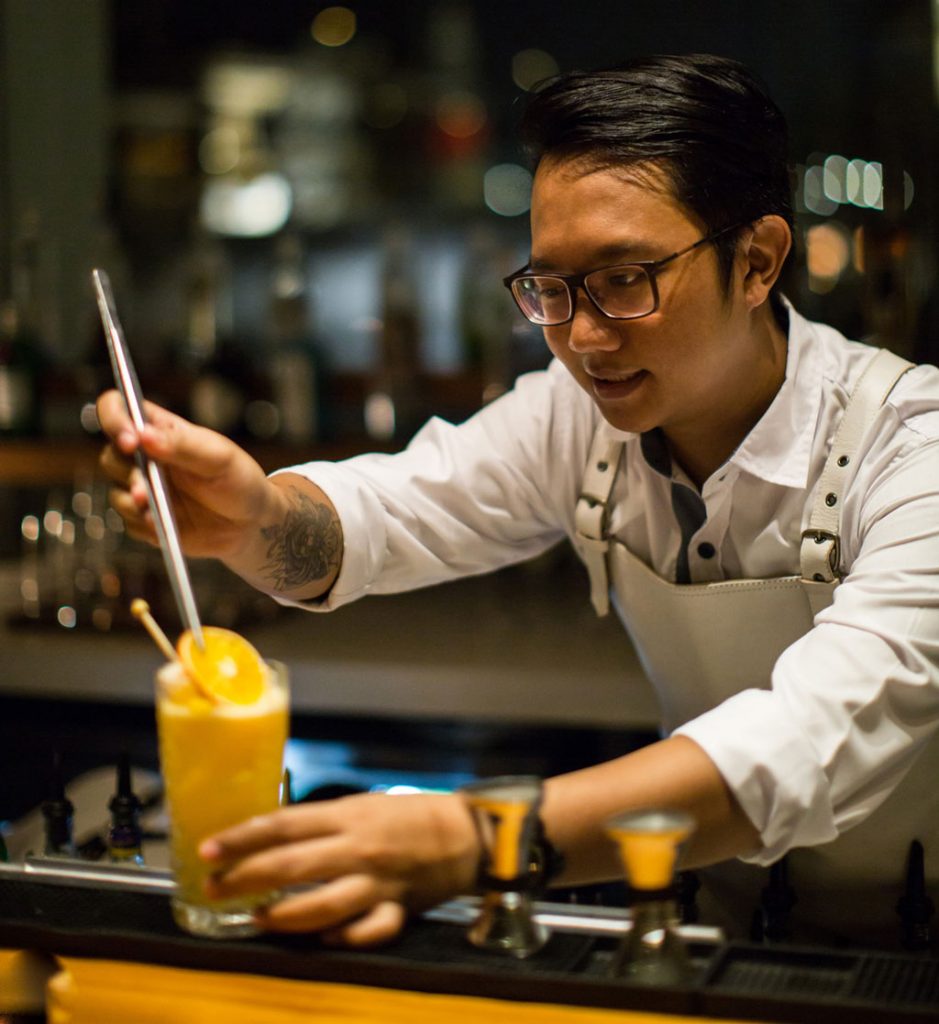 At the resort's Seasalt restaurant, Ayip dives into the next wave of mixed drinks – sustainable, zero-waste cocktails – that can save time, money and resources while also contributing in small part to saving the planet from added waste. The selection, called the Ocean Inspired Cocktails, sources its ingredients carefully by reusing, fermenting, recycling and upcycling ingredients that would otherwise be discarded as trash. Think leftover fruit juices, fruit rinds and fruit seeds saved from the scrap heap and instead embellish and enliven their ocean-inspired, craft cocktail creations, such as the Samudra.
SAMUDRA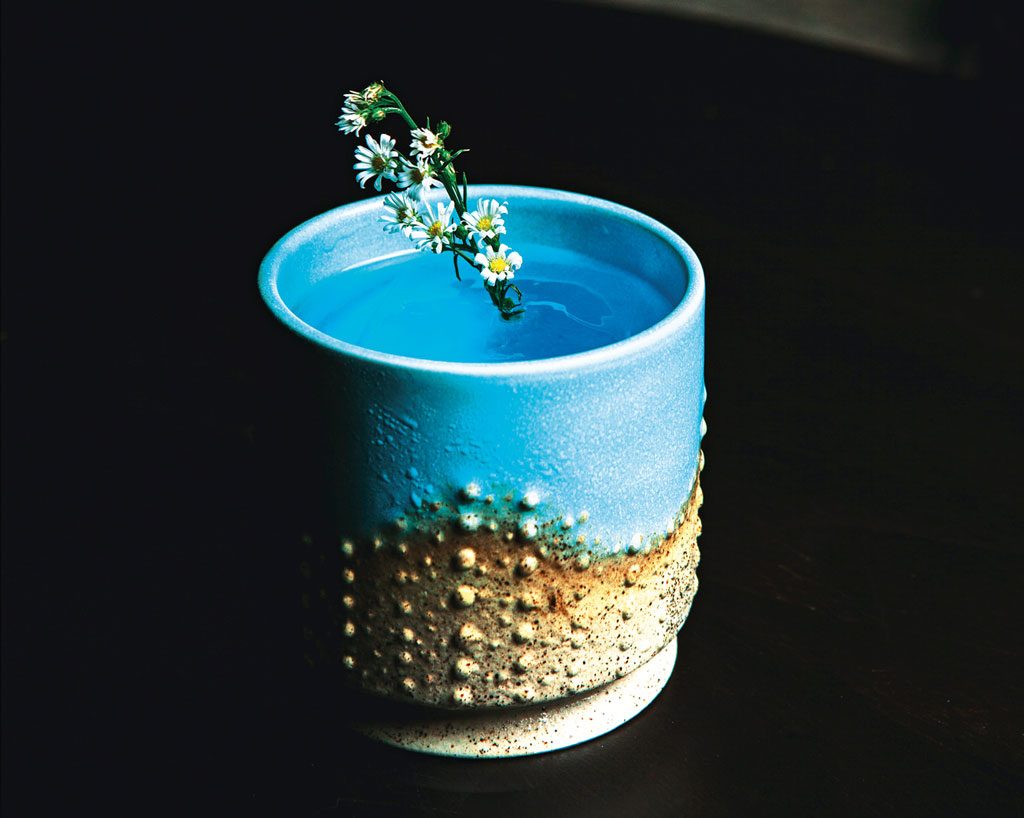 Ingredients
Gordon gin 30ml
Coconut liquor 20ml
Blue curacao 10ml
Fresh lime juice 10ml
Elderflower syrup 5ml
Cucumber 4 slices
Method
YUDHIZ
Hailing from Temanggung in Central Java, Yudhiz is one-part pierced warrior, one-part cuddly bear, mixed with vodka and served with flair. Yudhiz has incredible attention to detail and executes the utmost discipline when it comes to sophisticated bartending. A famous 'flair' bartender, and currently the Romeos Cocktail Ambassador, Yudhiz focusses heavily on creating balanced, consistent drinks that are dependant on his passionate take on the drinking culture. Yudhiz is quickly gaining a reputation on the international mixology scene and represents not only the craft of cocktail culture but also of art, music, and self expression. It is these qualities that make him and Romeos Bar unique and one of a kind.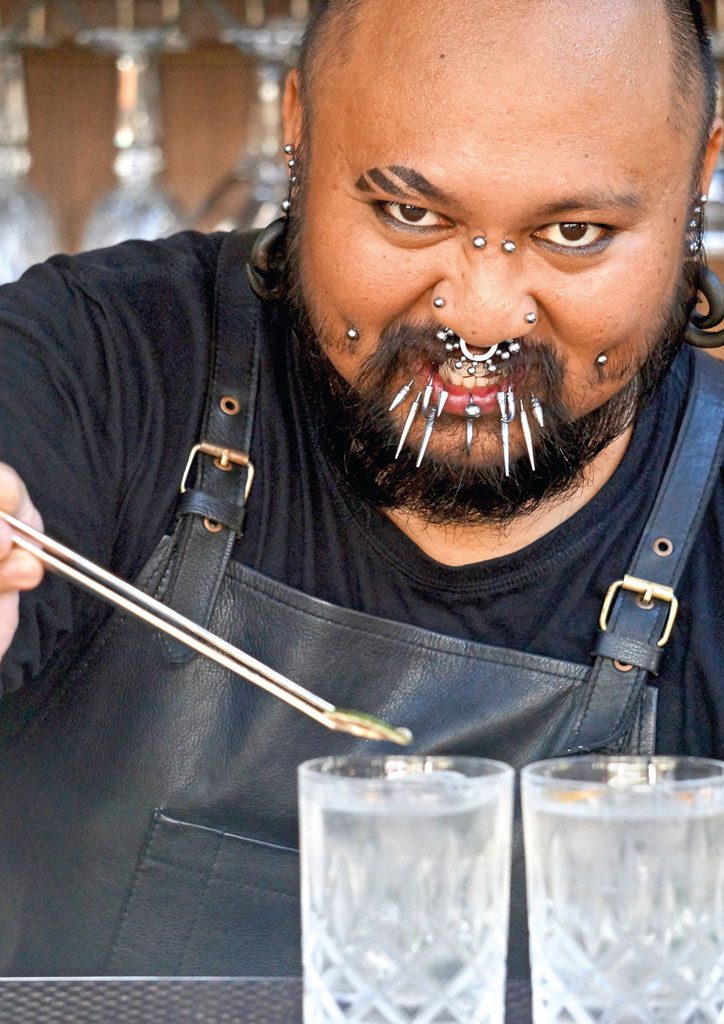 For Romeos, Yudhiz pays homage to rich culture found in Indonesian cuisine, both served on special occasions or those sold on street food carts. And the result is sumptuous creations that are uniquely Indonesia, refreshing, and tasty. As an example is the Cristalized Angel, inspired by Klepon, a typical Indonesian dessert. So in addition to a creative concoction to whet your whistle, Cristalized Angel can also be the dessert to conclude your meal any time of the day at this celebrated Legian restaurant.
CRISTALIZED ANGEL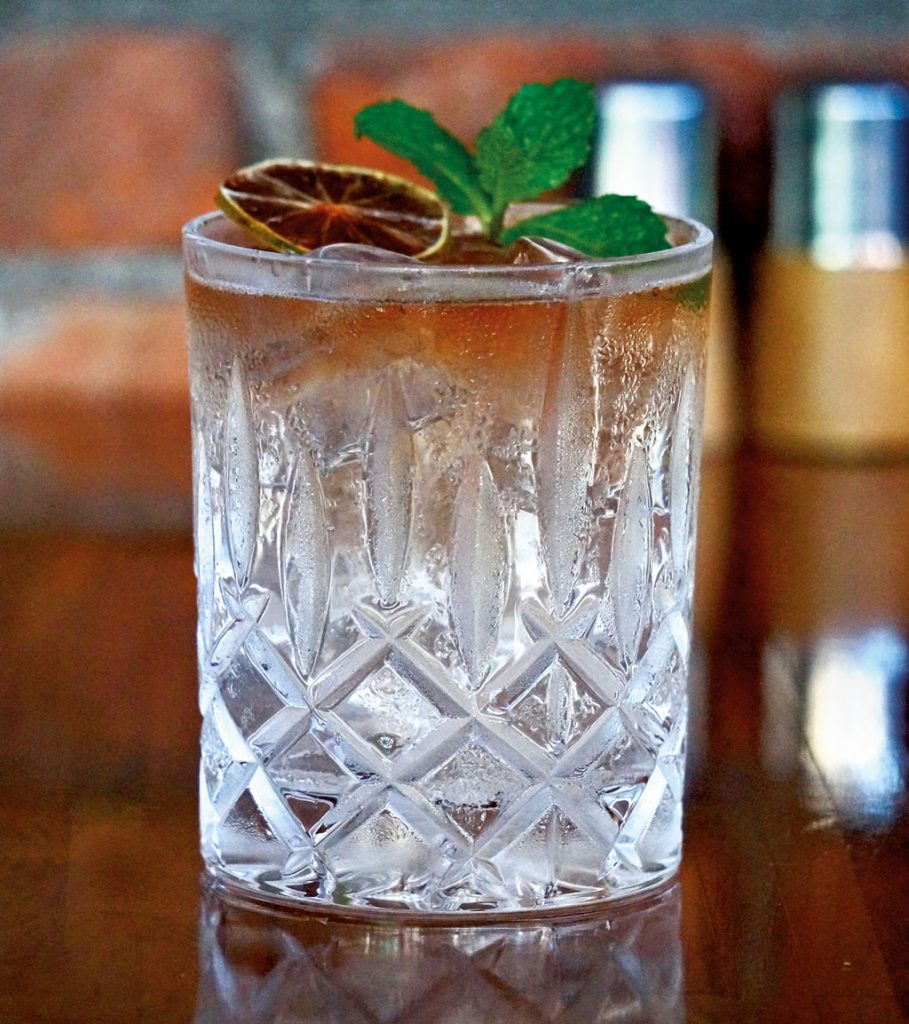 Ingredients
Light rum 45ml
Homemade sweet pandanus amaryllifolius 30ml
Homemade coconut water soda 60ml
Homemade liquid bitter 3 drops
Method
AREY BARKER
A household name in the world of Indonesian bartending since 2014 when he won the Indonesian leg of the DIAGEO World Class Cocktail Competition, Arey Barker is a lovable character with plenty of charm and charisma, and a ton of talent. He started his career as a bartender in 2006, at 18 years old, and having honed his skills in various bars around the island including W Bali, Arey has now been working the last two and a half years as group head mixologist for hospitality powerhouse 8 Degree Projects, where he is focused on overseeing the beverage offerings at the stylish up-market restaurant and bar, Bikini. He is passionate about showcasing local Balinese and unique ingredients and combining them with culinary techniques to surprise you and make inventive cocktails with a twist.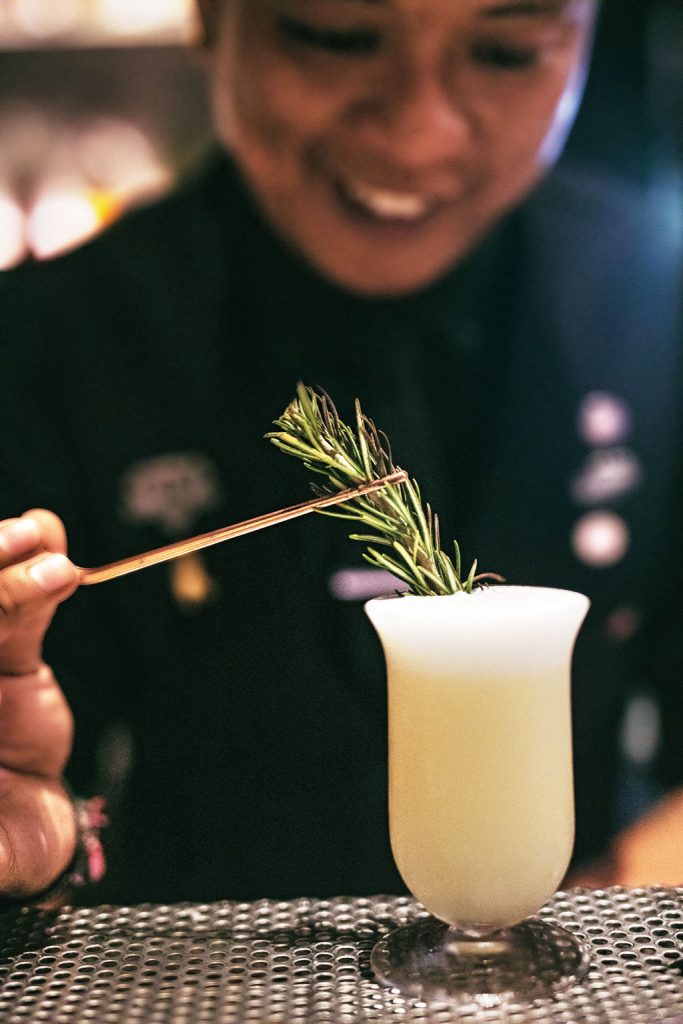 At Bikini Arey focuses on hand-crafted cocktails, sourcing fresh, local and imported ingredients to create all of the bar's own in-house syrups, bitters, foams and other combinations. For instance, the combination of chocolate and yuzu, or cashew nut and cinnamon which becomes a syrup or sub-ingredient for the cocktails. To differentiate the taste of his cocktails, Arey and the bar team at Bikini use a lot of unique processes, techniques and interesting ingredients, often inspired by the culinary team working alongside them in the Bikini kitchen.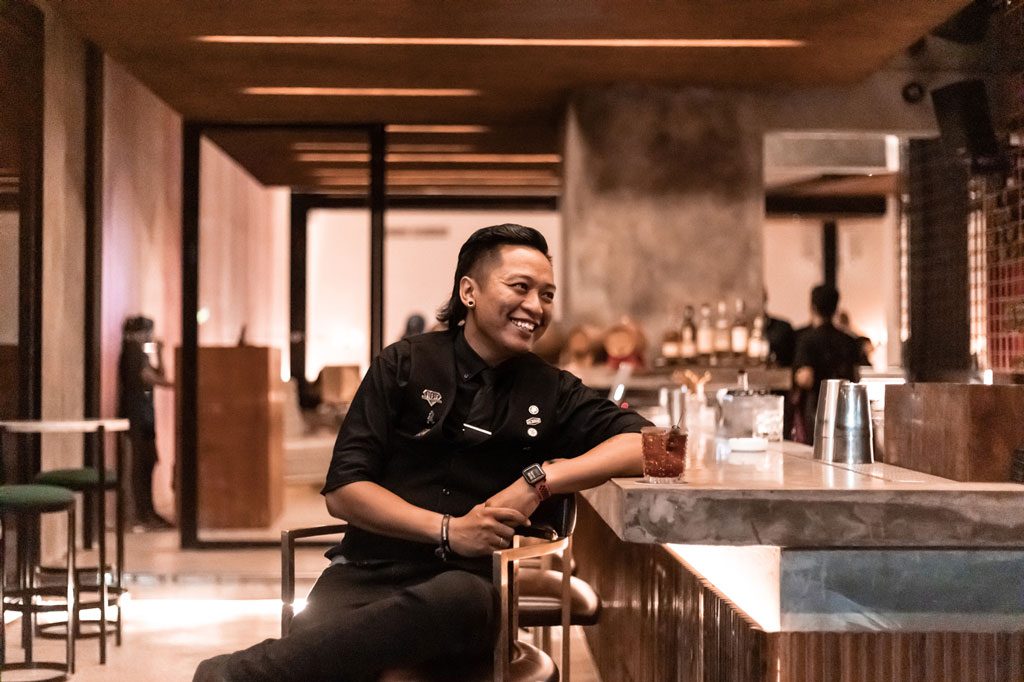 Arey's playfulness reflects on one of his signature cocktails, For Fig's Sake, where he makes a little twist of the Boulevardier, with fig and cinnamon in the whisky. Then to extend the taste, he adds coffee and cherry, with these ingredients being made through the sous vide machine.
FOR FIG'S SAKE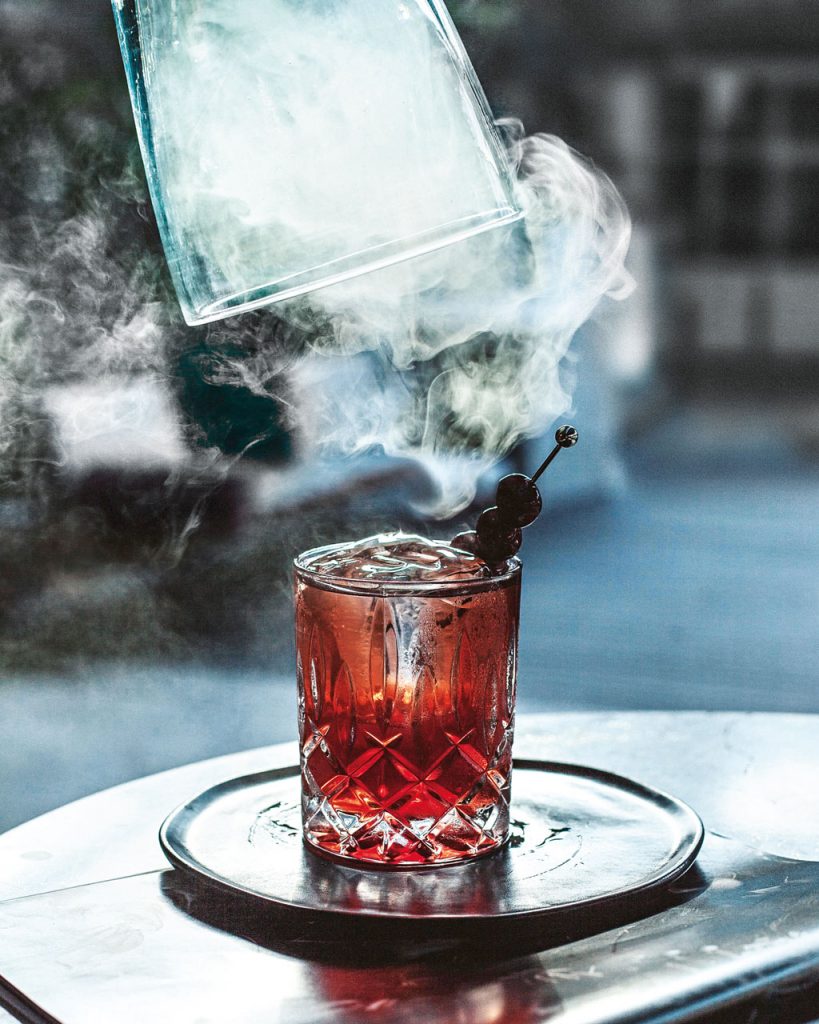 Ingredients
Fig and cinnamon infused Bourbon 20ml
Coffee Sweet Vermouth 20ml
Cherry infused Campari 20ml
Method
YUDI HENDARSYAH
A guy who knows his way around any bar, Yudi's international experiences have landed him key positions in some of the world's most renowned hospitality brands such as the W in Bali and Maldives as well as the Four Seasons in Riyadh.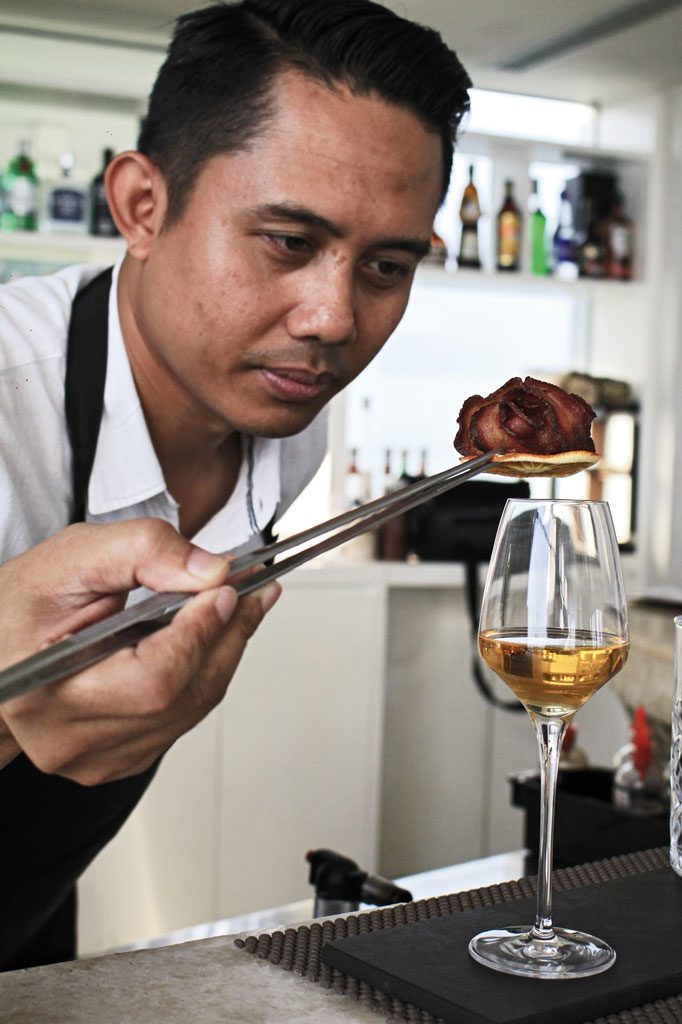 Starting out in the food and beverage industry, Yudi became intrigued by mixology during his stint at the pre-opening of W Bali in 2010. And along with the brand, came WooBar, the resort's signature bar, a famed W venue whose Bali opening and conceptualising was done by Joseph Borowski, a celebrated international mixologist, among others. It was from the likes of Borowski and other acclaimed mixologists from around the world who made their way to W Bali that Yudi 'absorbed' the knowledge of mastering the art of crafting unique cocktails. In fact, Yudi took Arey Barker under his care before relocating overseas.
Currently Yudi is the assistant director of food and beverage at the luxury resort Banyan Tree Ungasan, where he introduced the art of mixology to the resort's high-end clientele. Clear changes have been made to the beverage menu at the Banyan Tree Ungasan's fine dining restaurant, Ju-Ma-Na, where Yudi has added a unique cocktail concept that is designed to go in harmony with the restaurant's haute cuisine. Among the tantalising creations here is the Smoke and Fog, a cocktail that complement the carefully prepared dishes at Ju-Ma-Na.
SMOKE AND FOG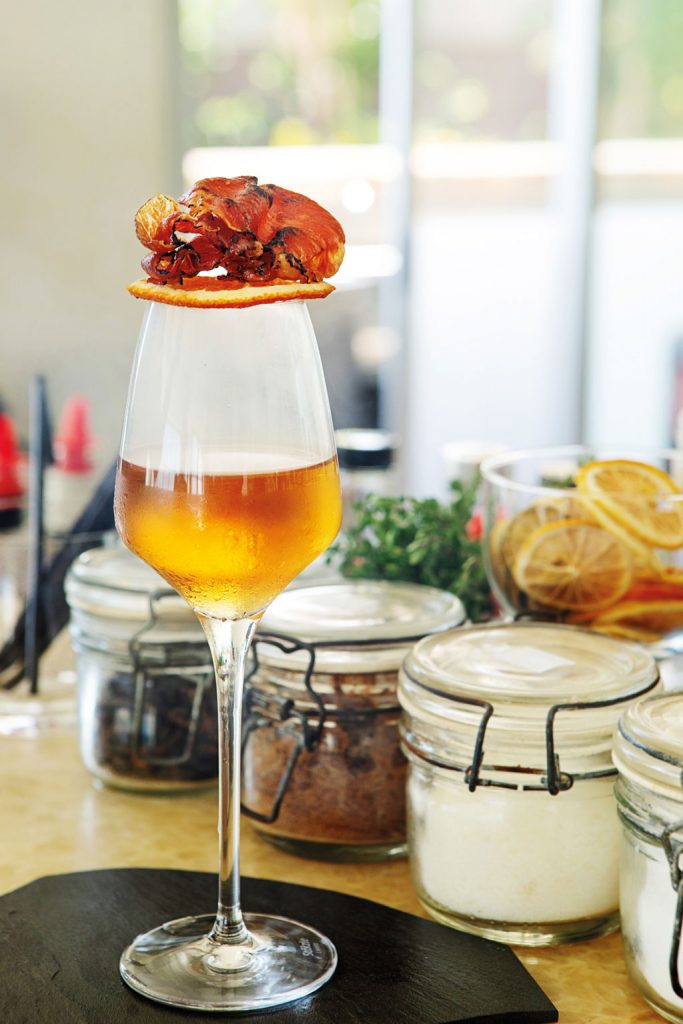 Ingredients
Maple juice 20ml
Dried vermouth 5ml
Martini Rosso 5ml
Bacon washed bourbon 50ml
Orange bitter 2 dashes
Dried orange wheel
Crispy bacon
Method