A year ago Trip Advisor's 100 Best Things to do in Bali only had TWO genuinely Balinese things on it, the rest were western lifestyle nonsense including glass-bottomed boats, camel rides and bungee jumping. I wrote to them and asked them to think again, and wrote to every hotel I know asking them to ignore Trip Advisor and get their Balinese staff to advise visitors what the best things to do and see are. They know best about Bali!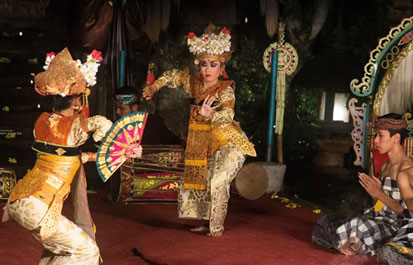 A year later Trip Advisor's list is quite good, and so are many other online lists and visitor guides who seem to have finally clicked that this is Bali and the best things to do are those that can ONLY be found here!
Makes sense doesn't it? So go to the temple, the palaces, the art galleries, the dances, the processions, the beautiful vistas. Walk through the fields and the villages, swim in the lagoons and reefs (on the clean beaches!), climb the mountains and marvel in the culture and nature. You can still party in the evening, spa in the morning and shop at lunchtime!
The worst things to do in Bali? Anything you can do at home.

Text by Alistair G. Speirs