Is it a jungle? Are there fish? Well only on the menu of their delightful Mediterranean restaurant looking over an expansive valley where the River Osh flows quietly by below. Actually, even though everyone knows it as Jungle Fish, the resort is properly called Chapung Se Bali Resort & SPA but for the sake of clarity, lets stick to Jungle Fish.
The resort embraces a new concept, just a few minutes outside Ubud. Surrounded by nature, it is a fusion of Balinese touched with modern Greek style. Private villas enjoy their own pools and a delightful sense of seclusion, without being too isolated. Stylish touches abound.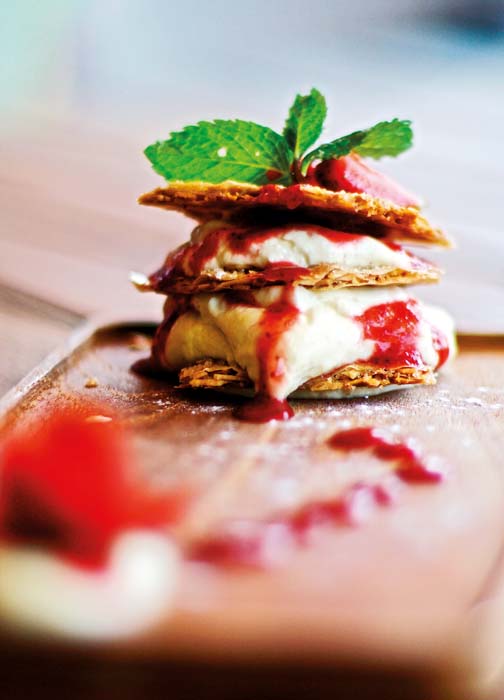 But the food is not fusion at all! The Jungle Fish Restaurant is Mediterranean through and through. The menu is mostly Greek with fresh delicious ingredients. The small plates are almost too good to pass up and we had trouble trying to decide whether to go with these alone or to venture into the main courses as well.
How to choose? We relied on the judgment of our genial restaurant manager to guide us through. The dip platter with freshly cooked pita bread came with Taraturi, eggplant mousse, and feta chilli cream – all delicious. The King Prawn kebabs, with Sichuan Pepper (and a divine tasting tomato ginger pate) were fresh and wonderful, even if not very royal in size, it was a tasty treat. The tomato pate was the best!
The grilled octopus with a Pernod, lemongrass dressing was fresh, well cooked and a very generous serving. When squeezed with the lemon we ordered it was close to perfection. Seafood plays a big part in the menu, as all good Mediterranean menus should. It's easy to see that the menu is designed to please!
The Large Plates offer meats and several vegetarian options, so they too, work to please everyone! A mixed grill for two with pork, beef and chicken with fried potatoes sounds like a meat eater's heaven. My companion had the risotto with prosciutto, truffle oil and rocket, Parmesan which she pronounced was perfectly delicious. The lamb chops were a huge serving that took an hour of delicious bites to finish. A slow ride to heaven.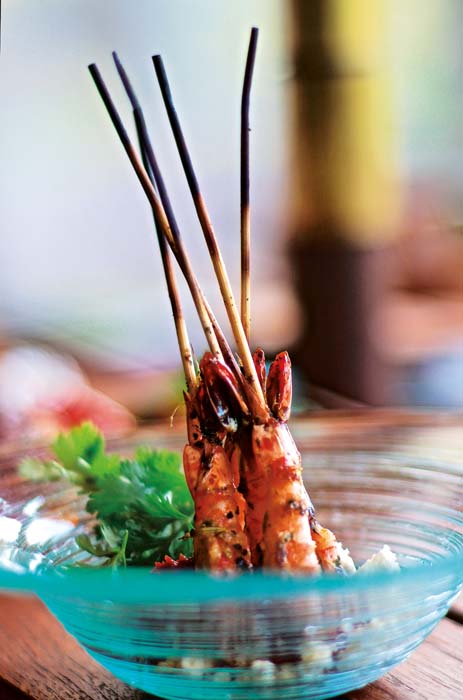 As we ate, we noticed a continual stream of waiters bearing plates of food, making their way down to the pool, which is obviously, a popular dining option. This large pool overlooks the view and is fitted with day beds and cabanas for those who like a little shade.
Other Large Plates include pastas – like the tempting tagliatelle with king prawns, caramelized tomato and anchovies and feta. The vegetarian options are designed for the picky and the whole menu is very attractive.
Desserts are another matter, and I was surprised at the imaginative variety. The chocolate soufflé will wait for next time but the Mille Feuille was innovative and very enjoyable. With layers of a crispy coconut wafer, sandwiched with mascarpone and cream and a strawberry coulis, it was irresistible, even for those of us who had sworn off desserts!
To discover more, it is best to experience in person. Finishing with espresso and a cookie made a perfect ending. The Greek chef knows his stuff and the generous servings are also priced to please. All in all there were pleasant surprises at every turn.
Needless to say, their wine list too, is well thought out without being overwhelming, but suffice to say, there is enough there to please most palates. With the pool there to use, it makes a great day out although for that day, we were content to sit up high and just enjoy the view and the gentle breeze from the river.
Jungle Fish Bali
Jalan Raya Sebali, Ubud
Email : reservations@junglefishbali.com