For many, a great meal is not complete without the final touch of a tasty dessert. Crunchy, creamy, chocolaty or fruity, dessert can turn every dining occasion into an exceptional experience. That's right, dessert is often the favourite course served during a meal.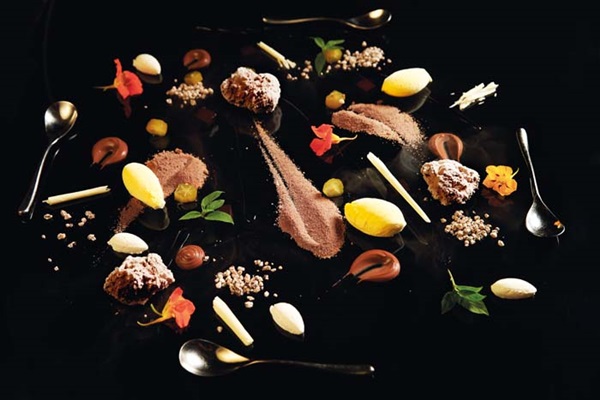 Talking about desserts, the new Mozaic Brasserie at Mozaic Beachclub seduces those with a sweet tooth with treats to give your beachfront dining experience a sweet finale. Already capturing the hearts of many of the island's food connoisseurs with enticing food creations, the Brasserie's signature, cutting-edge dessert introduces diners to an enchanting new social dining experience!
The signature dessert, the Mozaic Brasserie's "Textures of Chocolate" is prepared right at your table. A large black glass tile – approximately the size of the table – will be laid on the table, then artfully smeared with chocolate, fruit emulsions and scattered with edible flowers.
The chef then freezes chocolate mousse in a cylinder filled with liquid nitrogen and places it with the rest of the dessert artwork. Now this one is a multi-sensory dessert creation that can be enjoyed by up to four people.
Of course, other decadent, unique desserts are available from the Brasserie's delicious menu. But while you're there, you should also check out the highlights of the a la carte menu, including Charcuterie and Ocean fresh seafood platters for the whole table to share from the appetisers section and from the expansive grill section, a 1.4 kg on the bone Australian grain fed beef rib (Cote de Boeuf) large enough for 2-3 to share.
The mains section contains numerous meat, seafood and vegetarian options to cover all tastes and dietary requirements and all offer fantastic value for money.
Foodies looking for an unrivalled gastronomic experience can choose from 6 or 12-course tasting menus which showcase the talents of Chef James Ephraim and Mozaic's culinary philosophy.
Mozaic Beach Club
Jalan Pantai Batu Belig, Seminyak
Phone: 0361 473 5796