Tirtha Uluwatu by Tirtha Bridal is set on the southern cliffs of Bali, with sweeping views of the Indian Ocean, and breathtakingly designed to host weddings with a sense of magic. Words cannot describe the feeling of Tirtha Uluwatu, but, step foot on the property and you will instantly know – Uluwatu is a place like no other for your wedding.
Adjacent to the wedding chapel, a spacious dining area for up to 250 guests at the 2-storey Dining Pavilion adjacent to the Chapel is another iconic addition to Tirtha Bridal's evolving portfolio of inspiring wedding venues. The two-storey Dining Pavilion is a striking structure with a design that embraces the surrounding tropical environment. Light and airy, it embodies understated elegance to essentially function as a blank canvas for any choice of decorative theme or floral concept.
The Ground Floor of the Dining Pavilion is a versatile space that spills out onto an alfresco veranda edged by a manicured lawn studded with exotic palms. A dramatic glass stage extends over the edge of a limestone cliff and looks down onto a secluded stretch of beach. It is a highly photogenic spot that can be styled for a magical first dance, cake cutting ceremony or cocktail reception under the stars.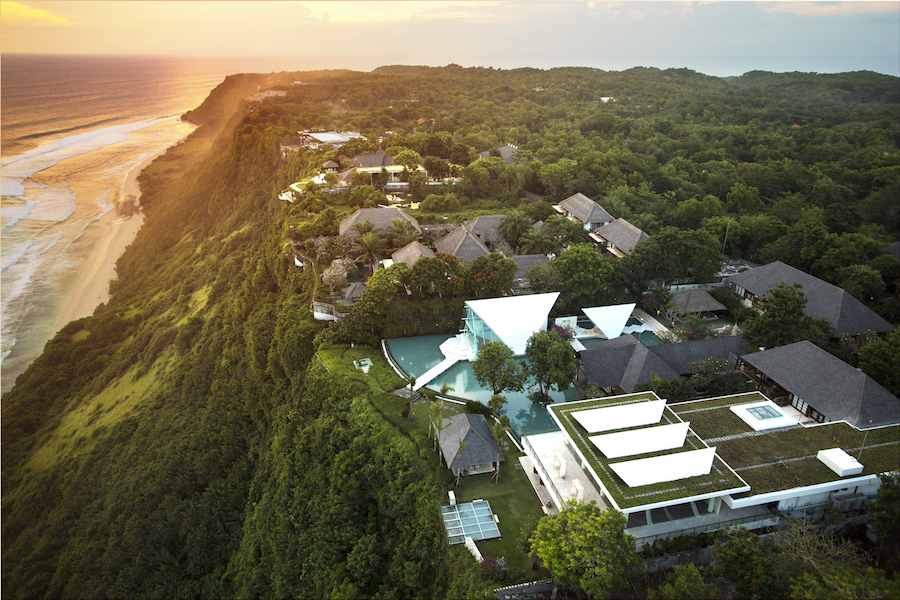 Indoors, there is sufficient room for a formal dinner supported by a smart open-kitchen with interactive display stations for appetisers and desserts. A BBQ grill also provides another delicious option where premium cuts of meat and seafood can be cooked to order. This kitchen is the domain of Chef Ryochi Kano who presides over a talented culinary team to create exquisite cuisine served with graceful precision at Tirtha Uluwatu.
A glass-enclosed environment on the First Floor is a visionary interpretation of a well-appointed ballroom. Designed to accommodate 190 people, it takes on the look of a contemporary lounge with a high ceiling and wrap-around balcony providing mesmerising ocean views. Customised wood panels act as sliding partitions to form three separate function rooms for more private gatherings. Each distinctive area has its own audio-visual system and can be fur-nished accordingly with smaller groups of 40 or less guests in mind. This venue goes beyond Bali weddings, it is simply an amazing event destination as well.-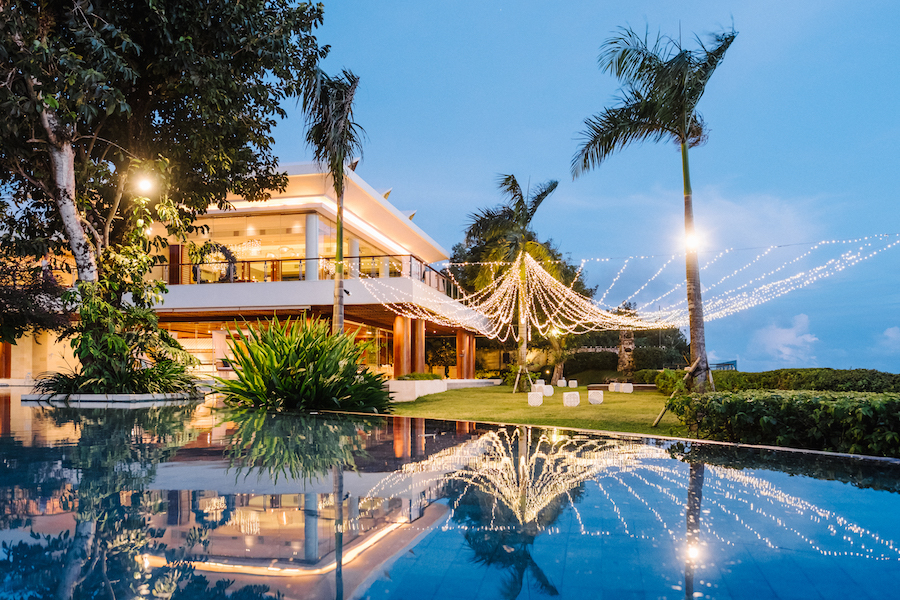 The Dining Pavilion complements the adjacent Tirtha Uluwatu Chapel, which is encompassed by a collection of glistening waterways. It is a convenient layout that enables bridal couples to plan a cohesive celebration that transitions seamlessly from ceremony through to reception. There is even enough space for an upbeat after party complete with live entertainment, dancing and a dazzling finale of fireworks to light up the night sky. It represents a certain kind of island sophis-tication that can only enhance a bespoke wedding programme.
Other than Tirtha Uluwatu, Tirtha Bridal also offers another destination known as The Glass House.
Tirtha Uluwatu by Tirtha Bridal
Address : Jl. Uluwatu, Br. Dinas Karang Boma, Desa Pecatu (click to see a map)
Telephone : +62 361 847 1151
Website : www.tirthabridal.com