Imagine a 4-day, all expenses paid, food-focused holiday to the island of the gods. Well, for two lucky food photographers, this became a reality having won the Ultimate Foodies Getaway in 2017.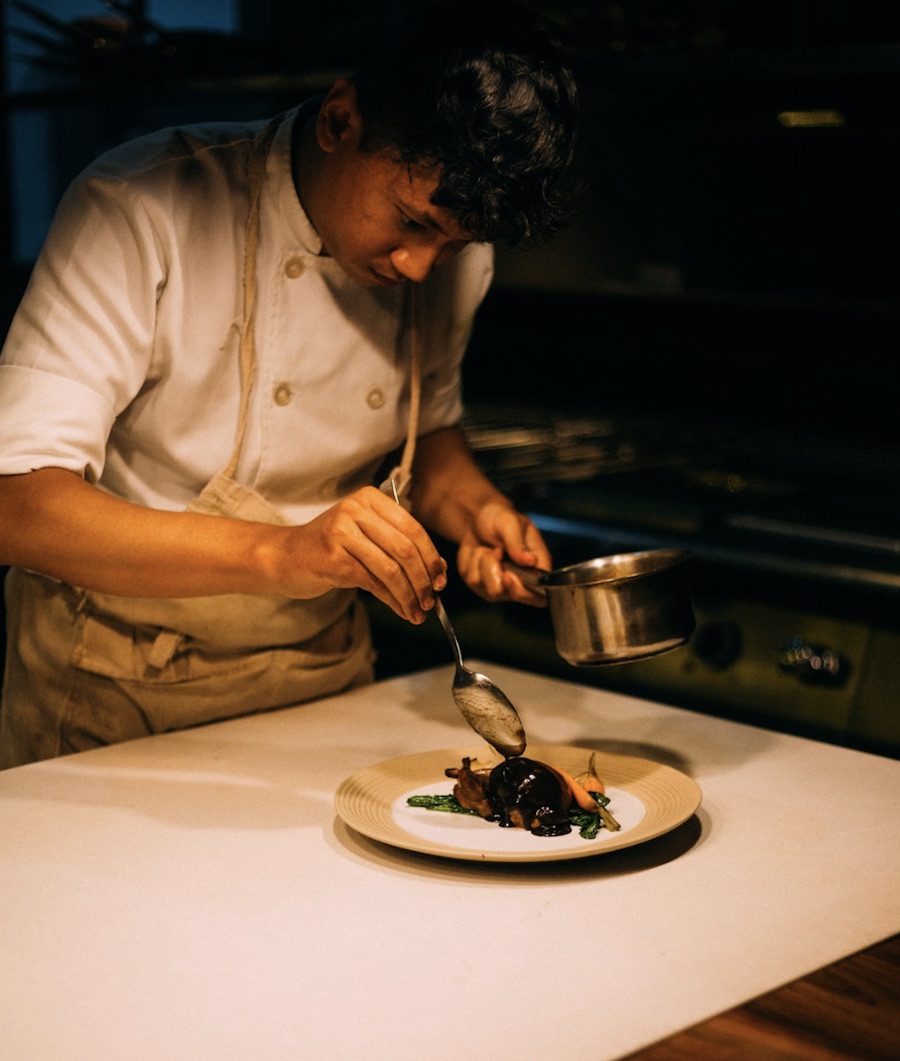 Without a doubt, Indonesia's food industry has exploded in both quantity and quality in recent years. The flavours of innovation and creativity, which for too long have been marinating out of sight, are now regularly tasted throughout a dynamic restaurant scene – interest in which grows in parallel with its improving offerings. 
Expectation leads us to assume that young, buzzing, perpetually moving cities like Jakarta, Bandung or Surabaya are the centres of culinary inspiration. However people's tastebuds will argue that the island of Bali now leads (together with Jakarta) when it comes to range, originality and quality of eateries to savour.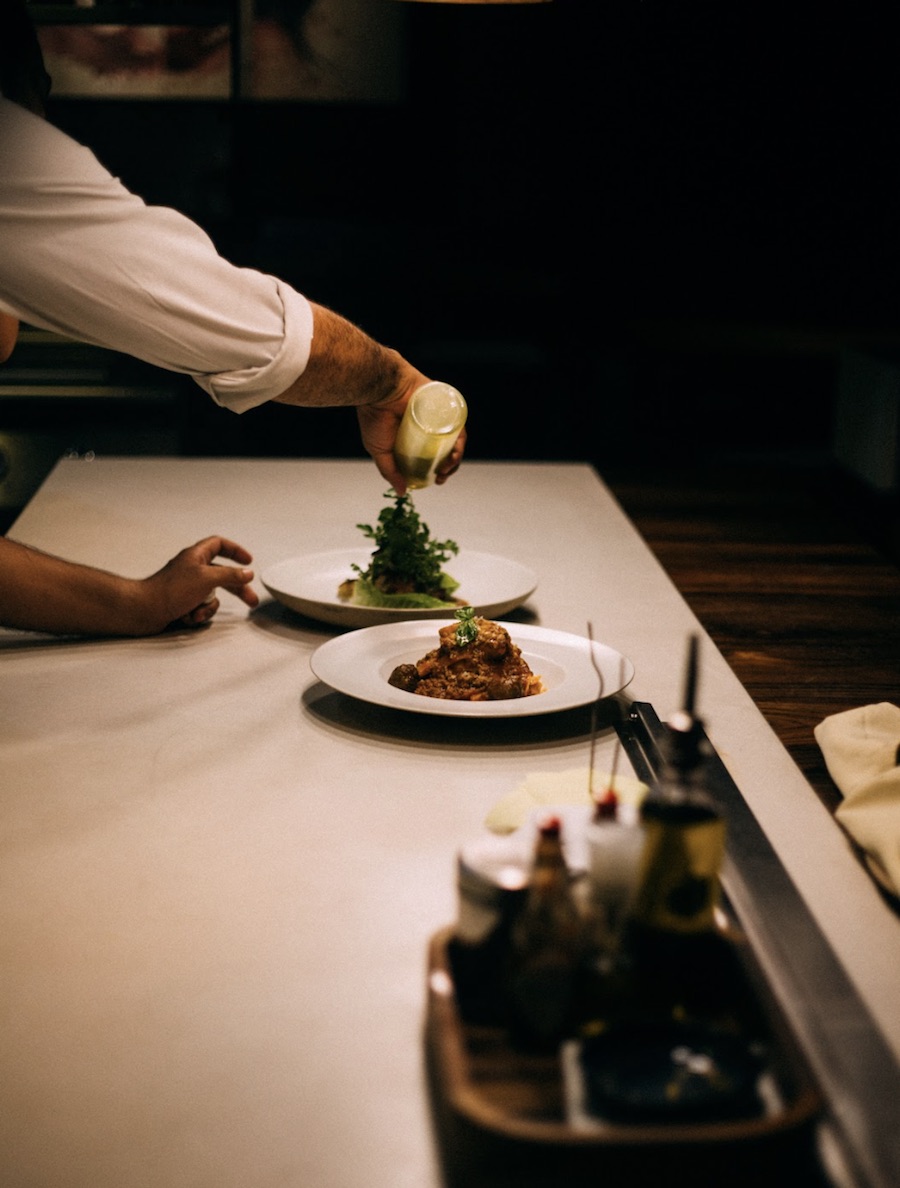 Bali has truly become a dining destination in it's own right. Yes, the culture, temples, beaches and rice fields continue to lure impassioned travellers, but for frequent visitors the food and beverage scene is the cause for as much or even more excitement. This is exactly why Simon Ward, founder of the mystery dining tour Bali Food Safari, started The Ultimate Foodies Getaway (UFG) back in 2016. Simon saw a need to promote the quality cuisine that Bali now offers on a regular basis to those visiting the island.
The UFG, supported by MasterCard and Wonderful Indonesia, is a specially prepared trip to Bali that can only be experienced by winning an online, food photography competition. Two winners are chosen; one based on public votes and the other based on the votes from a panel of judges. The prize? A 4-day, all expenses paid, food-focused trip to Bali, with a friend, worth Rp.80,000,000.
On the 19th of February 2018, Vera Tjuatja and Matin Barizza, winners of the 2017 competition, started their 4-day UFG adventure.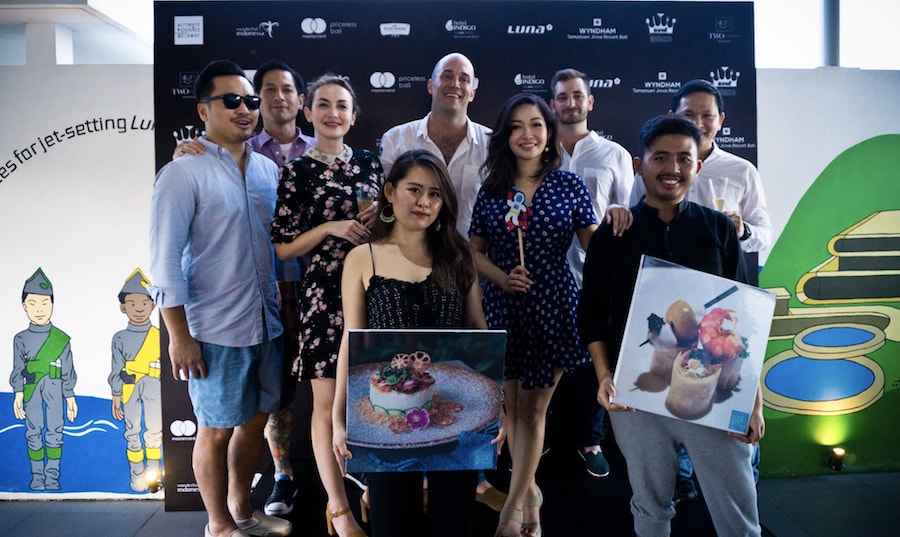 Day 1 – The Welcome at Luna2
Upon arriving in Bali, their first stop was Luna2, a fashionable, space-age styled hotel on Seminyak Beach. Here, over sunset drinks on the Space Rooftop Bar, the Ultimate Foodies Getaway officially begun as the winners' companions for the next 4 days arrived. Joined by Celebrity Chef Marinka, Chef Juna Rorimpandey, actress Rianti Cartwright and Indonesian singer Cas Alfonso, as well as Bali's Chef Mandif Warokka, the entourage was set. The evening continued with a Bali Food Safari tour around Seminyak, experiencing highlights of the area's tastiest spots. 
The second day of UFG brought with it yet another unique experience; it was on to the snoozy town of Sanur where Bali's very own winery calls home. Hatten Wines has been producing wine in Bali since 1994 and today stands as a true institution. James Kalleske, Hatten's prized Australian wine maker from Barossa Valley brought the UFG ensemble on a special tour around their facility, showing how their wines (using grapes grown in Bali!) are fermented, barrelled, aged, bottled and stored. This included a sneaky taste of their award-winning fortified wine, Pino de Bali, straight from the barrel – a real treat. 
After the tour, it was back to school. The 'class' was handed over to Ibu Ni Nyoman Kertawidyawati, Hatten's Sommelier, who ran a unique wine tasting experience in the Hatten Wines Private Dining Room with Two Islands Reserve wines (Australian grapes vinified in Bali). Here, the basics of wine tasting and food pairing were taught to the intrigued, but decreasingly focused, UFG students.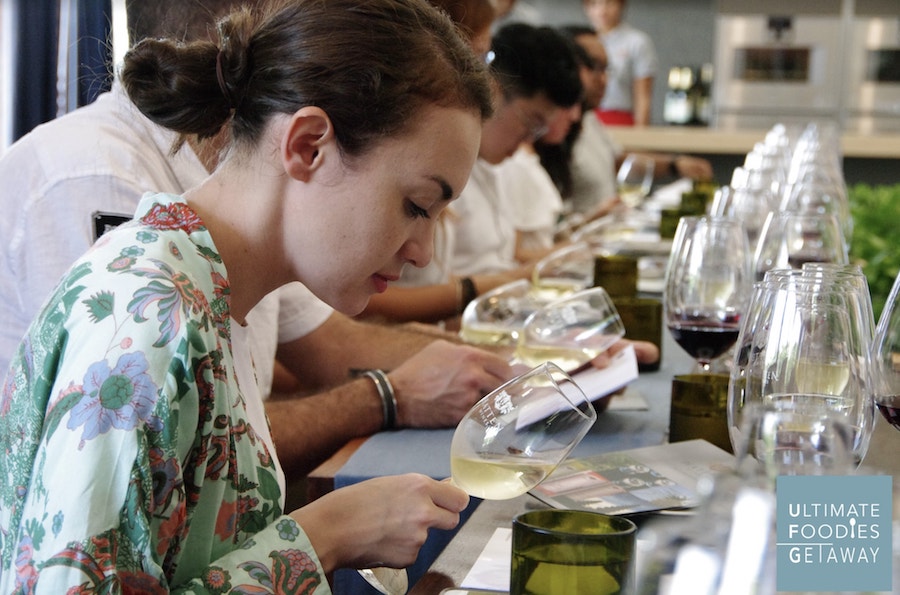 From Sanur, the entourage travelled further afield to the black sands of Klungkung, East Bali, where the peaceful, beachside Wyndham Jivva Resort awaited. After a wine-filled afternoon, a leisurely sunset dinner brought day 2 to a perfect end. 
Early the next morning, winners, guests and chefs gathered under the bamboo roof of Jivva Beach Club to get their hands a little dirty. First it was a rummage through the Wyndham Jivva gardens under the warm sun pulling out fresh spices and herbs; the next experience was a 'sambal cooking class'. With fresh shallots, garlics, chillis and more all collected, Jivva's executive chef led the class in preparing a favourite Balinese relish, 'sambal matah'. Making sambal, another foodie goal off the checklist!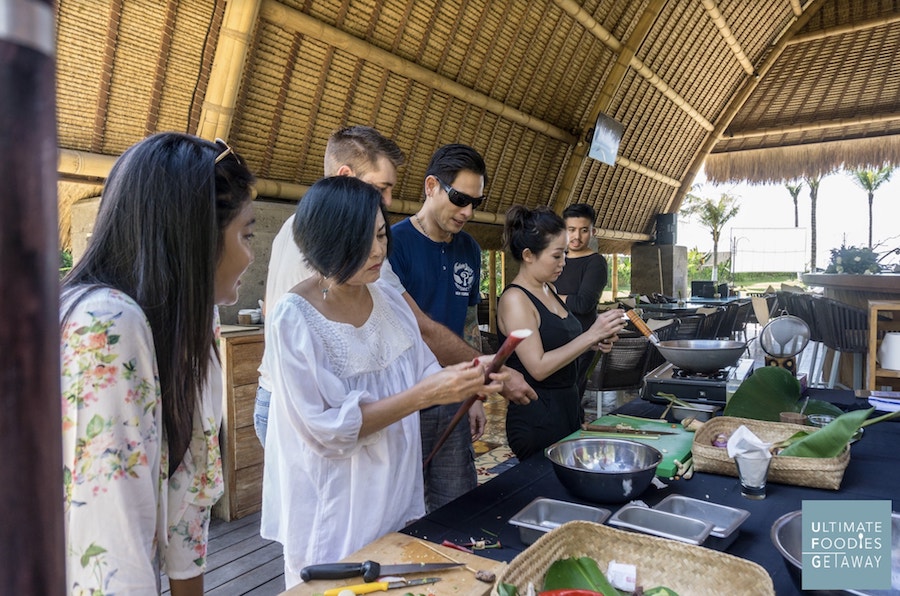 Finally, it was off to destination number 3. Back to where it all began, the last stay was the boutique, design-oriented Hotel Indigo Bali Seminyak Beach. The hotel, with its seven distinctive dining experiences, has a strong focus on food and was therefore a great destination for the Ultimate Foodies Getaway's grande finale: The Kitchen Cook Off. 
Without a doubt the most anticipated event of the UFG, the Kitchen Cook Off sees chefs and amateurs team up and battle it out in the kitchen. This year, in Indigo's Makasé Restaurant, Chef Juna and Executive Chef Wolff Mads took up knives against Chef Marinka and Chef Nicolas Lazzaroni, with only a small team of the winners and guests as their kitchen hands. The goal was to create a 3-course meal in one and a half hours using ingredients available, making sure to include the 3 secret ingredients: Pino de Bali (Hatten Wines), Danish Blue Cheese and Turmeric.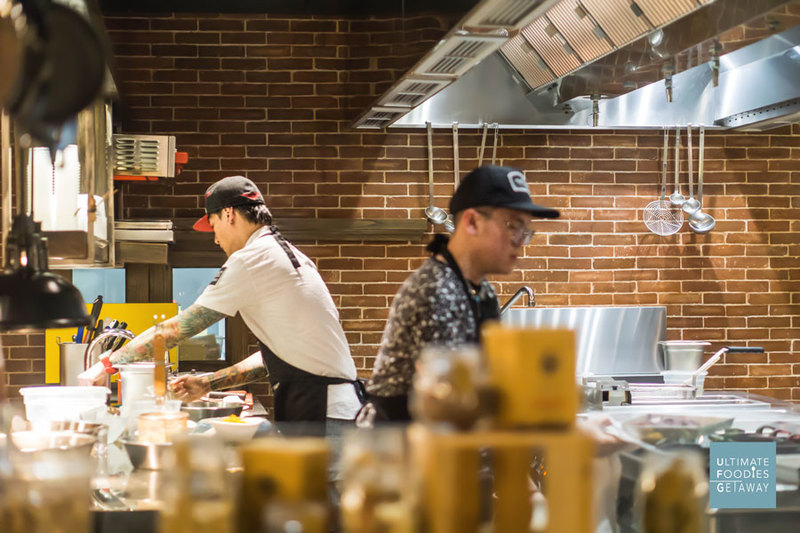 With chefs at the helm, and egos on the line, the kitchen ambience bubbled with tension and focus. Pressure was on for winners Vera and Matin to keep up with their skilled leaders, but of course it was important to savour the moment: they were cooking a meal with two MasterChef Indonesia judges! 
After time was up, each team presented their 3 unique dishes to guests. Creativity was not amiss despite the short time frame, with candy floss desserts, rolled ice cream, twists of Balinese betutu and more making its way onto the menu. The chefs, by all means, proved their skills.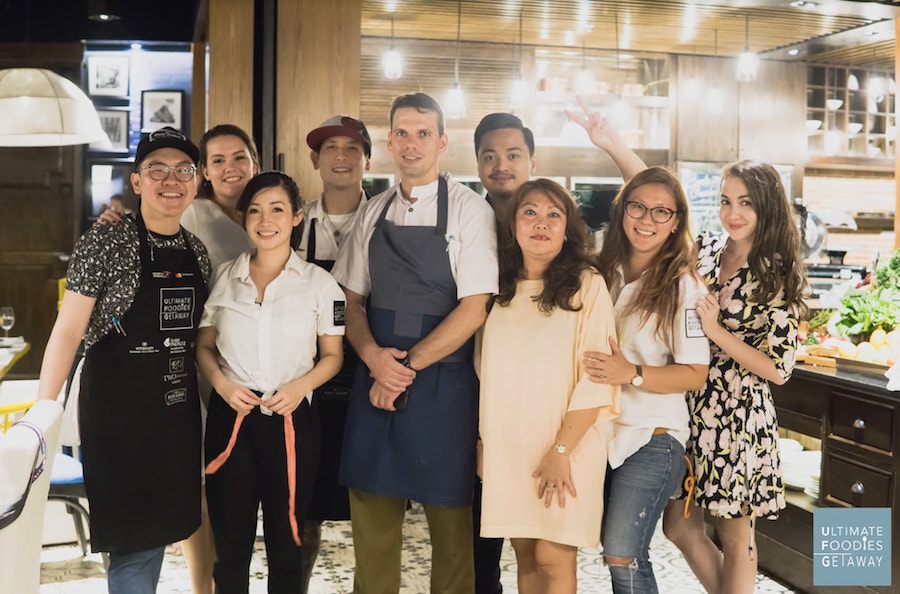 This was the final night of The Ultimate Foodies Getaway and of course the only way to finish a food-focused trip was to enjoy a family-style meal together. Digging into culinary creations of the kitchen cook off, as well as more dishes prepared by Makasé Restaurant, the now bonded UFG ensemble reflected on the memorable 3 days that had passed: enjoying a food tour, wine class, cooking class and kitchen competition, staying in some of Bali's most luxurious hotels and resorts. 
"Its truly amazing to have all these talented chefs and industry professionals come together and collaborate to create this one-of-a-kind experience. At the end of the day, our goal is promote the food scene in Bali and I hope our winners this year got at least a small taste of what the island has to offer", said Simon Ward on his final night of The Ultimate Foodies Getaway. 
The Ultimate Foodies Getaway, supported by MasterCard and Wonderful Indonesia, is an annual competition. For more information on 2018's campaign, go to:
www.ultimatefoodiesgetaway.com