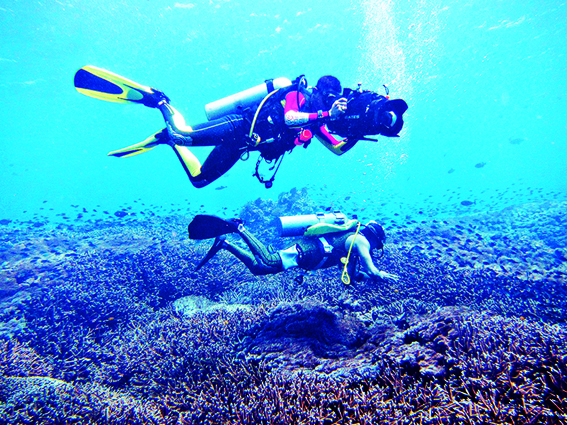 I never get bored of diving and (luckily for me) Bali offers up lots of opportunities to hone my underwater skills with its dozens of unique dive sites.
There are sites suitable for beginners and other more challenging ones to choose from, some offer a gently sloping sea bed while in others you will find a coral wall dropping down into the depths. Bali's underwater scenes are diverse and teeming with life; view colourful corals, sandy ocean floors where many critters lie waiting, and bigger spectacles like manta rays and mola mola.
From the south east to the west coast, Bali is truly blessed with mesmerising underwater beauty. The waters surrounding Bali's sister islands of Nusa Penida, Nusa Ceningan and Nusa Lembongan are alive with life, and divers can view a host of marine species including mola mola (oceanic sunfish), sea turtles, sharks, manta rays and many cetaceans.
The richness of marine life has attracted divers and snorkelers from all over the globe for many years. During the middle of the year, one can expect water as cold as 18°C and the currents in and around the three islands can vary quite dramatically.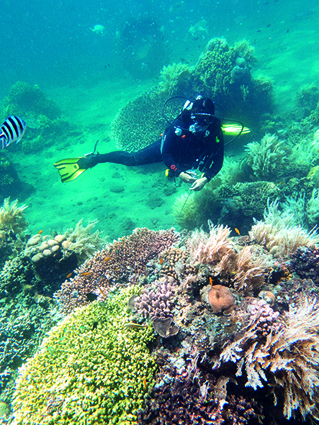 In the Karangasem Regency, there are two areas which are famous for their stunning seascape panoramas. Amed is a small fishing village that is transforming into a tourist hot spot with its pleasant beach and clusters of hotels and restaurants perched on top of the cliffs. Amed itself has several dive sites.
Amed Ghost Bay, located just in front of Uyah Café, is home to unique creatures such as frogfish, ghost pipe fish, nudi and stone fish. Meanwhile at the neighbouring village, Jemeluk, the bay is a marine managed area where one can dive to observe the fish and coral reefs (you can even send a waterproof postcard through the underwater post box!)
While in Jemeluk, don't miss the underwater gallery where you can see some unique statues made by prominent Indonesian carvers. All these attractions are easily accessible, located only a few steps and a few kicks from the shore.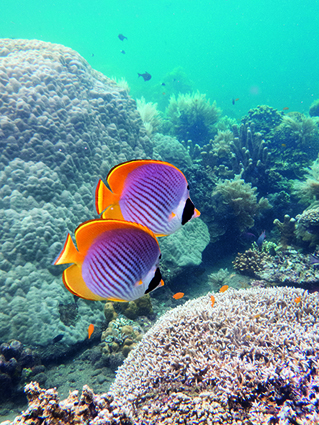 Another popular dive site in Karangasem is the USAT Liberty Shipwreck in Tulamben. The USAT Liberty was torpedoed by the Japanese in 1945 and taken ashore in Tulamben, and then in 1963 the eruption of Mount Agung pushed the ship back down to the bottom of the sea.
Today, it is covered by a striking array of coral reefs and is home to an abundant variety of fish, including sweet lips, surgeonfish and moray eels. But there is much more to Tulamben than the shipwreck, the coral garden is also fantastic. Enjoy a shallow dive to take in a beautiful sea bed, blanketed by coral. Expect to encounter ribbon eels, mantis shrimps, and black tip sharks.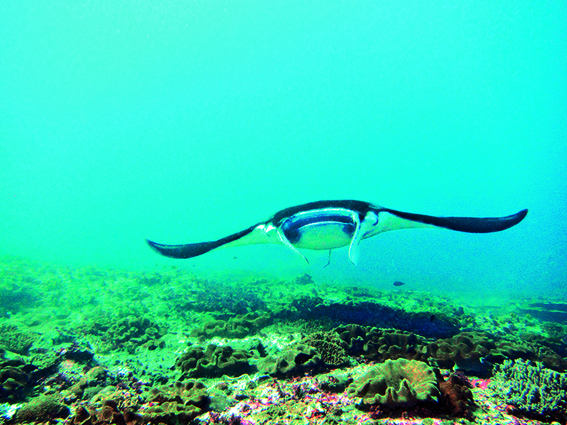 On the northwest of the island, located inside the Bali Barat National Park area, is Menjangan Island. Menjangan's water is pristine and tempting. Post 2 is a wall diving site, where dive enthusiasts can admire a wall covered by various types of coral, as well as Gorgonian Sea Fans hanging beautifully from the wall.
Here, one may encounter frog fish, sea turtles, black pipe fish, sharks and more. You can also challenge yourself with a deep dive or a drift dive (although currents are relatively mild). If you are lucky you might spot a whale shark as the area is part of their migration route.