Water parks have long been a regular part of family holidays, school breaks, and even honeymoons as an action-packed alternative to cooling off in the tropical heat. At Waterbom Bali, alongside the jovial mascots and the popular lazy river, you'll find what's said to be Asia's steepest waterslide and the world's longest waterslide.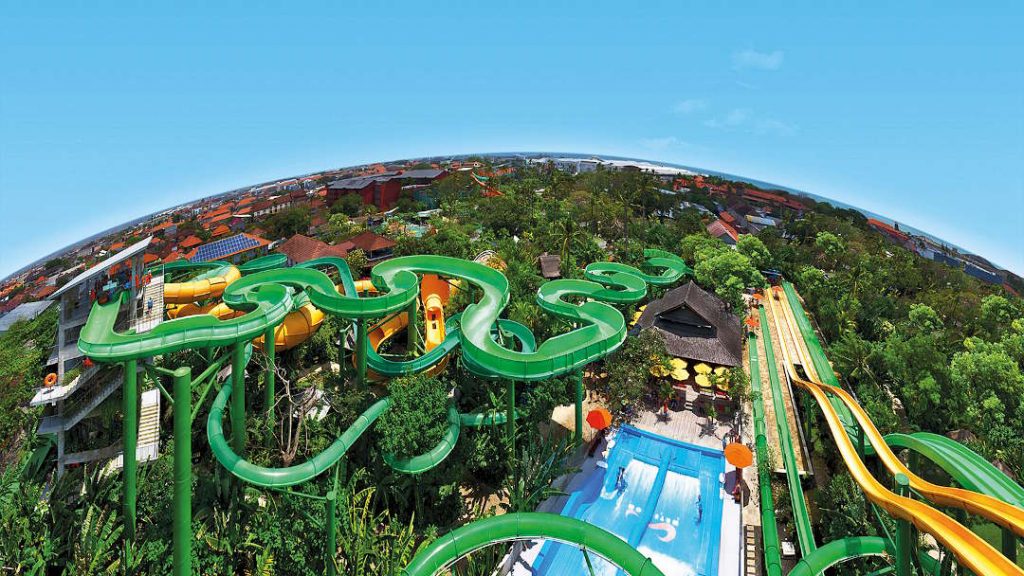 Those first steps entering a water park are always a rush to the senses; getting your feet wet, catching faint screams (of joy, of course) in the distance, containing one's excitement and resisting the urge to sprint up to that first slide. The 3.8 hectare park is your wonderland for the whole day – where to start, what to do first?
Waterbom Bali, strategically tucked between Kuta's many shopping centres, tourist hubs, and the world-famous surf spot, was rewarded for two consecutive years in 2017 and 2018 by TripAdvisor and World Travel Awards as Asia's Best Water Park. Accolades aside, this water park's popularity is for good reason, with adrenaline-pumping experiences, family activities, leisure offerings, great food and drinks, it's truly one of Bali's must-do's.
Surely the essential fares can be ticked off at Waterbom Bali: an expansive shallow pool for young children to call their playground, the Flow Rider (a ride that mimics an ocean wave to practise surfing), a lazy river to slow the day down, a tasty variety of restaurant options, and thrilling slides to bring it all together.
The latest trend in water slides, in case you're unaware, is locking yourself in a capsule as you await for a trap-door below you to suddenly open, launching you into an instant vertical plunge and simulating a sudden 'free fall' sensation. There are three different slides that utilise this stimulating start. One is the 'Smash Down 2.0', which has been revived to be faster and extra spine-chilling – a 26m near vertical drop! The Climax is said to be on of Asia's steepest slides and Waterbom's most daring challenges, reserved for the bravest visitors. The Double Twist, is the tamest out of the three and is a perfect introduction to this thrilling drop. All slides in Waterbom are given a rating out of 5 for Drench, Thrill, and Speed – these three slides are given a maxed out rating of 5 for all categories, so you know you're in for a wild ride.
It's best to start with slower slides and work your way up once you have built comfort and confidence. The march up the 'towers of terror' builds the anticipation before a big ride – you may even bag in a few cheers and hopeful stares from riders in neighbouring queues who haven't quite mustered the same level of courage. Once you reach the top, other than celebrating how much calories you've burned (look out for a sign that tells you the exact numbers), you're rewarded by glittering coastline views and Kuta's skyline to calm your nerves before the ride of your life. Keep an eye out for minimum height requirements if children are looking to try the more extreme rides.
The water park has a total of 22 slides, ranging from tubes, open tubes, body mat, moderate, extreme, to kiddy slides. If you're not planning to plummet from high altitudes, you can at least tease the adventurer in you on the Constrictor (the longest waterslide), Python (4 people in a life-raft style tube), and Superbowl (a 'human roulette), all rated as Moderate.
The Waterbom Bali team are careful and meticulous; proven by the attractions built and maintained to strict international safety standards and the sustainability efforts exhibited by Waterbom's Water Conservation Project. Over the past 18 months, Waterbom has worked closely with Mantra Environmental Consulting to ensure that ongoing improvements are quantifiable, including the financial benefits of improved efficiency and waste reduction. Waterbom still maintains more than 50% of the park as green space, making it easy for visitors to catch a breeze amidst even Bali's hottest days.
When you're in need of a little break from the constant adrenaline rush, take time to explore the park's extensive culinary offerings. You'll find street-style vendors selling refreshments, and eateries offering local, Italian and Jamaican fares. The Shack and Sugar Shack has been hosting Waterbom Bali's celebrated Sol Sessions, boasting South American food, cocktails, and tunes. Other activities in the park include table tennis, volleyball, trampolining, braiding services, and massages, making it easy to spend an entire day at this family-favourite destination.
Waterbom Bali
Jalan Kartika Plaza, Tuban, Kuta
+62 361 755 676
www.waterbom-bali.com