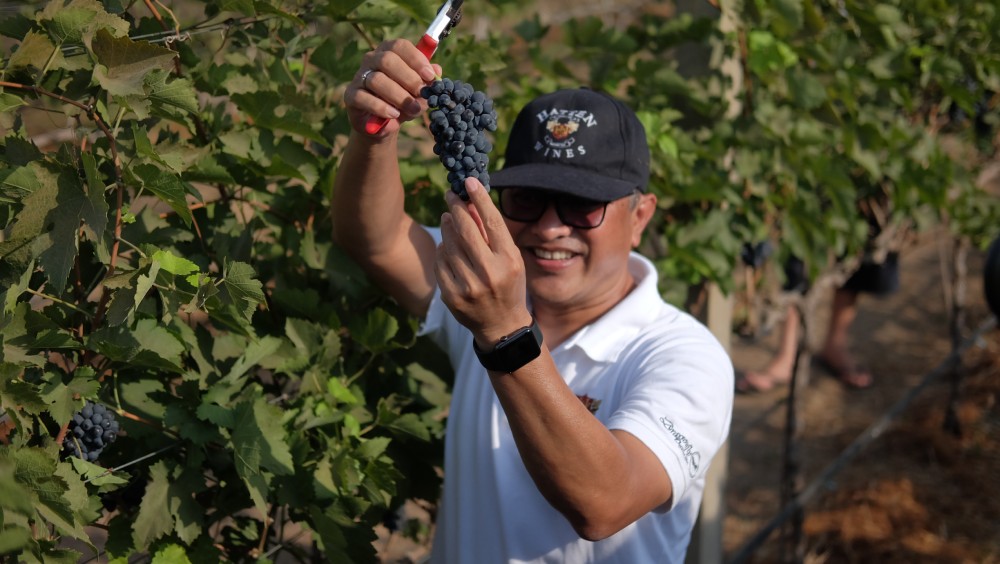 When people think of Bali, what comes to mind is probably coconuts and tropical fruits, and probably not grapes. However, the soils of this fertile island accommodate a versatile range of produce and have brought to life a highly successful wine industry, adding a new latitude to the world's wine offerings.
Bali is now home to a handful of local wineries, and in fact, their offerings have not only been widely accepted by diners and imbibers, but their impressive vinification has won international awards and created historic moments in wine growing.
Hatten Wines: Planting Seeds
Founded in 1994 by Ida Bagus Rai Budarsa, Hatten Wines is Bali's first wine company and produces wines from locally grown grapes.
Following in his father's footsteps, who produced arak and brem for the tourist market, Gus Rai wanted to offer visitors a taste of Bali, a wine that reflected the island's tropical terroir. Not only that but with wine imports expensive, a locally-produced wine would offer a more affordable option for the hospitality industry.
Thus the journey began. In north Bali, deep alluvial volcanic soils, ocean breezes and a hot humid climate support the growth of local grape varieties including Alphonse Lavallée, Muscat St. Vallier, Colombard, Muscat Bleu, Malvasia Nero, and Probolinggo Biru. Vinifying the indigenous Alphonse Lavallée grape, the Hatten Rosé was born, marking the beginning of an industry.
Now, Hatten Wines produces 11 wine varieties, from sparkling wines to fortified wines, made using the ten varieties of locally-grown grapes, vinified, matured and bottled at their state-of-the-art winery in Sanur. However, perhaps most impressive, and indeed a historic agricultural moment, the company has managed to grow noble international grape varieties in the north Bali vineyards, thanks to their extensive viticultural research and development programme, started by winemaker James Kalleske.
International Wines, Local Soils
In November 2018, Hatten Wines harvested the very first Bali-grown Syrah (or Shiraz) grapes, a process that took the R&D four years to achieve.
It began in 2014 when Gus Rai carried fifty Syrah cuttings from the Barossa Valley in South Australia to Bali. The Shiraz clone that Pak Gus Rai and winemaker James Kalleske decided to bring to Bali was SA1654, which produces wines with intense crimson colour, chocolate, spice and black pepper flavours and fine-grained tannin structure.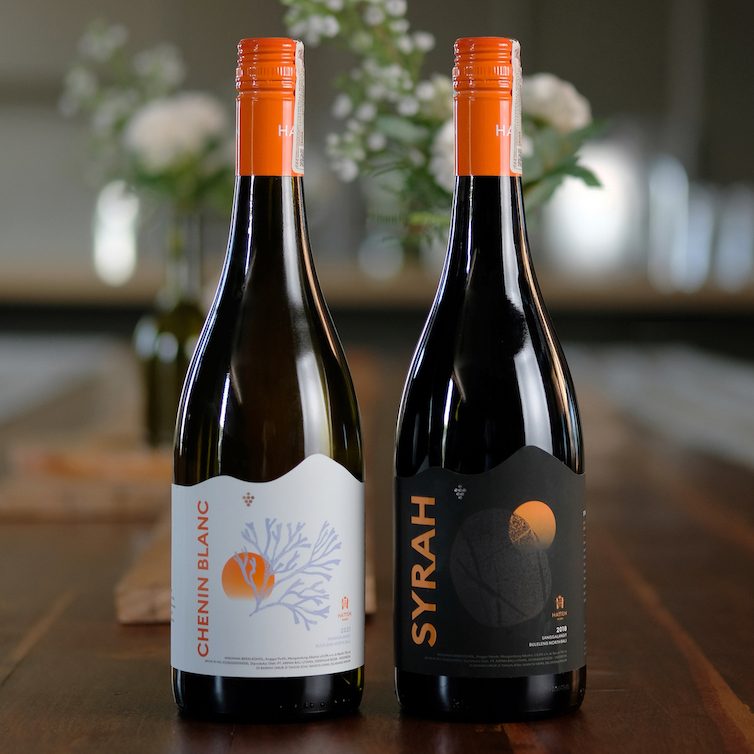 To make these cuttings successful took years of meticulous research, trial and error. Winemaker James Kalleske, vineyard manager Thomas Hadiwibowo and assistant winemaker Jeremy Pramana installed weather stations in the north Bali vineyards, measuring rainfall and temperature data, and analysis of vineyard souls and mountain springs. They experimented with viticulture practices: they planted the Shiraz cuttings on a VSP (vertical shoot positioning) trellis and pruned the vines three times per year whilst only harvesting once – something never attempted in Bali before, where grapes are harvested three times a year. The VSP trellis system allows more control of the growth and quality of the grapevines, but it also requires much more intense management and input.
Finally, after four years of development, Hatten Wines harvested their very first syrah grapes – the first bunch ceremoniously cut by Gus Rai himself.
The innovation didn't stop there, however, and using similar methods the winery successfully grew another international grape: Chenin Blanc. These were first harvested in October 2021.
These noble, international grape varieties bring a class of their own to Bali's wine industry; being locally grown, they represent the warm climate and unique equatorial qualities that give the resulting wines an unmistakable Bali touch. These grapes have been blended into the wide range of Hatten Wines varieties: the Chenin Blanc is found in their 'Sweet Alexandria' and 'Aga White', whilst the Syrah is found in the 'Aga Red' and 'Sweet Syrah'. However, the winery has this year (2023) released their pure Chenin Blanc and Syrah bottles so that customers can really savour the flavours of these Bali-grown international grapes.
However, with years of perfecting their vinifying techniques, their local grape ranges are equally as impressive. The 'Tunjung Brut Sparkling', made using the French 'Method Traditionellle' style is crisp, fresh and zesty with a creamy textural palate, great for celebrations. The award-winning 'Pino de Bali' is a sweet and luscious fortified wine aged in French oak for over five years; a delicious sweet wine with mature honey and nut characteristics.
Of course, as with any wine, it is best to try for oneself. Hatten Wines is sold in all good supermarkets and retailers across Bali, however, we highly recommend visiting 'The Cellardoor' in Sanur, where their staff can take you through their range. Visits to the Hatten Wine vineyards in North Bali are also available.
@hattenwines | hattenwines.com
---
Sababay Winery: New Latitude, New Attitude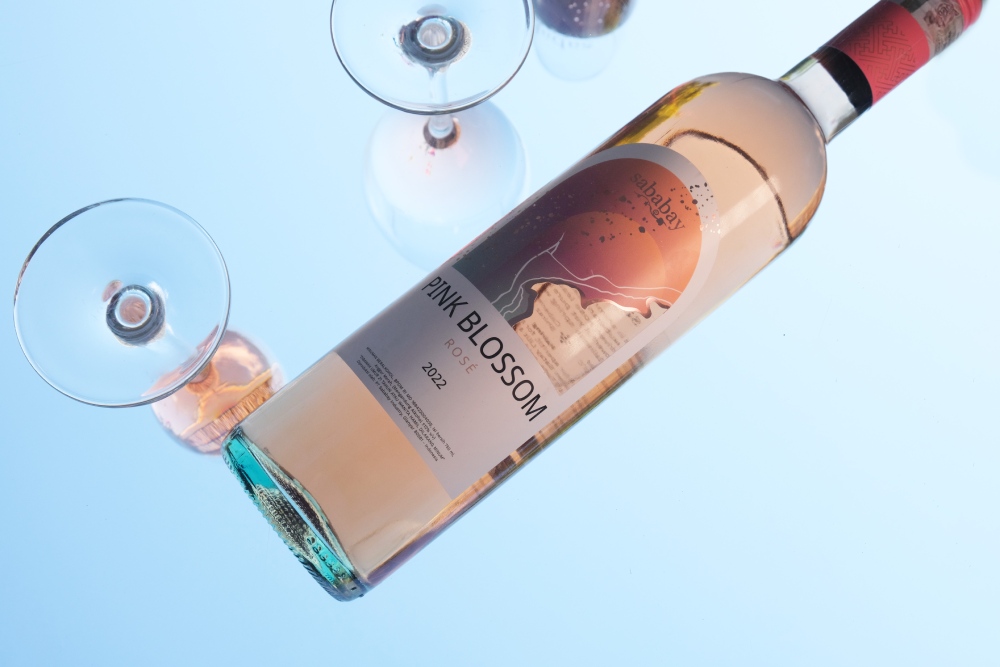 Another celebrated brand making wine in Bali is Sababay Winery. Founder Mdm Mulyati Gozali was inspired not necessarily by the romance of wine, but rather by the mission to support and empower Balinese farmers and develop the agricultural industry. Seeing the challenges of grape growers in north Bali, wine was seen as the best way to create better 'added value' for the produce and develop a sustainable market for the farmers.
Working with farmers in Gerogak, Seririt and Banjar, regions of Buleleng Regency in north Bali, Sababy uses the harvest of the local Alphonse-Lavallée and Muscat grape varieties, as well as international grapes such as Shiraz, Cabernet Sauvignon, Lambrusco and Chardonnay.
The wines are made in their impressive 2-hectare facility in Saba, an area of Gianyar after which the brand is named, i.e. the Bay of Saba. From state-of-the-art wine processing equipment from France, a fermentation tank and barrel made of non-corrosive steel with sophisticated climate control technology, and an automated bottling system from Italy, the production is certainly at the top of its game.
Sababay first launched in 2013 with three variants of wine (Black Velvet, Pink Blossom and White Velvet) and in the last decade have expanded their range to 15 variants of wine, winning 60 international awards. Their range includes white, red and rosé; Reserve versions of each, which have been aged and matured; sparkling wines; and their premium port-style wine known as 'Mascetti' and a sweet fortified wine known as 'Mistelle'. The brand also produces vodka and grappa, produced out of the Sababay Distillery.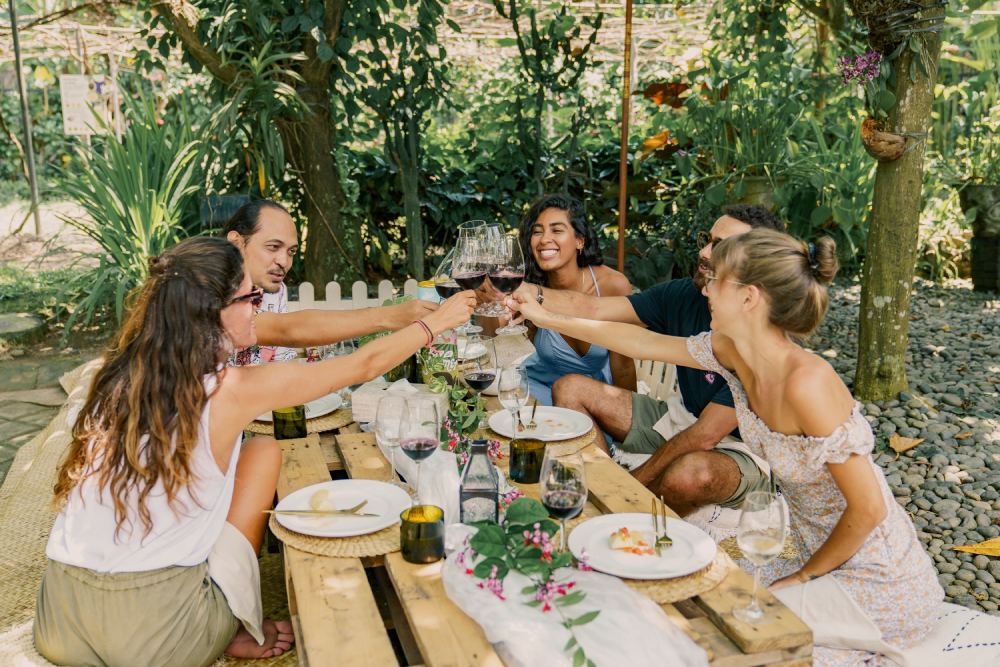 Offering memorable experiences, Sababay invites guests to their winery for guided tours and picturesque picnics in their garden. Their 'Tour and Taste' experience is a guided tour around their winery, designed to deepen understanding of the winemaking process and Sababay's own wine story, teaching guests the path from vine to bottle. This includes tastings of three Sababay wines. More popular yet is 'Wine Down in the Garden', which begins with a winery tour and ends with a tasting experience in the winery's lush garden setting. A gorgeous table will be set up where guests will enjoy tastings of four different wines and a cheese platter to pair. A wholesome picnic basket experience and also lunchtime 'tour and dine' experience are also available at the winery.