When on an island, it would be criminal not to savour the daily catch of the ocean! Bali's surrounding seas provide plenty of fresh, flavourful bounty that makes for the ultimate seafood experience. Everyone knows of the legendary seafood in Jimbaran, but there's so much more to discover! So, here we present some of our top picks for the best seafood in Bali, with 6 restaurants presenting their own flair, flavour and experience to guests.
---
IJEN (Seminyak)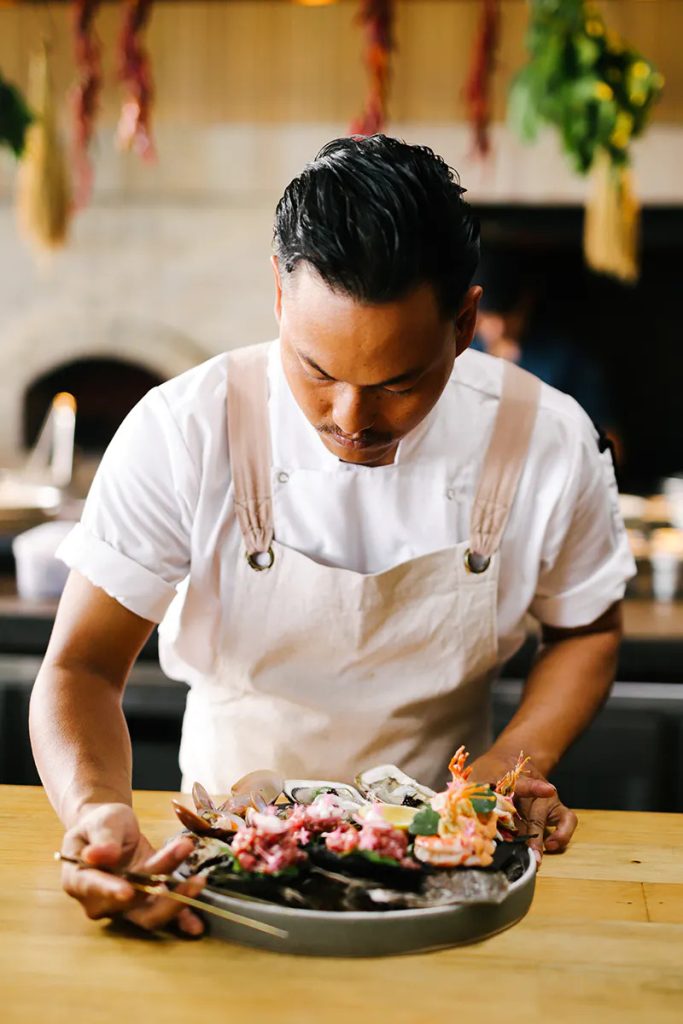 Located within Seminyak's forward-thinking creative village, Desa Potato Head, IJEN is an innovative seafood restaurant in Bali that presents unique concepts through flavour, furniture and food philosophy. Built on a very strict ethos surrounding 'zero-waste' principals, everything from dish to design is a lesson in sustainability.
Nestled in its own space within Potato Head Beach Club, IJEN's interior design sets it apart from the rest of this tropical haven. Firstly, it's built from recycled materials: the terrazzo-style dining room floor repurposes broken plates and chipped drinking glasses, and furniture features ethically sourced Mersawa wood and plastic from motorcycle oil caps. Of course, the food is what we're mostly interested in and Chef Daryl Wonorahardjo and his team have created a lean menu that delivers in flavour in spades. Split into Cold, Grilled, Sides and Desserts, the straightforward selection makes decision-making easy: a little something for every category.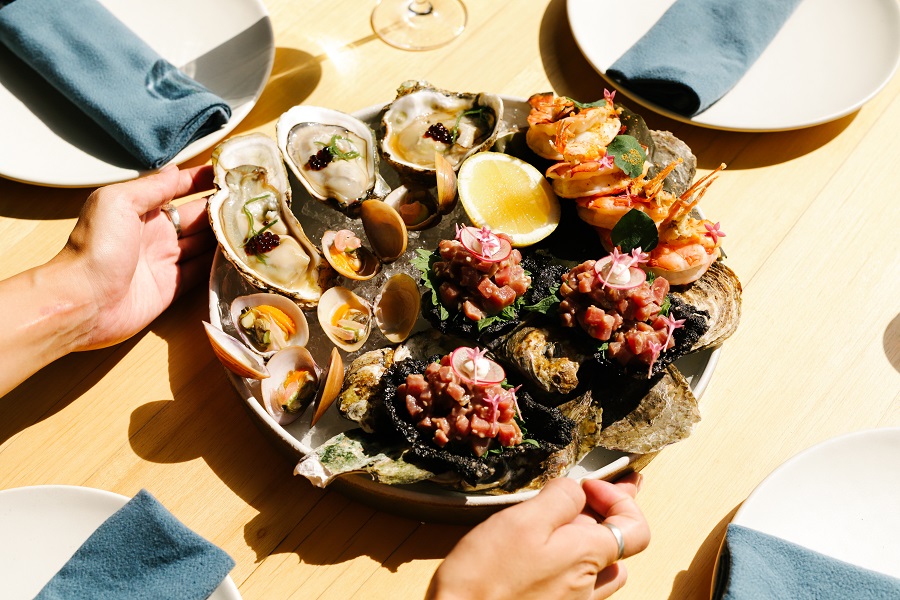 Must-tries are the 'Crudo', with fermented green chilli and smoked cream this light dish is all about umami with a kick; for that ocean upon your palate experience, the cool 'Oysters' served with a tangy ginger vinegar and tamarind. The 'King Prawns' with black garlic, shallot and coconut oil are meaty delights; and the 'Whole Market Fish', grilled to soft-flesh perfection, with a lot left for the protein's own flavour to shine, served with a choice of homemade sauces. The Sides are a showcase of locally-grown ingredients and the freshness comes through, especially in 'Tomato', served with coriander vinaigrette, kaffir lime and bread cracker; and the 'Creamed Corn', embellished with salted yolk, fried anchovy and coconut. They sound simple, but the flavours are complex in the sauces and preparation – all created with a 'nothing left-over' mindset that minimises waste and maximises taste.
+62 361 473 7979 | @potatoheadbali | seminyak.potatohead.co
---
KISIK Lounge & Seafood Restaurant (Jimbaran)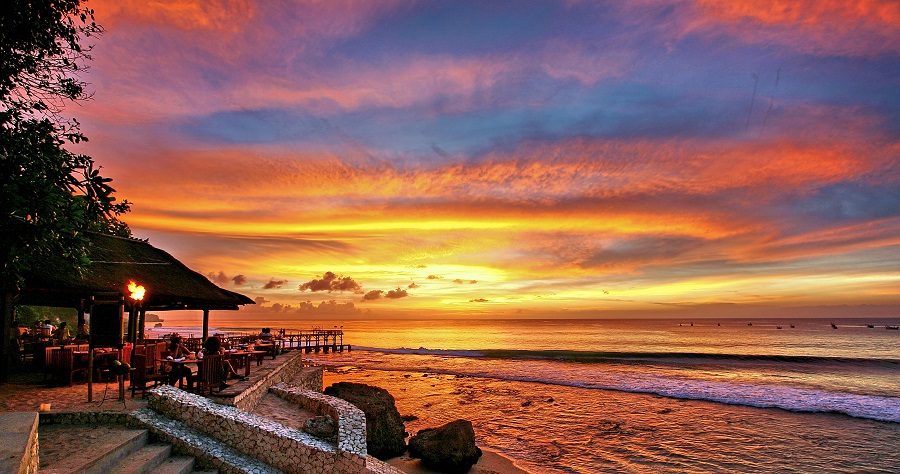 Tucked within the expansive 90-hectare AYANA Estate in Jimbaran, KISIK Lounge & Seafood Restaurant presents one of the most picturesque oceanfront Jimbaran-style seafood restaurants in Bali. Guests have the option to personally curate their seafood experience, choosing the freshest catches from the carefully curated market-style display.
The culinary offerings at KISIK feature a range of locally sourced and thoughtfully imported seafood produce, boasting a variety of fresh lobsters, prawns, calamari and the daily catch. The succulent grilled offerings at KISIK include seafood delights such as "live" rock lobster, king prawn, mud crab, rainbow lobster, and jumbo prawn, along with tuna steak, seasonal fish, squid, swordfish steak, giant skewer, and oyster. The menu also features a variety of satays including beef, chicken and fish mince (lilit), as well as mouthwatering beef tenderloin AUS, wagyu beef sirloin AUS, and chicken breast and leg. All of the food is served with KISIK gado-gado, Jimbaran bouillabaisse, steamed rice and Balinese vegetables.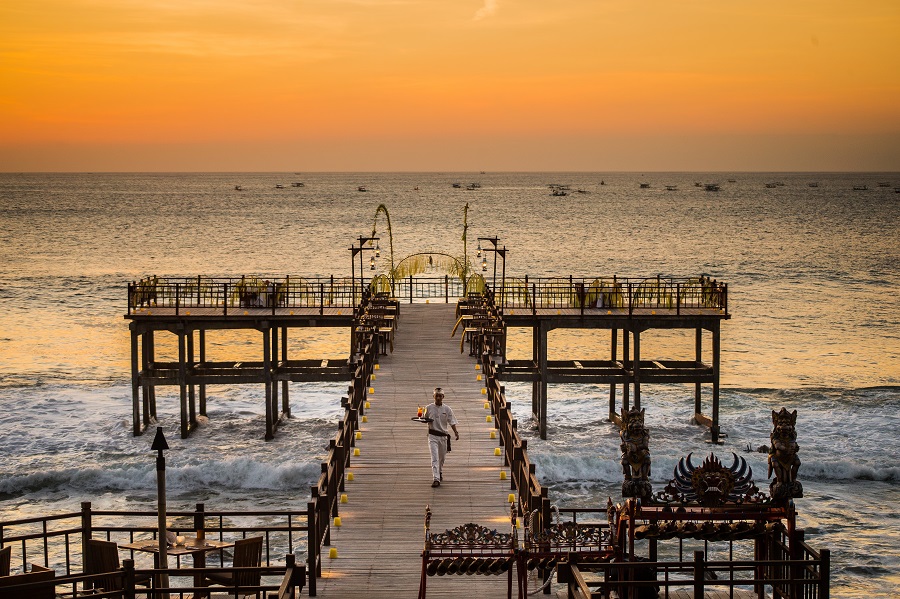 An elevated dining experience at KISIK invites guests to "Dine on the Pier", where one can take a seat on the dramatic jetty that juts out to sea, dining above the waves as they roll into shore. Moreover, for a more intimate ambience, the "Pesta Lobster" concept provides the ideal romantic dinner under the stars, serving up an unparalleled epicurean journey.
KISIK also introduced a brand-new extension just last year with KISIK Lounge, a fresh addition to its collection of drinking destinations. Set within KISIK Bar and Lounge, this semi-casual lounge welcomes guests to a new hotspot to witness Bali's iconic golden sunsets with innovative cocktails that seamlessly marry a selection of local and premium spirits alongside Balinese-style light bites.
KISIK Lounge & Seafood Restaurant is open daily from 5.30pm to 11pm.
+62 811 3820 2288 | @ayanaresort | ayana.com/bali/dining/
---
Starfish Bloo (Seminyak)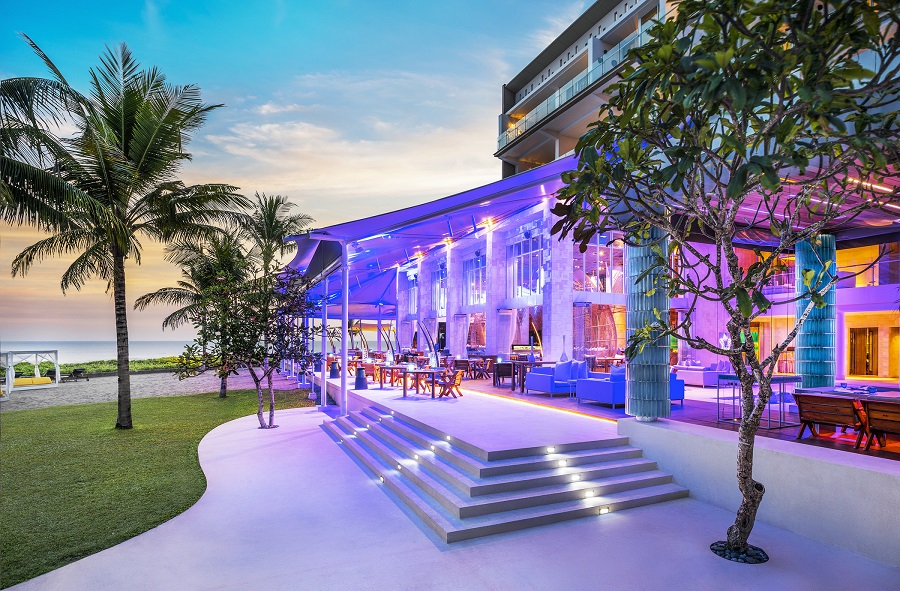 The oceanfront Starfish Bloo restaurant at W Bali is one of the best seafood restaurants in Seminyak – it presents a menu with a uniquely local flair, where all the seafood offerings are sourced freshly from the Indian Ocean daily, along with freshly handpicked vegetables taken from the resort's very own garden, and rice varieties that are harvested from surrounding paddy fields. Encouraging a collective dining experience, dishes are designed to be enjoyed sharing-style, meaning diners can have a little taste of everything.
Indulge in crowd-pleasing favourites including the Bites selection such as the Softshell Crab with sweet corn sauce, parmesan chips, grilled corn and chilli oil; Oysters Graten with local spinach and sambal hijau; Prawn Gyoza with celery, cabbage, soya sauce and chilli padi; and Bluefin Tuna Belly with toro, avocado, strawberry, smoked yoghurt, orange and sesame dressing.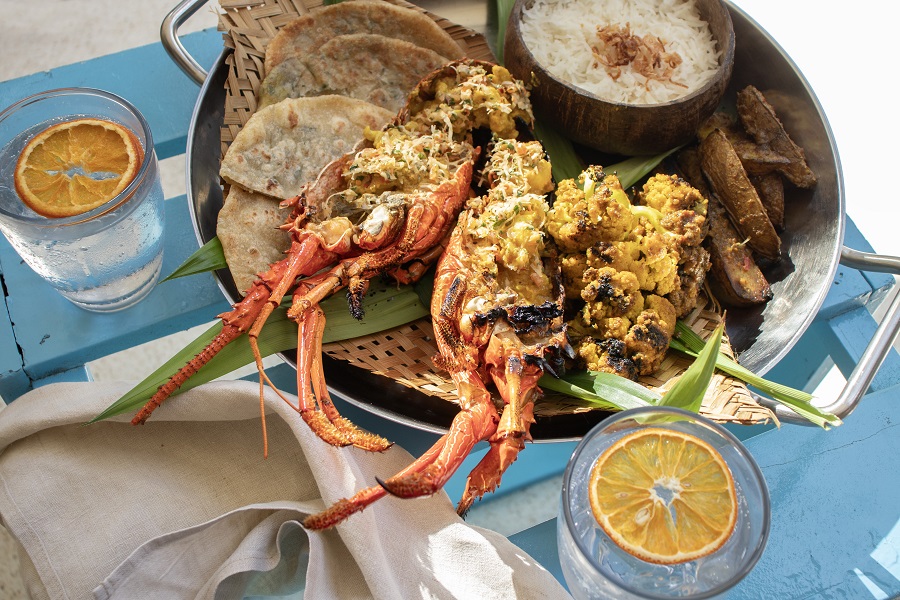 From the Starters menu, savour the Clams Garang Asam with cherry tomato, bilimbi and basil oil; and Seared Hokkaido Scallops with carrot purée with cumin, roasted baby carrot and pickled carrot. The Soups feature Cerancam Balinese Broth with white fish, cucumber, tomato and cayote; and Prawn & Fish Soup with cherry tomato, prawn, white fish, local basil and mushroom.
On the Rice Field & Ocean menu, diners can enjoy an assortment of fresh Nigiri, Sashimi and Maki Rolls, while the Mains offer the likes of Dry Aged Fish of the Day with cherry tomato, basil, salsa verde and chilli jam; Grilled Full Live Lobster with Local Creamy Curry, coconut rice and chilli roti; Rahang (Tuna Jaw) with charred tuna collar, seared otoro, pickled green tomato, dabu-dabu and woku belanga; and Prawn Tempura with yellow curry zucchini, leek, eggplant, and mushrooms.
Starfish Bloo is open daily from 7am to midnight.
+62 361 3000 106 | @wbaliseminyak | starfishbloorestaurant.com

---
IKAN Restaurant (Nusa Dua)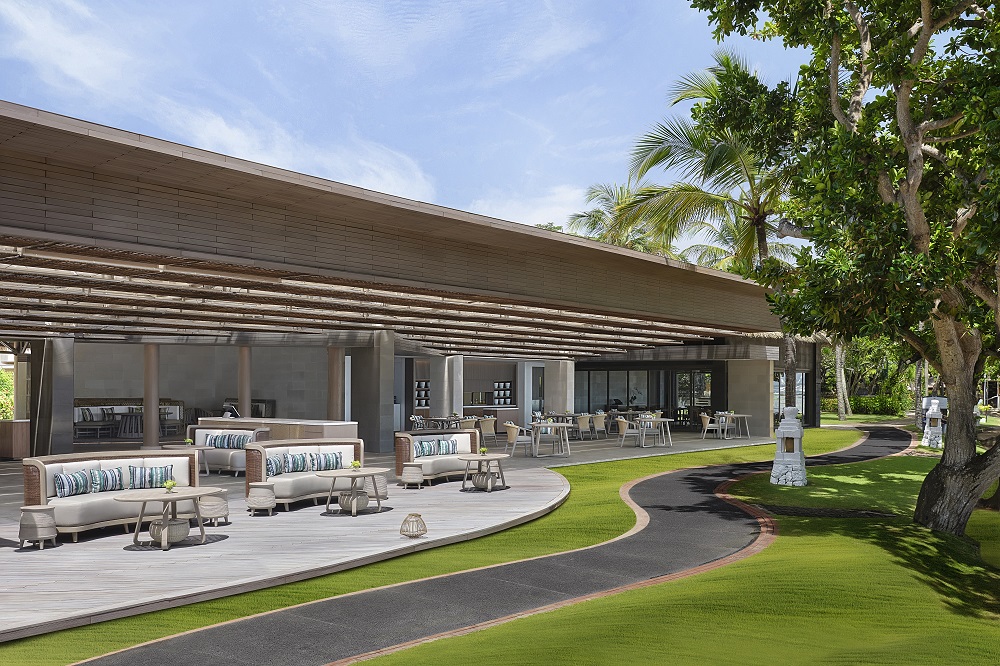 Spoiling diners with tantalising seafood and Indonesian-inspired culinary offerings, the beachfront Ikan Restaurant at The Westin Resort Nusa Dua, Bali presents a laidback eatery by day that transforms into an elevated dining hotspot by night.
Spearheaded by Chef de Cuisine, Fajar Kurniawan Putra, the menu showcases seafood prepared as Indonesia's rich regional dishes. At Ikan, it's best to share dishes with the table so that you can have a taste of everything on the menu, from the small bites and tapas to the mains and desserts.
The Cingklak is a unique sharing platter that is inspired by the traditional Indonesian wooden playing board, where a variety of appetisers are served on the 'cingklak', comprising Lombok oyster crisp, mini fish sate lilit with sambal matah, perkedel jagung with whipped tofu mayo, crab spring roll with belimbing wuluh salsa, chicken satay and beef satay. From the Organics selection, try out Bulung, a traditional seaweed salad made of seared tuna and kuah pindang scented dressing. For the Mains, don't miss out on the flavourful Seafood XO Noodle, stir-fried egg noodles with XO sauce and mixed seafood, baby green pok choy and pickle. Nasi Goreng Suna Cekuh is also a must-try, the signature fried rice with special 'suna cekuh' paste accompanied by grilled prawn suna cekuh, minced sate lilit, fried egg, krupuk, sambal and Indonesian pickle.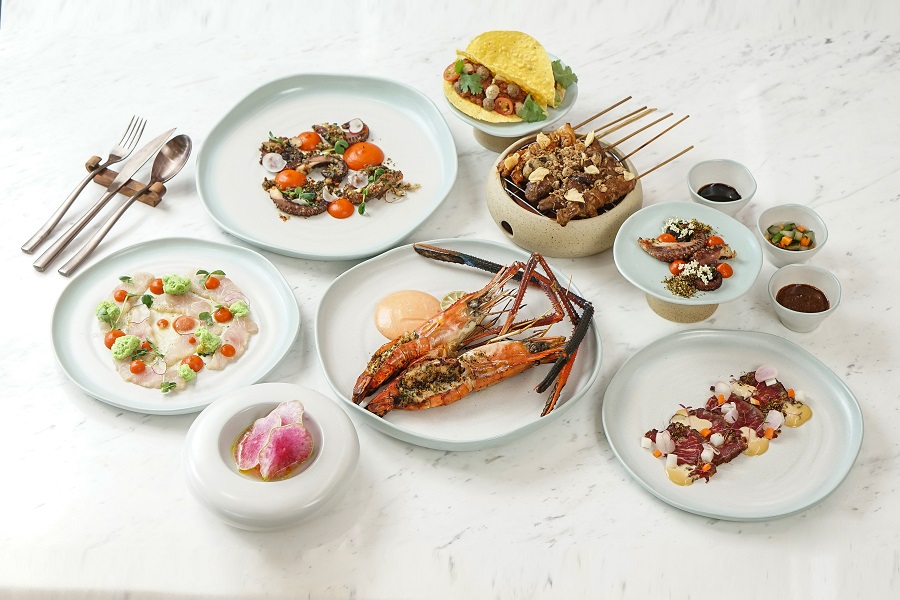 IKAN's Indonesian-inspired seafood is complemented by the calm Nusa Dua shorelines, as the sea breeze blows in and diners sink their toes into the sand to complete that island atmosphere. One of the seafood restaurants in Bali that offer a superb beachfront locale.
Ikan Restaurant is open daily for lunch and dinner from 11.30 AM to 11 PM.
+62 811 3801 7588 | @ikan.bali | ikanrestaurant.com
---
BONITO Fish Bar (Umalas)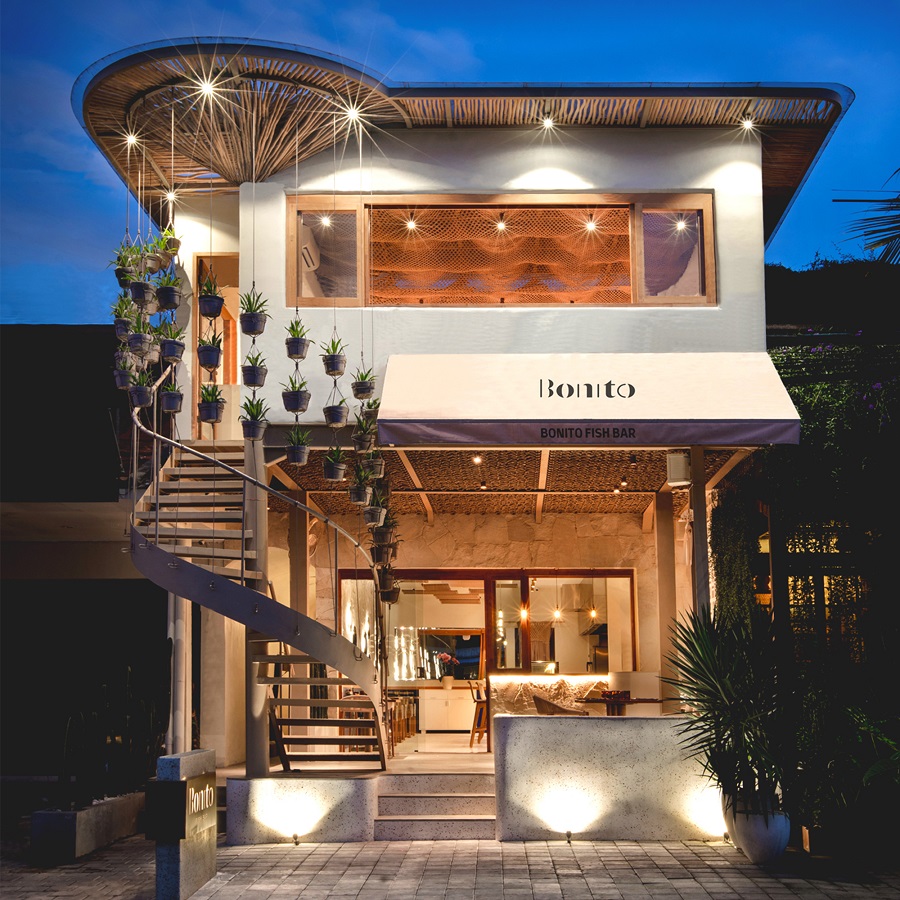 For a delightfully Italian twist to seafood dining head over to BONITO Fish Bar where Chef-restaurateur Maurizio Bombini brings authentic seafood dishes of Puglia, his homeland, made with ingredients freshly caught from Indonesian waters in support of local fishermen.
Known for his success with MAURI restaurant, Chef Maurizio's pescetarian venue is nestled in Umalas and features stylish-yet-laid back indoor and al-fresco areas. BONITO Fish Bar is more casual than its predecessor, where diners can enjoy a range of creative, Italian-inspired seafood dishes prepared Crudo (raw), pan-seared, roasted, Frito (deep fried) and more. 80% of the fresh fish and seafood offered is sustainably caught from the outer regions of the Indonesian archipelago, including Bali, Lombok, Flores and Timor, with premium imported crustaceans. The venue also doubles as a fresh fish and seafood delicatessen, for those wanting to purchase freshly cut fillets and shellfish to cook at home.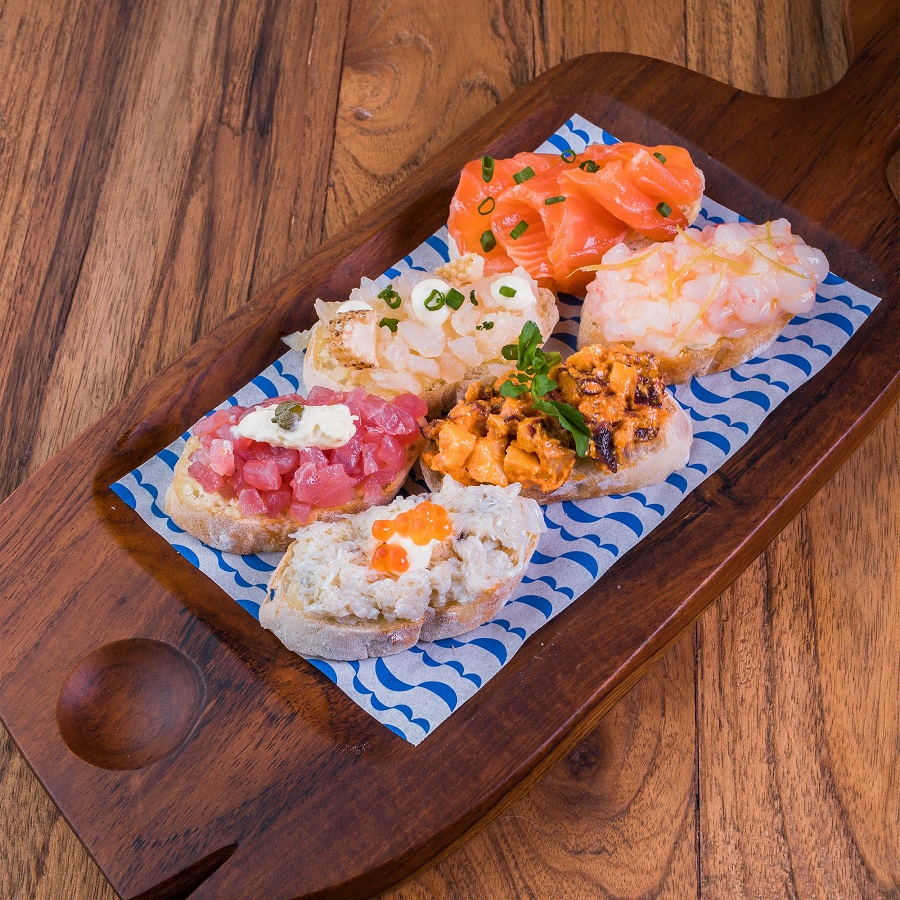 There are many signature dishes to explore, but some highlights include the Tuna Tartare or Barramundi Ceviche. The Zuppa di Mare is one of the most popular dishes here, a hearty, steamy broth of mixed seafood goodness. Comfort favourites include the classic Fish & Chips, Fritto Misto and the BONITO Rosetta, an Italian sandwich made with a natural no-yeast bread fermentation, offered with a choice of tuna and stracciatella cheese, poached lobster or octopus. For the ultimate indulgence, we suggest ordering up a generous Seafood Platter with a selection of raw and blanched items – freshness guaranteed.
BONITO Fish Bar is open daily from 12pm to 11pm.
+62 811 3811 888 | @bonito_fishbar | bonito-fishbar.com
---
Fisherman's Club (Sanur)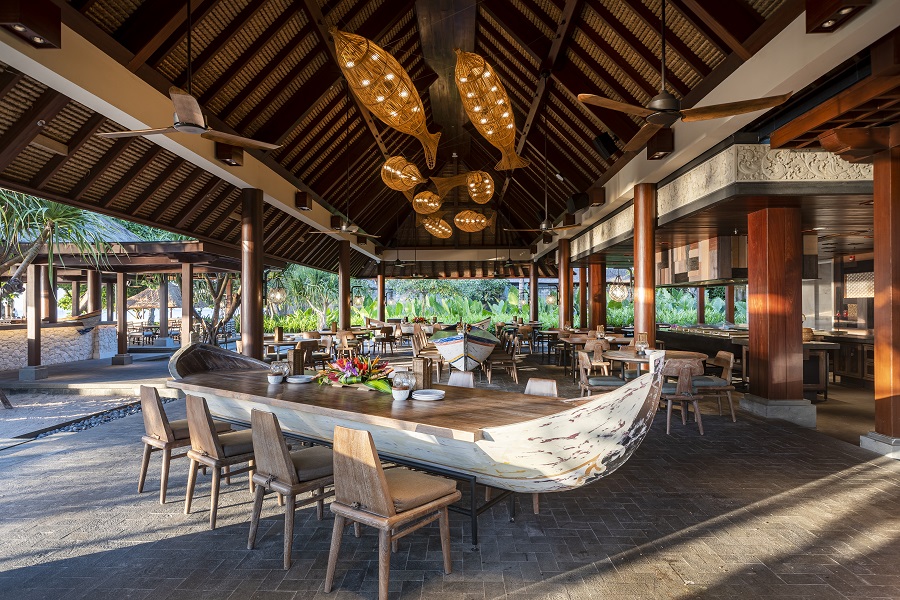 What could be better than enjoying a seafood meal along a coastline where traditional jukung boats still park upon the shore, with fishermen continuing their daily routines, sailing out to sea, nets in hand. Yes, Sanur, continues to hold on to its charming fishing village atmosphere along the beachfront. Enjoying that same stretch of sand is the aptly named Fisherman's Club, found in the five-star Andaz Bali, where a breezy, beachfront venue welcomes diners to enjoy a meal al-fresco, day or night.
Presenting a mixture of surf and turf offerings, featuring responsibly sourced seafood that pays homage to the classic Jimbaran-style, there's something for everyone at this understated eatery. At lunch, it's comfort foods, select resort-style favourites like The Fisherman's Burger, Andaz-style Wasabi Caesar Salad or Honey Butter Chicken. For those who like to keep things light, the Green Bowl Salad, Tuna Carpaccio, and Grilled Ginger Chicken make ideal options.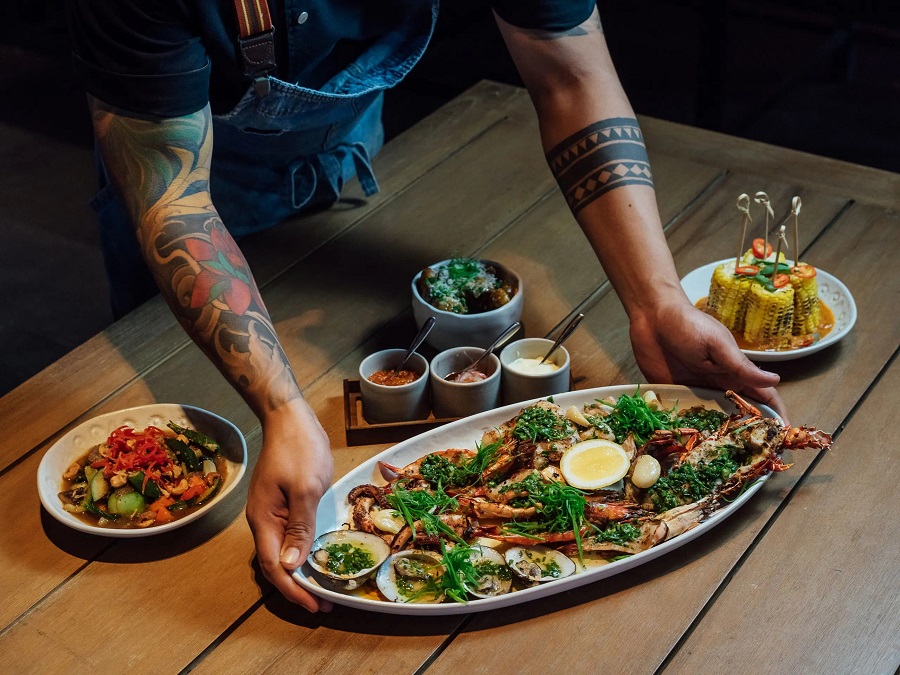 Come sundown, the seafood market comes to life with displays of the freshest catch of the day and dinner featuring premium seafood and meat selections. Say aye-aye to The Captain's Seafood Platter, or dig into a meaty Grilled AUS Prime Beef Sirloin, both served with side dishes too good to share. The BBQ octopus is a favourite, as is the eclectic, but well-paired Kimchi Fried Rice. Locally inspired cocktails, classics and signatures, also make great companions for this seaside feast.
Fisherman's Club is open daily for lunch and dinner from 11am to 11pm.
+628113981082 | @andaz_bali | linktr.ee/FishermansClub
---
Jimbaran Seafood
Of course, we have to mention the iconic destination: Jimbaran Bay Seafood. The row of more than 30 beachfront restaurants offer up a now legendary style of seafood barbecue now referred to as Jimbaran-style!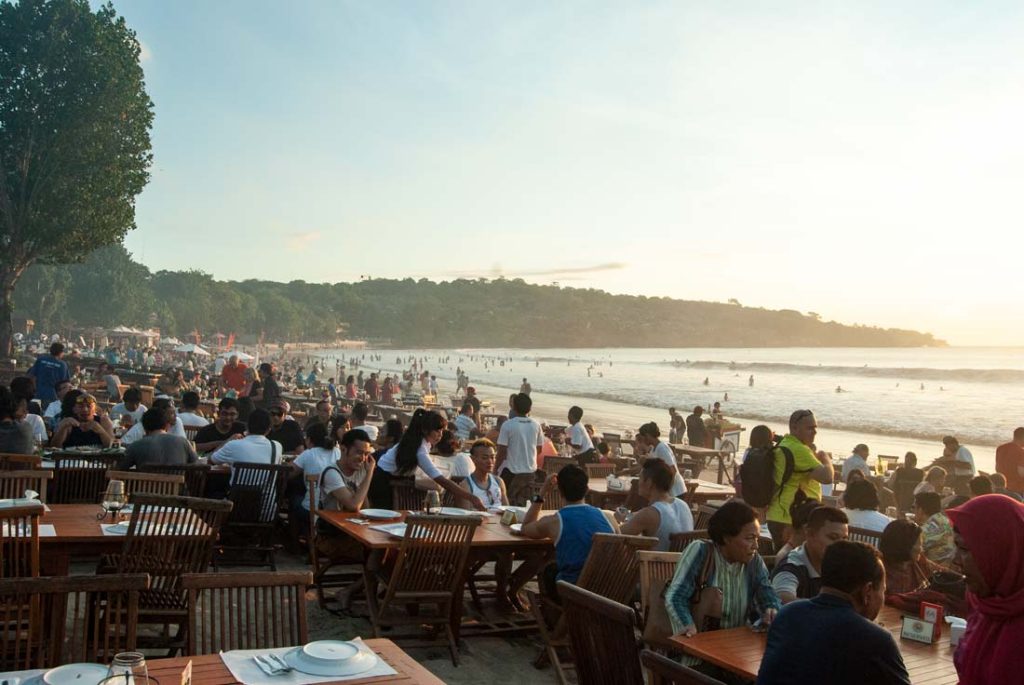 Laidback and casual, with tables strewn out across the beach, the Jimbaran seafood destination is a rustic dining experience where diners can stick their toes in the sand surrounded by the smokey atmosphere of 30 simultaneous barbecues cooking around them.
What started off this iconic dining experience? Well, on the next bay over you'll find Kedonganan Beach, home to the famous seafood market in Bali, the bay where fishermen arrive with their daily catch. Naturally, people wanted to have this fresh catch cooked up straight away and straight at source, resulting in the beachfront barbecues we see today.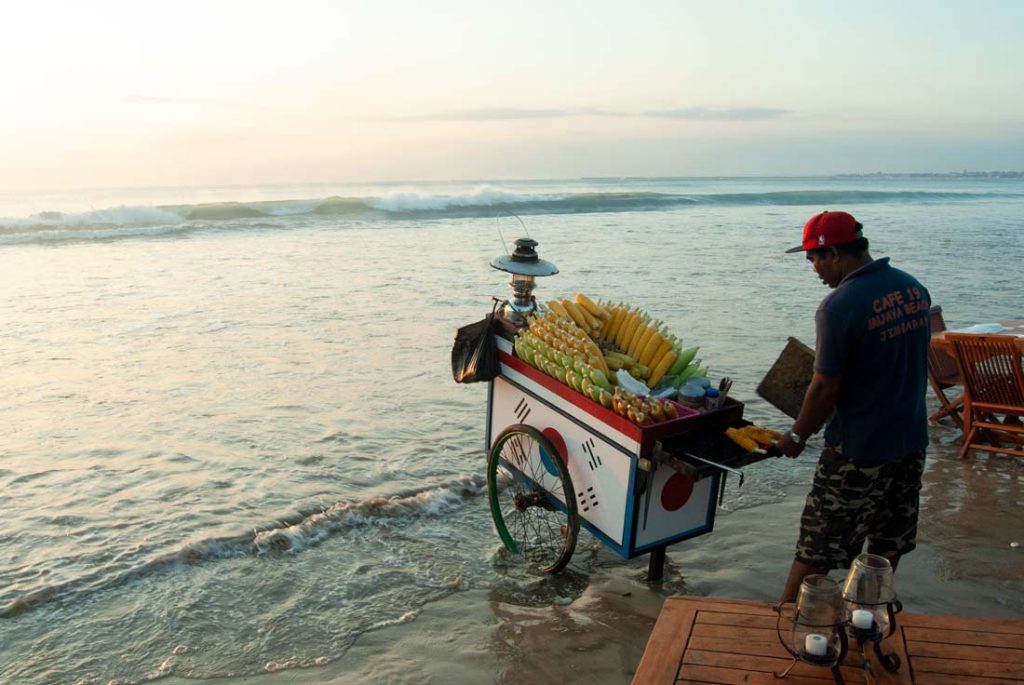 The restaurants mostly have the same Jimbaran-style seafood offerings: seafood varieties can be chosen from the live displaus at the entrance of each restaurant. You'll find a variety of fish such as red snapper, grouper, white snapper, kingfish, and barramundi to lobster, prawn, squid, crab, clam, and more. We suggest choosing the 'Packages' if you are with a group, which gives you a wide selection of seafood as well as steamed rice, sautéed vegetables and fruit to finish.
As most of the restaurants present near identical dishes it's hard to say which is the best seafood restaurant in Jimbaran. Which restaurant you pick is purely based on preference or the best 'deal'. To residents and regular visitors, they'll likely have their go-to, so if you're a first-timer, it's best to ask someone you know or a local which restaurant you should go for. Based on personal experience, NOW! Bali has been to: 'HATIKU Jimbaran', 'TEBA' and over on the Kedonganan side is 'Jimbaran Beach Café'.