Taking the family on a summer escape to the island of the gods is always a great idea. However, as parents know, travelling with kids can be a challenge: keeping them constantly entertained and tending to their every need! Luckily, Bali has a superb collection of professional kids clubs that can care for young ones, offering excellent facilities and stimulating activities so that parents can enjoy some adult quality time!
Here we share a list of the best kids clubs in Bali to keep your young ones engaged and entertained in plenty of fun and educational activities whilst on holiday:
---
Renaissance Bali Uluwatu Resort & Spa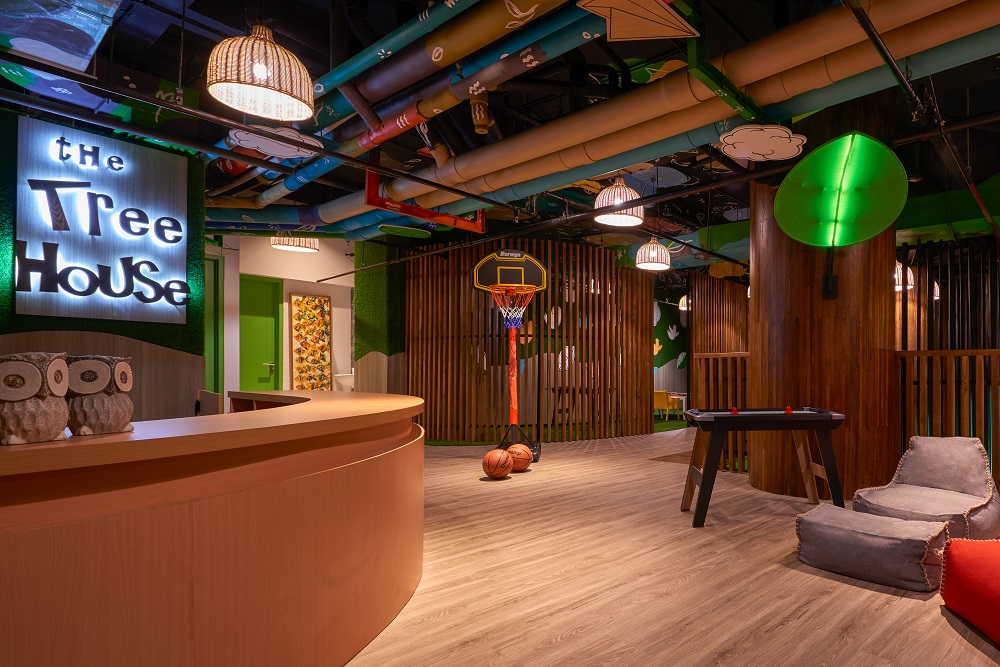 Tucked within Renaissance Bali Uluwatu Resort & Spa is their vibrant Tree House Kids Club, an engaging space that is designed to present unlimited fun and educational activities for children of all ages. Taking into consideration the need for wide-ranging family experiences, the kids club at the resort offers a wide range of activities, personalised to a daily theme to guarantee every child's interests are fostered and celebrated.
The little ones will be captivated from the moment they step through the vibrant kids club, where a constantly rotating schedule of daily activities will keep them on the go. These include art-themed adventures featuring painting, arts & crafts, and clay-making to active sports days such as kid's yoga, bowling competitions, swimming contests, Zumba dances, and movie times.
The Tree House Kids Club accommodates children of all ages with activities that cater to their interests. The older kids can tuck in the comfortable and health-conscious playing pods and enjoy modern video games, while parents who prefer to limit their children's exposure to modern gadgets can find a supportive facility to accommodate their wishes. The kids club features nursing rooms and junior bathrooms, staffed by trained professionals to ensure every child can make safe use of these facilities.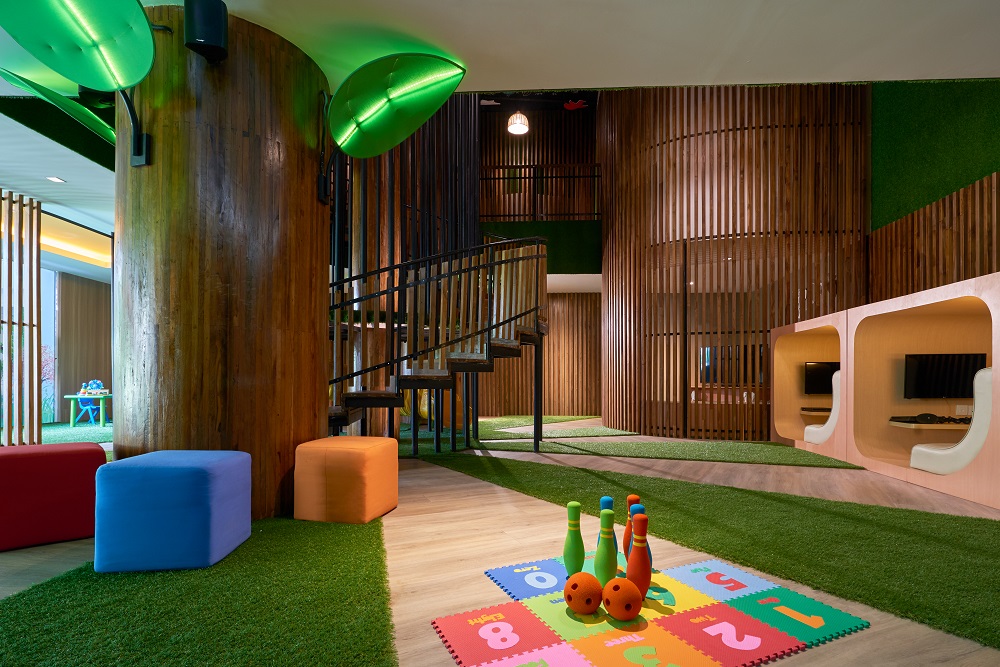 The fully air-conditioned two-storey Tree House features floor-to-ceiling windows and childproofed facilities including cushiony carpets, secure furnishings and round-the-clock supervision to ensure the safety and well-being of the little patrons. Nutritious and delicious kids' meals are available during break time at noon at an additional cost.
The kids club welcomes children aged up to 11 years old. Children under 4 years old must be accompanied by a parent or guardian. For parents looking to enjoy some adult time, babysitter services can be arranged in advance. Tree Hosue Kids Club is definitely one of the most striking kids clubs in Bali.
Tree House Kids Club is open daily from 9am to 6pm, free for in-house guests.
+62 361 200 3588 | renaissancebali.com
---
Four Seasons Resort Bali at Jimbaran Bay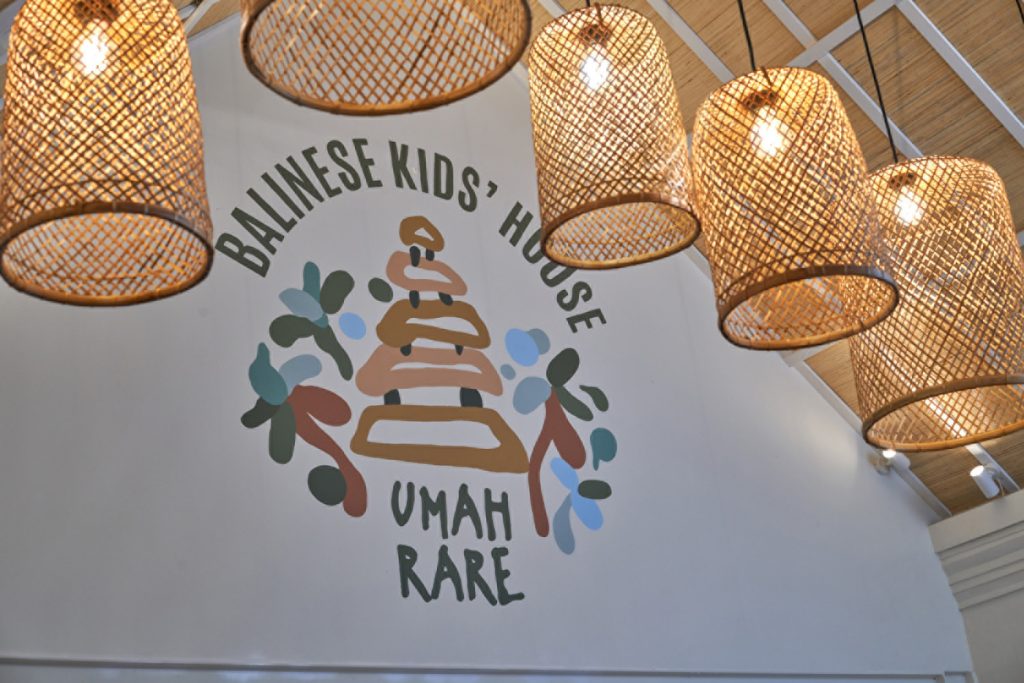 The luxurious Four Seasons Resort Bali at Jimbaran Bay has launched a brand-new destination for the little ones with the opening of Umah Rare Kids' Club, an innovative and sustainability-centric activity hub thoughtfully designed with the resort's youngest guests in mind.
Umah Rare, meaning "house of children", can accommodate a maximum of 15 children, where a captivating adventure of discovery for young explorers awaits. The kids club offers a rotating daily programme and activities that highlight Bali's rich cultural tapestry and natural beauty.
Upholding the resort's commitment to sustainability and environmental responsibility, the kids club advocates eco-friendly practices, including the materials used to construct and decorate it which are locally sourced, child-proof, and plastic-free.
Umah Rare features four unique play zones, each a seamless marriage of Balinese and Scandinavian design, featuring age-appropriate activities and learning opportunities to spark imaginations and develop motor skills, sensory integration, and spatial awareness. The brightly lit interior reading and activity space exudes the traditional magic of childhood, featuring pastel-dipped skittles, miniature wood-carved train sets, mini-chairs with teddy bear ears, swings, and a carefully crafted play kitchen complete with a coffee maker.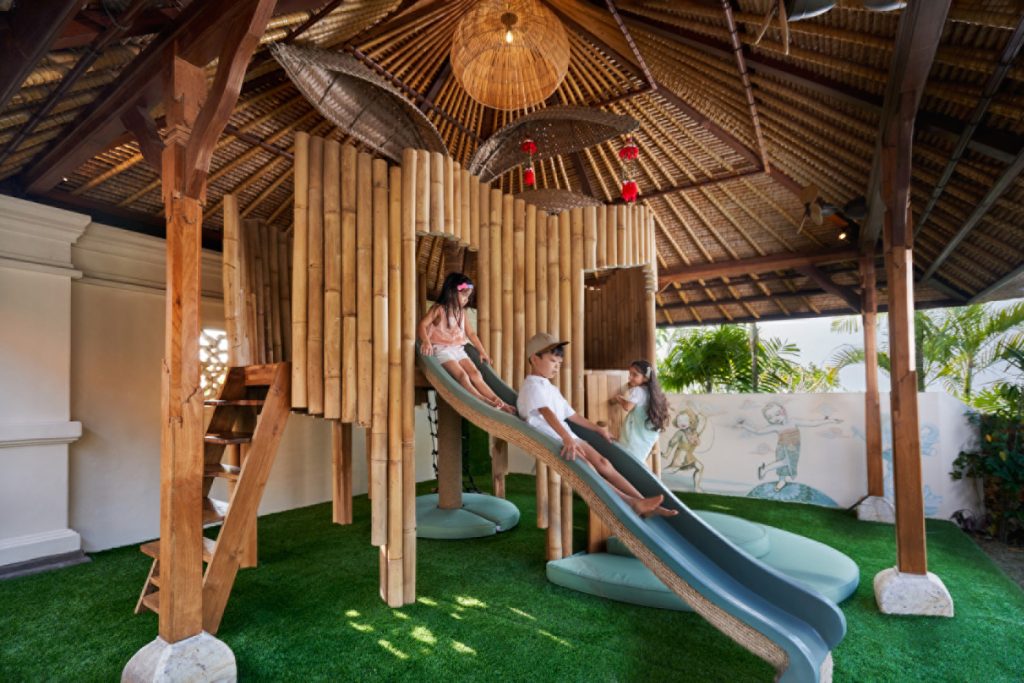 The kids' garden merges elements of Balinese design with contemporary child-friendly features to present a magical environment for children to explore and have fun. The slide pavilion mirrors the natural, organic aesthetic of traditional Balinese design, with a non-linear wooden climbing area to develop agility and strength, and a wading pool spouts gentle streams of water for aquatic fun.
Umah Rare also features a private loft space with a laidback ambience and a large HD flat-screen television, creating a cosy social hangout and entertainment hub for the older kids to watch movies or play PlayStation 5. Meanwhile, the nursing area is a serene space for privacy and convenience, boasting a warmly lit space with calming tones, a changing station, a sink, and comfy seating.
Dedicated attendants will engage the kids in interesting cultural and exploratory activities such as Balinese dance, music and craft classes, sea life hunting, sandcastle-making, kite flying, and more. Scheduled activities are available for children aged 4 to 12 years old, while younger guests are welcome accompanied by a parent or babysitter. Umah Rare Kids' Club is an exciting addition to the exquisite collection of kids clubs in Bali.
Umah Rare Kids' Club is open daily from 9am to 7pm.
+62 361 701 010 | fourseasons.com/jimbaranbay
---
Sofitel Bali Nusa Dua Beach Resort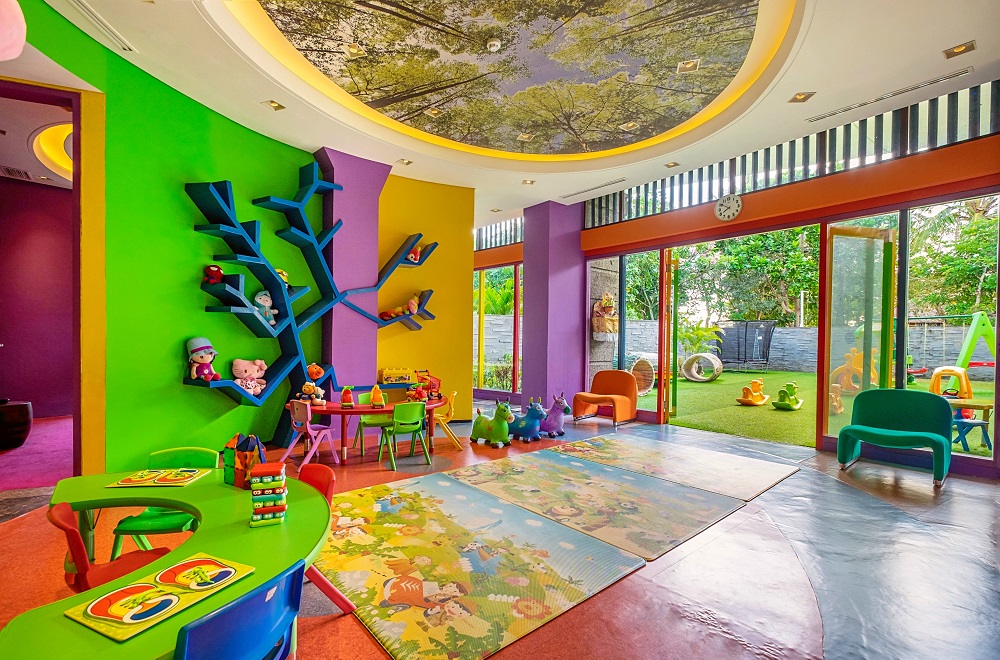 The Kids Club at the lavish Sofitel Beach Nusa Dua Beach Resort is a wonderful space where children can have an enjoyable experience through excellent edutainment-focused facilities. Nestled near the resort's pristine beachfront, the dedicated space presents kids with a variety of features that will pique the interest of the young guests. These include an outdoor kid's pool, a reading room stocked with educational material, as well as a sleeping room where they can rest before engaging in a series of thrills and games.
In addition to accommodating free play to kids, the kids club provides an array of creative activities including craft-making, jewellery-making, kite decoration, nail art, t-shirt painting, face painting, and puppet-making among others, along with plenty of active fun such as dance, yoga, Zumba, gymnastic, treasure hunt, hide and seek, and more.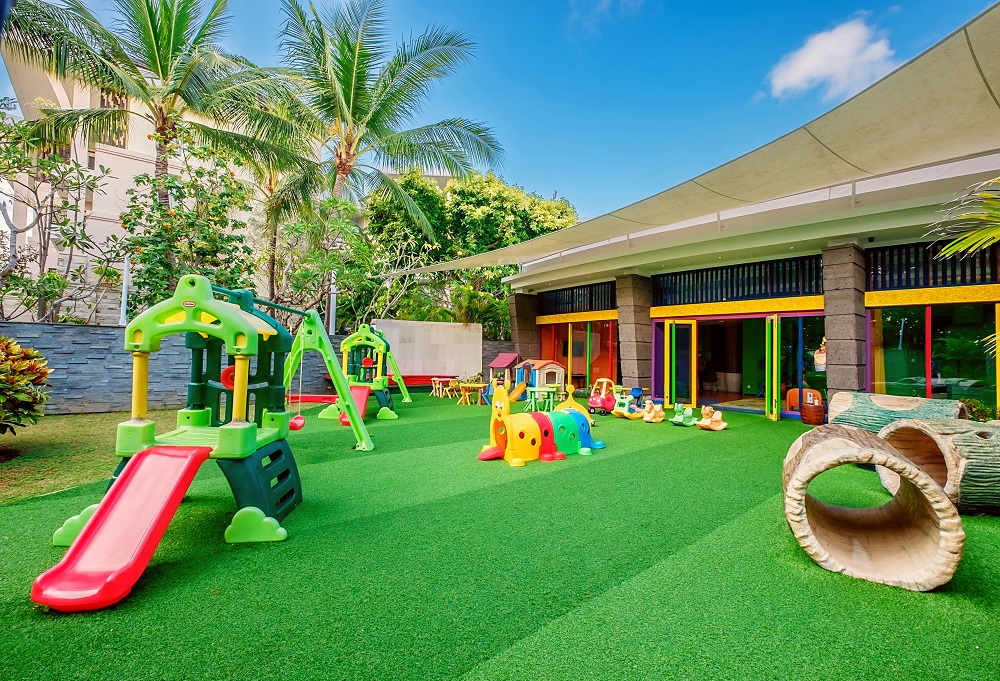 If you're looking to celebrate your child's birthday at the kids club, they also offer special birthday packages. With a minimum of 10 participants, the packages include activities such as face painting, crafts and games, as well as food offerings. You can opt for the Standard Package or the Premium Package which includes a birthday cake, goody bag and t-shirt. Chargeable rates apply for the activities and birthday packages. The resort offers one of the most comprehensive lists of activities you can find in kids clubs in Bali.
The Kids Club is open daily from 9am to 6pm.
+62 813 3764 4418 | sofitelbalinusadua.com
---
The Westin Resort Nusa Dua, Bali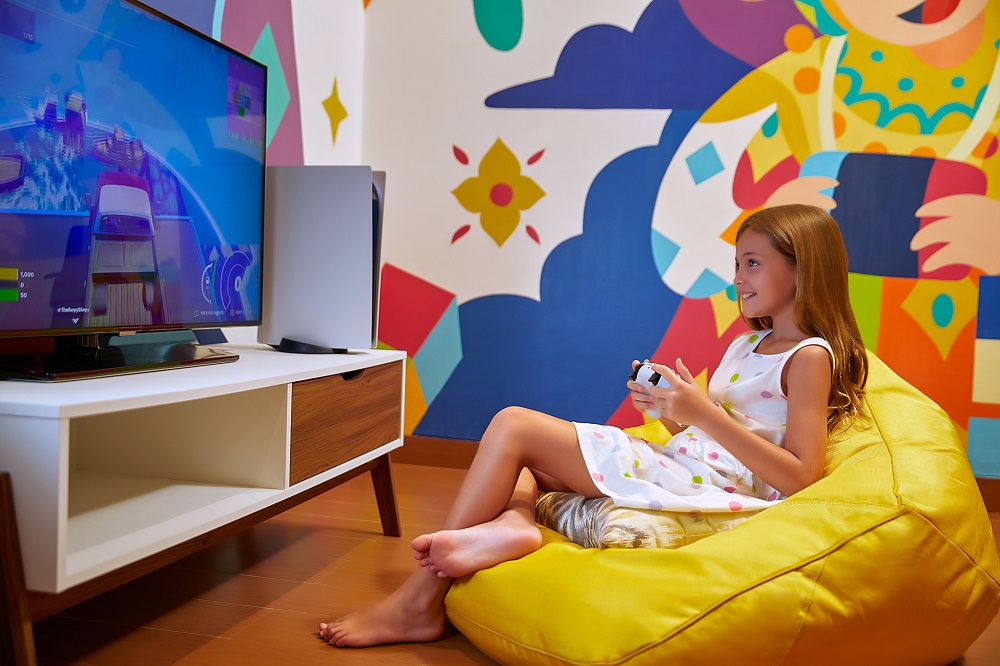 The Westin Resort Nusa Dua, Bali is renowned as a family-friendly resort with facilities and services catering to all of its guests including the young ones. The resort's Westin Family Kids Club is a hub for children where they can enjoy immersive experiences with games, toys and enriching activities in a supervised centre.
Tucked amidst a tranquil garden corner shaded by tropical greenery, the kids club features a toddler area, toddler playground, Kids Discovery Room, and Kids Playground, complete with slides and swings, facilities that will ensure the little ones have an exceptionally enjoyable time. There is also the Mini Zoo, where kids can not only pet and feed rabbits, but learn how to care for animals from an early age.
At the Teen Zone, the older kids can enjoy their own space. Decorated with "The Island's Adventures" murals by Florto Studio, consisting of several inspiring local illustrators under the leadership of prominent Balinese illustrator, Monez. The mural's design merges the imaginative worlds of adolescents and Balinese culture by incorporating expressive and colourful moods combined with Balinese and game elements.
Additionally, the Westin Family programme is designed to enrich children's stay experience and enhance their well-being through exploration and discovery. From kids' Travel Journals to the Local Activity Guide, the Westin Family offerings are curated to engage, inspire and celebrate young travellers and their families. The kids club provide plenty of fun activities that will excite young guests. These activities include stargazing, wall climbing, keychain-making, flying kites, nail art, and paper puppetry among many others.
Kids can also enjoy a day of pampering at the Westin Kids Spa located just outside of the kids club. The spa offers a nurturing menu of mini-manicures, hair braiding and special holiday treatments.
+62 361 771 906 | westinnusaduabali.com
---
Bali Dynasty Resort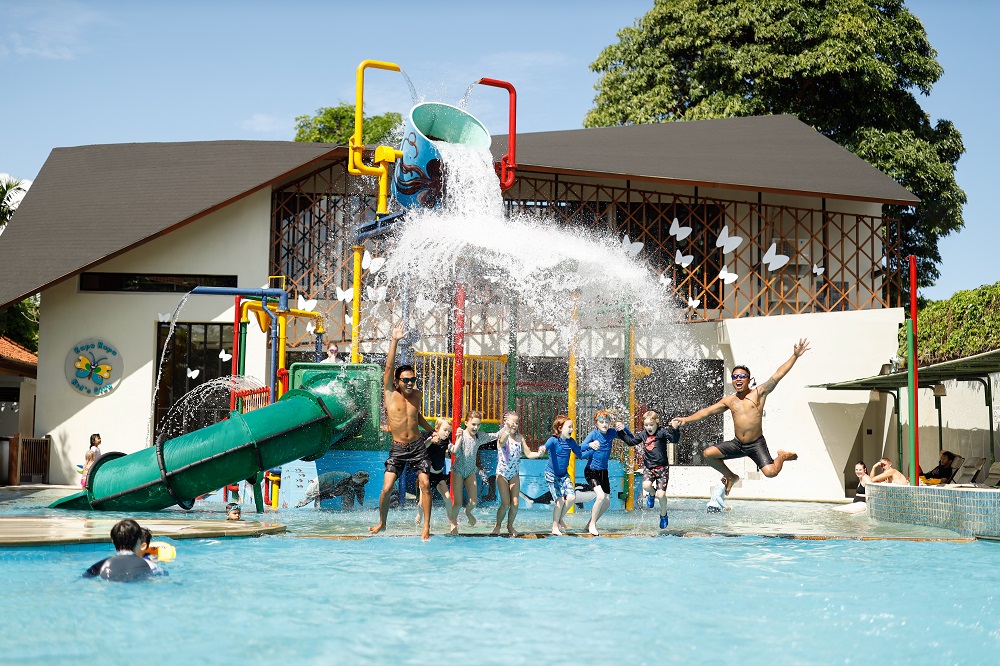 Bali Dynasty Resort in Kuta is well-known as a go-to destination for families on holidays. The resort has recently renovated its Kupu-Kupu Kids Club featuring a new concept equipped with improved modern facilities and activities that accommodate kids of all ages.
With a design aptly themed around the concept of 'kupu-kupu' (butterflies), kids can enjoy fun-filled days in the spacious and colourful venue under the safe supervision of the experienced and qualified staff, giving parents peace of mind knowing their little ones are attended to as they relax and unwind. In-house guests can enjoy free access to the kids club.
Promoting the philosophy to 'Make Friends for Life!', the two-storey kids club is split into different age categories. The younger kids aged 4-9 years old can have fun on the ground floor where games, education and cultural activities are offered, while the older kids aged 10-16 years old can head upstairs to the Den Teen Club and keep themselves busy with board games, movies, video games, billiards, foosball or simply chill out with no parents around.
The resort also has a new games room located behind the lobby. Designed to cater to teenagers (and even adults), the game room is equipped with the latest high-tech games including virtual reality games, PlayStations, and more.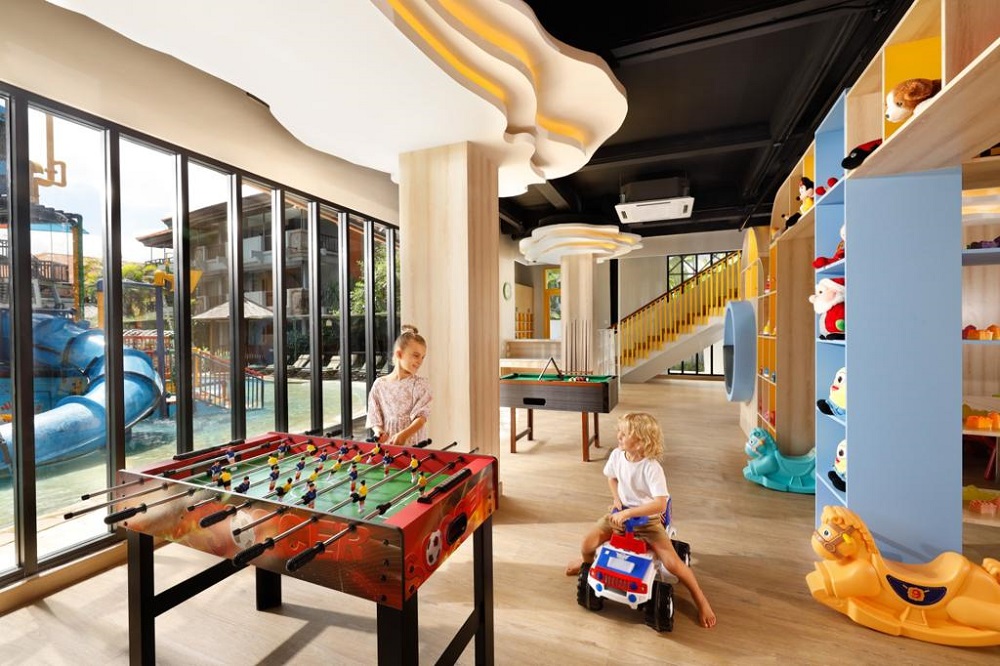 To keep the kids entertained, the resort has curated a series of daily educational and cultural activities that will ensure kids have plenty of educational fun. Additionally, there are various thrilling outdoor activities such as Water Pillow Fights, High-Splash Contests, Watermelon Eating Contests, and more.
One of the most thrilling kids clubs in Bali, Kupu-Kupu Kids Club is located within the resort's kid's area, which also features the Kids Water Fun Zone, equipped with a large freeform pool, a 56-metre giant caterpillar waterslide, a mini waterpark and a playground area with swings, a climbing frame, a seesaw, slides and a trampoline. Babysitting services are also available.
Kupu-Kupu Kids Club is open daily from 9am to 6pm.
+62 361 752 403 | bdr.pphotels.com
---
Meliã Bali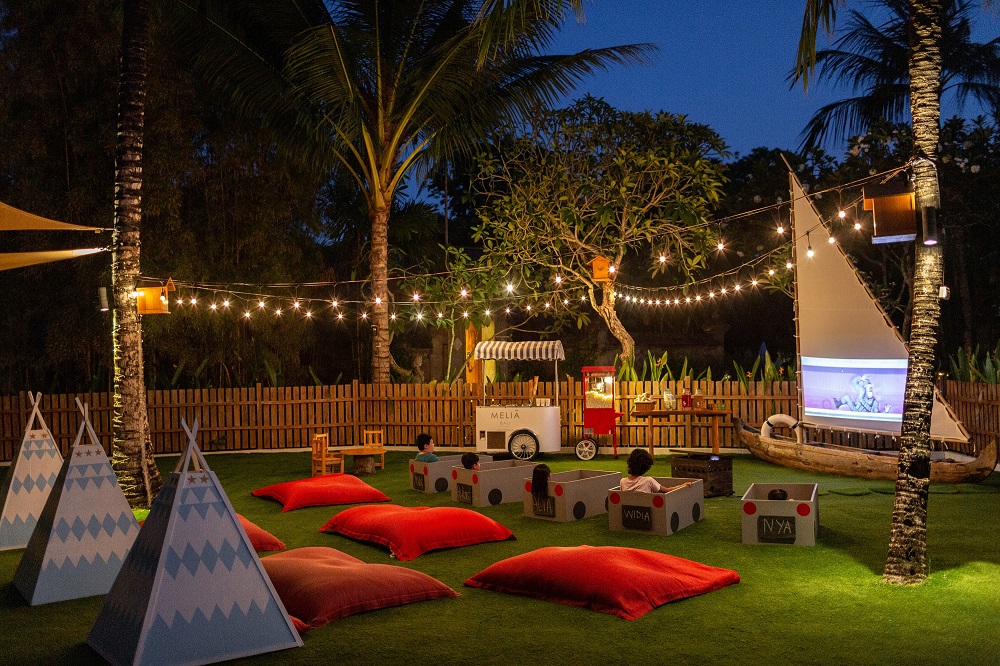 Nestled along the pristine Nusa Dua coastline, Meliã Bali is a popular accommodation for vacationing families due to its Balinese elegance, stylish rooms and suites, collection of restaurants and bars, and its stunning beachfront location with direct access to the pearly white sand beach.
The resort offers younger guests a fun, action-packed holiday with numerous games and activities in their own spacious Kids' Centre, featuring vividly coloured tropical vibes and plenty of indoor and outdoor spaces to play, explore and meet new friends. The Kids' Centre has a 100 sqm indoor space that can accommodate up to 16 kids, while the 450 sqm outdoor space can host up to 40 kids.
Filled with toys, board games, and quiet corners, it is a hub of daily cultural and art activities, games and sports, available for children aged 4 years old and above. Popular pastimes include beach hunting for tiny crabs and other beach animals, where they'll get the opportunity to learn about these creatures from the staff or creative activities such as creating brightly coloured sand paintings on stick paper as well as crafting the traditional Balinese 'janur' from young coconut leaves.
Other highlights include the nightly outdoor movie night, complete with popcorn and a rotating daily movie, a daily marshmallow BBQ, and monthly themed events. Children can also play at the carnival or race around on go-karts at an additional fee.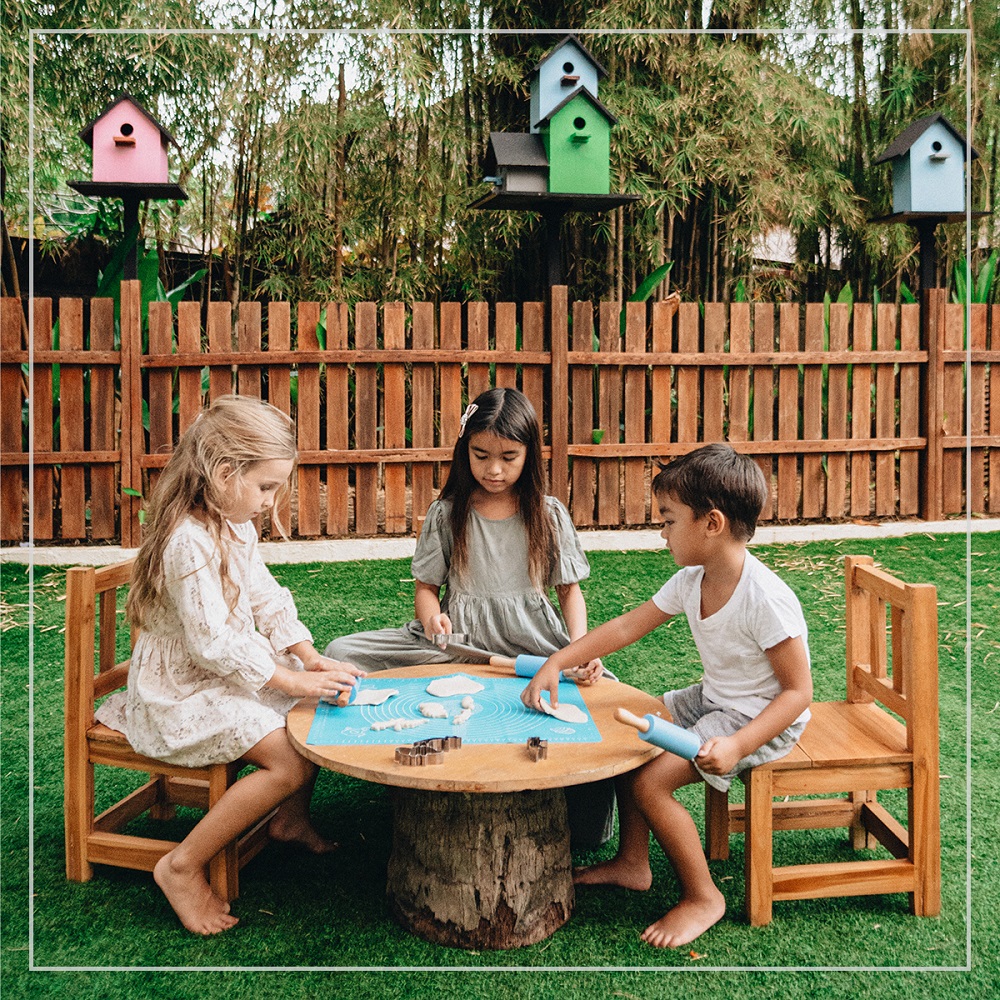 With safety and sustainability in mind, the toys available at the centre are made from wood, while the surroundings are safe and are overlooked by qualified attendants so that parents can rest easy while their kids are enjoying a fun time at the centre. Additionally, the fun extends to beautiful lagoon-style pools and a kid's pool, a quiet beach, tropical gardens, kids' spa treatments at Yhi Spa, and kid-friendly meals from its restaurants.
The Kids' Centre is open daily from 9am to 9pm.
+62 811 386 7789 | meliabali.com
---
The Apurva Kempinski Bali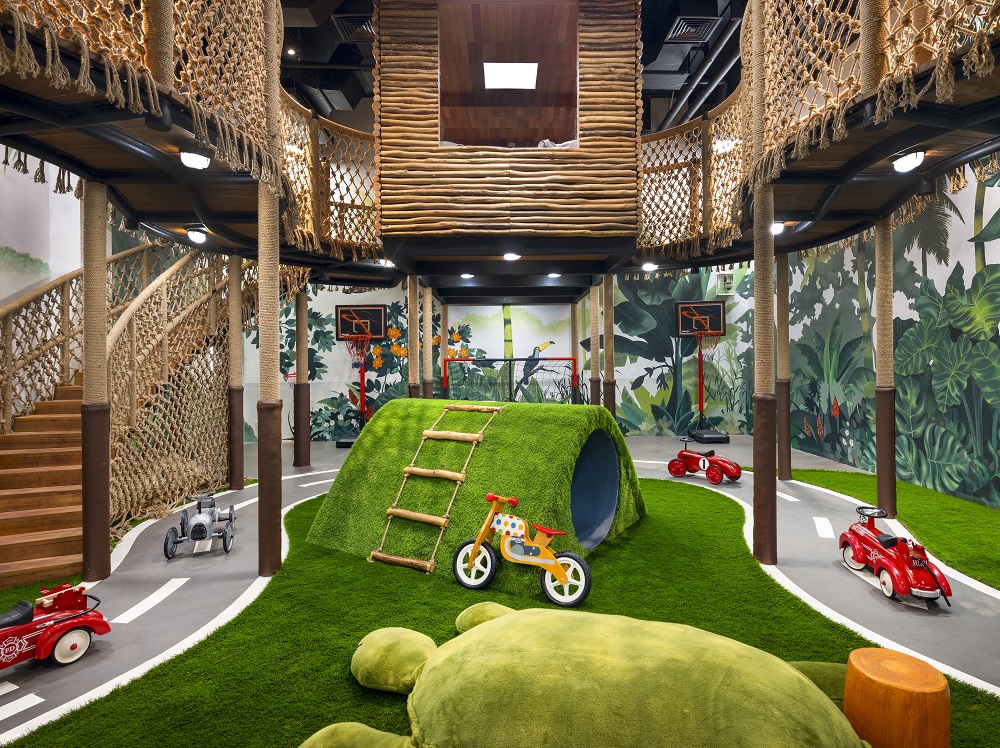 A palatial luxury resort like The Apurva Kempinski Bali certainly has all of the facilities expected of a five-star destination, including a fantastic oasis for young guests to retreat to. The resort's Jalak Family Club draws inspiration from the methodical approach of Montessori, wherein education is based on self-directed activity and hands-on learning. The club presents wide-ranging activities that cater to the diverse needs of children, teens and their families amidst the resort facilities.
Offering a visually striking tree house-inspired space, the little ones will stay entertained with fun and interactive activities to keep them engaged both indoors and outdoors. Accompanied by experienced staff members, the activities offered at the club include movie times, fun traditional Indonesian games such as congklak, ular naga, lompat tali, and klereng, while arts and crafts activities include colouring, mask-making, puppet-making, origami, and more.
The club also provides various fun toys the little ones can play with at the indoor playground. There are also optional paid programmes offered including batik painting, doughnut and cookie decorations, and tie-dye t-shirt making.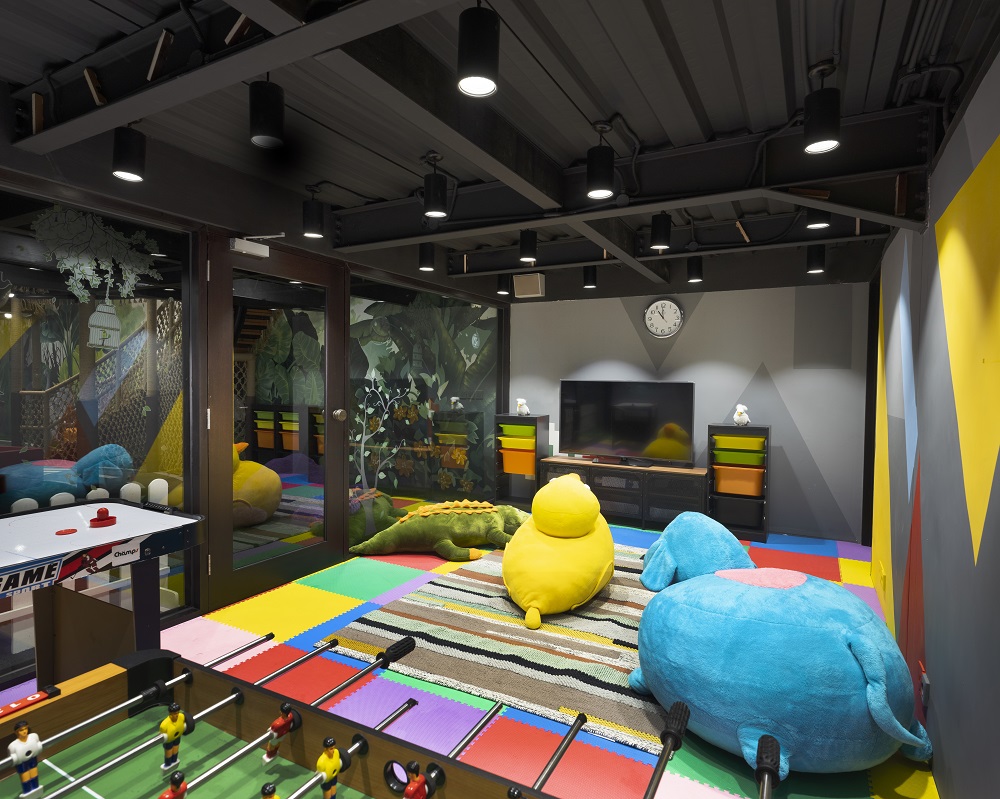 Additionally, kids can enjoy a jolly good time at the fantastic outdoor playground, where there is a lot of recreational equipment installed that can help them stay active and develop their physical coordination strength and flexibility. They can also take a dip in the family pool which features waterslides that will surely leave a lasting impression. What more can you ask for in one of the top kids clubs in Bali.
Jalak Family Club is open daily from 8am to 8pm.
+62 361 209 2288 | kempinski.com/bali
---
Hard Rock Hotel Bali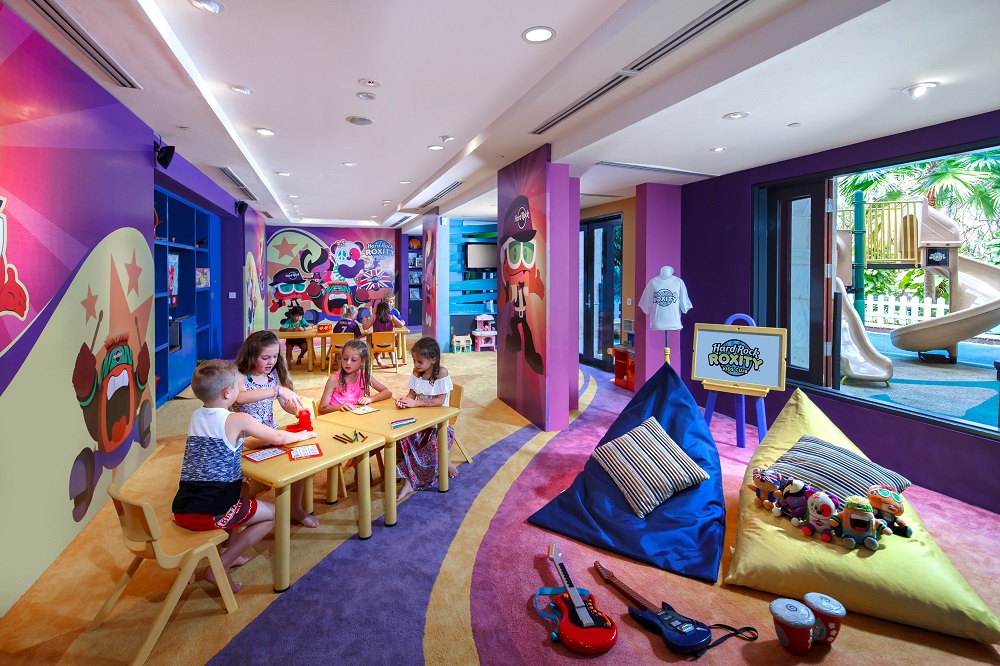 Situated on the iconic Kuta beachfront, Hard Rock Hotel Bali has long been one of the most beloved destinations for families. Featuring stylish, modern and visually appealing rooms and suites, the hotel's vibrant ambience isn't the only reason why this accommodation is favoured amongst families as it features some of the best facilities on the island specifically for the young guests. It's got one of the most unique kids clubs in Bali.
In addition to its expansive free-form swimming pool, Kids WaterPark and slides, children can experience exciting experiences at its various kids clubs. The ROXITY Kids Club is a drop-off-only Kids Club for kids aged 4-12 years old, where no parents or adults are allowed. Supervised by experienced staff, kids will stay occupied with a series of exciting games and activities including Lego building, arts & crafts activities, Play-Doh modelling, Balinese dancing, treasure hunts, and pizza-making to sports games and rock climbing. Open daily from 9am to 6pm, the ROXITY Kids Club offers several prices and packages that include goodie bags, a daily set lunch and a lanyard name tag.
For the younger kids, TABU Teens Club is a unique venue dedicated to young adults aged 13-17 years old. Featuring a spacious 252 sqm venue, TABU has an Internet and Gaming Lounge with Xbox Connect, PS4 with VR, a large cinema space, a bar and lounge with a pool table and other games. Open from 10am to 6pm, access to TABU is free of charge.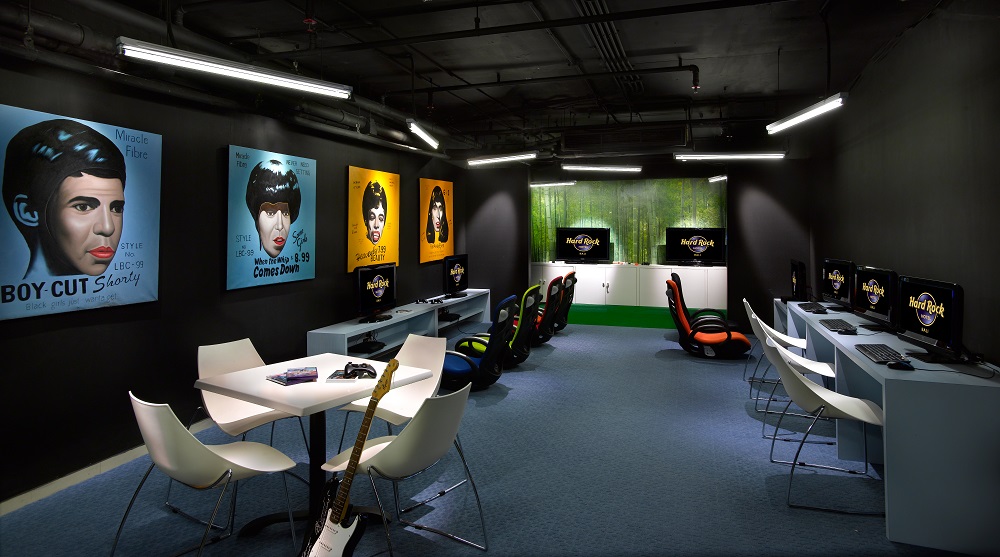 For the little ones under 4 years old, the LULLABY Playroom is an indoor playroom found at the back of the TABU Teens Club. Here, they can enjoy an array of educational toys and games provided in the colourful playroom, fitted with play mats and cosy cushions. Open daily from 10am to 5pm, the kids must be accompanied by parents or guardians at the LULLABY Playroom.
+62 361 761 869 | hardrockhotels.com/bali
---
Kids SoHo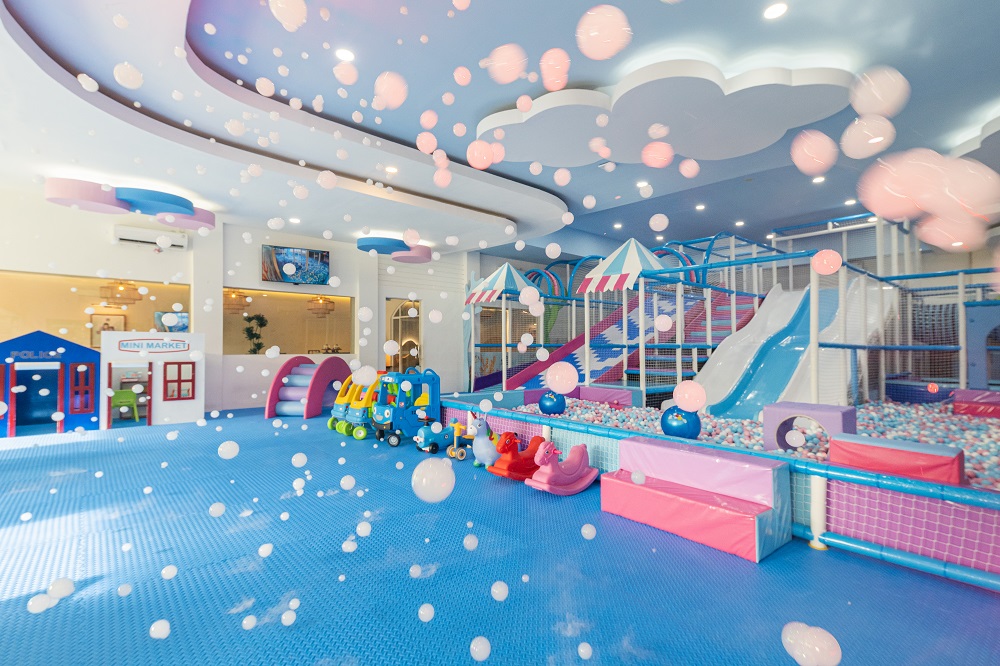 Opened in January 2023, Kids SoHo is a leading one-stop children's education centre in Sanur focused on play and peer interactions, facilitating opportunities for positive early learning experiences. It aims to provide a safe, enriching environment for mixed-age peer interaction and fun-filled learning. They are home to world-class child development and educational experiences including the First Bridge Montessori Preschool, Rivas-JH Kim Taekwondo School, Ballet Royal School Bali, Koding Akademi (Coding & Roboting Class), and Sasya Alyasa Modelling School.
One of the highlights is their huge 339-square-metre innovative playground, featuring a host of explorative activities including a climbing wall, a trampoline, themed playhouses, balancing beams, a spiral slide, a zigzag bridge, a ball pool, and Bali's first-ever kid's doughnut slide.
Kids SoHo's long list of attractions in their indoor playground experience includes the Daily Bubble Splash programme, inviting children to play, interact and discover in a new way, which welcomes children to join the party at various day and night schedules.
The bubble experience incorporates state-of-the-art technology that merges a bubble machine, fog machine and LED lights into a single unit. A shower of colourful bubbles is discharged from the Bubble Blaster, illuminated by the integrated LED lights to create a spellbinding rainbow effect that will leave the children gasping in awe and excitement. The Daily Bubble Splash joins Kids SoHo's array of activities designed to engage children and develop their motor skills, agility, and social skills.
If you're a parent looking to take your children to one of the best kids clubs in Bali, Kids SoHo is surely a great option.
+62 812 3755 6788 | @kids.soho