After a long hiatus, the Chaine des Rotisseurs Bailliage de Bali, as well as the Bailliage de Jeunesse de Legian, were both finally able to gather their members once again to enjoy the three principles of the Chaine: good food, good wine and camaraderie of the table.
The reason for such long-awaited events was that back in November 2017 Bali's Mt. Agung awoke. Its eruption left enduring after-effects on the island. After 3 months the island 'bounced back', as Bali always does. It was therefore apt time for the Bali members to dust off their chains and enjoy highly-anticipated events of which there were two to announce the 'comeback' of the Chaine in 2018.
Bailliage de Bali: Delectable DAVA
On the 12th of May, 2018, the Bailliage de Bali dressed top-to-toe in their 'Glamorous Bali' dress codes and descended upon DAVA Steak and Seafood, one of the opulent dining destinations of the AYANA Resort and Spa.
40 members and guests arrived, welcomed to DAVA's lush terrace with glasses of Moet & Chandon, Grand Vintage 2009, nibbling on an array of canapés: Tuna Poke with Panipuri, Or-ganic Bedugul Tomatoes; Basil Goat Cheese Sphere with Olive Oil Powder; Foie Gras Sushi; and Smoked, Sous Vide Abalone.
After a cheerful cocktail hour, all were escorted into the glistening indoor dining area of DAVA, greeted by a truly exquisite table setup. Bailli Delegue d'Indonesia, Firdaus Siddik, was there to welcome all to this first event of the year; two more warm welcomes came from Bali Bailli Danielle Van Poppel and General Manager of the Ayana Resort, Clive Edwards.
First to emerge out of the open kitchen was the Seafood Garden with smoked octopus, tuna prosciutto, sea scallops and seaweed, paired with a crisp Astrolabe Pinot Gris, Marlborough, 2016.
Next was the Sea Urchin Espuma with blue lobster and sturia caviar, this was paired with an Astrolabe Sauvignon Blanc, Kekrengu Coast, 2011. This was followed by an innovative intermezzo, a Calvados Sorbet decorated with a blown sugar casing shaped into an apple.
Dinner then continued onto the menu's meatier dish: a rack of Venison, cooked to pink perfection, with assorted wild mushrooms and black truffles with baby root vegetables. This course saw the debut of the red wines, which was the Terrazas de Los Andes Malbec Reserva, Mendoza, 2014.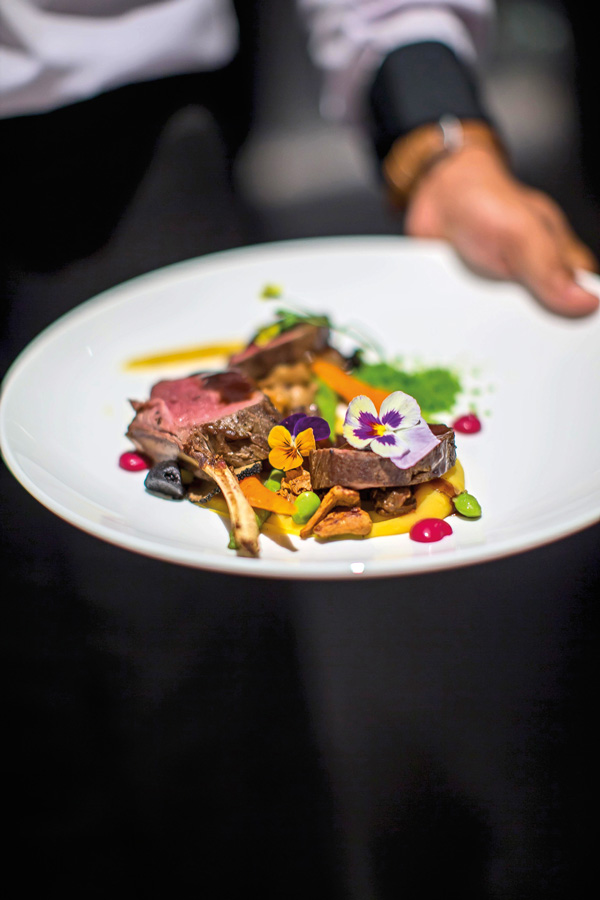 The next dish was an interesting Rum Baba topped with reblochon cheese and caramelised walnuts, paired with a Hob Nob Cabernet Sauvignon, IGP Pays d'Oc, 2015.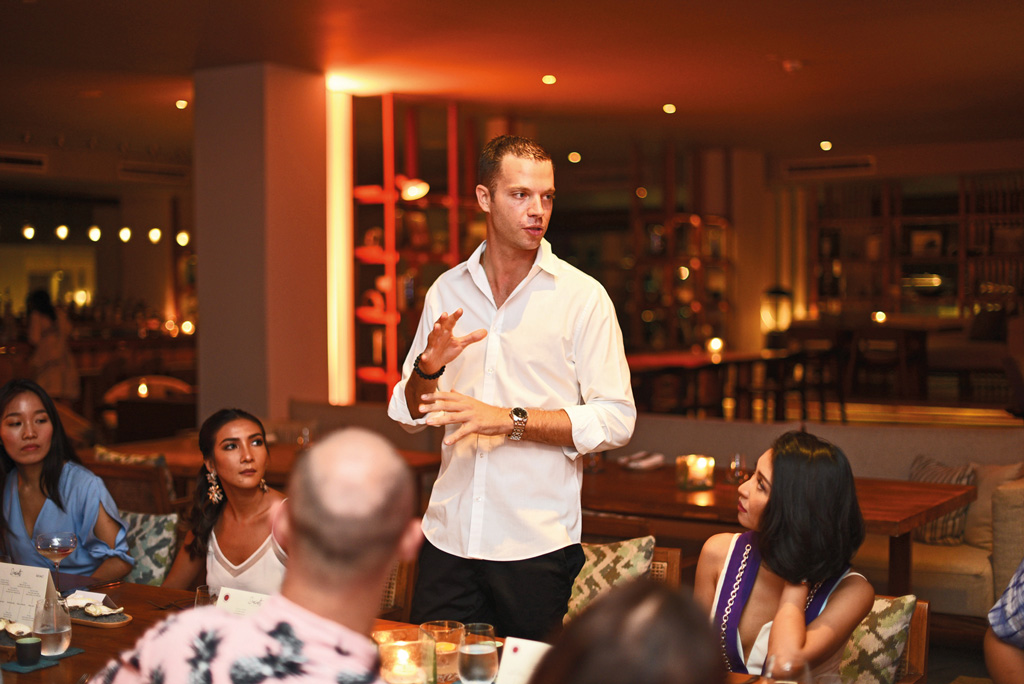 The last dish was a fresh, tropical finish; Coconut Cake with mango pineapple lime crème brulèe in an intricately designed chocolate cage. Typical of Chaine dinners however, the evening does not finish at dessert! Those still with enough energy found their way to Ayana's iconic Rock Bar, enjoying mignardises, petit fours, sips of X.O. Superior and sea views not many could match.
Jeunesse de Legian: Three-Way Pairing at Seasalt
On Saturday, 23 June 2018, members and guests of Bali's 'youth' or 'Jeunesse' chapter of the Chaine des Rotisseurs gathered along the beachfront of Alila Seminyak's SeaSalt restaurant. Dressed to the evening's 'Nautical' theme, all enjoyed refreshing cocktails fit for sunset hours.
Finally, seated inside at one long table, the evening's agenda was about to begin. All were welcomed by the Jeunesse's Bailli Edward Speirs, who proceeded to introduce the evening's host, Helmut Roessler, the Food and Beverage Manager of Alila Seminyak. Helmut announced that this evening was the debut of something special, a three-way pairing dinner: food, cocktails and specialty salt. The evening's delights would be prepared by Chef Vivian Vitalis and mixologist Daniel Gerves.
Dinner began with an Amuse Bouche, a colourful display of smoked mackerel atop seaweed, adorned with a bouquet of rolled vegetables. This set the scene, as SeaSalt is known for its fresh, impeccably prepared seafood dishes with Japanese-inspired flavours.
The first course was 'Star Fish', smoked white fish, citrus caviar and edible flowers, presented in the shape of a star fish. This was paired with 'Star Fruit', consisting of peach vodka, chardonnay, passion fruit and thyme. The specialty salt served with this course was the Wakame (seaweed) Salt.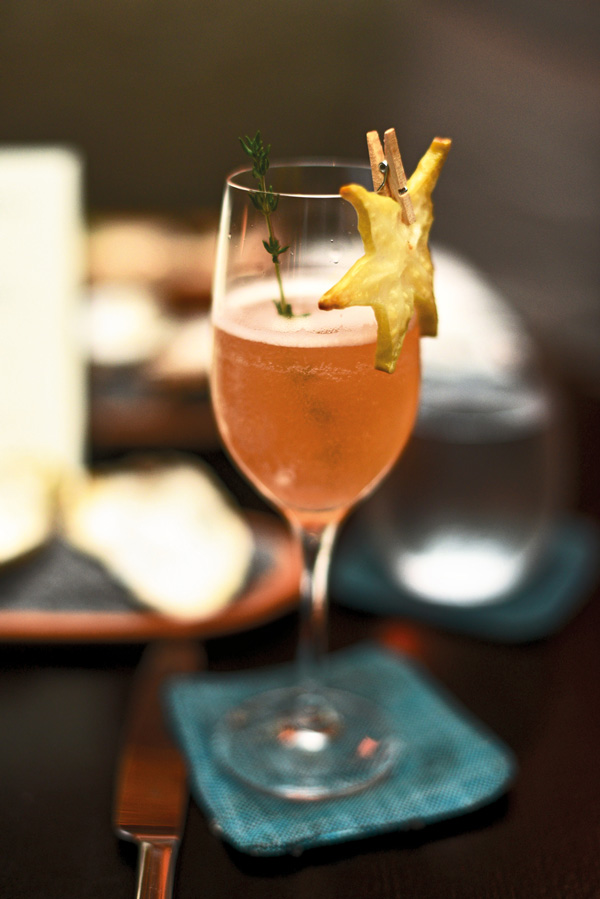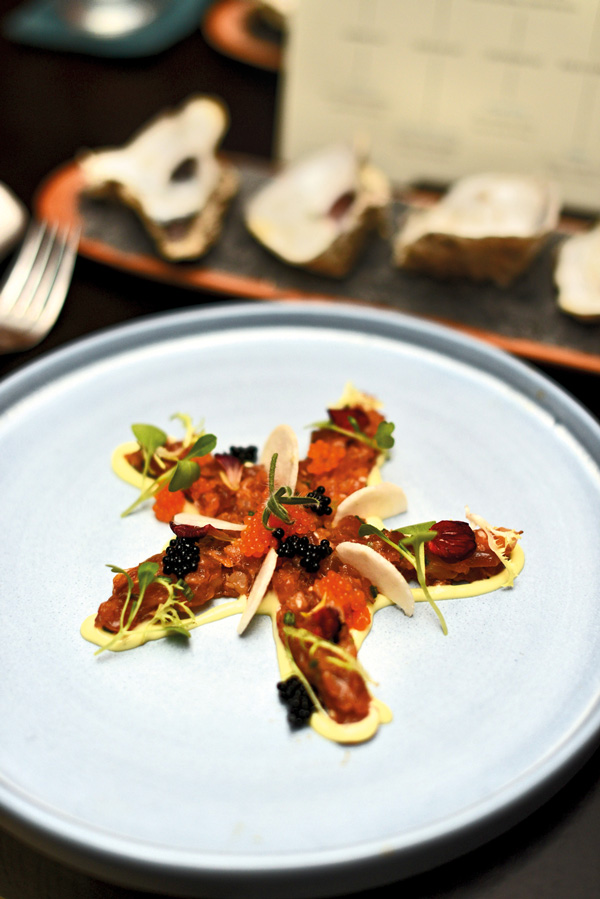 Next was the Squid Ink Salt, accompanying 'Tentacles of the Sea', a soy braised octopus, yuzu wakame with red radish. To drink, a spicy 'Catch Me If You Can', with coconut tequila, ginger, honey and red peppers.
The third course was a special Crustacean Salt (crushed shellfish). This was served with 'Ocean Symphony', red shrimp, yellow fin tuna, black bean barley and sudachi emulsion, accompanied by 'Ocean Lyrics', gin, vermouth, citrus, bean sprouts and honey.
The piece de resistance, although not seafood, was '72 Hours'. This was a 72-hour cooked wagyu short ribs with yuzu soy, shaved pickled pumpkin and cauliflower puree, sprinkled with a Rose and Thyme Salt. To drink, a 'Malbec?' [sic], comprised of whisky, orange liquor, Malbec and blueberry.
This dinner finished with a 'Salty Sweet Ending'. This was a passion cream, passion pearl, passion blanket and coconut milk sorbet, paired with a Vanilla Salt. To drink, a 'Horchata' with a punch: tequila infused coffee, horchata, almond milk and white chocolate.
Without a doubt, creativity shone bright throughout this dining experience. From the pairing with a central salt creation, to each Japanese-inspired flavour of the dish, matching to the fun, innova-tive names and paired with out of the box cocktail concoctions.
These two events signalled to members of the Chaine that Bali is still very much an active chapter. Both the Jeunesse and regular membership are active in their search for exciting and unique dining experiences on the island, of which, we are sure, there are many.