In the sunlit jungle somewhere behind Mambal, near Ubud, we descended the steps to the river, heavily backlit by the late afternoon sun. Bamboo leaves glistened gold and the Ayung River gurgled softly below.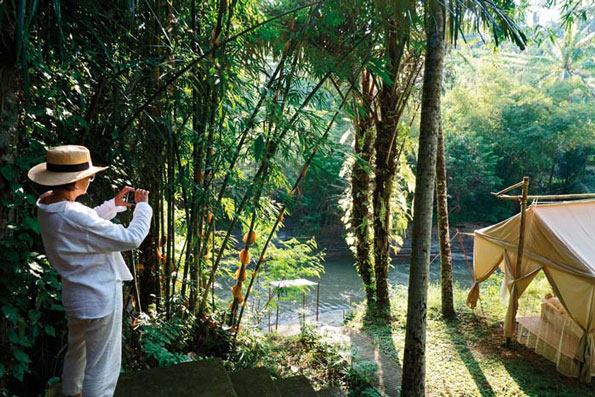 Guests wore hats of an earlier era – here a Panama Fedora, there a pith helmet, straight from the British Raj, and another, a big shading hat of straw. Umbrellas held by beautiful sarong clad bearers added extra shade as we made our way to the canvas chairs.
In front of the chairs were terra cotta bowls of water filled with flowers. Two beautiful handmaidens descended to give the feet a massage of fresh sea salt and the scent of lush tropical flowers scented the air. What a setting, just before the Golden Hour although the heat of the day had gone.
After the footbath and an annointment of herbal mosquito balsam, it was a small walk to the next level where an open tent was set up for massage.
Massage with soft breezes blowing through the open sides of the tent. I was told it is even more enjoyable if it is raining but it was certainly enjoyable even in the dry!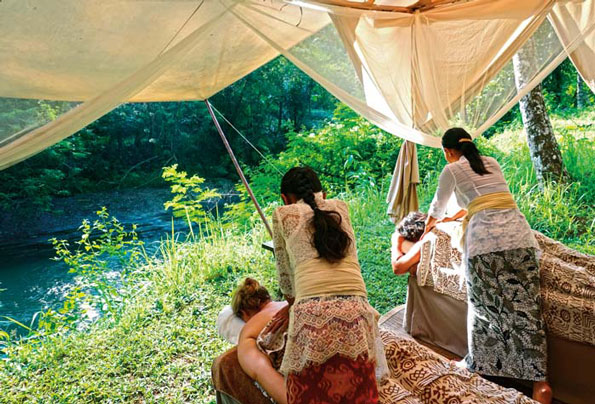 After everyone was massaged and relaxed we moved up to the tented home base – an actual home made of tents. The tents are specially treated for Ubud's tropical humidity, guaranteed to last at least twenty years in spite of the treacherous humidity that can destroy a canvas construction in a season.
The tents are set up like a home – one tent for sleeping, another is a bathroom and another is a living room. With roll up/roll down sides, you can allow as much weather and sun in as you like. Of course, around sunset time. With the beautiful golden light, it makes sense to have the walls wide open.
The slightly "30's air and the soft, old style music gives a stylish ambience and you expect to see Robert Redford wander in from a recent safari.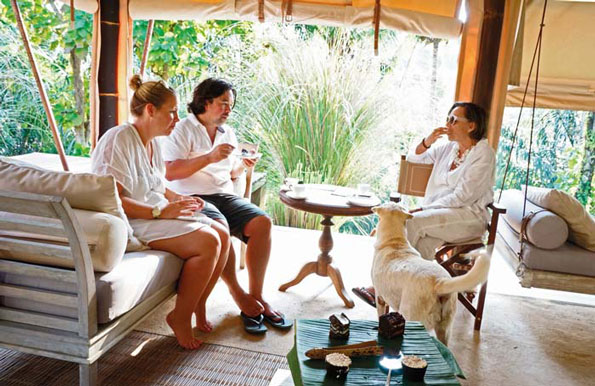 So then we wandered up to the living room tent, with its rolled up sides facing the golden light and distant rice terraces. The girls brought in fragrant lemon grass tea and luscious little chocolate cakes while our hostess made sure that all was in order.
The next course comprised slices of delicious vegetarian quiches and a bottle of decent red wine!
The music played, the sofas swayed and as the sun sank lower, it was time to contemplate a splendid afternoon.
There is no end to the delightful surprises that dwell around Ubud.
Escape Nomade Royal High Tea
Panorama Building 4th Floor
Jln. Bypass Ngurah Rai 620, Denpasar
T: 0361 722188,
Fax : 0361 722187