Bali is great for family holidays, but often parents can be lost in a sea of options, or just plain lost, when it comes to finding activities in Bali for kids. There is, in fact, so many things for kids to enjoy on the island, from fun sports and family activities, cultural  experiences and even getting up close and personal with animals in world-class animal parks. 
Here's our top list for family activities in Bali for Kids : 
1. Bounce
Located in Canggu, Bounce is a modern, fun trampoline centre, part of the popular Finns Recreation Club.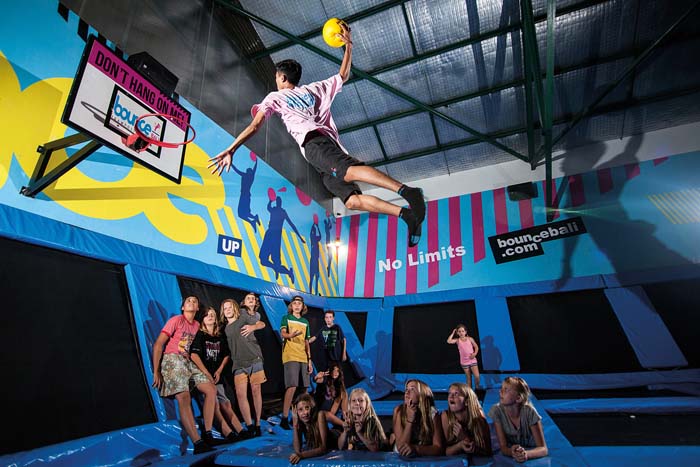 Picture a whole floor of trampolines, side by side; it's like an ocean of clouds! At Bounce, there are 4 different zones: 2 practice zones complete with pools of sponges great for flipping and diving into; and 2 zones for trampoline basketball and dodgeball, great team games and activities. Of course, Bounce is perfect for those energetic children, but adults are welcome to indulge in this very active and fun sport. It makes for a great exercise alternative when the rain is pouring outside – or any time you're in Bali with kids looking for an active experience.

Bounce Trampoline Centre, Finns Recreational Club
Jalan Pantai Berawa, Canggu
Phone: +62 (0) 361 848 3939
www.bouncebali.com
2. Totem Room Escape
Totem Room Escape is a great and not to mention unique, experience if you're looking for a family activity in Bali. Basically, you'll will be brought into a single room and have to use clues, teamwork and logic to find your way out of one room into another.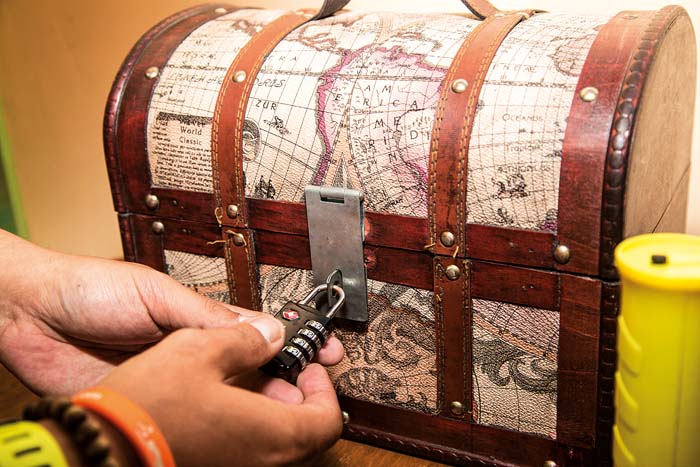 You will have to race against the clock to find your way out of a whole series of rooms! It's incredibly exciting but of course this is no walk in the park. Totem Room Escape is meant to be challenging and thus really brings friends and families together to team up and make their escape. Totem has 6 'themes' of rooms, each with their own theme and difficulty. It's a great alternative to video games, offering a truly immersive adventure for kids and parents alike. If you're travelling to Bali with kids, 2 of the rooms are made specifically for families and younger players.
Totem Room Escape
Jalan Kayu Aya No.27, Seminyak
Phone: 0361 474 0071
www.totemroomescape.com
3. Mason Elephant Park and Lodge

How about interacting up close and personal with a herd of Sumatran Elephants? In Taro, just north of Ubud, you'll find a beautiful elephant sanctuary run by Mason Adventures. The park invites families in Bali to come face to face with these peaceful pachyderms, with an educational show, opportunities to feed and even bathe with elephants. It's a fun day out and your young ones are also welcomed to meet and greet with the baby elephants at their nursery.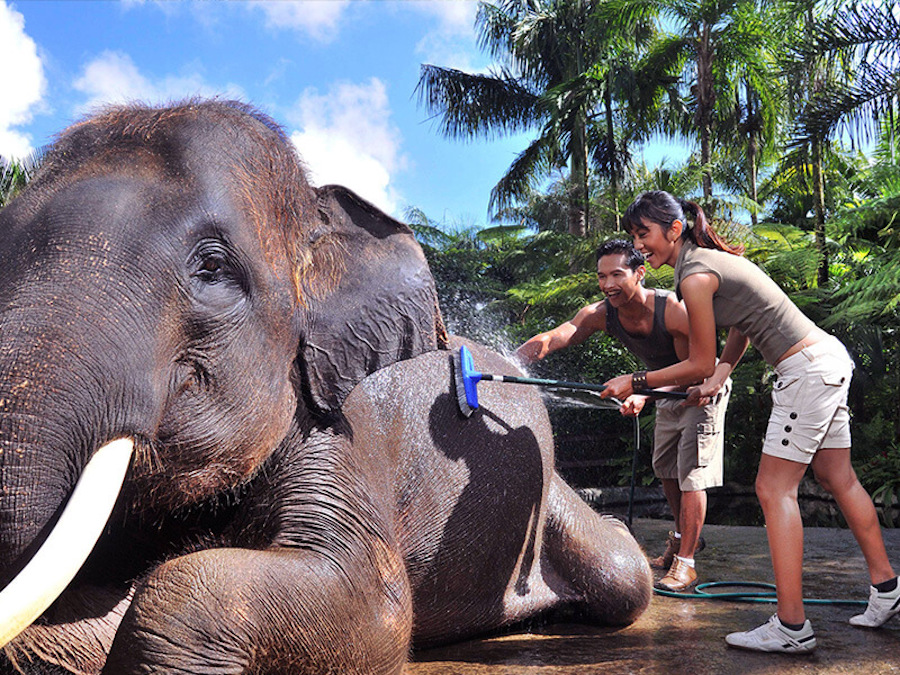 To provide more information about elephants, their museum and education centre is available complete with replica mammoth skeletons from around the world. This can be a valuable learning centre for young minds to teach them almost everything there is to know about elephants. Who knew coming to Bali with kids could mean coming face-to-face with elephants, a great day out and activity for families in Bali.
Mason Elephant Park & Lodge
Jalan Elephant Safari Park, Taro Village, Tegallalang, Ubud
+62 361 721480
www.masonelephantlodge.com
4. Yoga in Bali for Kids
Yes, Bali is the island of the gods, but it's also an island of yogis! There are so many yoga classes taking place around the island now, from beach yoga, yoga in the hills, yoga in a high-tech studio down in Seminyak, you name it Bali has it. However they all have one thing in common, they're all for adults.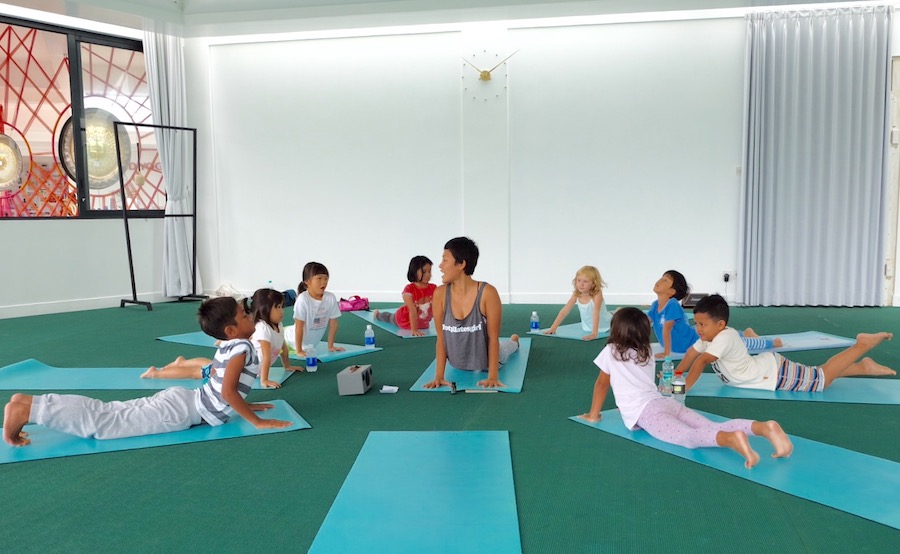 In Ubud at the Ubud Yoga Centre you'll find one of the first shalas to offer Kids Yoga, available for babies as young as 18 months, right up to preteen ages. Unlike yoga class for adults, the trainer uses engaging stories to keep the session interesting for kids, as well as using animals to explain poses. Children need to play, to move, imagine things, listen, experiment and explore. At the end of the day, the children are just going to remember it as a fun experience, not 'exercise'. Kids Yoga is only available on certain days, so make sure to call ahead. This is definitely a unique family activity in Bali , especially if you're a yogi and want to teach your little one too.
Ubud Yoga Centre
Jalan Raya Singakerta No. 108, NyuhKuning, Ubud
+62 811 3803 266
www.ubudyogacentre.com
5. Ten-Pin Bowling
Get excited for this old time classic activity that brings friends and family closer together. When the weather's not great outside, or if you're after an activity in Bali with kids in the evening, Strike Bowling is a great choice!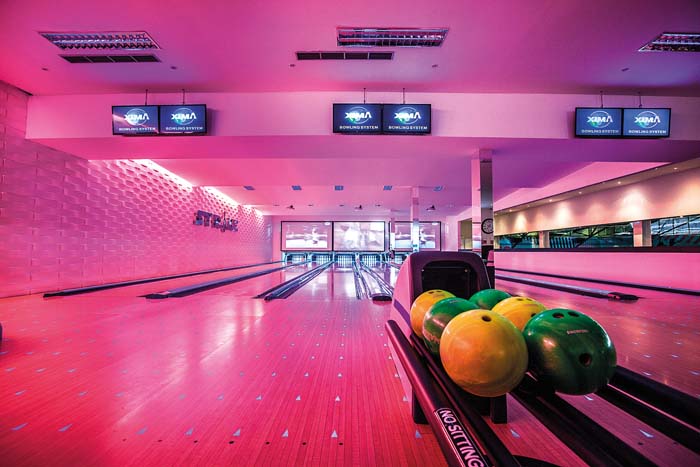 With 6-lanes, kitted with automatic pinsetters, gutter bumpers and computerised scoring, all you need to do is slip on those funny shoes and bowl! Strike Bowling at Finns Recreation Club  has a warm ambience, perfect for a family outing, and a bar and restaurant to complete the experience. You won't need to go anywhere once you're there, just enjoy some good old-fashioned family fun.
Strike Bowling at Finns Recreational Club
Jalan Pantai Berawa, Canggu
+62 (0) 361 848 3939
www.strikebali.com
6. Bali Safari & Marine Park

Bali Safari & Marine Park dedicates their efforts to encouraging children to love the natural environment, home to over 100 species of animals. Their commitments can be seen from having programmes for children.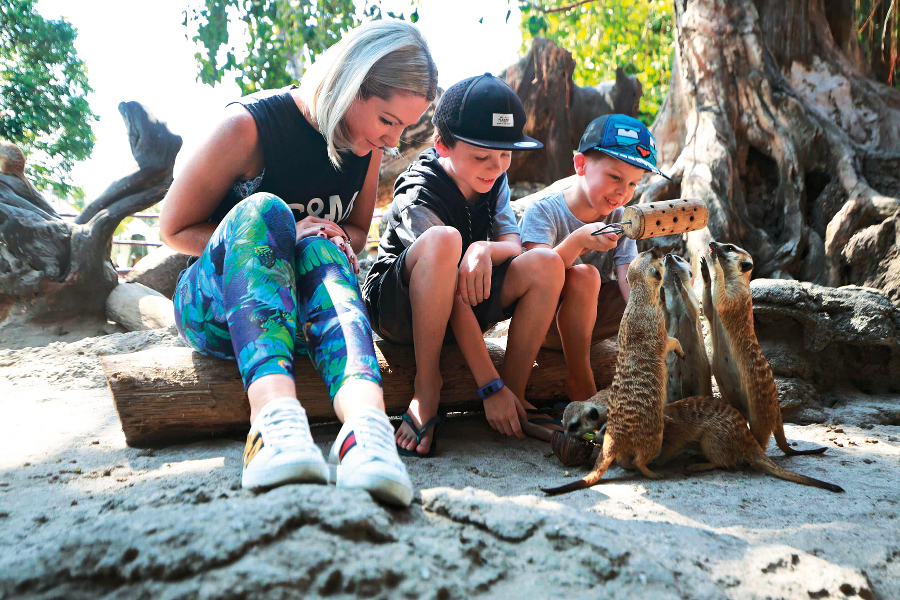 Bali Safari is home to many different experiences, including the tour around the Safari Park in a tram or private 4×4 Jeep, their daily educational shows include The Animal Show, Elephant Show and Predator to Prey Tiger show. There are also opportunities to feed a White Tiger, meerkats and a giraffe up close and personal, visit the petting zoo, have breakfast with lions and much, much more! The safari's Night Safari experience is another way to tour the park, seeing all the nocturnal creatures active when the sun goes down! Bali Safari is without a doubt one of the most popular family activities in Bali , a great day out for children and parents.
Bali Safari & Marine Park
Jalan Bypass Prof Ida Bagus Mantra, Gianyar
+62 361 95000
www.balisafarimarinepark.com
7. Splash Water Park
If you're looking to have some fun in the sun during your time in Bali with kids, head to one of the island's favourite water parks! Featuring world-class water slides, Splash Water Park provides hours of fun with 4 rides to choose from. For those looking for something extreme, the Big Red weaves and rolls through the curves with momentum intensifying at every turn from the fifth story to the finish, while the Super Bowl takes a tailspin around the bowl before shooting you deep into the plunge pool below.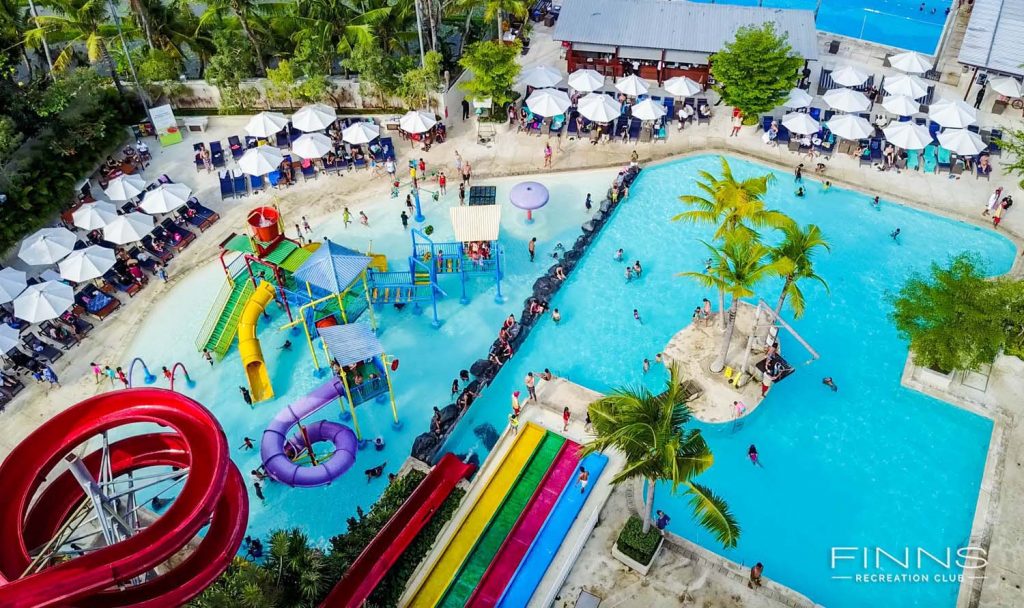 For speed fans, Giant Racer and Speed Racer offer a long slide for you to race with the other members of the family. For a perfect time out from the excitement of the slides, head over to the Crazy Creek to relax and admire the ambience of the entire park. If you are coming with toddlers, share an aquatic adventure with your little ones at Splash Playground.
Splash Water Park at Finns Recreational Club
Jalan Pantai Berawa, Canggu
+62 (0) 361 848 3939
www.strikebali.com
8. Learn a Balinese Dance
Take the trip to Ubud and make a nice, long stop at the Bali Culture Center for a Balinese Dance class. From the minute you first sit down to watch the dancers, you will be amazed and eager to give it a try yourself!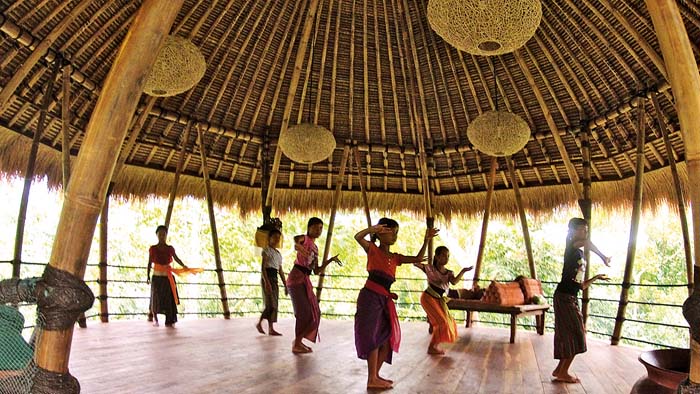 You may not be able to do the moves at first but thankfully the instructors will guide and motivate you until you can do the dance movements correctly. As you master the moves you will also learn about Indonesian philosophy as each step, each movement represents some deep insight into the nature of life and universal law of the Balinese.
Even the garments, the costumes, and the colours, all represent a unique aspect and harmony of life. As once said, "Be aware of wonder. Live a balanced life." In order for one to have a harmonious and balanced life, one needs to create harmony within one's self and surroundings to build a decent life.
Bali Culture Center
Jalan Br Nyuh Kuning Mas Ubud
+62 361 978144
komangsupartabcc@yahoo.com
9. Bali Bird Park

If your kids are into birds, a visit to Bali Bird Park provides an opportunity for them to see 1,000 birds from 250 different species. As a home to the largest and finest display of Indonesian birds in the world, this two-hectare tropical garden offers interactive activities between kids and hundreds of feathered residents that meander through the garden. Your little ones can expect to see from a close range a colourful array of birds, including parrots, peacocks, hornbills, cranes, pelicans, flamingos, and even the rare Bali Starling and the exotic Birds of Paradise.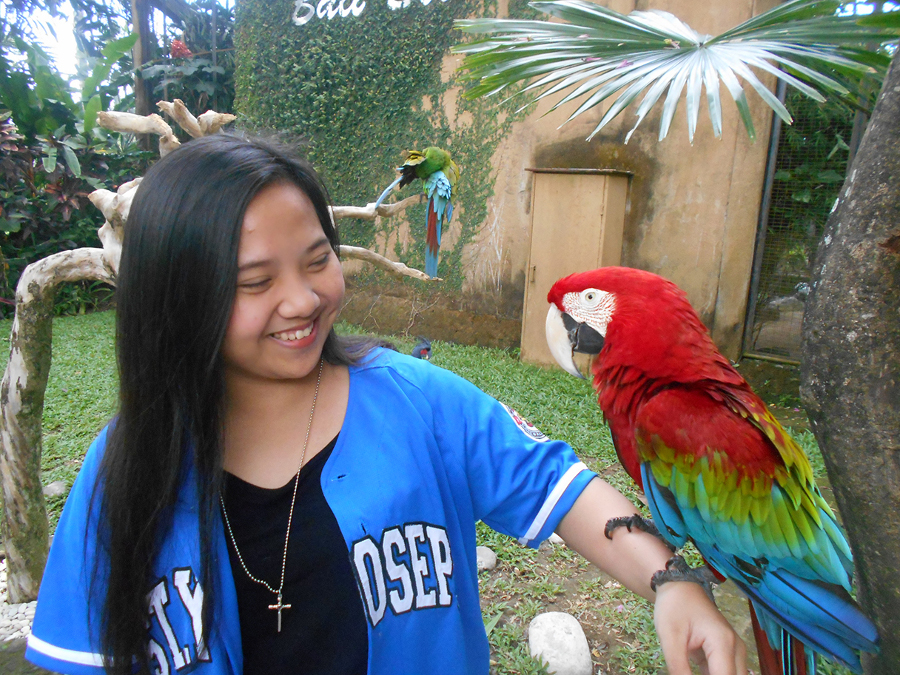 As a family venue, Bali Bird Park offers a variety of interactive activities that kids can enjoy with parents. All these activities are designed as educational experiences that inspire children to value and conserve birds. Ask your kids to participate in various close-encounter experience programmes, such as feed the friendly lorikeets and pelicans, watch the trained keepers feed the baby birds, Meet The Bird Stars programme, and many more. Special events are frequently sponsored by the park to increase the awareness of adults and children alike of the threats faced by wildlife in this era. Another family activity in Bali that will be a full day out and about.
Bali Bird Park
Jalan Serma Cok Ngurah Gambir, Singapadu, Batubulan, Gianyar
+62 361 299352
www.balibirdpark.com
10. White Water Rafting
Why not bring the kids right out into nature and have a little adrenaline-pumping adventure whilst their in Bali? White water rafting is the best way to achieve this, with beautiful scenery as you float down the pristine Ayung River.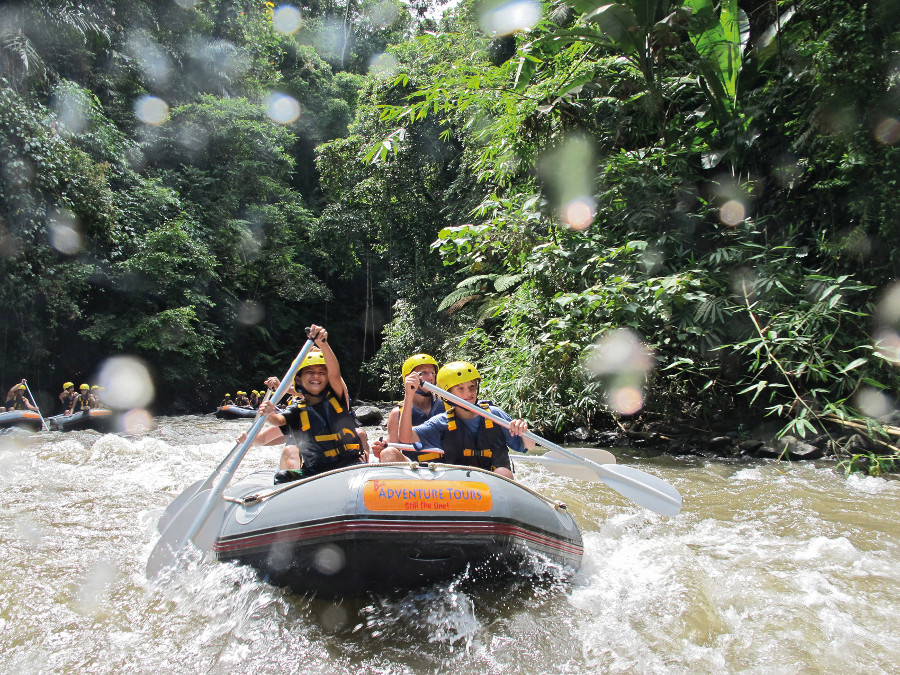 Mason Adventures is the pioneer of Bali's adventure industry. To put worried parents' minds at ease, they design rafting trips specifically for youngsters. This includes the best facilities, equipment and safety. Featuring the island's longest Whitewater rafting trip, children can expect to get soaked and enjoy a thrilling journey from start to finish along the enigmatic Ubud's Ayung River, before finishing up for a nice buffet lunch at the Mason Adventures' Adventure Centre.
Mason Adventures
Jalan Bypass Ngurah Rai Pesanggaran, Denpasar
+62 361 721480
www.masonadventures.com